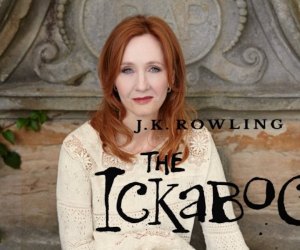 All New Free Online Events this Week: Space Launch, Sesame Street Town Hall, & New JK Rowling
We get it. It's a little hard now. We're on day sixseventyelevens of staying safer at home. It's after Memorial Day but nowhere near the start of summer. (Can we go to the beach? Um, maybe?) Your kids may have graduated, and so now they're... home with you every day just like they were before. Just when you think we've taken this as far as it can go, a little voice (and a powerful rocket) says "How about space?" SpaceX and NASA are teaming up to launch astronauts into space from American soil for the first time in nearly a decade.
Just when you think there's nothing new to be seen, JK Rowling says "J/k! Here's a new book for you," and it's her previously unreleased children's book The Ickabog.

Just when you think no one cares anymore, the folks at CNN and Sesame Street come together to remind us it's all going to be okay. The Stronger Than You Think livestream offers a forum for teenagers and young adults to address their mental health needs as well.
We at Mommy Poppins keep doing our part, too, on the Poppins@Home platform. This week you can hear the music of kids learning about the science of sound in a STEMtastic workshop, or share in the bounty of the pumpkin chocolate chip muffins your kids can make with Stacy of Healthbarn. Or you can be amazed by the ingenuity of the ball run your kids can create with New York Hall of Science. (Today a ball run, tomorrow a rocket ship to space).
And if you're looking for an excuse to party, we've got the folks to help, whether your taste runs to bubbles, or funky divas, or a one-man circus.
Check our event calendar for even more family concerts, engaging stories, and star-studded virtual events. Our Stay-at-Home Guide has hundreds more activities and ideas of things to do.
Keep reading for some of the wonderful ways we're going to help make this week out of this world.