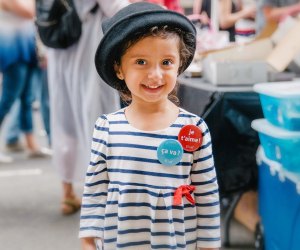 Free Comics, GalaxyCon, & Bastille Day: Free Online Things To Do, See, & Learn this Week
Are we open? Yes. Are we not? Also yes. Are the rules changing daily? That would be a yes as well. A little confounding, but you know what might make it better? Free comic books! Lots of them! All summer long! We've got Free Comic Book Day goodness from here to September. Need some more good news? How about a new streaming service! It's called Peacock because it's in full color! Do we have anything else to brighten your day? How about a national holiday! Whee! Okay, that one's not ours exactly (we had ours last week, greedy!) but guess what? The French are willing to share—Happy Bastille Day, everyone!

Open or closed, the one constant across the country right now is drive-ins. Folks can get out of the house while keeping safe social distance, and see a movie on a screen bigger than a bread box. Bonus: if the guy next to you is talking too loud you're well within your rights to let him have it, since chances are you're his ride (or vice versa). Keep reading below for the latest on drive-in pop-ups in your area.
Public spaces may open, they may turn around and close, but the internet will always be there for you. And Mommy Poppins will be there to direct you to the finest and funkiest online classes through our Poppins@Home platform. We have classes to keep your kids limber (Ballet for All Kids), constructive (Epic Mining & Building- Minecraft Themed Online STEM Camp), civilized (Perfectly Polite Dining Etiquette), and conversational (Spanish through Music and Movement)—all from the safety of home.
Check our event calendar for even more family concerts, engaging stories, and star-studded virtual events. Our Stay-at-Home Guide has hundreds more activities and ideas of things to do, too.
Keep reading for some of our favorite picks for this week.