35 Great Summer Kids Movies for Family Movie Night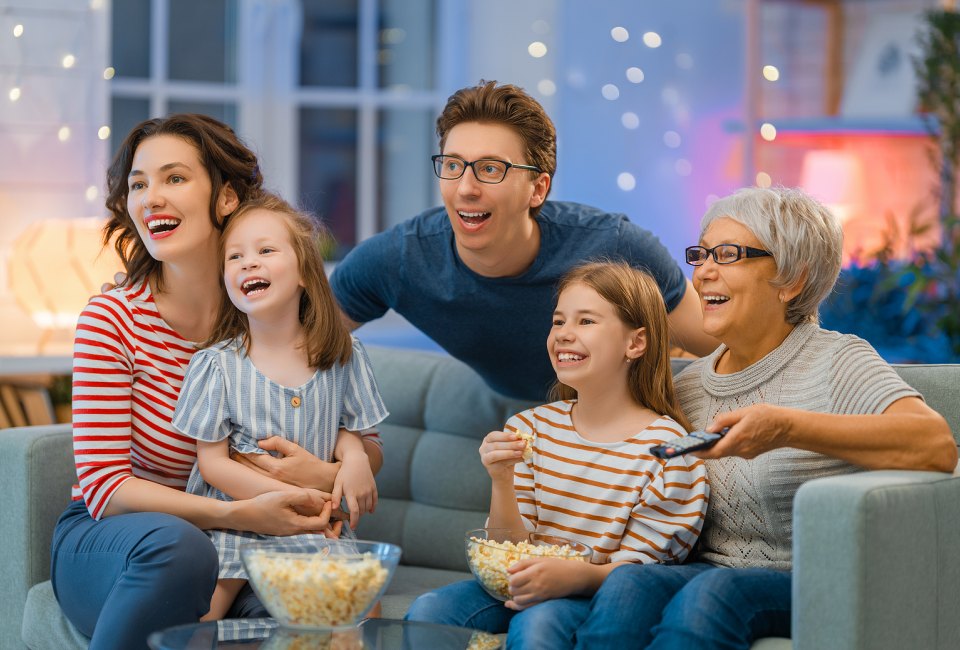 5/20/21
- By
Danielle Smith
Summer isn't just beach days and summer camp and baseball games. It's also beach movies and summer camp movies and baseball movies! The summer months are a time for blockbuster releases in the theaters, but it's also a great time to snuggle up after a day at the beach or camp to watch classic kids movies that leave everyone ready for more summer adventures.
So with the school year wrapping up and everyone ready for some summer fun, queue up these kid-pleasers on Netflix, Disney+, Amazon Prime, or Hulu—and don't forget the movie snacks. For more movies to keep your family from now until Christmas (and beyond), be sure to check out our list of the 50 best kids' movies of all time.
We've arranged these films in order of ratings from G up to PG-13, making it easy to see which movies are appropriate for kids in any age group to watch together on a Netflix Party.
Two blue macaws fall for each other on the beaches of Brazil, but not before making their escape from evil bird smugglers.
This classic will have you singing along about life "Under the Sea" in no time. While it's always been a little problematic that Ariel loses her voice to find her prince, it's still a fun family flick, and gives you something to discuss.
RELATED: 50 Best Family Movies for a Night In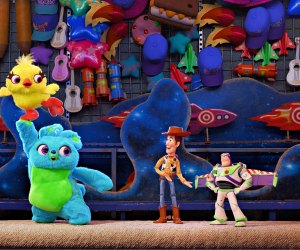 Toy Story 4 is all about a road trip. Image courtesy of Disney-Pixar
Nothing says summer like a road trip! Woody, Buzz, and the crew pile into an RV for a family road trip, where the nearly impossible task of keeping tabs on Bonnie's new favorite toy leads to wild adventures.
Did you know that Goofy was a single dad? Well, he is! A Goofy Movie is a heartwarming tale about an ill-fated road trip that brings Goofy and his teenage son closer together.
A clownfish with a disability and his overprotective dad both have to summon unknown courage on the journey to reunite and find their way home. This Pixar movie won the Oscar for best animated film, and couldn't be more deserving.
Summer camp! The Peanuts gang is sleeping away at Camp Remote, and they're not exactly thrilled. A group of bullies tests the friends' resolve, especially during the highlight of camp: a river race through the mountains.
Curiosity almost kills the cat in this sweet movie about a tabby and a pug who wander too far from home and have to employ teamwork to go home again.
Actual pop stars—namely the Jonas Brothers and Demi Lovato—star in this Disney Channel original film about aspiring musicians navigating friendships at an exclusive camp for wannabe stars.

The Wildcats dance through summer in High School Musical 2. Photo courtesy of Disney
The East High Wildcats are back, singing and dancing their way through summer vacation while attempting to keep their relationships intact.
Two modern-day teen surfers ride a wayward wave back in time, in this fun musical homage to the teen movies of the 60s. While it's called a teen movie, the wholesome message and catchy songs are really perfect for pre-tweens, not teens.
Teen beach party movies weren't really a thing before Gidget, but they exploded in popularity after this 1959 debut. This film about a naive girl's introduction to California surfing culture is a cinematic relic with plenty of old-school charm that many of today's kids will find intriguing.
While we're throwing it back a few decades, Elvis is as good a star as any to watch in the teen beach party category. He made a few films in this genre, and Blue Hawaii probably has the most singing and dancing, making it a good choice to break kids into these older films. Maybe save these two movies for when the grandparents visit this summer!
RELATED: How to Have a Netflix Party for Kids

Sisters meet at summer camp in The Parent Trap. Photo courtesy of Walt Disney Pictures
Long-lost twin sisters meet at summer camp, pull a switcheroo, and get their parents back together in this update of the 1961 original. We find that modern youth prefer Lindsay Lohan to Hayley Mills, but if you have the time, both are worth the watch.
A ragtag gang of Birdie Scout rejects form their own troop, and march to the beat of their own drum, as they try to win a talent contest.
A couple of dads decide to reopen a run down summer camp, and hilarity ensues. Honestly, this is one you might want to set up for the kids one afternoon when you need to get work done, but it truly cracks kids up.
This cartoon is a twofer; it's a fun and cute cartoon about a surfing penguin for kids, and a pretty clever sendup of surf movies with great camerawork and an appearance by Jeff Bridges for adults.
If you were looking for a mafia movie you could watch with your kids, do we have the picture for you! A little fish gets mixed up with the mob in this cartoon that features a ton of great voice talent, from Will Smith to Jack Black and of course Robert De Niro—and parents will recognize a few other voices, like Martin Scorsese and Ziggy Marley.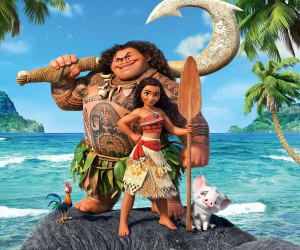 Sail away with Moana. Photo courtesy of Disney
A Polynesian princess heeds the call of the sea to right the wrongs of the past and save her village, with a little help from the Rock.
Staying in the South Pacific, a very special extra-terrestrial lands on the shores of Hawaii, and makes (hilarious) mischief with a young girl.
When Judy's mom and dad are called to California for the summer to help out her grandparents, she and her brother are left in the care of their fun aunt. Determined to make the best of it, the beloved literary heroine devises a system of acquiring "thrill points." Lots of things go wrong— but lots of things go right.
Just like in the books, life is as awkward as ever for series protagonist Greg, who spends much of his time trying and failing to impress his crush while working a summer job at the local country club.
The girls organize a summer camp for their clients, but as always, friendship is the real star of this show.
A troubled 11-year-old boy encounters an injured dolphin on his way to summer school, and begins to take a greater interest in the mammal over time. Eventually, he enlists Morgan Freeman to make a prosthetic tail. (As one does.) Dolphin Tale is based on a true story.
A 12-year-old foster child develops a close bond with an orca in captivity at a theme park and comes up with a plan to get the whale back to free waters. This is also based on a true story.
Forced to spend the summer with his offbeat uncle, a young Elijah Wood befriends an endangered dolphin. This movie is a remake of the 1963 movie, which inspired the TV show.
At times My Girl can be pretty sad, but overall it's a beautiful coming-of-age love story about an 11-year-old tomboy who's lost her mother and her friendship with her quirky best friend.
RELATED: The Best Christmas Movies for Families

There's no crying in A League of Their Own. Photo courtesy of Columbia Pictures
Tom Hanks famously proclaimed, "there's no crying in baseball" in this story inspired by the real-life All-American Girls Professional Baseball League. If you haven't seen this movie in a while, you'll be surprised by how much you'll enjoy it, right alongside the kids.
More baseball! More underdogs! An underprivileged team of Mexican baseball players overcome systemic struggles en route to becoming the first foreign team to win the Little League World Series in 1957. The film is based on true events.
This is the quintessential kids' baseball movie that never gets old. If your children are anything like the main character, they don't know who Babe Ruth is either, so it's better to learn now before they lose any valuable memorabilia.
Rick Moranis is a mad scientist dad whose latest invention accidentally shrinks his kids and their neighbors down to microscopic size, and they get thrown out with the garbage. The group battles bugs, raindrops, and lawnmowers on an epic journey across the lawn back to the house, hoping to become human-sized again.
Parents appreciate the cast in The Way Way Back. Photo courtesy of Fox Searchlight Pictures
An introverted teen, summering near Cape Cod with his disinterested mom and her boyfriend, tries to make the best of things after getting hired at a local water park, where he forms special bonds with his co-workers. The strong cast (which includes Maya Rudolph, Steve Carrell, Sam Rockwell, and Toni Collette) really elevates this coming-of-age summer story.
Nine-year-old Troy is the only daughter of the Carmichaels, a Black family living in Bed-Stuy, Brooklyn in 1973. A summer vacation trip down south to see wealthy relatives changes Troy's perspective on life and prepares her to grow up faster than she'd like after they return home. It's a semi-autobiographical tale from Spike Lee.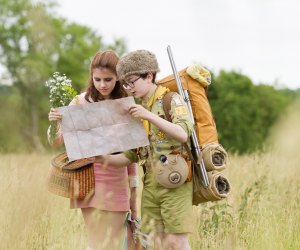 Pen pals and summer camp and orphans, oh my in Moonrise Kingdom. Photo courtesy of Focus Features
Artsier adolescents will appreciate the cinematic beauty of this Wes Anderson flick, centering on the romance between a 12-year-old orphan who runs away from summer camp to meet up with his love—a girl who became his pen pal after they met at church. After introducing your kids to Spike Lee's work with Crooklyn, this is a perfect entrée into the Wes Anderson oeuvre for young teens.
A teen drama set at an upstate New York theater camp, where the characters find their true voices on and off the stage. Young Hamilton fans will watch this on repeat all summer long.
Let's be clear here, we are definitely talking about the Walter Matthau 1976 original, not the 2005 Billy Bob Thornton remake. This classic underdog story of a sports team full of kids who can't really play (plus one girl and one bad boy who really can) is filled with bad language and attitudes, but is also filled with heart and humor.
Editor's note: I put this movie on the list and took it off about 8 times. I watched it again with my kids this week, and decided to leave it on, with a reminder: The language and alcohol use will really shock today's kids. And parents! I had forgotten the casual homophobia and racism that the kids shout at each other. But while it's shocking, it's also great to talk about not only how not ok that language and those attitudes are, but how pervasive they used to be. So, go into this movie ready to hit the pause button and have some conversations. But it is also a classic for a reason...