How To Have a Netflix Party for Kids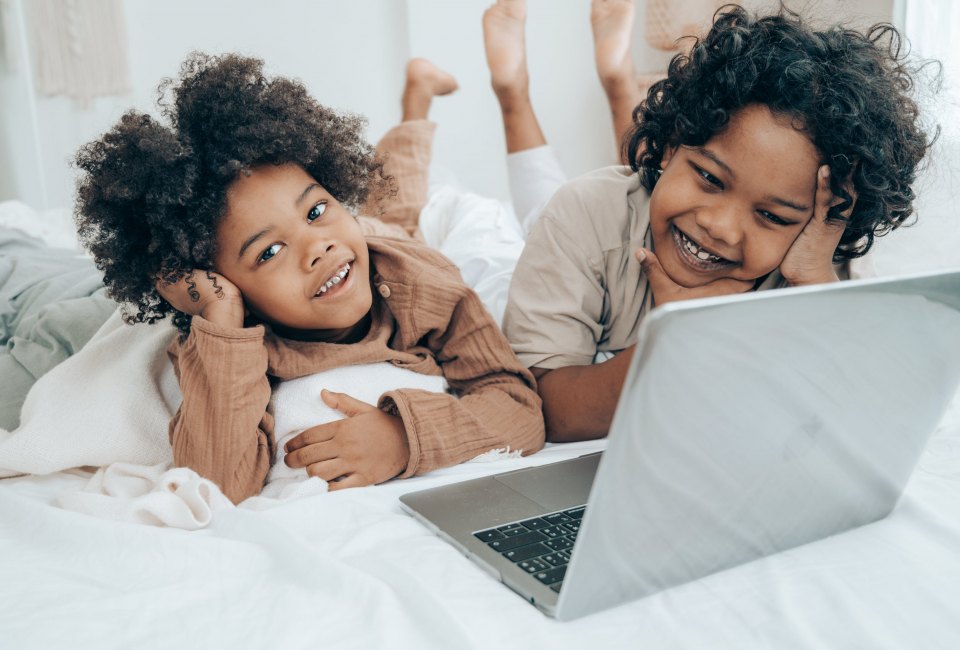 2/23/21
- By
Ally Noel
Once upon a time, in our pre-COVID lives, there was something special about heading to the local movie theater, grabbing movie snacks, and crowding into a theater to watch a new movie. Well, a visit to a crowded theater isn't happening right now, but a Netflix Party is actually a pretty great substitute. Hosting a Netflix Party is the next best thing to going to the theater, and you can host a watch party (on any platform, not just Netflix) with friends living across the street or family living across the country—or even on the other side of the world!
Here are some helpful tips on how to get started hosting your very own Netflix watch party. Make sure you check out our 50 Best Kids' Movies for Family Movie Night to pick a flick you all can agree on.

Siblings stop squabbling when they're watching a movie with friends!
What Is a Netflix Party?
A Netflix watch party is a way for people to watch movies and TV shows together, virtually. There are several web apps that provide the ability to synchronize your next Netflix binge-fest so that you can virtually watch with a group of people. The most popular of these services is called Teleparty. This is the app formally known as Netflix Party; in fact, most people still say "Netflix Party" (or "Netflix watch party") when they are talking about using the Teleparty app.
Teleparty can work with all the major streaming services such as Netflix, Disney+, Hulu, and HBO. Depending on your settings, anyone in the watch party will be able to pause the movie for everyone. Teleparty also adds a group chat so everyone can talk about the movie or show that you are watching.
Other apps worth checking out are scener, Hulu Watch Party, or Amazon Watch Party.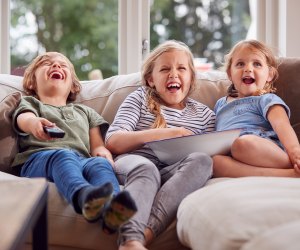 Make your favorite movie snacks and snuggle up for movie night.
How to Have a Netflix Party (or Any Virtual Watch Party)
The most challenging part of setting up a watch party may be remembering all your streaming service's passwords. Teleparty, along with the other services, is only available from your desktop. That means you will not be able to host a watch party from your smartphones, iPads, or televisions. Other than that, it's pretty simple—I had our Teleparty account up and running in under 5 minutes, following these three simple steps.
Step 1: Install the app and add the extension to your browser.
Most of these services are going to require you to install and add an extension to a compatible web browser. Google Chrome is usually the browser of choice for many of these apps. Just go to the website of the app you choose and it will walk you through installation. (If you do not currently have Google Chrome installed, the app will let you know, and provide you with a link to install Chrome first.)
Step 2: Make sure everyone has the same service!
Everyone in your watch party is also going to need to be a subscriber to whatever streaming service you are using. So, if you are planning a big Raya and the Last Dragon watch party, everyone will need to have a subscription to Disney+. You can't share your subscription with other people at the watch party.
Step 3: Open the Teleparty, and share the link.
Once you have logged into your streaming account, simply click on the Teleparty extension in your browser window, then click the Copy URL button to share your party with friends and family. Now you all just need to agree on a time to start watching together!

Shared screen time is savored screen time. Photo by Gabby K/Pexels
Watch Party Safety Tips
It is important to set age-appropriate boundaries for what your child is allowed to watch on all these streaming platforms. Even though you may have pretty strict restrictions, parents should be aware that the person who initiates the watch party can share whatever movie or TV show they are allowed to watch. You may want to always be around for the first few minutes of a watch party, to check on the movie or show selection, and act as tech support, if needed.
It should go without saying that your child should personally know everyone at the watch party. Additionally, you should be comfortable with whatever the host family's media rules are.
It's also important to be aware that there is a chat feature that your child will be allowed to use. Young kids may need parental help with this feature; for bigger kids just make sure everyone knows to keep the chat age-appropriate.
One last thing to keep in mind: while watch parties are generally safe, anyone with access to the shared URL will be able to access the watch party (including chat features). If you're not watching alongside your kids, make sure they know to tell you if someone they don't know joins the party.
Now, what are you going to watch? We've got some suggestions! How about one of the movies from our list of The 50 Best Kids' Movies? Or some of our favorite movies and shows we've been streaming this past year. You could even get your kids hooked on a fabulous (kid-appropriate) British period drama. These shows all have lots of episodes, so your watch party can become a weekly event.
Click Here to Sign Up!
i