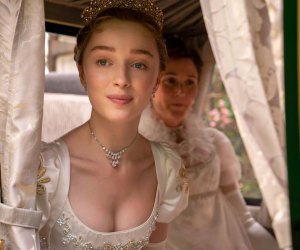 Liked Bridgerton? Best British Period Dramas to Watch with Kids
While Bridgerton is being celebrated for bringing much needed diversity to the often whitewashed world of period dramas, it's definitely not appropriate for children. As a costume drama devotee, historical fiction lover, and devourer of any and all period films and TV series, I'm happy to share some of my favorite popular and lesser known options that are kid-friendly.
Period dramas are wonderful escapism. And who doesn't need some escapism right now? Common themes are designed to make us nostalgic for a lost era of manners and the purity of the agrarian, pre-industrial past. Pair that with the over-the-top decadence of the costumes and houses, and there's nothing better than these bingeworthy British period dramas.
My recommendations are all rated G or PG and are available to watch online, either included with streaming services or to rent.
One of my favorites is this lesser known series. I describe it as the British Little House on the Prairie. It's the story of a small rural town and its cast of characters, as they struggle with that classic British conflict of maintaining their honest agricultural authenticity while adapting to modern times. There are four seasons, so lots to love.
Becoming Jane has everything you love about Jane Austin stories, but tells the story of the young Jane herself as she struggles to become a writer despite societal pressures and finding her own love story. Anne Hathaway is the perfect Austin, and Maggie Smith graces the film with her dry witticisms. Chef's kiss.
OUR LATEST VIDEOS
This updated version of Anne of Green Gables is beautifully shot and tells the story of the spunky, independent orphan girl grappling with topics such as conformity, gender bias, racism, and love. Three seasons to binge.

Belle is the true story of love, justice, and gorgeous gowns. Photo by David Appleby/Fox Searchlight Pictures
Not just gorgeous costumes and houses, Belle tells the tale of Dido Elizabeth Belle, a real historical girl of mixed race who grew up in England in the late 18th Century in the home of Lord Mansfield, who ended up ruling on a pivotal case that many believe led to the abolition of the Slave Trade Act. The film depicts a lot of overt racism, which can be hard to watch.
The story of the creator of Peter Pan and the children who inspired his stories features Johnny Depp at his most charming and a stunning Kate Winslet.
This 2020 stunningly gorgeous version of the classic story is the tale of a lonely orphan girl who discovers a world of friendship and magic in a secret garden.
Technically not British, Hugo does speak in a British accent, and I loved this movie so I'm sticking it in here. It's absolutely gorgeous and a fun adventure of a boy who lives alone in a Paris train station.

Emma is Mean Girls, 200 years ago. Photo courtesy of Focus Features/Box Hill Films
Emma is a cautionary tale for mean girls. Rather than the sensible and restrained heroines of other Jane Austin tales, Emma is reckless and spoiled. I loved this version which updates the story very slightly, while totally nailing the pretty heroine.
If Netflix's The Crown about Queen Elizabeth is too mature, try the BBC's Victoria. I love watching the young queen learning to assert herself in a world of men looking to usurp her power, and the young couple figuring out how to navigate the power dynamics and gender roles of a queen and her prince consort.
It's impossible to pick a favorite version of this most popular of Jane Austin stories. I absolutely love Keira Knightly and the beautiful costumes and settings (2005 version), but it's hard to resist Colin Firth as the strained Mr. Darcy (1995). Watch them both, obvs.
I think this is the most fun of the Jane Austin stories. The sensible, restrained sister and the playful, reckless one find their own paths to love. A winning cast features Kate Winslet, Hugh Grant, and Emma Thompson.
Not as gorgeous as those at the top of the list, but it's a sweet story that follows a favorite British trope: A family loses its wealth and moves to the countryside to learn what's really of value. The children run free, have adventures, and help others, and it all ends well.

Downton Abbey brought Dame Maggie Smith to our living rooms every week. Photo courtesy of PBS
The show that brought costume dramas to the masses hardly needs an introduction. However, if you want to have some nerdy fun with your children, watch the UK versions on DVD and look for the scenes that were cut from each American episode as being too insidery British for American audiences.
I'm sticking this in as an honorable mention, because if you like seeing how people lived in Victorian or Regency England in stories, you can learn how they lived in real life in this documentary series, in which historians live using only Victorian-era methods for one year.
This article contains some affiliate links, which means we might earn a small commission if you make a purchase. There is no extra cost to the reader. We only recommend products and services that we have personally used or have thoroughly researched.