39 Things To Do with San Francisco Babies Before They Turn 1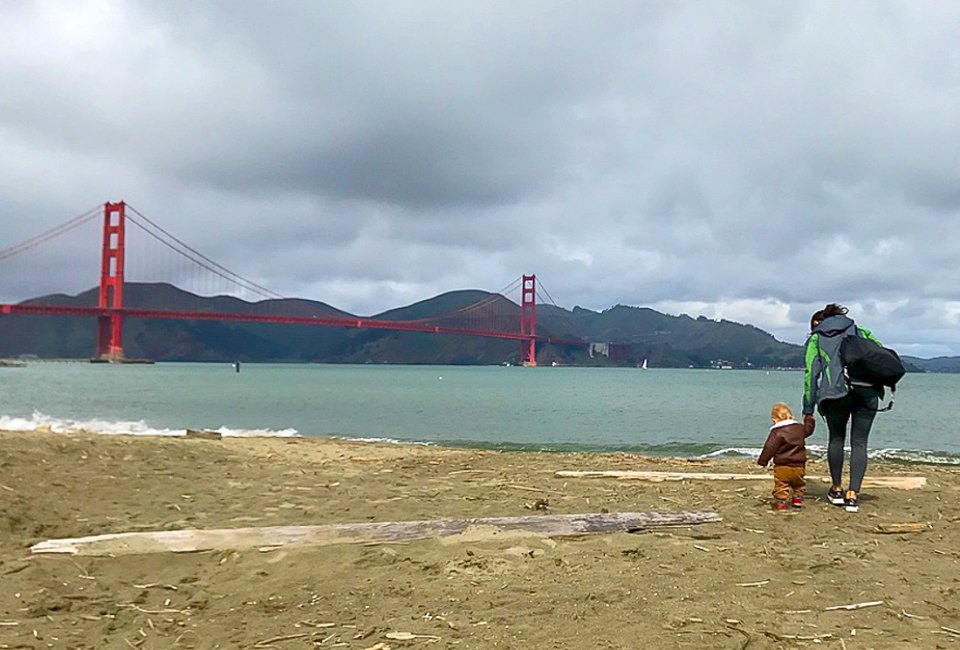 9/3/23
- By
Sandra Lee
San Francisco babies grow up amid culture, world-class cuisine, and some of the most iconic sights in the country. That first year for San Francisco babies is full of exciting discoveries, lots of photo ops, and new emotions as they immerse themselves in the world around them.
It can be tough to figure out what to do with San Francisco babies who are still learning how to walk, but before you know it, restaurant outings, family hikes in San Francisco, and day trips from the Bay Area with a little one in tow will be a no-brainer. Keep reading below for the best things for San Francisco babies to do before they turn one.
They might be babies now, but they do grow up so fast, so take it all in at a pace, and enjoy these 100 things to do in San Francisco with kids before they grow up and find more resources in our San Francisco Baby Guide for Parents.
Awesome Outdoor Baby Activities in the Bay Area
The zoo is an excellent outing for babies. Not only are the animals mesmerizing to watch, but tons of pathways and rest areas are stroller-friendly. There's also a miniature steam train, carousel, and a play area specifically for ages six months to two years old.

Visit the bison and see the tulips. Photo courtesy of Golden Gate Park
The famous Golden Gate Park is expansive, serene, and beautiful. Set out a blanket and let the baby enjoy the outdoors. Go for a stroller-friendly walk around Stow Lake, visit the bison, and get that photo op of the baby in front of tulips when in bloom.
There are a ton of working farms around the Bay Area that offer tours, opportunities to pet and feed the animals, and more. This little farm in Berkeley has free admission, and little ones can feed the animals, enjoy the baby swings at the playground, or ride the carousel.
Hikes not only get parents outside, but they also introduce San Francisco babies to nature and the world around them. The baby might enjoy the much-needed break from the house and fresh air as much as you will. Try stroller-friendly hikes at The Presidio and Coyote Point Recreation Center in San Mateo.
Baby swings will likely be the first introduction to playgrounds for San Francisco babies, especially with nearly perfect weather all year. Magical Bridge is a beautiful playground, inclusive of all abilities. It even has a separate toddler and baby area with swings, music stations, storytime, and more.
RELATED: Free Museum Days for Kids in San Francisco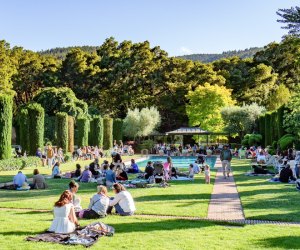 Let baby stop and smell the flowers. Photo courtesy of Filoli
6. Filoli — Woodside
Tulip season, rose varietals, and plants galore love Bay Area weather. Filoli has year-round events, pristine-manicured grounds, scenic baby photo ops, and stroller-friendly pathways.
A storybook world sized just for babies and toddlers, the amusement park in Oakland has fun, slower-paced rides like trains and carousels that are always a hit. Special events during holidays have puppet theater shows, storytime, and even family sleepovers!
8. Pier 39 — San Francisco
There is already so much to do at Pier 39, but watching the sea lions lounging around might be one of Bay Area families' favorite things to do. The time it right, and you can see a bunch of them taking their afternoon naps on the dock. Then head over to the Aquarium of the Bay to see the mesmerizing jellies.
RELATED: Top San Francisco Restaurants Where Kids Can Play While Parents Eat

Pick up healthy produce for your wee one. Photo courtesy of the Ferry Plaza Farmer's Market
9. Farmers Markets — Various Locations
If the baby has been dabbling in solid foods, a trip to the local farmers market can be a fun way to start sampling produce. Many vendors offer free samples of fresh fruits and vegetables-some even have live music. Grab some much-needed caffeine, and get your weekly shopping done with the baby in tow. While the Ferry Plaza Farmers Market is huge and scenic, the neighborhood ones can be just as fun.
If your family includes toddlers and preschoolers, a tot-friendly amusement park can be a great way to spend the day, where the whole family can have fun. This smaller amusement park in San Jose caters to the little ones with animal meet and greets, puppet shows, rides, and those always popular swings.
Sprawling green grass overlooking scenic San Francisco and the famous Painted Ladies make this an idyllic spot in the city for a picnic with the baby. Plus, it has plenty of space for the wee one to crawl around. Take advantage of the walking trails in the park, and enjoy the baby swings at the gated playground.
This playground is specifically for babies and toddlers and will be especially appealing for early walkers. Crawler-friendly, communal toys, a sand and water play area, and baby swings will entertain little ones at this play space for ages four and younger.
Perhaps the most iconic landmark in all of San Francisco! Take the baby across the pedestrian-friendly part of the bridge on foot with a stroller.
Start the little one's love of the game for their hometown team at an early age. Oracle Park has a space for nursing moms at the Alaska Airlines Club Level Guest Services Desk. Though this level is usually for club ticket holders, any nursing mom may access this space, which has televisions for moms to watch the game while they feed the baby.
Baby changing stations are available in all public restrooms throughout the ballpark. Fold-up strollers can be stowed under your seat or checked at Guest Services if it's a larger stroller. Children under two years old do not need a ticket to the game but will need to sit on an adult's lap. Don't forget to commemorate baby's first Giants baseball game with a first game certificate.
Interesting Indoor Activities for San Francisco Babies
Cal Academy has something for everyone, and babies will love the rainforest, albino alligator, outdoor play area, and penguin feedings. Babies can wander around the Curiosity Grove, which includes books, toys, activity tables, forest murals, and a safe place for play with foam and mats for infant exploration. Family restrooms and a secluded nook for nursing moms are also available.
Babies love seeing colorful fish, elegant rays, and other beautiful marine life, with the jellies being one of their favorites. Be sure to look at their calendar to see when feedings are happening for a fun experience.
This indoor play space stands out for babies since there's a designated infant room with sensory toys and soft play mats. There's also a separate room for nursing moms. See what other indoor playgrounds and play spaces in the Bay Area are good for San Francisco babies to explore.
Movie theaters offer programs like Baby Brigade, where caregivers can watch a new release with a baby in tow. Lights get dimmed but are still on, the volume turns down, and strollers are welcome. You'll be glad to see other parents walking around, rocking their babies, knowing you are all in the same boat.
One of the most popular kid museums in the Bay Area, the BADM is a haven for kids of all ages. With the backdrop of the Golden Gate Bridge, babies can explore, crawl, touch, and play all day. There are a ton of programs suited just for them as well.
This museum and zoo is the perfect introduction to a museum and zoo for younger children. There are several experiences just for babies, like the baby's meadow. It's ideal for early walkers and crawlers and has interactive elements and sensory experiences.
There's even a treehouse loft for babies, providing an up-close view of the meerkats. Calming nooks are also in the museum if the baby needs a break. A family restroom, changing tables, and stroller parking are also available.
RELATED: Great Mommy & Me Classes in San Francisco Bay Area: Baby Classes We Love

Create a memorable keepsake with baby. Photo courtesy of Brushstrokes
This creative spot in Berkeley provides parents with a fun opportunity to make a keepsake of their baby's foot or handprint on a piece of pottery. It's a fun outing with other parents or when the grandparents come to visit.
22. Peek-A-Boo Factory — San Francisco, Daly City, & Livermore
San Francisco babies will love this indoor playground throughout the Bay Area which comes equipped with a specific baby play area.
Babies will have a blast at this lovely children's museum in San Jose. There's a baby crawl space, an art studio for little ones who are four and younger, and story times. There's also The Wonder Cabinet, an early learning laboratory for children under four to explore, with puppets, books, and a child-sized kaleidoscope.
Pick up some San Francisco-centric board books while you sneak in a caffeinated beverage from the cafe at this local bookstore. Black Bird is a kid-friendly bookstore with an inviting outdoor patio where you can read to the baby in the San Francisco sunshine.
Located in the good company of Yerba Buena Gardens, babies may enjoy Storybook Park inside the museum. They can interact with a sensory alphabet, and parents can to babies. Don't miss the timeless tradition of taking San Francisco babies on the LeRoy King Carousel.
Cant-Miss Baby Classes and Story Time
The Recess Collective aims to build inclusive spaces for families from pregnancy to the first few years of a baby's life, creating safe spaces for play and support networks for parents. There are a variety of classes for San Francisco babies, and some are at the previously mentioned Black Bird Bookstore.
27. JAMaROO — San Francisco
Outdoor music and movement classes take place in various San Francisco parks. Infant music classes and story time are available, including bilingual offerings.
Swimming is one activity San Francisco babies can start at a very early age and one that is essential for water safety as kids get older. It's also a fun bonding experience for caregivers, plus kids can splash and get comfortable in the water.
RELATED: Top Indoor Playgrounds and Play Spaces in San Francisco

Music is better together. Photo courtesy of Music and Me
Music and Me classes are hugely popular, with instructors that know how to engage even the tiniest babies and begin their love of music. Most classes have a free trial you and your baby can check out before committing.
This kids' yoga studio promotes yoga as a fun, healthy activity and a necessity for wellness. The youngest class offering is from newborn to age two, which consists of parents connecting with their babies and helping their development. Classes occur near the San Francisco Palace of Fine Arts for 30-40 minutes. Drop-in classes are available.
31. Library Story Time — Various Locations
The local library is a great rainy-day spot, and storytime is a big part of introducing babies to reading and books. Many have storytime specifically for babies, with short stories and songs to engage and play. Then, stick around and get a book or two to take home!
San Francisco babies or "little bears" can jam out at outdoor infant music class and socialize with other little ones. Who knows? They could be future bandmates with their young music classmates someday.
33. My Gym — San Carlos, Walnut Creek, San Ramon, & Palo Alto
Once babies can crawl or walk, they are ready to go! Many franchised gyms like My Gym can help those new movers explore, climb, jump, and burn some of that new walking energy. Babies can get pretty tired after a class, so plan around naptime.
34. Fit4Mom — Various Locations
Moms know that getting a workout in with a baby can be challenging, which is why groups like Fit4Mom are a win for both mom and baby. We love Fit4Mom's Stroller Strides, a full-body workout with locations all over the Bay Area that encourage self-care, community, and support. The breaks in between leave room for socialization, songs, and interactive activities.
35. Parent Groups —Various Locations
Parent support groups like Natural Resources in San Francisco, Parent's Place in San Mateo, Blossom Birth in Palo Alto, and Golden Gate Mothers are great for new parents with San Francisco babies. With locations all over the Bay, parents can engage in playdates, classes, and workshops for mom, dad, caregiver, and anyone else in your village.
Seasonal Fun for San Francisco Babies
While it may be too cold to get in the water, the sand is perfectly warm, making it a fun summer outing for babies to play. Just be sure to pack sunblock, hats, and swimsuits!
Nothing says fall more than pumpkin patches, and there are gourds all over the Bay Area. Bring the baby along for that obligatory pumpkin patch picture, go on a train ride, and grab a pumpkin or two to take home.
38. Snow
Lake Tahoe is a great spot to see the snow, and your baby will love grabbing and throwing it, as it's a pretty awesome sensory experience. Plus, it's the perfect opportunity to dress your little one up as a snow bunny with hats, gloves, and jackets!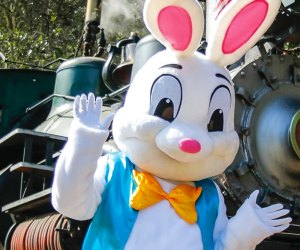 Meet the Easter bunny! Photo courtesy of Roaring Camp Railroad
39. Meet Santa & the Easter Bunny
The holidays aren't complete without a picture with Santa, the Easter Bunny, or any other holiday icon. Shopping malls, gardens, zoos, and local park events usually have photo opportunities throughout the Bay Area, with many of them now offering a more gentle approach to the meet n' greet.

Sign up for the Mommy Poppins Newsletter today!

i