Best Swimming Lessons for Kids in San Francisco: Swimming Classes for Your Little Fishes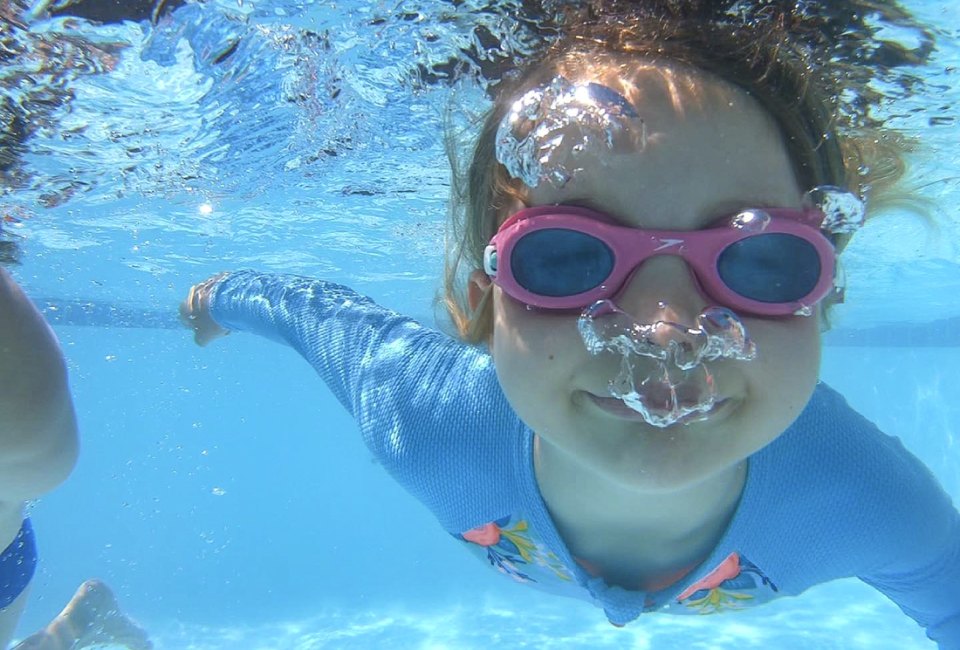 8/14/22
- By
Sandra Lee
Little ones as young as 3 months can start getting acclimated to the water at these spots that offer fantastic swimming lessons in San Francisco. The Bay Area has some awesome spots for swimming classes with teachers who are patient, fun, energetic, and experienced, and some of these businesses even have trial classes to make sure it's a good fit. It's never too young to teach kids how to love the water, so every place on our list also offers baby and toddler swimming lessons.
For more great classes for kids, including great cooking classes for little San Francisco foodies, check out our Bay Area Classes Directory.

Parent and Me classes are free for tiny babies! Photo courtesy of La Petite Baleen
Best Swimming Lessons in San Francisco
Ages 2 months and up
The instructors at La Petite Baleen take swimming seriously, which is why it's a favorite among Bay Area parents. Parent and Me classes are free from 2-5 months and help get babies comfortable in the water. Kids then progress through classes depending on age and ability in group, semi-private, and private classes to help them become confident and safe swimmers.
Ages 3 months and up
This very popular swim school has been teaching little ones the way of the water since 1981 in various gyms and pools around the Bay Area. The school offers Parent and Me classes from 3 months to 36 months before they move on to stroke skills, pre-team, and the swim team, the Barracudas. There are also special abilities classes and even adult classes, because it's never too late to learn how to swim!
3. JCCSF — San Francisco
Ages 6 months and up
Open for kids of all ages, the newly remodeled JCC swim club in San Francisco makes it a priority to help swimmers be confident and safe in the water. Parent and Me classes start at 6 months to get little ones comfortable in the water with games and songs. There are also classes for teens 13 and up as well as adults that start at the beginner level.
RELATED: Best Cooking Classes in San Francisco for Kids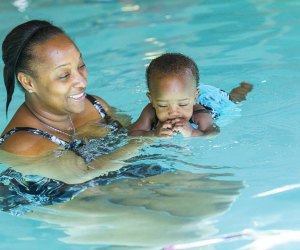 Learn to swim in a saline pool that's easy on the eyes. Photo courtesy of Patti's Swim School
Top Swimming Lessons in the East Bay
Ages 5.5 months and up
Since 1981, Patti's Swim School has taught more than 40,000 kids about water safety by using the Red Cross curriculum. Kids learn to swim in a saline pool, which allows them to see underwater without the use of goggles. Classes start with Parent and Me and progress from there depending on ability. The pool is kept in the low 90s year-round.
Ages 1 and up
There are a lot of ways to have fun and learn those important swim skills at Happy Fish Swim School. Babies 12 months and up start in the Water Babies class before moving up to kids classes depending on age and ability. The class size is small, and you can sign up for a free trial class to see if it's a good fit. With multiple swim teams kids can join, both seasonal or year-round, it is a great place to get kids to love the water.
Ages 6 months and up
With locations in Alameda and Concord, this big swim school facility is ready to teach little ones to swim 365 days a year. Parent and Me classes start at 6 months in the Tadpole class, and progress through competitive Tiger Shark and Orca levels. Aquatech uses the Mattos Method™ of teaching, a layered approach that includes breathwork, buoyancy, comfort, and fun. They also offer AquaRec—free swim for the whole family!
RELATED: Exploring San Francisco's Presidio Tunnel Tops with Kids

Swim like an Olympian! Photo courtesy of the AC Swim Club, Facebook
Best Swimming Lessons in North Bay/Marin
Ages 4 years and up
Started by Olympic swimmer Ann Curtis, this swim school focuses heavily on technique and correct form. Lessons are structured in sessions, each with a 1:4 teacher-to-student ratio. There are no baby classes, as the minimum age is 4 for group lessons. Private and semi-private classes are also offered and are dependent on instructor availability.
Ages 6 months and up
Swim lessons are offered year-round in a heated pool for swimmers as young as 6 months old. While you do not need to be a member of the JCC, there is a discount for members, and facilities include the spa, sauna, and steam room. Customized private and semi-private classes are offered as well as swim team prep for those wanting to really hone in on their swimming skills.
Ages 6 months and up
This San Rafael swim school prides itself on making sure that lessons are customized and taught in a way that benefits the individual child. Lessons are taught in 9-week sessions in group, private, and semi-private lessons. Pool membership is available for Marinwood residents and includes discounts on swim lessons.
Top Swimming Lessons on the Peninsula
Ages 4 months and up
Founded by swim instructors who love seeing kids of all ages learn to be confident swimmers, Kings Swim Academy has been a go-to swim school for Peninsula parents. The school offers free swim classes for babies 4 to 6 months of age and has small classes for toddlers and kids. Free swim is available for students to show off their swim skills to the whole family.
Ages 6 months and up
There are no fins or floaties on-site at this Redwood City swim school. Instead, instructors teach kids to swim with proper technique. With new swim structures and a warm 92-degree indoor/outdoor pool, there are tons of classes to choose from including Parent and Me, small group, semi-private, and private classes.
12. YMCA — Multiple Locations
Ages 6 months and up
The Y is a popular one-stop shop for sports, kids camps, group exercise programs, and aquatics. The swim school is top-notch, with classes running year-round for all levels. Y swim instructors go through rigorous training and are all CPR certified, making them highly qualified to teach little ones all about water safety.
RELATED: Water Safety for Kids at the Pool, Ocean, or Lake

Start young and keep taking classes up through the swim team prep level. Photo courtesy of the SafeSplash Swim School
Best Swimming Lessons in the South Bay
Ages 6 months and up
Classes are hosted either in LA Fitness or 24 Fitness, and families don't have to be a member in order to take advantage of the facilities. Free trial classes are available to new members, and lessons start at 6 months with parent participation until they are comfortable enough to swim in group classes. While SafeSplash doesn't have a swim team, it does offer swim team prep classes.
Ages 2 months and up
The Almaden Valley Athletic Club in San Jose has been teaching swim classes since 1964, and has proven to be a San Jose parent favorite. Parent and Me classes are free until 5 months, so you can start getting your baby used to the water early.
Ages 3 months and up
With locations in San Jose and Sunnyvale, Waterworks Aquatics isn't just a place to teach little ones to swim, it also offers family swim nights, summer swim camps, competitions, aerobics, and birthday party spaces. There are no set sessions for classes, and they run a short 20 minutes, so your little one can start and stop classes whenever it's most convenient.
Sign up for the Mommy Poppins Newsletter today!