Best Beaches in San Francisco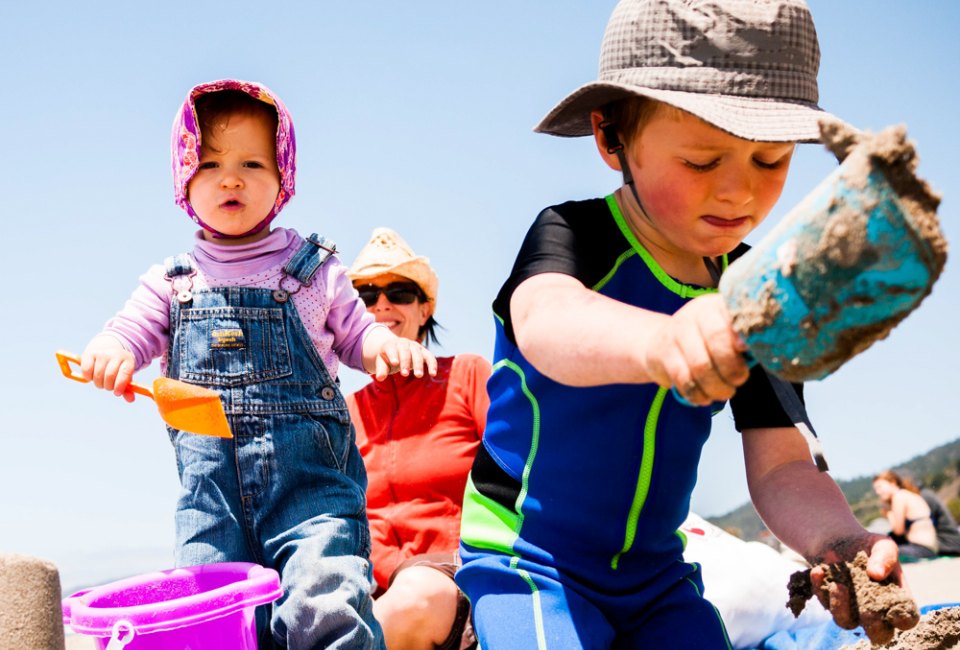 7/2/23
- By
Nicole Findlay
The best beaches in San Francisco are sure to be a popular summertime tradition for families in the Bay Area and visitors alike to play in the sand and splash in the surf.
From sandy beaches on the Pacific Ocean to calm bay waters, lagoons, and lakes, the best shorelines near San Francisco are all within a one-hour drive from the city, and many are accessible via public transportation. Don't forget the snacks for scenic sand-lined picnics on the coast, beach towels, sunscreen, and a few extra clothing layers for that chilly Bay Area breeze. Jump in to discover the best beaches in San Francisco to build magical summer memories.
There are so many fun and free things to do during a San Francisco summer, from urban hikes in San Francisco, and free outdoor movies in the Bay Area. Find more seasonal splendor in our Ultimate San Francisco Summer Kids Summer Vacation Guide.
Best Beaches in San Francisco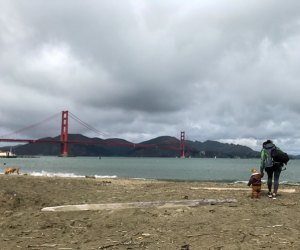 Build sandcastles with views of the Golden Gate Bridge at Crissy Field Beach. Photo by Nicole Findlay
Drive time from San Francisco—15 minutes
Soft sand, calm waves, and a beautiful view of the Golden Gate Bridge—it doesn't get much better than Crissy Field. Popular among tourists and locals alike, the beach is perfect for families. Tots love splashing in the shallow water and building castles in the clean sand.
It's also an excellent place for a family afternoon of kite flying. And for parents that like to barbeque, grills and picnic tables are conveniently nearby.
Cost: Free
Parking: There's parking along Crissy Field, but the East Bay Crissy Field Lot will get you closest to the prime beach area. Lots are mostly free on weekdays with a three-hour limit. $2-$7 per hour on weekends.
Food: The Warming Hut is the perfect spot to stock up on cold and hot drinks and snacks. Their hot chocolate is a must—the perfect treat on a foggy San Francisco day.
Bathrooms: Next door to The Warming Hut.
Getting There: Driving is easy—park near Crissy Field in the Marina. For public transportation, take Muni. It takes about 40 minutes from downtown and only costs $2.50 for a single-ride ticket.
RELATED: Exploring San Francisco's Presidio Tunnel Tops with Kids

Enjoy breathtaking views at Baker Beach. Photo by Paul Myers, courtesy of the Golden Gate National Parks Conservancy
Drive time from San Francisco—20 minutes
On the other side of the Golden Gate Bridge is the mile-long Baker Beach. This side of the bridge has stronger waves, so swimming is not recommended. What makes Baker Beach unique is that the sand stretches a mile below the rugged cliffs of the Presidio. Take in the breathtaking views and search for the gray-green Serpentine, the state rock of California.
Families looking to add hiking to their beach day can pick up the Coastal Trail on the cliffs. Extend the day even more with a picnic—tables, and grills are nearby, as are the Walt Disney Family Museum and the Presidio Tunnel Tops.
Warning: Clothing-optional sunbathers frequent the northernmost end of Baker Beach. Families should stick to the south side of the beach.
Cost: Free
Parking: There are two free parking lots at Baker Beach with ample spaces. But on busy weekends, visitors might have to park on the streets further away and walk down to the beach.
Food: There are no food options on-site, but the nearby Richmond District has delectable restaurants to choose from that include Burma Superstar, Pizzetta 211, and Lou's Café.
Bathrooms: Located near Cypress Grove in the east end parking lot.
Getting There: Baker Beach is easiest to access by car. However, public transportation is also available. The 29 Sunset bus serves San Francisco's western neighborhoods. Another option is the PresidiGO Shuttle. It's free and stops at many spots in the Presidio, including Baker Beach. Lyft or Uber are also good options.
RELATED: Family-Friendly Urban Hikes in San Francisco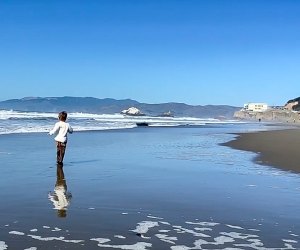 The sand literally stretches for miles at Ocean Beach. Photo by Nicole Findlay
Drive time from San Francisco—20 minutes
This beach is enormous (3.5 miles long), with the widest section of sand at the north end, where Golden Gate Park meets the Pacific Ocean. The water is cold, and the rip currents are too strong for swimming, but the sand is perfect for creating castles, there's tons of space for ball games, the Esplanade is ideal for strolling, and it's almost always windy enough to fly a kite.
Cost: Free
Parking: Free parking lot at the beach. If the lot is full, find street parking in Golden Gate Park.
Food: Park Chalet is across the street from Ocean Beach. It's open seven days a week and is the perfect place to enjoy a burger and a cold drink on a San Francisco summer afternoon. Upstairs is Beach Chalet, a little fancier but kid-friendly with gorgeous ocean views.
Bathrooms: Across the street on the ground level of the Beach Chalet/Park Chalet building.
Getting There: The Muni N Judah line runs from downtown San Francisco to Ocean Beach.
RELATED: West Coast Beach Camping Sites for Families

Crown Memorial State Beach is the crown jewel of the East Bay. Photo by Paul Sableman, via Flickr (CC BY-NC-ND 2.0)
Drive time from San Francisco—30 minutes
Crown Beach is 2.5 miles of sandy shoreline. Its warm water is ideal for swimming, and during low tide, it's shallow enough for families to wade with young tots. With classic views of the San Francisco skyline and the Port of Oakland cranes, this popular spot offers everything from swimming, playing in the sand, strolling, and windsurfing. Picnic tables, barbecue pits, and a grassy area perfect for family ball games are nearby.
The crown jewel of the east bay, Crown Beach is one of the best beaches in San Francisco. The nearby Crab Cove Visitor Center is also a family hit and a great spot to learn more about the local ecosystem and wildlife. And it's free!
Cost: Free
Parking: $5 per car when an attendant is in the kiosk. Enter the parking lot from the corner of Otis Ave and 8th Street in Alameda.
Food: There's no on-site food, but Crown Beach is ideal for a family picnic.
Bathrooms: A bathhouse is available with changing rooms, perfect for rinsing off sandy feet before returning to the car.
Getting There: From the city, take the Bay Bridge to I-580 East and I-980. Exit 11th/12th Streets on I-980. Make a left onto 5th Street. Go through the Oakland/Alameda Tube. Once out, you'll be on Webster Street. Turn left onto Central Ave. and right onto Eighth Street to reach the Crown Beach entrance.
RELATED: 25 Epic California Road Trip Ideas for Families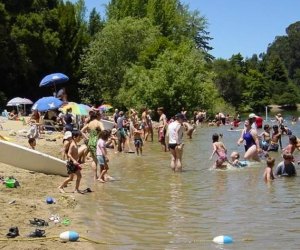 Fresh water Lake Anza will cool off the kids. Photo courtesy of the East Bay Conservancy
Drive time from San Francisco—40 minutes
The East Bay is hot! Much hotter than San Francisco. For those looking to cool off, Lake Anza in Tilden Regional Park makes an excellent option to cool off in the Bay Area. Kids will also enjoy a steam train, hiking trails, a farm, and a carousel. Sheltered by the wind, Lake Anza gets plenty of sunshine and has a lifeguard on duty, and is one of the best beaches in San Francisco, especially in the summertime.
Cost: $2-4 per person
Parking: Free ample parking in the on-site lot.
Food: On weekends, the Beach Club serves snacks, smoothies, and sandwiches, but their ice cream is always the family's favorite choice.
Bathrooms: Restrooms and changing rooms are available on-site.
Getting There: Located on Lake Anza Road off of Central Park Drive in Berkeley. Use Wildcat Canyon Road to enter Tilden Park. Turn Left on Central Park Drive, and then Right on Lake Anza Road.
Drive time from San Francisco—40 minutes
This sand-bottomed lagoon is excellent for all ages. Little ones will enjoy splashing around in the shallow water, while older kids love the floating diving platform. Note: older kids need to take a swim test with on-site lifeguards before they can venture into the deep water. The water is cold, but kids don't seem to mind.
Cull Canyon is a beautiful place to spend the afternoon and pre-registering is always a good idea. It's popular, and sometimes they hit their capacity limit.
Cost: $2-$4 per person
Parking: Free and ample, but families will cross a walking bridge and walk down a long pathway to reach the beach.
Food: Vending machines are on-site, so recommended to bring your own food. Grills and picnic tables are available on a first-come, first-serve basis.
Bathrooms: A Bathhouse is on site.
Getting There: Take the Castro Valley exit from I-580 westbound. Continue west on Castro Valley Blvd. to Crow Canyon Road. Turn right on Crow Canyon, then turn left on Cull Canyon Road. The park entrance is on the left.
RELATED: Best Baby Beach Gear, Umbrellas, Wagons, and Tips for a Fun Beach Day

The scenery is stunning at Muir Beach. Photo by Davity Dave, via Flickr (CC BY-NC-ND 2.0)
Drive time from San Francisco—45 minutes
With a quiet cove and lots of privacy, it's easy to see why the gorgeous sandy Muir Beach is a favorite among locals. You might see horses and dogs as both are allowed on the sand and nearby hiking trails. A stunning spot—bring a blanket and hang out all day.
The Dias Ridge trail (a segment of the Bay Ridge Trail) is on a ridge line above Muir Beach. The trail offers beautiful views of the Pacific Ocean and Marin Headlands, making for a lovely family photo op to commemorate a day at one of the best beaches in San Francisco.
Cost: Free
Parking: The parking lot is free, but families must cross a 450-foot-long pedestrian bridge that connects to the beach. Kids love running across it!
Food: Make sure to bring plenty of snacks. There are no on-site concessions. However, the nearby Pelican Inn has a delicious restaurant offering traditional British fare. The food and the ambiance are family-friendly and equally impressive.
Bathrooms: Adjacent to the parking lot.
Getting There: From Highway 1, exit at Mill Valley/Stinson Beach. Turn left onto Seascape Drive to find the parking lot.
Drive time from San Francisco—45 minutes (30 minutes to Tiburon, 15 minute ferry ride)
Angel Island is the largest island in San Francisco Bay and is relatively easy to access. Ferry rides from San Francisco are 15-minute, enjoyable trips and offer Bay Area views at their best. Angel Island is also home to historic sites like the Civil War-era Camp Reynolds and the landmark U.S. Immigration Station.
The most popular beach on the island is Ayala Cove, which is close to where you'll disembark the ferry. The beach is also conveniently located near restrooms, a café, and a visitors' center. The water at Ayala Cove is calm, and the beach is long and narrow. There are plenty of seagulls to chase, sandcastles to build, and seashells to find.
Cost: Park Admission is included with the ferry ticket. Ferry tickets cost $14 per adult and $7 for children. Kids under five are free.
Parking: If driving from San Francisco, head to Tiburon and park near the ferry terminal. The closest lot is off Main Street and charges $20 for all-day parking. A little further down on Tiburon Boulevard, you can find cheaper lots ($5 all day), but they require a short walk.
Food: The Angel Island Café has breakfast, lunch, and snacks. They also serve coffee, alcoholic beverages, and frozen treats. Stay to eat or grab food to go to enjoy on the beach.
Bathrooms: Conveniently located near Ayala Cove at the café.
Getting There: From San Francisco, the ferry is the easiest way to get to Angel Island. All trips leave from Gate B at the San Francisco Ferry Terminal and depart and arrive regularly. The ferry schedule is seasonal, so check the times before you go.
RELATED: Visiting Golden Gate Park with Kids: Everything You Need To Know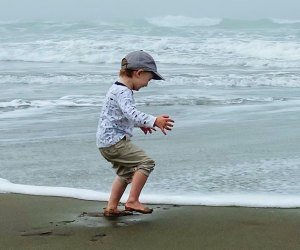 Stinson Beach is perfect for an all-day family outing. Photo by Nicole Findlay
Drive time from San Francisco—1 hour
This is one of the most beautiful beaches in San Francisco and the Bay Area, and it's nestled in a tiny town, so families should take advantage and stay for a full day. The white sand is soft and plentiful, and while the water is cold—it's still one of the best swimming beaches in San Francisco, and in Northern California, for that matter.
For families that love hiking, explore the Stinson Beach trails. Many of them offer breathtaking cliff-side views of the Pacific Ocean. If the kiddos still have energy after an afternoon at the beach, visit the playground near the Parkside Café.
Cost: Free
Parking: Free parking lot at the beach, but it fills up quickly, so get there early.
Food: The Stinson Beach Market is the perfect place to stock up on drinks and tasty treats. The Parkside Cafe has a snack bar, ideal for burgers and ice cream. It also offers a full breakfast, lunch, dinner, and pizza menu on a beautiful outdoor patio with white lights and lots of greenery.
Bathrooms: Restrooms and cold-water showers for cleaning sandy bodies are available on-site.
Getting There: Take the Mill Valley/Stinson Beach exit from Highway 1. It's a long, windy road to Stinson Beach, but the one-hour drive from the city is pretty and worth the effort. Public transportation is also available but not recommended. It's a lengthy trip and will take at least two hours.
Bonus Beach for Families Near San Francisco
Drive time from San Francisco—1 hour, 15 minutes
This scenic seaside city is known for great surfing, a beautiful beach, and of course, the iconic Santa Cruz Beach Boardwalk. After a day of swimming, sunbathing, and building sandcastles on the beach, head to the Boardwalk, which has been entertaining visitors since 1907.
From The Giant Dipper (one of the country's most famous wooden roller coasters to the Rock-O-Plane (an upside-down spinning cage), arcade-style games, and traditional carnival stalls (like ring toss), there really is something for everyone. The Boardwalk even hosts indoor entertainment, like mini-golf, laser tag and bowling.
Sign up for the Mommy Poppins Newsletter today!