51 Awesome Free Things To Do in San Francisco This Summer With Kids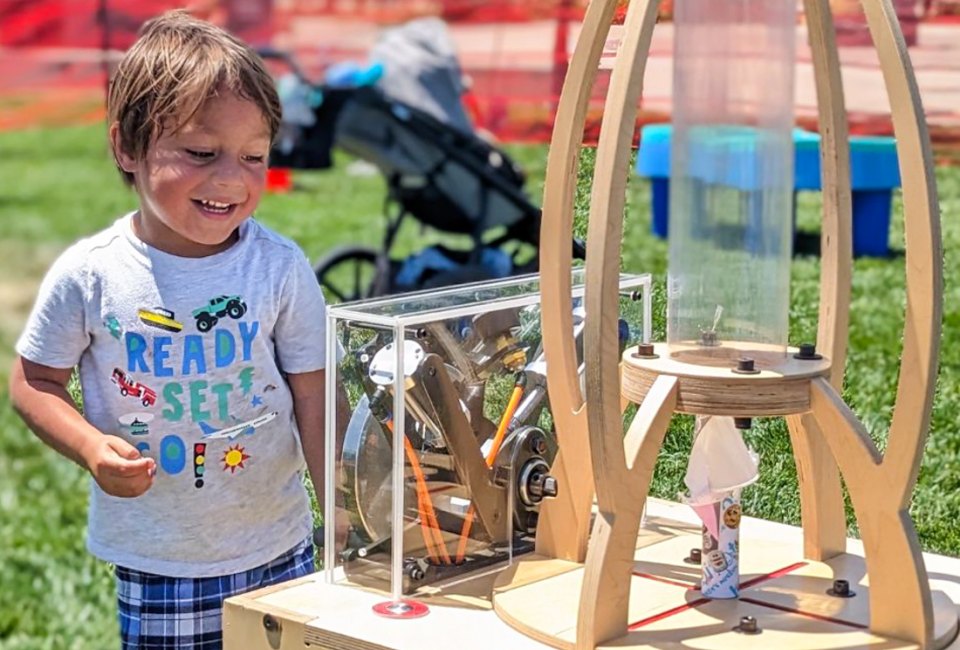 6/18/23
- By
Sandra Lee
There are so many free things to do in San Francisco this summer that the season might not be long enough to do them all!
The kids are out of school, the weather is warming up, and the Bay Area is sprawling with things to do every day of the week. Free outdoor movie nights and free museum days are a great way to spend an afternoon that won't cost you a penny (if you steer clear of the gift shop). Summer is also the best excuse to take a day off from work and go on a day trip to one of the many beautiful places just a short drive away.
Whether you've got a summer filled with summer camps and travel or prefer to enjoy the days as they come, we've got 51 free things to do in San Francisco with those kiddos this summer.
Have the best summer ever in San Francisco at summer festivals and fairs, and find more summer fun in Ultimate San Francisco Kids Summer Vacation Guide.
And don't forget there are always more free things to do in the Bay Area in our daily events calendar!
Free Things To Do in San Francisco This Summer With Kids
Enjoy a family-friendly film under the stars at the many parks around the Bay Area.
2. Cool off at a splash pad
When the kids need to burn off some energy and the weather is warm, head over to the local splash pad to cool off. We love Cannery Park in Hayward and 24th and York Mini Park in San Francisco.
3. Listen to music in a park
With so many parks throughout the Bay Area, there are tons of concerts in parks on summer evenings. Food trucks usually serve up delicious picnic food, as well as community vendor booths. Get there early to get a good spot on the lawn!
While the Bay Area fog makes it a bit cold to get in the water, there are plenty of opportunities to build sand castles, look for sea glass, and collect beautiful shells.
5. Visit a new park or playground
Visit an all-abilities park like Magical Bridge in Palo Alto or Redwood City, or the very popular Dolores Park in San Francisco for a new adventure of sun and fun. Magical Bridge Playground often hosts free kids' activities and classes.
RELATED: Visiting Golden Gate Park with Kids: Everything You Need To Know

Sunday Funday at Streets SF. Photo by Yong Chau
The streets are blocked, and families can roam freely for a night of celebrating community with live music, kids' activities, and food trucks. Locations vary week-to-week throughout San Francisco.
Whether your family regularly hikes, or you're looking for something stroller-friendly and short (to make it back before nap time), we've got a list of our favorite family-friendly trails to get you out and about.
8. Check out the tide pools
This one requires some planning, but if you venture out to the tide pools at low tide, kids can spot colorful sea urchins, starfish, and other marine life up close. We love Fitzgerald Marine Reserve in Moss Beach for easy parking.
9. Go on a bike ride
Bike across the Golde Gate Bridge, or take one of the less busy and picturesque bike trails around the Bay Area.
10. Help the planet at a beach clean-up
Pick up trash at a local beach and teach the kids about helping the planet to create a cleaner, safer, and friendlier place to call home. Don't forget the gloves and bags!
Enjoy one of the many Bay Area museums on free admission day, including SFMOMA, OMCA, Asian Art Museum, and Bay Area Discovery Museum.
12. Have a picnic on the beach
An easy activity for the family on a warm day is a picnic breakfast or lunch while listening to the waves crash and letting kids play in the sand.
13. See the 4th of July fireworks
Fireworks shows are plentiful in the summer, and almost all are free to attend. Enjoy the tradition with the family at ones in Redwood City, Leo J Park in Foster City, Fisherman's Wharf, and tons more throughout the Bay Area that you'll discover in our calendar.
RELATED: Ultimate San Francisco Kids Summer Vacation Guide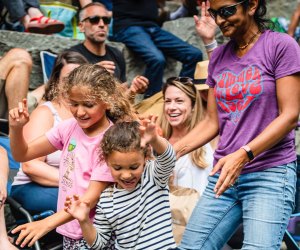 Boogie with the beat. Photo courtesy of the Stern Grove Festival
An impressive lineup of free summer music with activities for the kiddos will be a delightful evening for everyone.
Often found lounging around, these adorable sea animals are a popular attraction for tourists and locals of all ages.
16. Pick fresh fruit at a U-Pick Berry Farm
It's berry season, which means farms open their fields for families to pick their own cherries, blueberries, and strawberries. Let the pie-making begin!
The Marine Mammal Center in Sausalito is a hospital and visitor center for marine mammals found along the California Coast.
Kids love exploring this park, with open space to run and play, a merry-go-round, and a little farm where you can see and pet animals like goats, chickens, and pigs.
19. Go camping on the beach
There are a ton of beaches to choose from that are perfect for camping all over Northern California. Pack a tent and supplies, and fall asleep to the sound of ocean waves.
Take a trip to Yosemite, Sequoia, or Lassen Volcanic National Park and spend the day admiring the natural beauty. While there is a fee per car, there are fee-free days and free entry for fourth-grade students.
RELATED: Yosemite: Plan a Fun, Kid-Friendly Getaway to California's Favorite National Park

Photo courtesy of the Presidio Tunnel Tops
21. Play at the Tunnel Tops in the Presidio
This picturesque playground with amazing views of the Bay has become a favorite for many families. Recurring events like Park Ranger Campfire Talks, Amateur Astronomers' Star Parties, as well as special events, happen year-round.
22. Visit a local farm and meet the animals
Tilden Little Farm in Berkeley and Hidden Villa in Los Altos are working farms and are free to visit. Families can walk the grounds, see the animals, and learn all about what it's like working on a farm.
This 1.8-mile hike offers the most beautiful views of the Golden Gate Bridge and San Francisco skylines. Pack a picnic and go during sunrise or sunset for the best views.
There are so many things to do at Golden Gate Park with kids, and it's easy to spend the entire day in this iconic spot.
Bring the bikes and helmets to San Francisco's half-acre bike park. It includes a Pump Zone with dirt mounds and turns, a skills trail, and a spot for little ones to practice.
26. Go on a free SF tour with SF City Guides
Be a tourist in your own city and learn something new. These walking tours are held all over San Francisco and are great for families of all ages and abilities.
RELATED: The Stunning Redwood Sky Walk: Take Your Family to the Treetops

Build-your-own fun. Adventure Playground in Berkeley, photo by Teddy Cross via Flickr
This unique outdoor playground in Berkeley lets kids build and decorate their own play structures with saws, hammers, nails, and paint. It's best suited for older kids.
Kids can become Junior Rangers at NPS national historic sites like Fort Point, Marin Headlands, Muir Woods, and Alcatraz Island. Read the booklet, take an oath, and get a badge! National Parks have this program too.
29. Look for hidden fairy houses
Take little Tinker Bells on a fairy house hunt all over the Bay Area. Alameda Island and Golden Gate Park have hidden fairy houses scattered throughout, so bring some pixie dust!
30. Explore the Batteries
Head over to the Marin Headlands and check out the Battery Yates and Battery Cavallo. History buffs can get a free history lesson and learn something new.
31. Spend the morning at the Ferry Building
Visit the diverse and expansive farmers market, shop for local goods, and grab some lunch at the many popular San Francisco restaurants while overlooking the Bay.
Little ones five and under and caregivers can check out the Habitot Mobile Museum and engage in fun, STEM-focused activities and play, all for free. Locations vary, and reservations are highly encouraged as spots fill up.
33. Shop local at the farmer's market
Support local farmers and visit one of the many farmer's markets around the Bay Area. Summer is the peak season for berries, tomatoes, summer squash, and more.
34. Visit a garden
Check out the Japanese Tea Garden for free on select mornings or a Second Saturday at Gamble Garden in Palo Alto.
RELATED: Ultimate Summer Bucket List: 100 Free Outdoor Games and Activities for Kids

Soak in the sounds. Flower Piano photo by Travis Lange, courtesy of the SF Botanical Gardens
Enjoy a concert al fresco at the San Francisco Botanical Gardens. Anyone can take a turn at the piano in the middle of nature.
Circus Bella's one-ring outdoor circus hosts free shows this summer at various parks throughout San Francisco and Oakland.
37. Dip into a swimming hole
Many swimming holes along the coast offer families a chance to cool off for free and tend to be hidden gems that avoid big crowds.
38. Family date night at Off The Grid
Off The Grid has food trucks in Fort Mason Center (among other locations) where families can eat al fresco.
This science, nature, and art center is free to attend and even hosts animal presentations. Special programs like Afternoon Art and Saturday Science drop-in classes are also available for a nominal fee.
Visit one of the oldest shops in Chinatown and see fortune cookies made right before your eyes. Then do some window shopping and take in all the culture.
41. Look up at Chabot Space and Science Center
The Chabot hosts free telescope viewings. Astronomers offer expertise and help you find constellations up in the sky.
There are so many things to do at the Santa Cruz Boardwalk aside from the arcade. Play on the beach, go surfing and catch some waves, or take a leisurely walk in the sunshine. In the summer, there are free movies on the beach!
RELATED: 30 Fun Things To Do in Santa Cruz with Kids

Tuesdays are all about the tots. Photo courtesy of Transbay Joint Powers Authority
43. Head over to Salesforce Park
The public rooftop open park has a beautiful garden and children's play area. It also has weekly family events like family storytime, Toddler Tuesday, and Friday Funday.
Hear live music with rotating genres like singer/songwriter, reggae, jazz, rock, and R&B for free. The setting is beautiful, and families can hang out early with a picnic dinner before the show.
45. Shop at HEAD WEST Market
Do some shopping, hear live music, and enjoy the warm sunshine at one of the HEAD WEST Marketplace events at the Ferry Building, Berkeley, Sebastopol, Alameda, and Los Altos.
46. Hang out at Yerba Buenas Gardens
There's always something happening in the summertime at Yerba Buenas Gardens. Don't miss their much-loved annual festival.
47. Take a family day trip
See where the day takes you with one of these day trip ideas, all just a short drive away.
48. Go for a nature walk
Enjoy free nature walks in small groups where families can learn about the natural world with a nature expert. Best for kids 6-12 with locations in Los Altos and Palo Alto.
See a ton of artistic murals in this Mission spot that is constantly changing with new and updated art.
50. Check out a local public library
With events and easy activities for babies up to teens and adults, the library is not only for checking out books but for free activities ranging from art, science, and music.
51. Slide down a neighborhood slide
Seward Slides in the Castro and Esmeralda Slide Park in Bernal Heights offer kids and adults a chance to get a thrill on these legendary metal slides. Don't forget the cardboard!
Sign up for the Mommy Poppins Newsletter today!