The Stunning Redwood Sky Walk: Take Your Family To the Treetops
6/21/21
- By
Melissa Bean Sterzick
Just when you thought California's redwoods couldn't be any more captivating, the new Redwood Sky Walk at Sequoia Park Zoo opened this June, just in time for a summer family road trip up the coast. The Redwood Sky Walk is a series of bridges high in the sky that connect platforms in the trees, lifting visitors up for spectacular views and an up-close connection with the canopy. Read on for a peek at this new experience in the trees of Eureka.
Find more California family vacation ideas kids love in our California Family Travel Guide. We've also rounded up the coolest (affordable!) California vacation rentals for families, so you know where to stay as you explore.

A family adventure you'll never forget.
All About the New Redwood Sky Walk
Usually, you have to look up to see the redwoods, or even drive through them. They're so grand, so far away. But what if you could walk among them? Well, now you can...
The new Redwood Sky Walk is a self-guided experience that is perfect for the whole family. Here you can climb up, clamber around, and get up close and personal with the world's tallest trees. Bridges connect to platforms and rise as high as 100 feet above the forest floor—and you're still not halfway to the upper canopy of the Redwood trees, which in this area reaches about 250 feet high. This is the longest sky walk in the western United States, measuring nearly a quarter of a mile long.
Imagine being that high, and still having 150 feet of tree above your head!
Starting at the gateway, visitors make their way up the ramp to the launch deck. From here you can see the 9 sky walk platforms and bridges, each with a different perspective and view.
There are educational placards along the way to the main loop that teach tidbits of information about the trees and inhabitants. And visitors are reminded that the sounds of the forest are just as much a part of the experience as the sights, so kids can walk quietly and listen carefully and become fully immersed in the magnificent trees.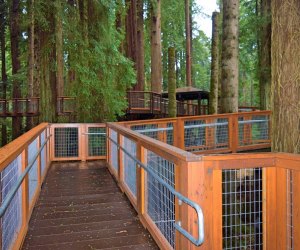 Safety first: strong guardrails and sturdy walkways keep everyone safe.
Something 100 feet in the air sounds like it might not be a super family-friendly outing, but it is. There's not really any major effort required—as long as you're OK with heights, and your kiddos are, too. The Sky Walk is safe for all ages and ADA accessible for all, and no harnesses or helmets are required. The bridges have 3.5 – 4-foot-high guardrails to keep everyone perfectly safe–even little climbers will be contained. Parents and kids, babies in slings (no strollers are allowed on the walk), and even toddlers, can walk, wander, and wonder in the gorgeous setting. (There is one optional adventure portion which is 369 feet of open-mesh decking; it's still safe, but even more exciting because it's see-through. Your daredevils will love it and everyone else can take a pass!)
There are a couple of things to keep in mind when visiting the Redwood Sky Walk. One is that kids are welcome (and encouraged!), but you do need to remind them there's no running or bouncing on the bridges or touching the trees—for the safety of all guests and trees. Also, it's chilly up in the trees, usually about 10 degrees cooler than it is on the ground, so bringing a jacket is a good idea. And the Sky Walk is part of the Sequoia Park Zoo; no food is allowed on the Sky Walk, and there are no restrooms available. Restrooms and a cafe are found at the zoo...

Red panda cuteness!
The Sequoia Park Zoo
Admission to the Sky Walk is included with a zoo ticket. The Sequoia Park Zoo has fantastic exhibits for kids. A favorite spot is meeting the otters at Watershed Heroes. Barnyard Connections is the place to pet donkeys, alpacas, rabbits, and chickens. The red pandas at Experience Panda-Monium are not only adorable but a miraculous part of saving their species. The zoo (and the Sky Walk) is open Tuesday-Sunday from 10am – 5pm. Grab lunch at the Ecos Cafe from 11am – 4pm.
Getting Here and Getting Tickets
The Redwood Sky Walk is operated by the City of Eureka, with ticketing and access through the Sequoia Park Zoo. Children under 2 are free and no reservations are required. Prices are $24.95 for adults, $12.95 for kids 3-12.
Eureka is pretty far north—even farther than you think! It's about a 10-hour drive from Los Angeles and 5 hours from San Francisco. Several airlines fly directly to Eureka if a drive that long is too much car for your crew.

Exploring Eureka. Photo courtesy of Humboldt Botanical Gardens
More Things To Do in Northern California with Kids
California is huge! If you make it all the way to Eureka, be sure to explore this part of the California Coast. There's so much to do here with kids of all ages. These are some of the local spots not to miss:
Everyone will love Peter Santino's "All Happy Now" Earth Sculpture, an interactive grassy labyrinth where guests are invited to take off their shoes and follow the spiral to its center. The gardens are open 10am - 5pm Wednesday through Sunday.
Fort Humboldt was established in 1853, and one of its earliest residents was Ulysses S. Grant—later to become Civil War general and president of the United States. Check out the old structures and historic logging equipment that includes steam donkeys and locomotives.
A museum dedicated to shipwrecks and lighthouses—what could be better? From the museum, take a tour of the M.V. Madaket, the oldest passenger carrying vessel in continuous operation in the United States, first launched in 1910. Narrated tours are offered from May to October. Next door to the museum is the Samoa Cookhouse which has been serving all meals "lumber camp" style since 1890.
Feel like running around? Go to Patrick's Point to hunt for agates, explore tidepools, and watch the water for seals, sea lions, and migrating whales. In the park's interior, there's a visitor center, a native plant garden, and a reconstructed Yurok plank-house village.
Photos courtesy of Sequoia Park Zoo, unless otherwise noted
Places featured in this article:
---
Redwood Sky Walk at Sequoia Park Zoo
Click Here to Sign Up!
i