Road Trip on the PCH: Where To Stop and What To Do with Kids from LA to San Francisco
5/20/21
- By
Matt Matasci
My in-laws live in the Bay Area, so we make the trip up north several times a year, and whenever we can, we like to take our time and travel up the coast along the PCH and the 101. There are so many things to see and places to stop that a road trip up the PCH should be on every family's bucket list. There are kid friendly-activities and great food everywhere, not to mention hikes and places to explore the unique California landscape— including beaches filled with elephant seals, dinosaur caves, goat dairy farms, and hikes through Redwood Groves.
This is the perfect first family road trip because if you break the trip into a few days, the distances between destinations are easy for even little kids. So load up your device with great podcasts for kids, learn a few new road trip car games, and put rubber to the pavement with these must-see destinations for kids along the California coast!
Where to Stop in Santa Barbara and SLO County
Even though it's only a couple of hours from Los Angeles, the first stop on your PCH road trip with kids should be Santa Barbara. The Santa Barbara Zoo is a must-see, offering a more compact, pleasant alternative to the LA Zoo, and it won't take all day. Head down to the waterfront and visit Stearns Wharf and the Museum of Natural History before strolling the city's large Mission-style downtown for some great dining options, like The Palace Grill, where kids will eat all the muffins before dinner even arrives. Santa Barbara is a great place to stay your first night, but if you're looking to put more miles on the odometer on your first day, you could continue inland...
Santa Ynez Valley
Heading up the coast you'll make a sharp turn north to head inland through the Gaviota Pass. Much of this guide is focused on coastal towns but this inland jaunt is worth it. Along the way, stop off at the adorable Danish village of Solvang for a cup of coffee or lunch (or just to take a bathroom break, stretch your legs, and see the windmills). Santa Ynez is renowned for its wine, but that's not the most road trip-worthy destination. Instead opt for the region's equally-famous tri-tip barbeque, whether at Jocko's in Nipomo or one of the two The Hitching Posts—we like Hitching Post II, because it's right next to Solvang in the town of Buellton (home of Andersen's Split Pea Soup!).
Travel Tip: Instead of staying on the 101 through Santa Maria, leave the 101 and take Highway 135. This two-lane highway gives you a look at the area's beautiful rolling hills and gets very green in the winter. From there you'll be able to link back up with Highway 1 just south of Old Orcutt (if you hit this point in the morning, stop by Jack's in Old Orcutt for heaping piles of pancakes).

Hang out with the Monarchs. Photo courtesy of Highway1DiscoveryRoute.com
Pismo Beach
Pismo Beach is popular with tourists from the Central Valley but is a bit unknown to most Angelenos. You should definitely make a stop at this little seaside town that has a lot of history and character. If your trip falls between late October and February, pencil in a trip to the Pismo Beach Monarch Butterfly Grove where thousands of butterflies gather. The small grove has telescopes to view the vibrant clusters of butterflies in the eucalyptus trees, plus on-site rangers are full of informative facts and lessons.
Next head downtown to the area around the pier where Pismo Bowl has an old-school alley and arcade, then grab takeout from Splash Cafe or Mo's SmokeHouse BBQ and eat at the Dinosaur Caves Park. Or, crack your own crabs at the Cracked Crab on Price Street. For dessert (or breakfast!), don't skip Old West Cinnamon Rolls. You can gross your kids out at the Hotlix store, home to lollipops with scorpions and crickets. If you choose to stay the night in Pismo Beach there are many family-friendly hotels to choose from, like the Lighthouse Inn North.

Meet the animals at this working farm. Photo courtesy of Avila Valley Barn
San Luis Obispo
Just north of Pismo Beach is the Avila Valley Barn, a pesticide-free, working farm that offers pick-your-own fruits and veggies. It sells lettuce to feed to farm animals, too. It's a great lunch stop with plenty of food offerings, including barbeque, roasted corn, and a sweet shoppe. If your kids love to swim, Avila Hot Springs is another spot worth a visit. It has a huge pool with free swimming hours and two water slides, but the real attraction is its pungent mineral hot springs. You can also camp at the hot springs, as they have vacation rental cabins that sleep up to four people.
On your way into the city of San Luis Obispo, treat yourself to the famous—and delicious—pink champagne cake at the world's most unique hotel, the Madonna Inn. This kooky spot delights kids of all ages, and if you are looking to break up your drive, this is a perfect place to spend the night. Be sure to check out the different rooms online before making reservations—that's half of the fun. Downtown SLO is a vibrant place; take a stroll around the city's core (don't miss Bubblegum Alley!), do a little shopping and dining, and make a stop at the San Luis Obispo Children's Museum.
North San Luis Obispo County
At San Luis Obispo you face a routing choice: head north up the 101 towards Paso Robles wine country or west on Highway 1 towards Morro Bay. In my opinion, the best bet is to go north on the 101 to Atascadero and visit the Charles Paddock Zoo, a cute five-acre zoo that has animals from all over the world, including flamingos, spider monkeys, pythons, and more. From there hop on Highway 41 West for a scenic ride through the mountains and down to the coast.
Morro Rock is a sight to behold, plus you can rent kayaks, explore the Bay and then enjoy lunch right on the waterfront. As you leave Morro Bay and begin the transition to the Big Sur area, there are several points of interest like Moonstone Beach in Cambria, Hearst Castle in San Simeon, and just a little further, the Elephant Seal Vista Point.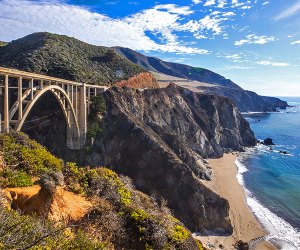 Sweeping views of cliffs and coast. Photo courtesy of Visit California
Family Destinations in Monterey and Santa Cruz County
Next up is Big Sur and the twisting, narrow portion of the PCH that hugs the mountains along California's coast. This is easily one of the most scenic stretches of road in the world, but can be overwhelming because of the sharp turns, narrow lanes, and dramatic drop-offs. If your kids struggle with carsickness, it might be best to head back to the 101 and go north through the (also very beautiful) Salinas Valley and catch back up with us in the city of Monterey.
If you do head through Big Sur, some of the points of interest include Sand Dollar Beach, Limekiln State Park, the waterfall at Julia Pfeiffer Burns State Park, and loads of hiking trails. For food, definitely check out the gorgeous Nepenthe Restaurant. The fudge cake and sweeping views will stay in your memory for a long time.

See under the sea and visit the kelp forest. Photo courtesy of Monterey Bay Aquarium
Monterey
Your next stop should be Monterey, the coastal city that's famous for its world-class Monterey Bay Aquarium as well as the more touristy Cannery Row and Fisherman's Wharf. While those are must-see destinations, the area is home to some lesser-known places to explore that I highly recommend. The quaint village of Carmel-by-the-Sea is a great place to get lunch while Pacific Grove's Museum of Natural History has permanent exhibitions on local wildlife. Stretch your legs by hiking the trails around Asilomar State Beach, and if you stay the night in the area, the Asilomar Hotel and Conference Grounds is one of my favorite family-friendly hotels in the state.
Santa Cruz
Santa Cruz is a hard city to pigeonhole, as it's equal parts funky and bohemian, urban and gritty, and kitschy Americana. The Santa Cruz Beach Beach Boardwalk, with rides, a massive arcade, and loads of carnival-style food options (and a full selection of beers for the adults), is even better than the Santa Monica Pier. There's so much more to Santa Cruz than the beach; the surrounding areas are a treasure trove of activities for families. One of our favorites is Roaring Camp, which offers two train rides, one of whichgoes through redwood forests en route to Henry Cowell State Park.
For a taste of the funkier side of Santa Cruz, visit the physics-defying Mystery Spot just outside of town or learn more about American folklore at Felton's Bigfoot Discovery Museum. For those that love to hike, Wilder Ranch and Natural Bridges State Marine Reserve provide a super-easy hike that's more of a nature walk and provides access to secluded coves on the south side of Highway 1, while on the north side it offers easy access to hiking in the Redwood Grove.

Half Moon Bay has some amazing tidepools. Photo by Jay Graham/VisitHalfMoonBay.org
San Mateo County and San Francisco
Half Moon Bay
Highway 1 between Santa Cruz and San Francisco has scenic vistas of the coast without the twists and turns of the Big Sur area. Before arriving at Half Moon Bay, make time for a quick stop at Pescadero to visit the Harley Farms Goat Dairy, where you can meet the resident goats and buy all sorts of unique products. Then grab a table at the historic Duarte's Tavern, which has been open since 1894, for some down-home American country cooking (with a touch of Portuguese influence).
After several hundred miles of small coastal towns, you've arrived at San Francisco. The city offers just about everything you could want to do with kids, much more than could fit in this space. But here are a few inside tips, if the City by the Bay is your final destination, and you're spending a few days here. While acknowledging the famous tourist attractions like the cable cars, Chinatown, Lombard Street, and Alcatraz, there are a few attractions that would be better for your road trip. First off, find a spot to park along the Embarcadero—it's expensive, but once you park you can walk all over this part of town, everything is within a small radius.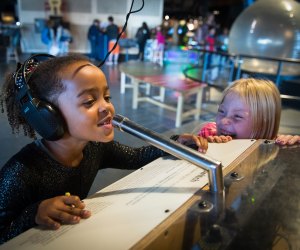 The Exploratorium is one of the best museums in the state. Photo courtesy of www.exploratorium.edu
One of the coolest kid's museums I've ever seen is the Exploratorium. There's something for every kid at this museum. Take your time walking along the Embarcadero and visiting Fisherman's Wharf; yes, it's tourist-driven like the 3rd Street Promenade, Venice Beach, or Hollywood, but it offers a distinctly West Coast big city atmosphere that is really different from anything in LA.

The Bay Area is much like Los Angeles (something neither town would ever admit!) and has points of interest spread across the metropolis. That's why it's worth crossing the Bay Bridge to Oakland and visiting Children's Fairyland. Oakland's Lake Merritt and its surrounding parks are some of the best urban green space in the country, and certainly the most underrated. Children's Fairyland is located along the lake's northern shore and offers a whimsical (if a bit worn and dated) experience that my kids still love after (many) repeat visits.
For little animal lovers, the Oakland Zoo and San Francisco Zoo are both excellent. However, Oakland recently introduced the new California Trail attraction, which may put it over the top as the Bay Area's go-to zoo experience.
And that's your trip up the PCH from LA to San Francisco! Now you can hit all those spots you missed on the drive back home.
Click Here to Sign Up!
i