Driving Big Sur with Kids: 10 Spots Not To Miss Along the Way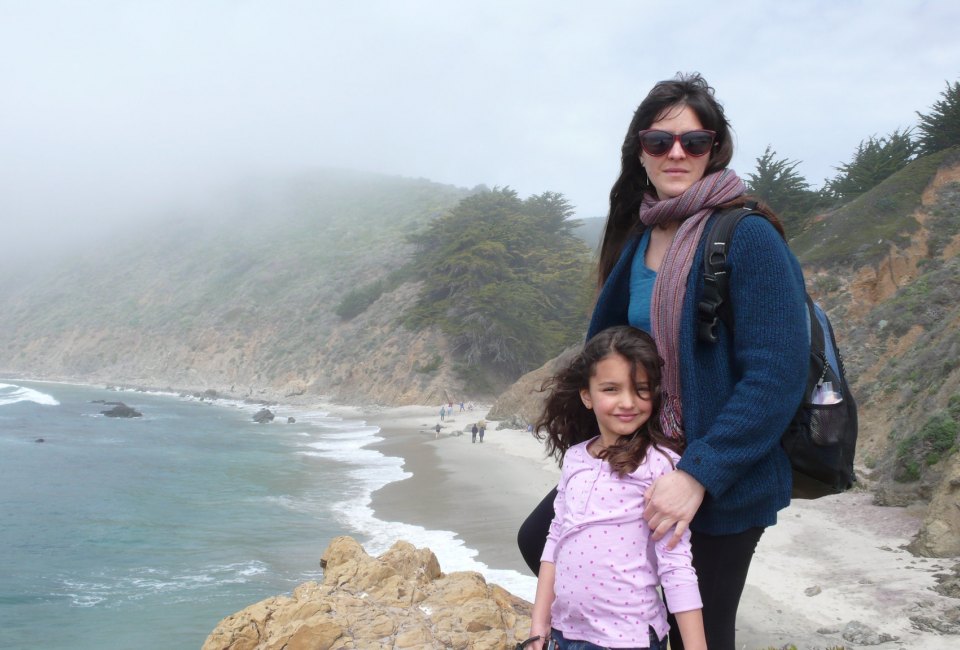 4/12/19
- By
Arianna Menon
California's rugged, woodsy, 90-mile-long Big Sur coastline is an enchanting and iconic wonderland of beautiful beaches, unspoiled state parks, and redwood forests we've recommended for families before. No doubt, Big Sur is an ideal destination for nature lovers—and perhaps in your pre-parenting days, just lovers. But while traveling this road with kids might be a little less romantic, it can be just as memorable. From hiking to exploring, there are plenty of opportunities to enjoy this Central California paradise.
Planning is the key to making a Big Sur trip a great experience, and it's wise to pick a time of year when it's not too crowded. Fall and early spring are ideal since there are fewer tourists, more lodging availability, better rates, and less fog than in the summer. The weather is a bit unpredictable due to coastal mist, and even during warmer months the temperature drops considerably at night, so it's always best to bring layers.
Another important factor to consider is the journey there: it takes about six hours by car from LA. Spending a night in San Luis Obispo, Cambria, or San Simeon can break up the drive so it doesn't wear anyone out (especially little ones). Big Sur is accessible via the two-lane Highway 1 that curls and curves along the ocean on steep cliffs. Driving on this route is an adventure all its own, and checking the road condition beforehand is mandatory (it might be jammed or, at times, even closed to traffic).
On your way along the coast to Big Sur, stop often to snap Instagram-worthy pictures and stretch your legs. Your kiddos will be happy to blow off some steam, but keep them close—some vista points are steep bluffs overlooking the ocean and have minimal barriers. Finally, pack plenty of snacks and drinks, and if you're camping bring your groceries, since fully stocked stores are far from the Big Sur area.
So, now that you've done your homework and your planning, there's only one thing left to do: explore and have fun!
1. Find Marine Treasures at Sand Dollar Beach
Named after the flattened sea urchins that wash up on the shore, Sand Dollar Beach is a great place to find shells, as well as minerals and stones with a hint of jade. Not surprisingly, the adjacent Jade Cove is the spot where you'll see the most of these glittery specimens. This beach, one of the largest ones in Big Sur, features a tall cliff that acts as barrier on windy days, making it a serene spot to see migrating whales (if you happen to be there any time from October through January). It's easily accessible from the parking lot, and there's a campground nearby with single sites and group sites that can accommodate as many as 40 people, making it perfect for a camping birthday party or school trip.
Photo courtesy of See Monterey
2. See Old Lime Kilns at Limekiln State Park
Despite its small size, Limekiln State Park is a 700-acre park with one of the tallest waterfalls in Big Sur (100 ft.). The park boasts a spectacular beach trail (which requires the crossing of a shallow river) and other short hikes through redwoods. Limekiln State Park is a historical site, too, containing four old lime kilns that were used for a lime-calcining operation in the 1880s—kids can have fun spotting these copper colored furnaces and stone walls among tall sequoias. The park offers 24 campsites, some with ocean view, which need to be reserved at least six months in advance.
3. Marvel at McWay Falls
Located in Julia Pfeiffer Burns State Park (not to be confused with Pfeiffer Big Sur State Park located 10 miles north), this 80-foot roaring waterfall plunging into a beach cove resembles a faraway, tropical location. The breathtaking scenery is only admirable from the lookouts (there is no access down to the beach), which are an easy 10-minute walk from the highway. The path is fenced, but there are some large gaps, so it's best to hold toddlers tight while admiring the incredible views. (Note that, although storm damage has the park entrance closed in April 2019, the dramatic waterfall can still be seen from a pullout on Highway 1.)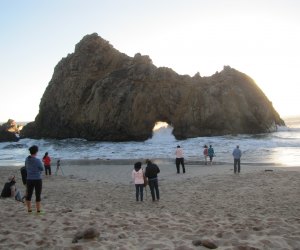 Photo courtesy of See Monterey
4. Watch the Sunset at Pfeiffer Beach
This sandy cove with arched rock formations and dunes is the perfect spot to lay down beach towels and help your kids build sandcastles. The small creek running through Pfeiffer Beach will certainly be a hit for endless wading, but don't let your adventurers get into the ocean solo—there are always big waves striking, even at low tide. If planning on staying all day, bring a UV protection umbrella (there is no shade on the beach), and watch the vibrant sunset colors through the gap of Pfeiffer Keyhole Rock.
5. Go Chase the Pfeiffer Falls
The Pfeiffer Big Sur State Park is a hidden gem featuring Pfeiffer Falls, a 60-foot waterfall, nestled among lush ferns and gigantic redwoods. The one-mile trail is an easy hike, perfect for kids of all ages. Not only will kids love gazing up the waterfall, but they'll also be wowed touching a mountain lion pelt and viewing preserved native wildlife at the nature center on their way out. Check trails info in advance, though, as this trail has been closed on and off for weather this season.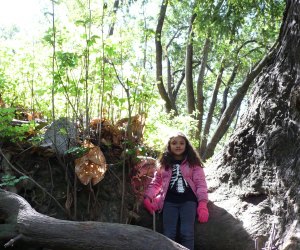 Photo by Vkanaya/Flickr
6. Explore Pfeiffer Big Sur State Park
Resting further inland and stretching to the slopes of the St. Lucia Mountains, Pfeiffer Big Sur State Park offers hikes through vast meadows to redwood groves and along the Big Sur River. The highlight of this park is Gorge Swimming Hole, a pool of clear river water in a granite-walled gorge where the whole family can take a dip. Alongside the river, there's a campground surrounded by tall redwoods and sycamores. All sites are close to clean restrooms with running water and flush toilets. If camping is not for you, stay at Big Sur Lodge, also located in the park.
7. Hike the Andrew Molera State Park Trails
Big Sur's largest state park has miles of hiking trails along coastal bluffs, rocky peaks, rolling hills, and sandy beaches. Its flatter terrain is ideal for young hikers and bikers, and its safer waters are great for surfing. Creamery Meadow Beach Trail is the best one for hiking with little ones and bird watching (along the way you can spot condors and sea birds at the sandy beach). The old Cooper Cabin, populated with hundreds of monarch butterflies from October to January, is also a must-see. The $10 entrance fee paid at one park will get you into any other California State Park on the same day.
8. Say "Cheese" at Bixby Creek Bridge
Just like San Francisco, Big Sur has its own iconic bridge, and it's a sight to behold. Bixby Creek Bridge, one of the most photographed features in California, is impossible to miss—you have to drive on it in order to go north of Big Sur. The massive concrete arch bridge is also one of the world's tallest, and a few family photos here are a must. Once you step out of the car, you can walk out to a vista point on the bridge itself.
9. Spot Wildlife at Point Lobos State Natural Reserve
This secluded reserve is home to an incredible variety of marine wildlife and land mammals. Bring a pair of binoculars for the kids to spot orca whales, humpback whales, and gray whales just offshore. Keep an eye out for harbor seals and sea lions soaking up the sun on beautiful sea cliffs and outcroppings. Explore the tide pools to see sea critters like hermit crabs, sea urchins, and mussels. The reserve has a great number of easy hikes (The Carmelo Meadow Trail and Sea Lion Point Trail are stroller-friendly) from where gray foxes, coyotes, and deer might occasionally pop up to say hello.
Photo courtesy of Visit California
10. Fuel Up at Nepenthe Restaurant
After a day of hiking and exploring, the whole family might have the appetite of a sea lion. For kid-friendly restaurants, look no further than Nepenthe; it has a children's menu and plenty of diversion. This legendary place is great for parents, too—it's perched on a cliff with indoor and outdoor seating overlooking the Pacific Ocean. For more casual dining with the same views, there's counter service at Cafe Kevah downstairs.
Click Here to Sign Up!
i