12 Best California Family Vacation Ideas Kids Love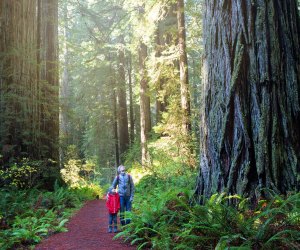 2/16/19
- By
Arianna Menon
Perhaps it's no coincidence that California is also known as the Golden State. With breathtaking sceneries extending from mountains to desert and ocean, a mild climate, and exciting big cities and quaint towns, California offers golden opportunities to experience different worlds within its borders. The best part is that no matter where you go, the kids will be alright; these 12 destinations are perfect for families who want to create memories for a lifetime.
1. The Redwoods
About 200 miles north of San Francisco, ancient forests of magnificent coastal redwoods populate Humboldt County. Reaching heights of up to 379 feet, these sequoias are the tallest ones in the world, and half of the earth's specimens can be found right here. Imagine walking, biking, horseback riding, and camping among these enormous trees at Redwood National and State Parks, or driving through them (yes, you can do just that on the scenic Avenue of the Giants); it's an experience that you and your kiddos will talk about for ages. To make things even more exciting, children of all ages can participate in the park's scavenger hunt program, Redwood EdVentures, and earn special patches upon completing each quest. Want to make the most out of this already memorable trip? The nearby dramatic beaches and picturesque towns are great sightseeing spots and packed with family-friendly events and activities.
2. San Francisco
The iconic red cable car going up and down the steep hills or the ferry going to Alcatraz for some kids could be a good enough reason to go to San Francisco. But, there are plenty more things that are sure to make your whole family happy. The Golden Gate Bridge, the hustle and bustle of Alamo Square, the restaurants at Fisherman's Wharf, and the shops and carousel at Pier 39 are all landmarks that offer something for everyone. Not sure if the little ones will appreciate a stroll by the Painted Ladies? Head to the Aquarium of the Bay, San Francisco Zoo, the Exploratorium, the California Academy of Sciences, or the Children's Creativity Museum for hours of guaranteed fun.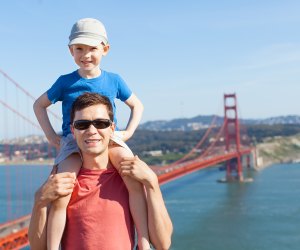 Photo via Bigstock
3. Big Sur Coast
With grassy hills dropping to the ocean and rocky beaches, the Central Coast region of California almost resembles the green coastline of Scotland or Ireland. Driving alongside the ocean is a treat, where every breathtaking vista makes a great Instagram post. The coastal towns of Monterey, Carmel-by-the-Sea, and San Simeon are incredibly beautiful and feature world-famous attractions like the Hearst Castle, the Monterey Aquarium, and the Carmel Mission. But the true star of them all is Big Sur, a rugged and woodsy stretch of coastline bordered by the Santa Lucia Mountains and the ocean. Pfeiffer Beach with arched rock formations and sand dunes is the perfect spot for kids to run around, and McWay Falls with its 80-foot waterfall cascading onto the beach is such a gorgeous sight. There are several trails on the mountainside for bird watching (especially condors). Some camping sites have playgrounds, and most restaurants have children's menus (Nepenthe is a favorite).
4. Santa Barbara
Known as California's Riviera for its flora and refined elegance, Santa Barbara is an enchanting mix of culture and fun. There are several maritime museums for aspiring little biologists (the Museum of Natural History's Sea Center, the Santa Barbara Maritime Museum, and the Museum of Natural History's Sea Center) and marine-inspired recreations for the more adventurous (paddling, sailing, and deep-sea fishing). At Stearns Wharf, the whole family can board the Lil' Toot, a water taxi that shuttles to the harbor, or try some pier fishing — and if you don't catch anything, don't worry! You can always count on the nearby restaurants for a scrumptious meal. A short distance away from the beach, MOXI, the Wolf Museum of Exploration + Innovation features hands-on engaging activities while Tomol Interpretative Play Area in Carpinteria is a sweet playground to let the kids run around. Old Mission Santa Barbara is a must-see, and so is the quaint downtown area for strolling, dining, and shopping.
5. Yosemite
Covering a million square miles of land, Yosemite (located in Central California's Sierra Navada) is the park that inspired the development of the national park idea, and once you'll see it, you'll know why. Majestic views and landscapes boasting giant sequoias, glaciers, meadows, waterfalls, and a vast biological diversity make Yosemite a unique wonderland that is so worth a visit. Campgrounds, lodges, and hotels are located inside the park and provide kid-friendly amenities and activities. But hiking and exploring along the numerous trails are perhaps the best sports of all as you take in all the beauty that Yosemite has to offer.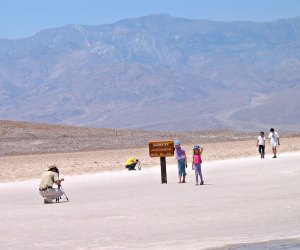 Death Valley. Photo by Vlad Butsky/CC BY 2.0
6. Death Valley
Death Valley should be renamed "Wonder Valley" for the variety of landscapes and geology it is known for. From slopes of super-fine sand and hills covered in minerals of hundreds shades to salt pans of spikey crystal formations, there is no shortage of vistas to ignite the imagination. This park, after all, is the perfect backdrop for a fantasy story and has been immortalized (no pun intended) in several movies, including George Lucas' original Star Wars. No doubt, it's an interesting choice for a family vacation; if going during cooler months and planning strategically, it should be the adventure of a lifetime.
7. Big Bear & Lake Arrowhead
Believe it or not, sunny California gets some snow, too. In winter mountain resorts are equipped for all snow sports, but the one that goes above and beyond is the ever-popular Big Bear. Both a lake and a community, Big Bear has two top-tier ski resorts: Snow Summit (for skiers of all levels) and Bear Mountain (for more advanced snowboarders and skiers), as well as an inner tubing park, a bobsled run, and ice skating, among other attractions. With their sweet chalets and alpine village esthetics, Big Bear and nearby Lake Arrowhead are great destinations year-round. Hiking, horseback riding, fishing, and boating are just a few of the fun recreational activities.
8. Joshua Tree
One of the most singular places on earth, Joshua Tree National Park is a treasure and a destination that everyone should see at least once. Groves of curious Joshua trees populate acres upon acres of the park, creating surreal landscapes to wander. Boulders in all forms and shapes dot the forests for endless climbing opportunities. There are several viewpoints, hiking trails, and unusual things to discover along the way (such as the Keys Ranch, the Ryan's House, and the Lost Horse Well), but nothing equals the thrill of watching the trees' shadows at dusk — it looks like the whimsical set of a Tim Burton's movie. For a more eerie experience, camping there and visiting nearby Pioneertown is a must.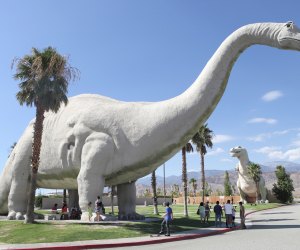 You can roam with the dinosaurs at Cabazon Dinosaurs, just outside of Palm Springs. Photo by Sam Howzit/CC BY 2.0
9. Palm Springs
When in Joshua Tree, a stop at Palm Springs is de rigueur. Located only 45 minutes away from the national park in the low Mojave Desert, this resort town is in its own right otherworldly. The surrounding canyons' fauna and flora are magnificent especially in cooler months when little streams and waterfalls flow down the San Jacinto Mountain and wildflowers start to bloom. Summers are very hot, but if you're headed to a hotel or a rental with a pool, there's no reason to worry. If you really must take a break from the pool, there are plenty of places for your brood to literally chill out, such as the Children's Discovery Museum of the Desert, The Living Desert Zoo and Gardens, and the Palm Springs Aerial Tramway.
10. Los Angeles
The city of Angels doesn't need any introductions—it's a metropolis diverse and culturally rich like no other. Museums, gardens, parks, theme parks, and countless attractions are interwoven into the fabric of the city and make it a must-see destination. Here, you can literally start your day at the beach, hike and have lunch on the mountains, and catch a dinner and a show in Hollywood with the kids in tow. Besides Disneyland, California Adventures, and Universal Studios, places like the Skirball Center, the Discovery Cube Los Angeles, and Kidspace in Pasadena provide endless family entertainment. To experience the city like a true Angeleno, we recommend picking and choosing from the jam-packed calendar of events happening throughout the city year-round. From parades and tours to scavenger hunts and festivals, there's always an opportunity to join the party.
Kayaking at Catalina Island. Photo courtesy of Catalina Island Chamber of Commerce & Visitor's Bureau
11. Catalina
Ever dreamed of leaving all behind and going to an island, even for one day? Catalina is the best choice and is reachable via a one-hour ferry ride from Long Beach, Dana Point, or San Pedro. The town of Avalon is a quaint seaport with cozy restaurants, cute artisanal shops, a history museum, and a library with tons of kid-friendly programs, among other things. But it's nature that plays a center role here. Kids can see bison up close on a Jeep Eco-tour, travel the island (yup, it's that small) on a golf cart, try a zip line eco tour, or enjoy rope ladders at Aerial Adventures. If you don't want to leave, we don't blame you; hotels, rentals, and a campground are some options available for lodging and prolonging your island dream.
12. San Diego
Nothing says more fun than sunny San Diego. California's southern-most county might as well be dubbed a gigantic amusement park featuring world-known attractions such as the San Diego Zoo, the Safari Park, SeaWorld, and Legoland. Apart from its beautiful beaches (La Jolla and Coronado, especially), tide pools, parks, and trails, the city brims with lively neighborhoods, each with its own distinct personality and attractions. The Historic Old Town boasts casas and buildings from the early 1800s and a cluster of eclectic stores and authentic Mexican cafés; Little Italy features European-style piazzas packed with family-friendly events and, of course, amazing pasta and pizza everywhere; and the Gaslamp Quarter is a California urban safari with myriad places to eat, shop, and explore (including The New Children's Museum) that stretch to the waterfront Embarcadero and Seaport Village.