Discovery Cube: San Fernando Valley's Science Museum for LA Kids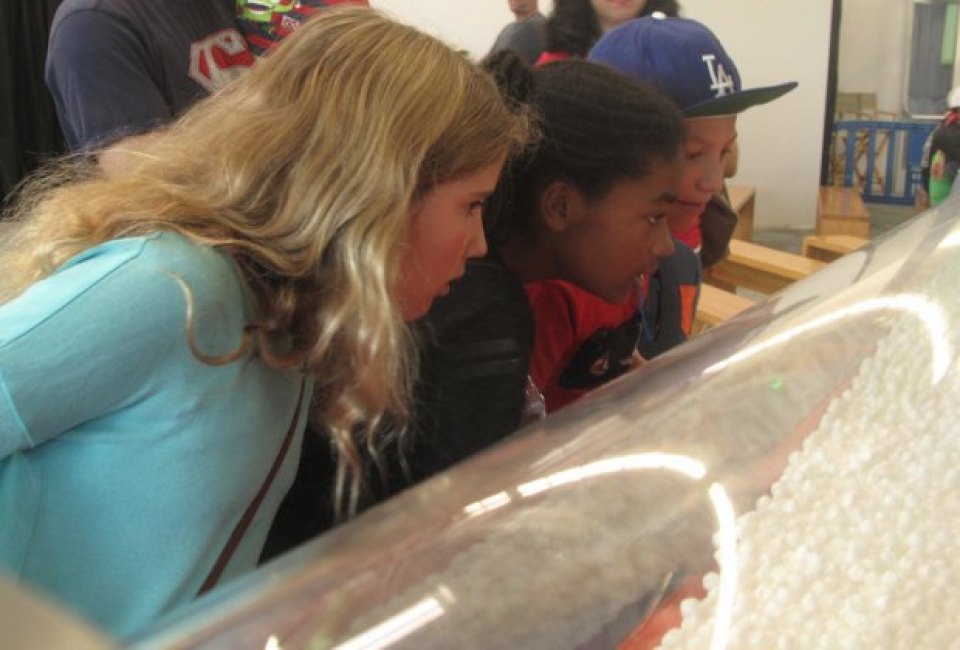 11/14/14
- By
Roberta B
The San Fernando Valley gets its own science museum this week, and boy is it a good one. In fact, if there were a commandment against coveting thy neighbor's science museum, I'd be in major trouble after touring the new Discovery Cube LA, which is in Sylmar's Hansen Dam Recreation Area. I brought four lucky 5th graders to check out the new museum this past weekend, and those kids could not have been any happier in a candy shop. At the end of a day running from one innovative, hands-on, inspiring exhibit to another, I asked my carload of seen-it-all 'tweens whether they felt they'd done that museum now, or if they'd like to go back. In a unison cry that could not have been improved upon, they all shouted, "Totally want to go back!!" So allow me to tell you what is so phenomenally fabulous and flat-out kid-pleasing about LA's newest science museum.
You may already be familiar with the original Discovery Cube in Orange County - a fun museum and one that we've sometimes braved the 5 to explore, when there was a particularly interesting exhibition rolling through. Truth be told, though, it takes a lot to drag a Westside family behind the Orange Curtain without promise of The Mouse; the Star Wars exhibit in 2012 was worth crossing the galaxy for, and annual events like Bubblefest merit the trip, but it's still a long way to go in the name of science.
For most of LA County, the San Fernando Valley is an easier drive than the OC. Frankly, though, the new cubed museum up by Hansen Dam is different enough and a big enough draw to even lure OCers north of the county line as well. Discovery Cube LA presents a variety of hi-tech interactive exhibits, fun multi-player games, and cool special effects to drive home messages about environmental stewardship, water conservation, and the cornerstones of the state science curriculum. It is, in short, everything we wish school could be set in one of LA's best city parks.
The majority of the exhibits are on the ground floor, but we headed up the ramp to start our day with a science show and demo on the second floor. After participating in the show's various games that all drove home a recycling message, we explored the Making the Grade Gallery. I actually didn't notice the signs that said, "Now featuring 4th and 5th grade" until after I'd heard several choruses of "This is exactly what we're working on in school!" The kids couldn't get enough of the display that challenged them to build specific molecules correctly, or of the sand box with meteorological projections that allowed them to bend a landscape to their will before creating precipitation and watching its effects. Too cool.
We could easily have spent more time upstairs, except that we'd all noticed on our initial trip upstairs that downstairs there was a whole lot more to see. The kids wanted to start in the Santa Ana Winds display, where a wind chamber allowed them to experience what one of the girls referred to as a "free blow-out." Although there is a similar wind machine at the California Science Center, that one requires purchasing a separate ticket; my gang were very happy to line up a few times to try this one for free.
While they were in the zone of exercizing their power over the elements, they also hurried for a chance to create their own tornado. After a few rounds of being swept out of Kansas, they explored the rest of the park science area, which includes a rock climbing wall with built-in interactive games and a Los Angeles River display that promotes the very topical idea of kayaking the LA River to appreciate its waterways - something that wasn't possible when these kids were born.
Speaking of water, throughout the museum visitors are given a relentless message about water conservation and protection. A display called the Aquavator simulates a journey below the earth's surface to show visitors what becomes of groundwater and to educate kids on what the aquifer is and how to protect it from pollutants. Small kids may need to know that this display includes some vibrations and loud noises.
The next plunge in water education is a helicopter tour of California's water supplies. A virtual reality ride takes guests on a journey from the snowy peaks where LA's water begins, through the Owens Valley, over Mono Lake, along the California Aqueduct, and all the way to LA homes. Again, the value of water is brought home; if your kids haven't done simulator rides before, though, remember to let them know that any motion sickness issues disappear if they close their eyes.
One of the major highlights of the museum is the home inspection project. Kids sign out tablets that they use to inspect a model home for energy efficiency. The detail work on the home is phenomenal, and kids are given tasks like checking for weather stripping around doors, looking for UV protective glass and insulated curtains on the windows, watching for dripping faucets, analyzing energy use of different kinds of light bulbs, learning how to turn off gas, checking for energy-draining appliances, etc. The project takes a while to complete thoroughly, and it empowers the kids to make adult decisions in a realistic environment. If they get enough of the questions right on the tablet, their faces are added to a wall of fame.
Even more popular than this exhibit with my kids, though, was the market. I never would have guessed how exciting grocery shopping could be for them, but they wanted to do this project again and again: Kids can take shopping carts equipped with computers and scanners on a faux shopping spree in search of items that are either environmentally responsible, healthy, or both. Several different missions are presented - e.g. shopping for school with a health focus, shopping for a barbecue with an environmental focus, etc. Kids select the best items to buy and scan them; if a shopper makes enough good choices, s/he is dubbed a Super Shopper at checkout and gets a photo up on the wall. The kids I brought could seriously have done this activity ALL DAY. And when we ran into our events editor there, her kindergartner felt exactly the same way.
I was finally able to drag them out of the market to try the recycling challenege, also known as the Race to Zero Waste. A recycling truck sends a stready stream of recyclables by on a conveyor belt, and kids man a computer that instructs players to grab a particular kind of item (green waste, plastics, etc). The directive changes several times, and at the end of the race one player wins. The kids were so driven to get it right, I felt like I was watching Lucy and Ethel in the chocolate factory.
Other highlights included a three-way lift-your-own-bodyweight race, a stationary bike with a skeleton that mimics the rider's movements, and a planetary research station with a giant animated globe. Films and stage presentations are also offered throughout the day. What struck me the most, though, is how effectively positive messages are brought home: visitors are presented with information at every turn about recycling, water conservation, healthy ingredients in food, environmentally responsible products, protecting our natural resources, etc. The Discovery Science Foundation really hasn't missed a single opportunity to cram in positive messages.
And while I felt that the 10-year-olds I brought were the perfect age to appreciate this museum, our event editor, Toby, assures me that her 5-year-old was also the perfect age to appreciate the museum. This place just gets a whole lot right from start to finish.
The Hansen Dam area is also a really lovely area to visit, and a picnic in the playground outside the museum's entrance can be handy for getting any unwanted wiggles out. It's important to note, though, that the park closes at sunset, which at this time of year means that by the time the Cube closes, it's already time to hustle out of the park.
Hours and prices are below, as is a short video clip that the kids shot inside the wind machine - in case you'd like to experience the blow-out without messing up your hair.
Discovery Cube Los Angeles
11800 Foothill Blvd.
Sylmar, CA 91342
Adults $18; Children (3-14) $13
Open 10am-5pm daily (closed Christmas & Thanksgiving)
Places featured in this article:
---
Discovery Cube Los Angeles
Sign up for the Mommy Poppins Newsletter today!
i