The Children's Museum in Pasadena You Don't Know Yet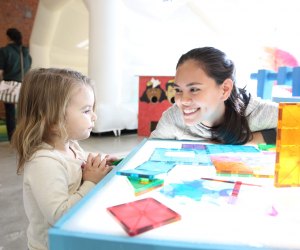 A few weeks ago, I randomly stumbled upon a children's space that I didn't even know existed. I was genuinely stunned and wondered how I could have missed the Southern California Children's Museum before. Determined not to let another day go by, I made plans to visit the museum immediately with my two-year-old (I was actually way more excited to check out this place than he was!).
SCCM might not be what you at first expect from the word museum, but it if your kids are age 8 or younger you will want to get to know it. The spacious, lofty building in the heart of Pasadena offers young families everything from locally focused exhibits to co-working space to camps and classes. Founded by a small group of local parents who wanted quality early childhood education options, the museum first opened its doors in 2014 in a temporary space and eventually moved to the current bigger location two years ago. Upon entering the colorful hallways, I realized that this is not a regular children's museum, but something pretty special. Here, you won't find dozens of exhibits, but a limited, curated selection inspired by Southern California's beauty, landmarks, and institutions.
Putting the icing on the cake
The huge open space has no dividing walls and blends sensorial play-based areas with interactive exhibits suitable for babies, toddlers, and kids up to eight years. Designed to spark wonder, SCCM's current performing and visual arts installations invite children to experiment, explore, and create. There's one dedicated to the magical world of LA's classic Bob Baker Marionette Theater: a few glass cases containing vintage puppets line the brick wall, but the real centerpieces are several marionettes of different shapes and sizes that young puppeteers can handle—including Rufus, a giant puppet connected to thick ropes which visitors can pull to make him move. Children have the opportunity to garnish three larger-than-life stackable birthday cakes with felt decorations and sweets, too. My son had a blast not only decorating, but rolling a tier of cake around the floor with some pint-sized partners in crime.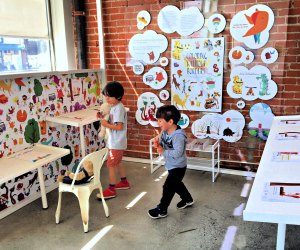 Coloring without borders
Coloring Without Borders, the other installation, consists of three panels featuring cheerful drawings of everyday objects, whimsical creatures, and inspirational quotes. The coloring books, promoting inclusion and appreciation for diversity, were made by artists from all over the world and are available on the small white desks for whoever wants to paint and color a planet with no borders. A stage with fun costumes and musical instruments kids can use to perform is nearby, and so are two big play structures with climbing ropes and slides. There are a play kitchen and a small market and, on the opposite side, an entire wall is covered with magnetic wooden blocks—my toddler's delight. Throughout the museum, there are some experiential stations where children can fly some scarves in a tube powered by a mini-turbine, play with fake snow in a large sink, test their balance on a rowboat, and learn about the basics of cooking in the "farm-to-table" area.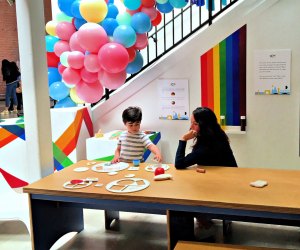 Prepping a meal
The museum will soon add an exhibit dedicated to the Hollywood Bowl and is committed to bringing some more in the near future. Much of this will depend on fundraising efforts and donations, though, as SCCM is a non-profit. With a mission to provide support and create a difference in the community, the museum is already offering rich programming that aims to stimulate children's imagination and development. Besides a variety of weekly classes ranging from fine arts (paint, clay, story, and crafts) and performing arts (Rise and Sing Music Class) to culinary arts and events (Open Mic Monday, Saturday Sing-A-Longs, and bilingual story time), SCCM also hosts camps for children (ages 3 to 5) throughout the year. New moms can take Postnatal and Mama and Baby Yoga classes, while parents who need to get some work done can buy co-working memberships or pay an hourly rate of $10 or $17 (depending if childcare supervision is needed). The space is also available for birthday parties.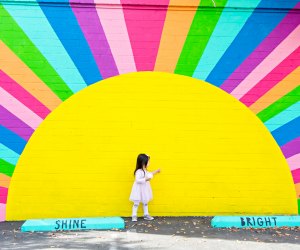 Instagrammin' in front of SCCM's parking lot's Rainbow wall mural. Photo by Ographr
Southern California Children's Museum is open Monday, Wednesday, and Thursday 9:30am-1:30pm; Tuesday, Friday, and Saturday 9:30am-4:30pm; and Sunday 12:30pm-4:30pm. Admission is $8 for adults and children 1 and over (children under 1 get in free). Most classes are free with admission, while others require registration; please check the museum's website for details. Free parking is available in the lot behind the museum, on Los Robles (between Colorado Blvd and Union).
Before leaving, make sure you snap a picture in front of the rainbow mural with the "Shine and Bright" message. If you go there, you'll certainly be shining. I know my son and I were, and we'll definitely go back soon!
Photos by Arianna Menon, unless otherwise noted