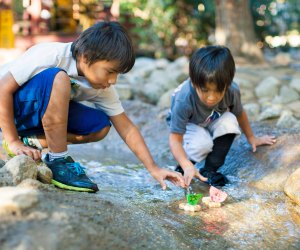 35 Fun Things To Do with Kids around Pasadena
If you're working your way down our bucket list of 100 things to do before your LA kids grow up, you might start to notice how many of those things are in Pasadena—and we're not just talking Rose Parade. The inland community rivals Santa Monica for family friendly, walkable streets and variety of arts and entertainment. It's also one of the oldest communities in the LA area, which gave it a head start on collecting cool stuff. Let the tourists spend their days in Hollywood; we know there's more going on most weekends in Pasadena, a city so bursting with kid and family-friendly activities that we couldn't stop at just 25. Read on for 35 things to do around Pasadena.
1. Explore the trails, trees, waterfalls, and wildlife at Eaton Canyon Natural Area (the Junior Nature Trail is especially suited for little ones, as is the Nature Center).

2. Wander through 120 acres of botanical gardens at The Huntington, soaking in the breathtaking views of 15,000 plant varieties in more than a dozen gardens, including the Children's Gardens (complete with water features).

3. Take a stroll through the USC Pacific Asia Museum (reopening on December 8) and drink in the culture and arts of Asia and the Pacific Islands.

4. Whirl and twirl on your skates at the Pasadena Ice Skating Center.

5. Listen to a story or two at one of Vroman's Books regular storytimes.

6. Enroll the kids in a swim or diving class, or in the Anderson Adventure Camp H20, at the Rose Bowl Aquatics Center.

7. Land at Victory Park with your frisbee and picnic for a fun day.

8. Take a children's yoga class at Yoga Kingdom.

9. Walk, run, ride, or stroll around the Rose Bowl on the Rose Bowl Loop. Or come on a Flea Market Sunday.

Photo courtesy of Magical Playground

10. If inclement weather has you stumped for things to do, visit the Magical Playground for indoor playground fun.
11. Cruise the many exhibitions, or take a class at the Armory Center for the Arts.

12. It's ships ahoy, matey, all day every day at Reese's Retreat, a universally accessible playground.

13. Grab some breakfast, lunch, or dinner (or some melt-in-your-mouth caramels) at the Little Flower Candy Co.

14. Delight in the sights and smells of Arlington Garden, Pasadena's only dedicated public garden.

15. Audition for a play or be a theatergoer at Theatre 360, the "award winning children's theater."

16. Go bowling at Bowlmor Pasadena.

17. For bigger kids, try an art class at Art Center for Kids (grades 4-8).

18. Take a tour of the American Arts and Crafts style Gamble House (children 12 and under get in free).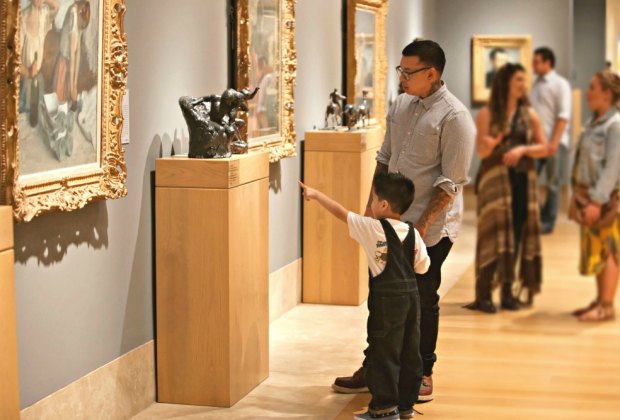 Photo courtesy of Norton Simon Museum
19. Visit the Norton Simon Museum, which offers more than just an array of glorious paintings. Your little ones might also enjoy the museum's Family Days,Young Artists Workshops, and more.

20. Check out a book, settle into a storytime, or watch a movie at the Pasadena Public Library.

21. Head over to the Kidspace Children's Museum for a day of play and exploration (or a Free Family Night).
22. Browse the Dinosaur Farm, Pasadena's uniquely entertaining independent toy and book shop.
23. Devour a cupcake (or four) at Dots Cupcakes.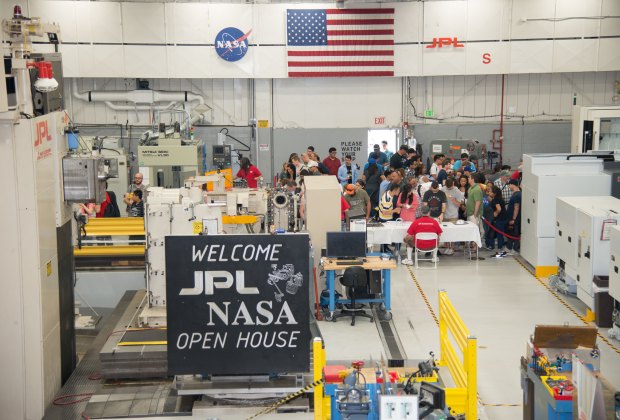 Photo courtesy NASA/JPL-Caltech
24. Launch your imaginations into space at the NASA's Jet Propulsion Lab.

25. Stop in to Pie 'n' Burger for, well, pie and a burger...and so much more.

26. Take a walking tour of Old Pasadena with Melting Pot Food Tours.

27. Wake up and smell the roses at Wrigley Gardens.

28. Skip over to Carmela's Artisan Creamery for a scoop of small-batch organic dairy ice cream.

29. Go play! CATZ Pasadena will get your kids running, jumping, and skipping through their Youth Performance program for kids ages seven and up.

30. Fill your bags with fresh and local produce at the Pasadena Certified Farmers' Market.
31. Play a round of mini golf at Arroyo Seco Golf Course.
32. Take in a summer concert at the Levitt Pavilion.
33. Sling some arrows with the Pasadena Roving Archers.
34. See a show—especially a holiday panto—at the Pasadena Playhouse.
35. Play a few rounds of old-fashioned pinball at the Neon Retro Arcade.

This post was originally published February 4, 2014.