Best Mini Golf in Los Angeles: Where to Play Mini Golf Courses or Have a Golf Birthday Party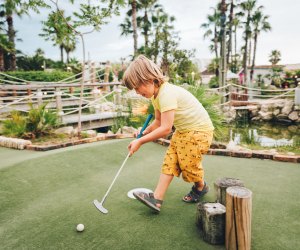 Whether you're looking for an interesting place to have a birthday party or just something to do to keep idle hands from emptying the toy chest onto the living room floor, mini golf can be a real crowd pleaser for kids of all ages. Like the big version of the sport, the miniature version can be a great way to spend time outdoors (without inspiring the critical looks one would collect letting little ones run free on an 18-hole course), and there's little chance of getting bored with all the other entertainment these places pack in. From purists to adrenaline junkies, mini golf courses can keep the whole family entertained.
Fabulous Mini Golf in the Valleys
LA Parks and Recreation runs the highly visible, highly affordable Sherman Oaks Castle Park. Beyond the drawbridge gate and through the castle arcade lies a group of three 18-hole miniature golf courses, each with themed holes. Birthday party packages are reasonably priced and include such goodies as food, miniature golf games, arcade privileges, use of the party area, and clean up.
The name says it all. This classic mini golf amusement park offers an arcade, go cart tracks, bumper boats, bumper cars, and plenty of that pizza you'd expect to find at a miniature golf course. Movie trivia buffs like the Norwood location, so they can put in the same place The Karate Kid did. Oh, and birthday parties? Like, totally.
Real golfing parents are not necessarily taken in by the courses with the arcades and the pizza; they might want their kids to get a mini-golf experience that feels closer to the original. Aroroyo Seco is a legit golf course that has a very pleasant, relatively quiet mini golf course without bells or whistles (though of course there's a mini windmill; there always has to be a mini windmill).
Great Mini Golf in Orange County
Boomers — Irvine and City of Industry
Another all-under-one-roof entertainment capital, Boomers offers mini golf plus a whole lot more. Go carts, bumper boats, batting cages, and rock wall could just be the things you miss on your way to the carnival, rollercoasters, laser tag, and mini golf. If you think you can bring kids here and have them just play miniature golf, good luck; heaven knows you could throw one big shindig of a birthday party.
The miniature golf of Camelot features Spanish forts with shooting water cannons, or a jungle safari, or surfboards - whatever you prefer. It is Camelot, after all. And what would Camelot be without jousting? Laser jousting, that is. Luckily after all that hard work, laser-jousting, golfer knights can cool off on a water slide, just like Lancelot used to. And yes, Lancelot would definitely have spent his birthday here; the party prices are great even by medieval standards.
Best Mini Golf in Riverside County
This one is worth the drive!What can't you do at Mulligan's? You'll have stay focused to only play miniature golf, nestled as it is between laser tag, go karts, paddle boats, a rock wall, an arcade, and batting cages (though we know lots of other places with batting cages...). Mini golf is offered on two 18-hole courses, complete with water and sand traps. And birthday parties include everything Mulligan's has to offer.
Photo via Bigstock. Originally published on June 26, 2012