Rock Climbing Gyms Where LA Kids Can Climb the Walls (Safely!)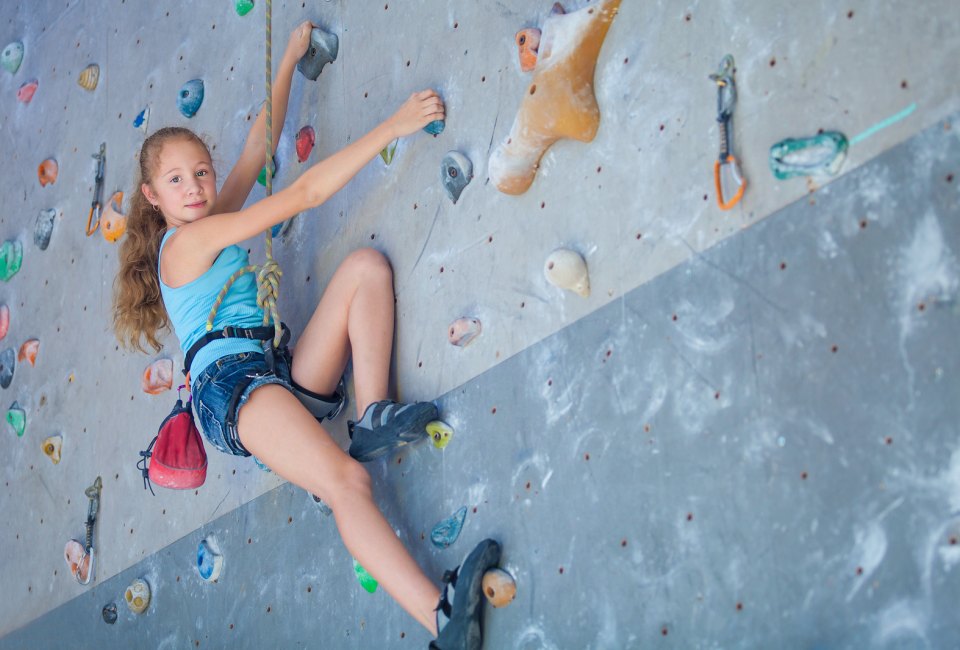 9/4/21
- By
Audrey M
All parents talk about their kids "climbing the walls"—but are yours truly climbing the walls, the trees, and random objects not meant to be climbed? Bring 'em somewhere that they can climb (safely!) as high as they like. Rock climbing is a full-body sport that builds strength, endurance, and stamina. It also challenges the mind as climbers make decisions, work out routes, and challenge themselves physically. And, as any kid who has been on a climbing wall at the park can tell you—it's just plain fun!
Most climbing gyms in the LA area offer birthday parties for kids, several offer summer camps, and all the ones listed below allow children to climb with an adult present. If your child really enjoys climbing, a youth team (many gyms offer non-competitive and competition teams) is the best way to get lots of practice and instruction. Of course, sometimes you just need to let them climb the walls for an afternoon. And here's where you can take them.
Rock Climbing gyms are great places for kids to get out energy, explore their strength, and try something new. There are classes, open climb hours, climbing clubs, summer camps, and birthday parties available at almost all of these locations. These are also indoor, high-touch facilities, which means many currently have limited capacity (or limited offerings) and rigorous cleaning practices. Check with each venue before a visit to confirm hours and safety regulations.
Ages: 5–17 for classes, 6–17 for teams
There are two Sender One locations, in Santa Ana and near LAX, with a brand new location opening this summer in Playa Vista. This climbing gym is spectacular for kids! Kids Climb provides beginning instruction in a fun, social, and supportive setting to kids aged 5–13 in drop-in classes. Kids interested in something more serious can take Climbing Academy, a 4-week course for kids ages 6-13 before joining one of the teams (either competitive or non-competitive). Camps and parties are also available. Sadly, the coolest kid feature at Sender One (Sender City, an interactive climbing center with all kinds of buildings and towers) is currently closed. We will update this information as soon as it changes.
Ages: 4 and up for classes and open climb, 6 and up for camps and teams
Boulderdash has gyms in Chatsworth, Thousand Oaks, and Ventura. Usually, Boulderdash offers ongoing afterschool classes that focus on building the strength and skills needed by intermediate-level climbers. Open climb sessions are also available each week. Team Boulderdash offers two 3-hour classes per week and competitions for kids ages 6–17 (space is limited), and climbing camps are offered in the summer months. However, due to limited capacity, the facilities are currently only open to members. But, the gyms are selling new memberships, and family memberships are available on a month-to-month basis, so if your family is looking to get out of the house, this might be a perfect opportunity. New to the sport? In lieu of regular classes for kids, private instruction is offered every half hour all weekend long. These private instruction classes are $40 and can be booked online, and it's just $10 to add one or two family members to the private class. Maybe rock climbing is your family's new Covid hobby...
Ages: 6 and up for classes, younger kids are allowed in open climb time with a parent who has belay certification, teams are for kids 9-16
Both LA-area Rockreation locations offer regular Kids' Climb Times (two supervised hours with a staff belayer, five kids max—so reserve your spot!). If your child is age 9–16 and wants more instruction, he can join a youth climbing team. Each location has a competition team with a significant time commitment, as well as a less-intense, non-competition team for those kids who are newer to the sport or not interested in competing, but who want to improve their climbing skills.
Ages 6 and up for the climbing team, summer camp, and open climb
Located in the Brewery Artist Loft Complex, this climbing gym feels more like a family hangout than a big, impersonal gym. There are climbing teams and summer camps for kids who really love to climb, and first-timers (and anyone!) can learn and practice during weekend Open Climb sessions. Open Climb is a day pass for climbers of any age (over 6) and ability and includes gym use, gear, and instructors to belay (hold the ropes) and give you challenges and tips. Serious teen climbers (age 14-17) can take adult classes and have separate Climbing Team practices. Birthday parties have been available in the past and hopefully will start up again soon. (It's a great place to drop kids off for a party, as Barbara's At the Brewery is a great brewpub in this complex which was once the Pabst Blue Ribbon factory, and is a lovely place to grab a drink and wait for your little partygoer!)
Ages: Kids under 17
Climb X offers a Kids Club program on Thursdays from 4pm–6pm. This program teaches kids to be self-sufficient climbers, learning proper knots and belay techniques. Kids can also participate in competitions as part of the program. Call or stop by for full details about climbing levels and costs.
Ages: 3 and up
Hangar 18 has three locations with youth teams and instruction. The Upland location offers a Micros team for kids ages 3–10 (free with membership). Meeting weekly, the kids learn climbing skills and build strength and endurance. Kids ages 10 and up can join a youth team, which practices at the Upland location; beginning, intermediate, and advanced climbers are separated and work with different coaches. Hangar 18 South Bay has a Junior Team for beginners and those who just want to improve their climbing (but not compete). The competition team is for those ages 9–17.
Competitive, intermediate, and recreational teams are for kids 6 and up. Camps will not be held for the summer of 2021.
Touchstone Climbing Gyms operates LA Boulders (in the Arts District in DTLA), Hollywood Boulders (in the heart of Hollywood, by Hollywood Forever Cemetery), Verdigo Boulders (in Burbank), and Cliffs of Id (in Culver City). These spots are all about boulder climbing, no ropes or belaying. Kids ages 6 and up can join one of three types of teams, which are based on skill level, not age. Group classes for beginners are not available for kids; the gym recommends scheduling a private lesson if this will be your little one's first climb.
Parents can bring in kids during open hours, but there must be one non-climbing adult to supervise for every 3 kids under 14. Both locations are kid-friendly, but you do kind of need to know what you're doing to drop in—or have adventurous kids who are ready to just hit the wall and figure it out. If your family is into climbing, memberships at any of these gyms are a great deal, as memberships at all the Touchstone Gyms (there are 14 total in California) are reciprocal.
Open climbing hours welcome kids as young as 3, with supervising parents. There are no classes or teams for kids.;
This smaller gym is bouldering only and very welcoming for kids, but there aren't dedicated classes for kids. It's another great spot to bring kids who already like to climb, with parents who are ready to supervise, but it's more of a drop-in, watch your kids climb kind of spot. The staff is very welcoming to kids of all ages here.
Ages: 5 and up
AdventurePlex offers rock climbing classes, camps, and open climb times. Classes are designed for both beginners and intermediate climbers, and families can participate together. Open climb is daily from 10am to dusk; reservations are strongly recommended. The climbing wall is located outdoors and is closed during inclement weather, as well as for private events. Visitors can purchase tickets for the climbing wall alone, or in combination with the outdoor ropes course.
Top photo via Bigstock
Sign up for the Mommy Poppins Newsletter today!