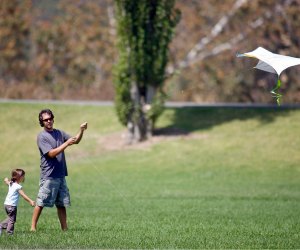 The Best Parks in LA Where Kids Can Run and Play
Poor parks, they're always getting ignored in favor of playgrounds. While there are amazing playgrounds in LA, sometimes you just want a vast field of green where kids can run forever, roll down a hill, or have the space to learn to hit or kick a ball. For those of us who don't have an expanse of rolling green in the backyard (raises hand), these parks are places where you can bring kids to play without the organized activity of a hike or bike ride— and avoid the crowds that flock to high-touch playgrounds.
So bring balls, frisbees, and kites—or just a blanket, snacks, and books—and head out into nature to rest, recharge, and play. From hidden gems to well-known spots, here are our favorite parks in town.
While we are trying to promote safer activities that occur outdoors or with social distancing guidelines in place, please keep your family and others safe by always wearing a mask and maintaining appropriate distance.

Bring snacks to enjoy at the shady picnic areas by the Old Zoo grounds. Photo by VMiramontes/CC-BY-2.0
The Best Parks from Mid-City To Downtown LA
Just up the hill from Shane's Inspiration is a spot where Independent Shakespeare LA puts on free shows for the masses in the summer. It's also a wonderful grassy park where families can picnic and play. This area is called the Old Zoo because it's actually the site of the first Los Angeles Zoo. In 1966 the animals walked down the road to their new home, but many of the cages and enclosures were left standing. Now kids can play on them, and families can take mini hikes around this part of Griffith Park. The empty enclosures make a fabulous spot for a game of hide-and-seek or a Nerf shootout.
Like Hansen Dam (below), this is a park that most people stroll through to get to something else, and rarely remember it's a fantastic destination on its own. Yes, Hancock Park is a neighborhood, but it's also the name of the park surrounding LACMA and the George C. Page Museum (the Tar Pit museum). While the museums are closed, the park remains a wonderful place to walk, picnic, and explore. One of the best grassy hills in the city for kids to roll down happens to be along the side of the Page Museum. Families can walk around the bubbling giant tar pit (the one trapping the mammoths), or find mini tar pits of their own to poke in. Giant sloth statues are fun for kids to try and climb. Some of the art can still be found outside, like the Levitated Mass (photo op!) and the Urban Lights sculpture of assembled street lamps (another photo op!). Throw in the Pleistocene Garden and scientists actively working on excavations that dot the grounds, and this park can turn into an all day outing.
Elysian Park is famous for being the home of Dodger Stadium, but it's also so much more. Dedicated as a park in 1886, this is the oldest public park in Los Angeles, and it's the second largest (after Griffith Park). With hiking trails, grassy areas (perfect for birthday parties) and loads of little nooks to explore (and find hidden creeks and lots of animals from bunnies to coyotes), this park is well worth a visit. Even if your purpose here is not hiking, be sure to take a short walk up one of the trails, where you'll be rewarded with beautiful views. It doesn't matter which trail or direction you take—mountains, cityscapes, and the Hollywood sign could peek at you at the top of the trail. (Note: if you're looking for the "secret" swing, it seems to have been taken down for good in 2020. If it's spotted again, we will update this!)

Running around at Los Angeles State Historic Park should tire kids out! Photo by Atomic Hot Links/CC-BY-2.0
This 32-acre park has been open for a few years now, but it still feels like the new kid in town. It's the opposite of the Joni Mitchell song; this is where they took a paved industrial area and turned it into a grassy paradise. It's a beautiful expanse where kids and dogs can run and play with the LA skyline behind them. Bring a blanket and a picnic (or takeout from nearby Chinatown) and spend the day.
This is the smallest park on our list, but one of the prettiest. Located right underneath the Hollywood sign, this little park is just a big grassy lawn and a tiny playground. It's peaceful (especially right now, when the town is empty of tourists), pretty, and has stunning views of not only the Hollywood Sign, but also Lake Hollywood, and the city beyond. While this is not in fact a dog park, local dog owners use it as one, and dogs are typically off leash—so this is not the place to bring kids who are afraid of dogs. But if you have a young dog lover, this is a perfect little pocket park. (Although potty training parents take note: there are no bathrooms here!)

In the summer you can catch even a polo match on the grass at Will Rogers Park. Photo by Meghan Rose
The Best Parks on the Westside
There are two grassy fields here; one is the yard at Will Rogers house (which you can tour, in non-pandemic times) and the other is the polo field. In the summer there are free (just pay for parking) polo matches here, and kids can watch the magnificent horses race up and down the field—and even meet them in between chukkers (those are the periods of the game). There are also stables behind the house where you can see horses and kids taking riding lessons, as well as gorgeous hiking trails.
This is one of those spectacular little parks that it seems like only locals know about. There's no tonier address for a park in the city—this one is located across the street from the former Spelling Mansion, and just a block away from the Playboy Mansion. The park is mostly the Armand Hammer Golf Course, which is a tiny pony course that's perfect for kids just learning to play golf, and is open to the public for just a couple of dollars. On one end of the course is a Lawn Bowling Club and at the other is a small playground. But all around the course is a beautiful walking path that's perfect for strollers, and on the outside of the path are green spaces perfect for picnicking, strolling along the stream, or climbing over tree roots. And as it's such a hidden gem that golfers are fairly rare, kids can often run around the golf course, too.
If you'd like a gorgeous, sweeping ocean view with your grassy field, Malibu Bluffs Park is the perfect destination. While there's a fenced in playground for littles, a zipline for bigger kids, a cliff hiking path, and an area for whale and dolphin watching, one of the best things to do here is just bring a blanket and picnic and enjoy a game of tag or soccer on the gorgeously kept grass. Pepperdine University is perched in the hills in one direction, and the sea breeze wafts in from another. Heaven. When events return, this park is also the site of some of the best family outings in town, including movie screenings, Halloween and Easter activities, and the Chumash Day Powwow.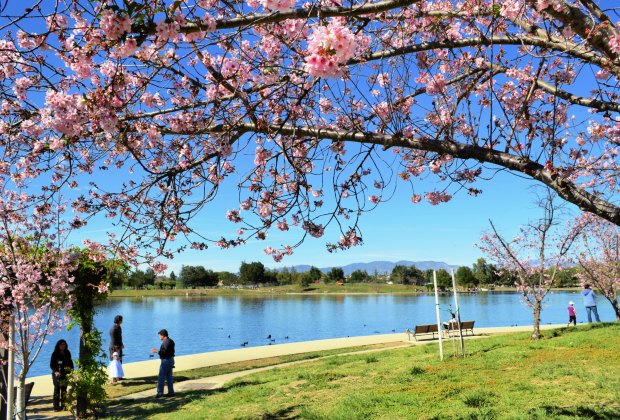 Cherry trees blossom in the spring at Lake Balboa Park. Photo by Nandaro via Wikimedia Commons/CC BY-SA 3.0
Where To Find the Best Parks in the Valley
Cherry trees ring that lake that is at the center of this 80-acre park in the Valley. While it can get hot in the summer, there are shady trees to seek out, and so much else to do. There are playgrounds, bike (and swan boat and surrey) rentals, fly fishing, a Japanese garden, and plenty of space to just run around and play. It's also a superb place for a birthday party.
The first time I came to Hansen Dam, it was to visit the Renaissance Pleasure Faire (sadly cancelled this year). The next time was to visit the new (at the time) Discovery Cube LA children's museum. Both times I mentally marked how amazing the park itself looked, and vowed to explore the park for its own sake. I'm so glad our family did just that because even beyond those activities, Hansen Dam also has a huge aquatic center, several playgrounds, soccer and baseball fields, picnic tables and BBQ pits, a golf course, and a horse park. But even when all those features are closed, there is a beautiful expanse of green where kids can run and play, a lake to walk or bike around, and of course, the dam to check out.
Home to the Rose Bowl Stadium, Kidspace Children's Museum, and the Rose Bowl Aquatic Center, Brookside Park is also home to over 60 acres of green grass, Reese's Retreat playground, biking paths, baseball and soccer fields, tennis courts, and loads of picnic and BBQ areas. There are plenty of wide open green fields (mostly the ball fields) to serve as backyard stand-ins, but the standout feature of Brookside are the twisting, shaded paths, bridges, and hiking trails that make you feel like you're way out in the countryside, not in the heart of Pasadena.
Kid-friendly, dog-friendly, and incredibly lush and green, this park is 30 acres of gorgeous grass, biking paths, a rose garden, and a fantastic playground. The park has a great mix of sun and shade, so it's comfortable year-round. The entire park is gated, so while it is large, it is enclosed and safe. The bathrooms are clean. You can plonk a blanket in the middle of the grass by the playground and watch younger kids play, while big kids bike or scooter around the loop. This park is free on weekdays for everyone, but has a $5 per person charge for non-San Marino residents on the weekend. (It is worth every penny.)

Grassy fields plus a lake filled with ducks make Polliwog Park a kid favorite. Photo by UrbanOutbacker.com
The Best Parks in Orange County and the South Bay
Sure, this park has a great playground, but it has even better grounds. Walk around the lake and check out the birds, and keep an eye on the city website, which (most summers) lists all the concerts, plays, and movies that take place in the park. Until those events resume, bring a blanket and picnic and spend the day.
Most people have heard of the Irvine Park Train, which features visits with Santa and the Easter Bunny at the holidays. But there are so many other things to do at this sprawling 160-acre park. This was the first public park in Orange County, and is over 100 years old. In addition to the train, you can rent bikes, boats, surreys, or horses. There are pony rides, the OC Zoo, BBQ pits, horseshoe pits, playgrounds, ball fields, fishing in the lake—all that and loads of green spaces to run and play, and shade where families can loll around and rest.