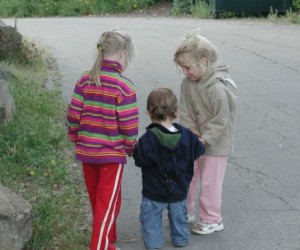 5 Toddler-Friendly Hikes and Nature Walks In or Near Los Angeles
Don't we all want to get away sometimes without having to really "get away"? A thing called recall sets in and "eeek!" we remember how tough it is to simply pack the car for a normal school day. The thought of packing for a weekend vacation can be daunting and unappealing. How is that a get away? Although we live in a city of buildings and cars, just a short drive a way there is a way to feel as if you and the family are getting away from it all for a small but peaceful break. The list below includes a few hikes in and around Los Angeles equipped with trails, fossils, waterfalls, and ocean views.
Kenneth Hahn Park
4100 S La Cienega Blvd.
Los Angeles, CA 90056
(323) 298-3660
Kenneth Hahn Park provides an array of gentle nature walks spread throughout 308-acres. In addition to the duck pond, wooden bridges, and waterfalls, there are children's play and picnic areas and baseball, soccer, and basketball areas. There are also more challenging trails that provide nice views of the city. Plenty of paved paths and parking lots make for easy in and out of cars and stroller use. There are also easy-to-find public restrooms. Park hours are sunrise to sunset. Vehicle entrance fee is $6 on weekends and free on weekdays. I find the park more peaceful on weekdays, and of course that is also when parking is free. Although there is a big oil rig not too far off, it still feels like a small oasis in the middle of the big city.
Runyon Canyon
2001 N Fuller Ave
Los Angeles, CA 90046
(323) 666-5046
Runyon Canyon is a staple hike for Hollywood residents; but for those who don't live as close, Runyon is quite novel and offers a challenging hike that parents can walk slowly with a child on foot or in a carrier or hiking backpack. Bring plenty of water, because you can be exposed to a lot of sun while walking the mountain. Runyon is a 160-acre park and includes a dog park. Some of the hike can get steep, and there are many hikers walking their dogs of all sizes. The main paths are basically dirt roads with gradual inclines, and I have seen strollers on this hike. The pay off is that there are wonderful views of the city - that is if the smog doesn't get in the way.
Baldwin Hills Scenic Overlook
6300 Hetzler Rd
Culver City, CA 90232
310-558-1444
This Culver City adjacent hike offers a few choices. You can walk the path that winds around the side of the 511 ft. peak, take the paved path to the right of the mountain (more suitable for strollers, although there are occasional cars passing by), or take the amazing and steep staircase that cuts right up the center. The staircase is rather steep for little ones, but the path to the sides are mild and fun for toddlers. Dogs are not allowed. There a lot of hikers on this trail most days, but I find it fun to see a variety of people joined in one location for a similar purpose of outdoor fun and exercise.
There is street parking on Jefferson Blvd. or paid parking ($6) at the top of the mountain. The top has a panoramic view of the Los Angeles Basin, the Pacific Ocean, and surrounding mountains, as well as a small museum. The museum is open Friday-Monday 9am-4pm with exhibits that tell the story of the drilling and exploitation that have taken place on this land that has now become a place of restoration and conversation. Park hours are 8am to sunset daily. Kids age 7-12 can become Junior Rangers and learn about animals, ecology, local history, and more on a free 45 minute long adventure in the park. Sign up starts at 9:30am at the Visitor Center. If the program fills up, then a self-guided Junior Ranger program is available.
Los Leones Trail
580 Los Liones Drive
Pacific Palisades, CA 90272
Los Liones Trail is a mile from the Pacific Ocean in a lush canyon of rock, ivy, and ancient sea shells. After 1.3 miles and 550 feet of elevation gain, the trail arrives at a ridge-top clearing that looks down on the Pacific Palisades. On clear days Catalina Island is visible. For older children and adults, continue on the fire road for an even more challenging hike to Parker Mesa. To get to the trailhead, take Los Liones Drive, the second left off Sunset Blvd from PCH and just 1/3 of a mile from the beach. Park on the right side of Los Liones and enter the trail from the end of the cul-de-sac. When the hike gets overly rigorous, one can choose to turn around and come down the trail, which is what I do with my toddler. Just the short walk to the trail head is rewarding enough! Bring water and sunscreen. Note that on some reviews I have read that there has been a cougar siting; cougars are most active at dusk and dawn but can roam at any time of the day or night and in all seasons. That said, in all of my hiking experience, I have never seen a cougar, or even a snake.
Forrestal Nature Reserve
Ladera Linda Community Center
32201 Forrestal Drive
Rancho Palos Verdes, CA 90275
This easy access, mild to moderate hike includes native wildlife habitats and marked trails that wind around the top of the quarry bowl and provide a breathtaking ocean view. Crystals, fossils of fish scales, faults, dramatic rock layering, and wildflowers ornament this amazing reserve. Do not collect fossils or disturb the slopes to expose new rock. Forrestal Nature Reserve is a 155-acre reserve and is a key component of the Peninsula's natural environment, a part of the Palos Verdes Nature Preserve. The reserve and trails are dog friendly but are not stroller friendly. Parking is available at the Ladera Linda Community Center or along Forrestal Drive. The Palos Verdes Nature Preserve's education department provides family adventures and guided hikes at George F. Canyon Nature Center. A calendar listing of programs is available on the website.
We know of plenty of other family-friendly hikes; check them all out in our LA Family Hike Guide.