10 Toddler-Friendly Hikes and Nature Walks in and around Los Angeles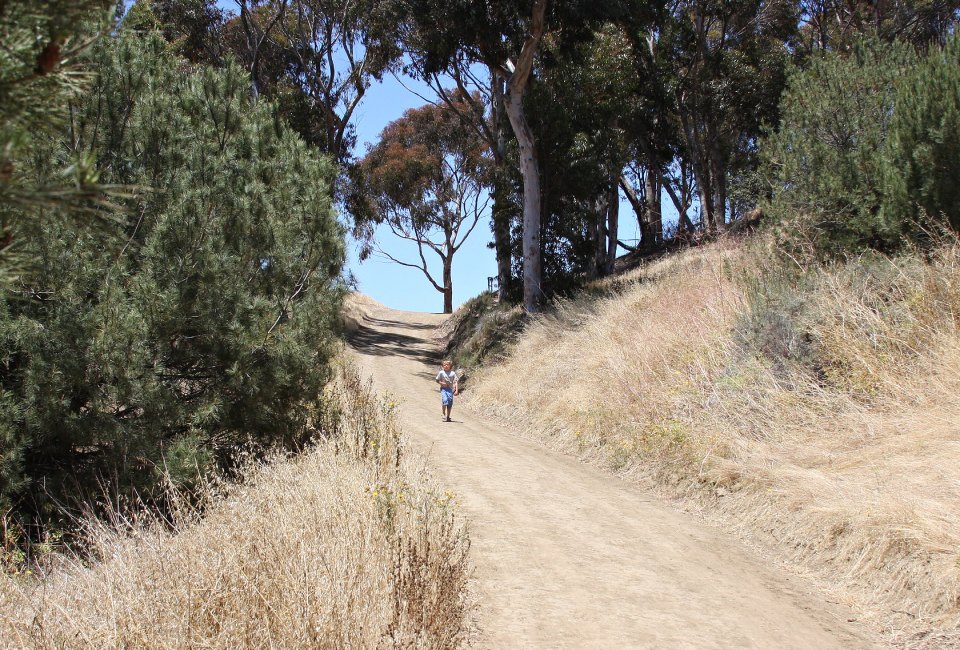 1/8/21
- By
Jennifer Cook Nice
Is there any other city in the world where you can hike in nature and visit world class museums (not to mention the beach) all on the same day? This is why the premium paid for living in LA is steeper than these hikes! Los Angeles has some majestic mountains, but not all our trails are exhausting treks—there are loads of hikes in every nook and cranny of the city that are perfect for little legs (or beginner hikers of any age).
Get ready to discover your favorite new place to take even the smallest hiker in the family. If you've also got older kids or babies in strollers, we've outlined which hikes are just as fun for big kids and which are stroller (and dog) friendly. These LA hiking spots are kid-tested and whole family-approved, and are the ones that everyone will want to visit again and again.
Pre-hike tips: My kids love this app that will help identify local flora and fauna to keep them entertained along the way. Packing snacks, water, hats, and sunscreen ensures that no one is too hot or hungry to continue. While many ranger and nature stations are currently closed, when things open up again, be sure to check out the locations that offer programming for kids.
Kids scrambling over the grotto at Ferndell. Photo courtesy of Meghan Rose
Fern Dell Dr. & Black Oak Dr.
Los Feliz
While it's technically called the "Ferndell Nature Museum," most local kids call it the "water walk" because it wanders along a stream that manages to run year-round, even in drought years. There are dozens of species of ferns from all over the world, and this half mile walk is a shady oasis in the city that winds along a succulent-lined brook, past stone walls, by a grotto, and over footbridges. It's a fabulous first "hiking path" because the whole walk is short and loaded with fun things, such as the grotto, bridges to "fish" from with stick poles, and plenty of animals to find, like turtles, crayfish, koi, snails, and more. You can access the trail from either end, beginning at the intersection of Fern Dell & Black Oak Drives, or just south of The Trails Cafe (across the street from the cafe). As kids get longer legs (and attention spans), you can emerge from the Ferndell trail, go past the playground, and head up the hiking paths toward the Griffith Observatory, and hike for as long (or short) as you like.
Potty, Strollers, & Parking: Regular strollers are fine along the Ferndell Trail, but extra wide ones won't work. There are bathrooms and port-a-potties by the playground, and if you get a snack at The Trails Cafe, you can ask for the key to their bathroom. Parking is free and plentiful along the side of the road, but this spot is exceedingly busy on weekends, and you may need to park far from the start of the trail.
Beyond the Hike: You may have noticed that we mentioned The Trails Cafe a few times. That's because it's a national treasure. Everything is homemade and very kid friendly (grilled cheese sammies and snake dogs are beloved). Parents will appreciate the fresh coffee (with house made almond milk) and everyone loves the pies, cookies and scones.
1501 Will Rogers Park Rd.
Pacific Palisades
310.454.8212
Nestled in the Santa Monica Mountains, this state historic park really feels as if you're out in the country, right down to the grazing deer. For the littlest legs, just running around the polo fields and across the lawn to the horse stables can feel like a hike, but wandering up past the stables and to the left leads to a hiking trail to Inspiration Loop Trail. (You can also start the hike on the other side of the Will Rogers house, by the tennis courts). This big loop is a 2 mile hike that never gets very steep, and has a gorgeous lookout spot half way through, where you can see the ocean. The trails can get a bit crowded on weekends, and you may find yourself sharing the trail with a horse or two.
Potty, Strollers, & Parking: Parking costs $12 to park in the lot. (People park outside the gates to try and avoid the fee, but that leaves you with a long walk on a road with no sidewalks.) Bathrooms are available at the base of the Will Rogers Western Ranch House (which is open for free tours, though not right now). And strollers are fine on the Inspiration Point Loop and grounds, but if you veer off that trail, you'll find yourself on the 65-mile Backbone Trail, which is not in the least stroller or kid-friendly, so read those trail signs carefully.
Beyond the Hike: This is the site of one of our favorite little-known summer activities in the whole city: the polo matches. Be sure to check them out when they start up again! Also, the house tours and gift shop are a delight, and the grounds are a perfect place for a Western-themed birthday party. If you're not partying, bring a picnic and a kite and make a family day of it.
RELATED: The Best Stroller Hikes in Los Angeles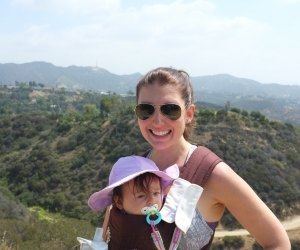 Runyon Canyon Park. Photo by Avi and Elina Flax/CC-BY-2.0
2001 N Fuller Ave.
Hollywood
323.666.5046
Runyon Canyon is a staple hike for Hollywood residents; but for those who don't live as close, Runyon is quite novel and offers a challenging hike that parents can walk slowly with a child on foot or in a carrier or hiking backpack. Bring plenty of water, because you can be exposed to a lot of sun while walking the mountain. Runyon is a 160-acre park and includes a dog park at the base of the park, which means there will definitely be dogs on this hike. The pay off is that there are wonderful views of the city when you get to the top. This hike is a loop, and if you go up the main way (that's the path to the left, not straight ahead as you enter from Fuller), it's a wide packed dirt road with a gradual incline (the incline is never really steep, but it doesn't stop, so kids may want to take lots of view and water breaks). When you get to the top, you can take the steep stair path straight down, or go back the way you came.
Potty, Strollers, & Parking: There are a few port-a-potties by the grassy park at the beginning of the hike, and water fountains (and ones for pups, too) dot the way. Strollers will give you a workout because of the incline, but with the wide path all the way up, it's one of the best stroller hikes in the city. (Just don't try to go down the stair path!) Parking is the biggest pain here. There is no parking lot, and the streets get crowded, try all the side streets between Fuller and Curson, north of Hollywood Blvd.
Beyond the Hike: Doggies! For little dog lovers that are reluctant hikers, this path keeps them entertained at all times with a variety of hiking dogs. It's also a great walk for views, both of the city and the people (often celebs) that love this hiking path. And when you're done, the ice cream and coffee offerings at Hollywood and Highland are right around the corner.
24250 Pacific Coast Highway
Malibu
310.317.1364
For this hike, you start at the 6-acre park. Wander past the playground and mini zip-line, along the jogging path, until you reach a choice to go right and on a hiking trail, or continue around to the left and a digging pit. The trail to the right is a cliff walk/hike that runs parallel to the PCH, walking through tall grasses. For kids with plenty of energy, and a desire to head to the beach, you can hike down a narrow path toward the ocean and the official coastal access. This hike isn't a loop, so turn around whenever kids get tired and make your way back to the park, to play and recharge. Along this hike, keep an eye on the ocean for dolphins, pelicans, surfers, and even whales.
Potty, Strollers, & Parking: There is a free parking lot (which gets full on Little League game days) and bathrooms at the Michael Landon Community Center (Pa!). Strollers accessibility is top notch at the park itself on the walking/jogging paths, but once you hit the cliff walk, you'll need a kid carrier for anyone with legs too small for walking.
Beyond the Hike: Beyond the fact that this is a great place to watch for sea creatures (there's actually a whale watching outlook with a whale tail bench and coin-op binoculars), kids also love to play pre-or post hike at the playground, zipline, and sand pit. Bring a blanket, and on hot days recuperate under one of the shady trees or play ball on the grassy field.
RELATED: Everything Los Angeles Families Need to Know About Hiking and Camping with Kids
4100 S La Cienega Blvd.
Los Angeles
323.298.3660
Kenneth Hahn Park provides an array of gentle nature walks spread throughout 308-acres. In addition to the duck pond, wooden bridges, and waterfalls, there are children's play and picnic areas and baseball, soccer, and basketball areas. There are also more challenging trails that provide nice views of the city. I find the park more peaceful on weekdays, and of course that is also when parking is free. Although there is a big oil rig not too far off, it still feels like a small oasis in the middle of the big city.
Potty, Strollers, & Parking: There are easy-to-find public restrooms. Park hours are sunrise to sunset. Vehicle entrance fee is $6 on weekends and free on weekdays. Plenty of paved paths and parking lots make for easy in and out of cars and stroller use.
Beyond the Hike: The variety of hiking paths, from easy nature strolls to more challenging hikes, makes this great for everyone on every day. The Japanese Garden is beautiful and if you time your hike for sunset, there are sweeping views of the city that are unforgettable.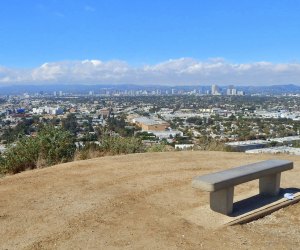 Baldwin Hills Scenic Overlook. Photo by Tracie Hall/CC-BY-2.0
6300 Hetzler Rd.
Culver City
310.558.1444
This Culver City adjacent hike offers several choices; you can walk the path that winds around the side of the 511 ft. peak, take the paved path to the right of the mountain (more suitable for strollers, although there are occasional cars passing by), or take the amazing and steep staircase that cuts right up the center. The staircase is rather steep for little ones, but the path to the sides are mild and fun for toddlers. Either way you go, even if you park at the top and just take the ten minute walk, panoramic views are your reward. This trail can get pretty crowded, so weekday mornings are the best bet if you want the trails to yourselves. There is no shade on the trail, so on warm days bring water, hats, and sunscreen.
Potty, Strollers, & Parking: There is 2-hour free street parking on Jefferson Blvd. or paid parking ($6) at the top of the mountain. Restrooms are open and kept pretty darn clean.
Beyond the Hike: Dogs are not allowed on the trails, so for kids who are pup-shy, this is a good spot. The museum at the top of the hill has exhibits that tell the story of the drilling and exploitation that have taken place on this land that has now become a place of restoration and conservation. Park hours are 8am to sunset daily.
RELATED: Our Very Favorite Hiking Trails in Los Angeles for the Whole Family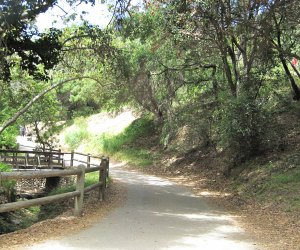 Temescal Gateway Park. Photo by Danielle Directo-Meston/CC-BY-2.0
15601 Sunset Blvd.
Pacific Palisades
310.454.1395
Easy to get to and bursting with things to see and do, Temescal Gateway Park is a simple and satisfying destination. Loads of popular trails, including the four-mile Temescal Canyon Loop, complete with ocean views, seasonal waterfall, and rock "climbing" are available to choose from. But for toddlers, that's a bit much. Our favorite hike here is the one that takes you from the parking lot, past the rental cabins and the hall where they host weddings. From here, walk up a short hill, and you'll find a perfect toddler base camp. Bring a blanket and set up here for snacks and running around, then continue on the Temescal Canyon Trail as far as their little legs want to go. If you continue on a little more than a mile, you'll reach the Temescal Canyon Falls. This whole trail can get pretty tiring for young hikers, so you may find yourself carrying them if you want to make it to the falls.
Potty, Strollers, & Parking: There are several lots, starting at Sunset Blvd, and all have a park fee of $12. You can park along Sunset for free, but that can lead to a long walk to the start of the hiking trail. This trail is not suitable for strollers. Bathrooms are available at the Ranger's hut in the parking lot.
Beyond the Hike: Bring a picnic to have either at the grassy lot at the beginning of the Temescal Trail, or at the platform built along the base of a giant oak that's right down the hill from the main parking lot. Kids adore putting on shows here, or playing down by the creek.
580 Los Liones Dr.
Pacific Palisades
Los Liones Trail is a mile from the Pacific Ocean in a lush canyon of rock, ivy, and ancient sea shells. After 1.3 miles and 550 feet of elevation gain, the trail arrives at a ridge-top clearing that looks down on the Pacific Palisades. On clear days Catalina Island is visible. For older children and adults, continue on the fire road for an even more challenging hike to Parker Mesa. To get to the trailhead, take Los Liones Drive, the second left off Sunset Blvd from PCH and just 1/3 of a mile from the beach. When the hike gets overly rigorous, just turn around and come down the trail, which is exactly what I do with my toddler. Just the short walk to the trail head is rewarding enough! Bring water and sunscreen. Note that on some reviews I have read that there has been a cougar sighting; cougars are most active at dusk and dawn but can roam at any time of the day or night and in all seasons. That said, in all of my hiking experience, I have never seen a cougar, or even a snake.
Potty, Strollers, & Parking: Park on the right side of Los Liones and enter the trail from the end of the cul-de-sac. Bathrooms are available on site. Dogs are not allowed, and strollers aren't a good idea (the trail narrows and is often crowded).
Beyond the Hike: This hike puts you right by three amazing, iconic spots: The Getty Villa, The Self Realization Fellowship Lake Shrine (some facilities require reservations), and Gladstones. Check to see what's open when you're visiting and make a day of it.
RELATED: Waterfall Hikes Every Los Angeles Family Should Know
Ladera Linda Community Center
32201 Forrestal Dr.
Rancho Palos Verdes
This easy access, mild to moderate hike includes native wildlife habitats and marked trails that wind around the top of the quarry bowl and provide a breathtaking ocean view. Crystals, fossils of fish scales, faults, dramatic rock layering, and wildflowers ornament this amazing reserve. Do not collect fossils or disturb the slopes to expose new rock. Forrestal Nature Reserve is a 155-acre reserve and is a key component of the Peninsula's natural environment, a part of the Palos Verdes Nature Preserve. It's usually not very crowded (bonus!) and is a perfect introduction to hiking for little legs.
Potty, Strollers, & Parking: The reserve and trails are dog-friendly but are not stroller-friendly. Parking is available at the Ladera Linda Community Center or along Forrestal Drive.
Beyond the Hike: When open, the Palos Verdes Nature Preserve's education department provides family adventures and guided hikes at George F. Canyon Nature Center. A calendar listing of programs is available on the website.

Tree climbing at Franklin Canyon, looking for those little quail. Photo courtesy of Meghan Rose
2600 Franklin Canyon Dr.
Beverly Hills
310.858.7272
Ok, full disclosure, Franklin Canyon pretty much makes all our best hiking lists, from favorite stroller hikes to best family hikes. That's why for toddlers, we're not talking about the whole park, but focusing on Heavenly Pond. The footpath around the pond is easy to navigate and offers endless delights: turtles, ducks (rangers will remind kids not to feed the ducks), tadpoles, and bullfrogs, as well as trees and flowers. At the far side of the pond, there's a tiny forest to explore and downed trees to climb, and many times my kids have come across some noisy male quails in the underbrush during breeding season! And if you want to do a longer hike, there are plenty of trails available, including a simple walk around the bigger lake.
Potty, Strollers, & Parking: There are several parking lots along the side of the road, and a couple of spots right next to the pond. A one-holer bathroom is right next to the pond, and strollers can easily traverse the path, unless it is muddy from recent rains. However, if your toddlers are tree climbers, leave the strollers in the car.
Beyond the Hike: When it reopens, don't miss a visit to the Sooky Goldman Nature Center either before or after your visit to pick up maps, ask questions, or have some fun with their many interactive exhibits.
This article was originally published May 16, 2014. Updated August 2023.
Sign up for the Mommy Poppins Newsletter today!