9 Stroller-friendly Hiking Trails for LA Parents To Hike with Toddlers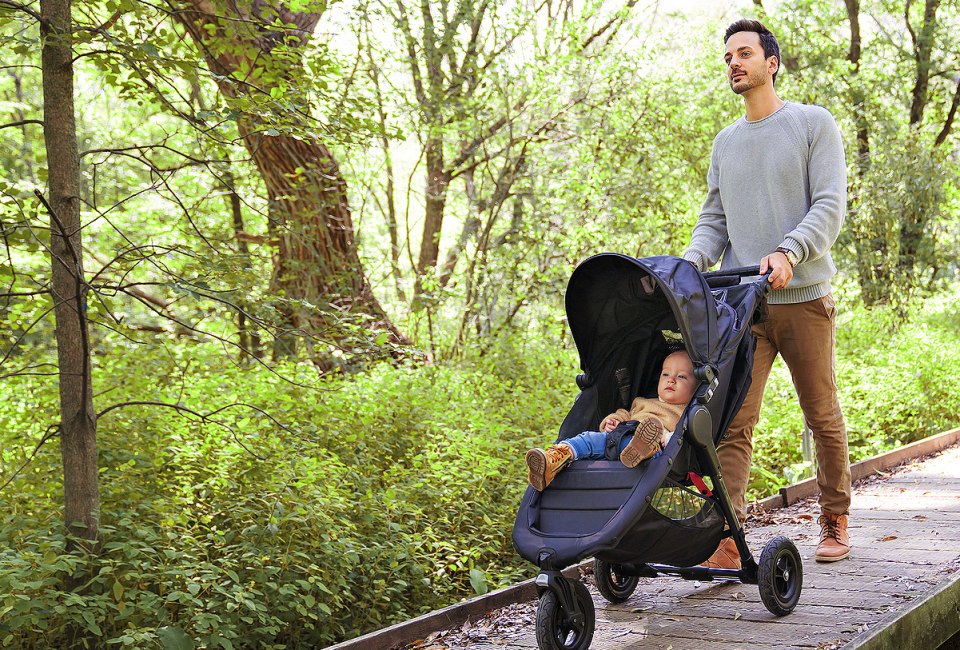 2/22/21
- By
Martha Hall
If a stroll to the neighborhood park is not enough to stretch your limbs, pack that stroller and head for a trail—but make sure it's one that accommodates said stroller. Backpacking parents can enjoy our suggestions for traditional kid-friendly hikes; back-aching parents should read on to see nine suggestions for LA hikes with plenty of room for strollers to stride. From stroller-friendly hikes past waterfalls to hilly hikes with ocean views, there are stroller hikes here for every family.
For more hiking suggestions, be sure to check out our family hiking guide.
Before you go, have a look at the following suggestions to make your outing as seamless as possible:
Many trails have variable shade; remember the sunscreen, hats, sunglasses, snacks, and lots of water.
Weekends see a rise in visitors at all parks, which can mean competition for parking and more people on the trails. Don't forget those masks!
Weather (rain, erosion, fires) can impact trail availability. We advise calling ahead, just to make sure your intended destination is open.

Sitting in a stroller, nature is still within reach. Photo by Mommy Poppins
1750 N. Altadena Dr.
Pasadena, CA 91107
626.398.5420
Map
Park open 7 days, sunrise to sunset, reservations are required to access trails
Nature Center open Tue-Fri 9am-5pm
Though your stroller riders might not yet grasp the splendor of the Fire Ecology Nature Trail, you and your older children will likely take interest. Observe the remains and re-growth of the trees, plants, and habitats that were affected by the massive 1993 Altadena Fire (the fire also destroyed the Nature Center building). The trail begins between the pond and the public parking area. The Junior Nature Trail is shorter (about a quarter of a mile) and well suited for little ones in and out of a stroller. Keep your eyes and ears open for lizards, birds, rabbits, and native plants. The climb to Henninger Flats is also doable, though much more strenuous. You'll pass a waterfall, cross over the Mt. Wilson Toll Bridge, and might even see Catalina Island (it's true!) on a clear day when you reach the top.
Update for 2021: Free, timed entry reservations are now required to access the Eaton Canyon trails. This actually makes for one of the most pleasant hiking experiences in town right now, as it's never an unexpectedly crowded trail.
1501 Will Rogers Park Road
Pacific Palisades, CA 90272
Map
310.454.8212
Park open 7 days, 7am - Sunset
Follow a fire road along the Inspiration Point Loop Trail with rewarding city and ocean views at the top. This trail even offers access to the nearly 65 mile Backbone Trail (though this is a trail to try when you're not at the helm of a stroller). Have a romp and a picnic in the great green grassy expanse when you finish the loop (bring a ball to kick or some bubbles to blow; there really is a whole lot of space!).
Update for 2021: Note that there is limited parking at the park right now, and the parking fee can only be paid by APM or Pay by Phone.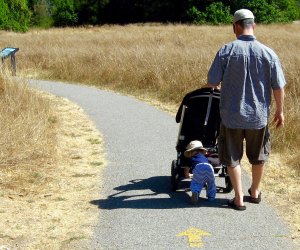 Sometimes you want to ride, sometimes you gotta get out and help push. Photo by Jessica Merz/CC BY 2.0
1000 N. Durfee Dr.
South El Monte, CA 91733
Map
626.575.5523
Park open 7 days, 8am-5pm
While the welcoming nature center (with the indoor bathrooms and a warm place to change a diaper) is currently closed, the trails remain open! The Woodsy Trail Loop is a roughly 15-minute (depending on your speed), round-trip loop that passes two ponds and is often host to squirrels, lizards, birds, and an abundance of native plants. Another trail option takes you along a footpath through a coastal sage plant environment. This trail leads to the San Gabriel River Trail (a trail option when you're stroller-free) and features glimpses of rabbits, squirrels, egrets, and herons.
Update for 2021: The nature center is temporarily closed, but all trails are open with strict guidelines to prevent the spread of COVID-19, including face coverings and physical distancing of 6 feet.
2600 Franklin Canyon Dr.
Beverly Hills, CA 90210
Map
310.858.7272
Park is open daily from sunrise to sunset
Dogs on leashes allowed
We featured Franklin Canyon as one of our favorite hikes in town for kids of all ages; it's such a rewarding destination with kids that it's worth mentioning again. The best area for strollers (and the kids in them) is Heavenly Pond. The footpath around the pond is easy to navigate and offers endless delights: turtles, ducks, tadpoles, and bullfrogs, as well as trees and flowers.
Update for 2021: Sooky Goldman Visitors Center where families can usually pick up maps, ask questions, or have some fun with their many interactive exhibits, is currently closed.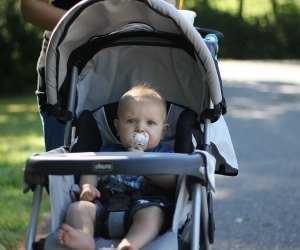 That's the face of someone who loves to hike. Photo by Simkins Photography/CC BY 2.0
4235 Monterey Road
Los Angeles, CA 90032
Map
323.221.2255
Park and trails open 7 days, sunrise to sunset
More than 140 species of birds have been spotted here, and that might be reason enough to check out this 200-acre park in northeast Los Angeles. The Butterfly Loop takes off near the Audubon building and meanders for a quarter-mile (full circle). The Scrub Jay Trail was once a fire road that has been converted to a walking path. Beautiful old oak trees and plenty of rich smelling coastal sage border the route. The City View Trail is a wide and slightly steeper trail (though not much) that offers a peek at downtown on a clear day. (Allow approximately 30 minutes to reach the top.) Also, look for the old abandoned car (circa 1940-something) along the way. Stories abound about how it got there. Your little ones can make up their own tale (and throw a rock or two toward it, another favorite activity). Heads-up for poison oak; it's prevalent, though regular trail maintenance keeps it at bay.
Update for 2021: The Audubon Center, located inside the park, is currently closed.
1102 Camino Real
Redondo Beach, CA 90277
Map
310.318.0668
Open 6 days, 10am-4:30pm, closed Wednesdays
My kids have outgrown our stroller, but back in the day, we spent many an afternoon here. Ponds (fish and ducks included), paths, hills, streams, and fallen trees (that older kids love to navigate) provide so much to explore. Get into the wilderness without having to get out of town. Take note: the park is closed Wednesday for maintenance.

Hiking with a stroller on the right trail can be pretty relaxing.
4730 Crystal Springs Parkway
Los Angeles, CA 90027
Map
Park hours: 5:30am-10:30pm. Trails close at sunset.
Dogs on leashes allowed on trails
Another favorite destination (and another park we mention a lot) is Griffith Park. Not only can you cover a lot of ground with a stroller (it is one of the largest urban parks in North America: a magnificent 4,300 acres), you can also supplement your visit with some playtime at Shane's Inspiration. As for stroller-friendly jaunts, hike by the old zoo, see some long-abandoned animal cages, plus marvel at birds overhead and possibly gophers in your path. The trail is called Fern Canyon, and you can access it by parking at the first Merry-Go-Round parking lot, then head beyond the T-bar gate. The trail goes uphill and passes the old zoo. Trail length varies depending on which way you choose to walk. Enjoy views of Glendale and Pasadena at the top of the full 400-foot elevation trail.
18751 Laguna Canyon Road
Laguna Beach, CA 92651
Map
949.923.2235
Believe it or not, there are only two natural (not man-made) lakes in Orange County. Barbara Lake is one of them, and it's accessible by stroller. The 1.5-mile round-trip trail to the lake starts at the Nix Nature Center parking lot and takes you through a sycamore woodland, under a toll road, and on to the lake with wildlife a-plenty.
Update for 2021: The Nix Nature Center and park offices are currently closed, but parking lots, trails, and restrooms have reopened.
Wonder View Dr. and Tahoe Dr.
Los Angeles, CA 90068
Map
Street parking
Walking around the reservoir is a mix of urban planning with surprising natural encounters, whether that be a spray of wildflowers or a curious deer. While the journey back to your car can be steep if you park near the top of the hill (though thankfully, there's a stroller-friendly sidewalk), the rest of the journey is flat and peaceful—expect little ones to fall asleep on the 3.4-mile loop. Since cars are not allowed on this wide (mostly paved) path, it's also a great place for young bikers or kids with scooters.
Finally, if you're looking for a walk at another park and wondering whether or not you could push a stroller there, check this list of paved trails to avoid awkward surprises.
Originally published January 12, 2012
Sign up for the Mommy Poppins Newsletter today!