12 Family-Friendly Tree House Rentals to Delight Their Imaginations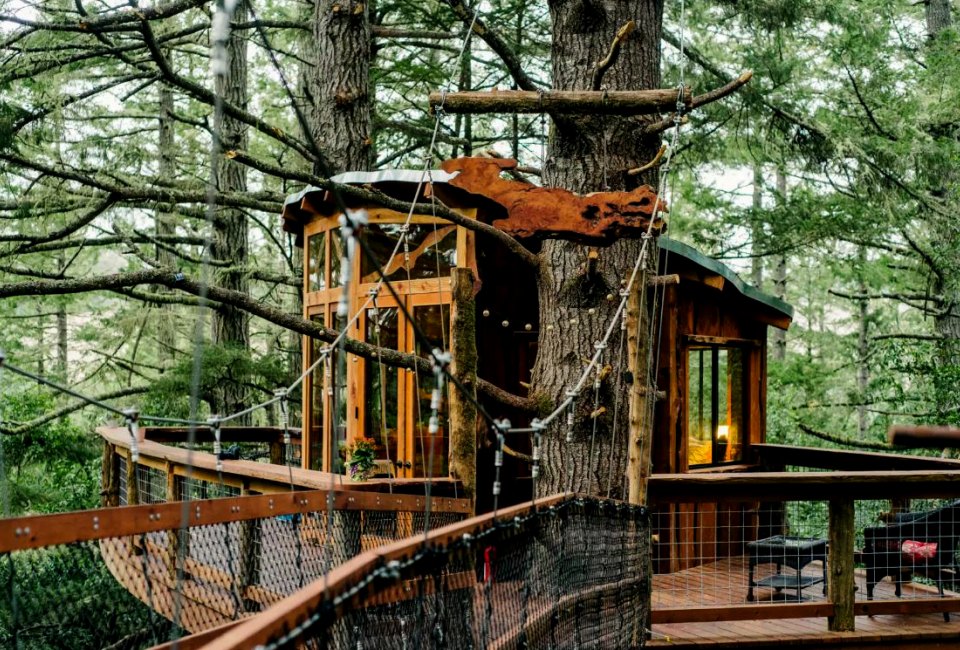 9/4/21
- By
Erica Velander
It might just be every child's dream to sleep in a tree house, and honestly, it sounds downright magical to us as parents, too. Besides, after the year we all just had, couldn't we all use a little getaway to the woods?
We found a dozen tree house rentals to help make those dreams of sleeping in the trees come true! From Maine to California, consider these kid-friendly tree house rentals for your next family vacation.
Tree House Rentals in the South

Look out over the mountains at this Asheville tree house. Photo courtesy treehousesofserenity.com.
After spending the day exploring downtown Asheville, North Carolina, drive 10 minutes into the mountains and find your fairy tale tree house rental waiting for you. Take in the incredible sunset views on a pair of comfortable rocking chairs and spend the evening letting your little ones stargaze. This space is perfect for a family of four.
Canopy Blue and Inn the Ravine are located in the scenic Blue Ridge Mountains, and they're kid-tested and kid-approved. These tree houses were part of the epic giveaway for experiencing the ultimate family "Yes Day" vacation sponsored by VRBO and Netflix last year. Kids will love the built-in bunk beds with reading lights for late-night sleepover sessions, and, parents can enjoy evenings stargazing from the luxurious hot tub. While many tree house rentals only sleep one to three people comfortably, these Georgia lodges sleep five to six people.

Find an escape in the Ozarks with the 87getaway Treehouse. Photo courtesy of Airbnb.
Is your family in desperate need of getting away from it all and enjoying quality time in the outdoors? Escape to the Ozark Mountains for a luxurious tree house experience. Spend a cozy evening making s'mores at the campfire, or enjoy the outdoor living area located underneath the tree house that's outfitted with chairs, a couch, and a hammock. This Ozark Mountain retreat is stocked with every creature comfort you could ask for, and yes, for those desperate moments, that includes a TV.
RELATED: 10 Must-Try Dude Ranch Vacations for Families

Enjoy the slide at The Trailside Treehouse in Richmond. photo courtesy Airbnb.
This tree house was designed with one question in mind, "What would we have wanted in a tree house as kids?" Childhood dreams will come true in this authentic tree house centrally located in Richmond, Virginia. The space abounds with childhood wonders, including a wooden bridge, tube slide, hammocks, a telescope, and playground equipment below the main floor. When the kids are ready to get out and explore their surroundings, the Buttermilk Trail, part of the city's James River Park System, is just yards away. Bonus: Part of your vacation rental fee is donated to Richmond nonprofits.
It's rare to find a vacation home that's 17 feet up in the trees but also comes with a washer, dryer, and a king-sized bed. The outdoor amenities don't disappoint: swinging play forts, rope chairs, a gas grill, and a picnic table. It's the perfect place for the whole family to enjoy quality time together outside. This tree house lets families get away without sacrifing all our modern amenities.
West Coast & California Tree House Rentals

The San Jose Treehouse overlooks Silicon Valley. Photo courtesy of Anna Kumantsova
You'll find this whimsical tree house nestled between three sycamore trees overlooking Silicon Valley. A spiral staircase takes you 14 feet up, where you'll find magical features, including a stained-glass window and a tree growing through the house. Although the family is sleeping in the trees, you'll still have access to a full bathroom and a kitchenette with a sink, small stove, and a mini-fridge. If you don't feel like cooking, a local pizza place, Pizza Maria, delivers pizza directly to your door in the sky.
Age restrictions: This tree house is not suitable for infants under the age of 2.

A peek inside the rooms at Treehouse Adventure. Photo courtesy of Airbnb
Does your family have a trip to Disneyland Resort planned? Located 11 miles from Disneyland lies a private oasis in a local family's backyard. Complete with a slide, a full-sized bathroom next to the tree house, a fire pit, and welcoming of furry friends, you can't go wrong with this tree house rental. For the little ones who need to be constantly on the move, it's also close to two local playgrounds.
RELATED: 12 Best Family Vacations in California

The Eagle's Nest Treehouse is packed with outdoor fun. Photo courtesy of Airbnb.
This Northwest tree house is definitely the stuff of kids' (and adults') dreams. Take an 80-foot zip line ride down from your tree house, watch Netflix on a netted hammock, and look down at the adults below you eating breakfast, and even take a massive outdoor bubble bath and shower. If your family is planning a trip to Portland, Oregon, this tree house is affordable, family-friendly, and only a 10-minute drive to downtown Portland. It also has plenty of availability, which is rare to find right now.

The Treehouse at the Escape has a secret entrance. Photo courtesy of Vrbo.
Have you ever entered a vacation property through a hobbit door and then climbed a rock wall in the hollowed-out trunk of a 100-year-old Cottonwood tree to get inside? Grown-ups and kids will delight at this fun entrance, but don't worry, when you're feeling less adventurous, the hosts have graciously included a set of stairs as well. This clean, modern tree house rental is the perfect spot to stay if you're exploring southern Utah's mega parks like Bryce and Zion National Park.
Northeast Tree House Rentals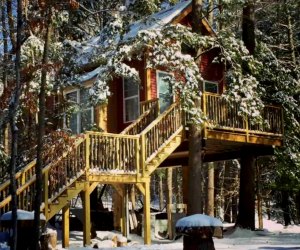 The four-season Cozy New England Treehouse sits in the middle of the New Hampshire Lakes Region. Photo courtesy of Airbnb.
If you're considering a trip to New England to see the fall foliage, consider this immaculate tree house in New Hampshire. The kids will love the sleeping loft, and parents working remotely have nothing to fear as there is excellent wifi available at the property. Centrally located in the Lakes Region, enjoy a day trip to popular destination Lake Winnipesaukee or drive up to the White Mountains. If you don't want to travel too far, there is also a private community beach just a few minutes walk from the tree house.
In the picturesque coastal village of Georgetown, Maine, you'll find a custom-designed "tree dwelling," complete with a wood-fired cedar hot tub, river views, and a recycled wall of windows. When you're not in the tree house, spend your days on the sandy beaches of Reid State Park and indulge in a lobster roll at Five Islands Lobster Co. This property also hosts another tree house, but it offers only one bedroom versus sleeping four.

The Ultra Luxury Treehouse in upstate New York Photo courtesy of Mike Ianetta@mikewilltravel.
If you're looking for lodging a bit swankier than the average tree house rental, look no further than this one in New York's Adirondacks region. From the second you walk across the 80-foot suspension bridge to the moment that you look out an entire wall of glass at a 50-foot waterfall, you will be awe-struck by the beauty of nature and the architecture. Don't let the ultra-luxe finishes deter you from bringing the kids. This is a kid-friendly space with a perfect set of built-in bunk beds explicitly designed for kids to have a special place of their own.
Click Here to Sign Up!
i