9 Must-Try Dude Ranch Vacations for Families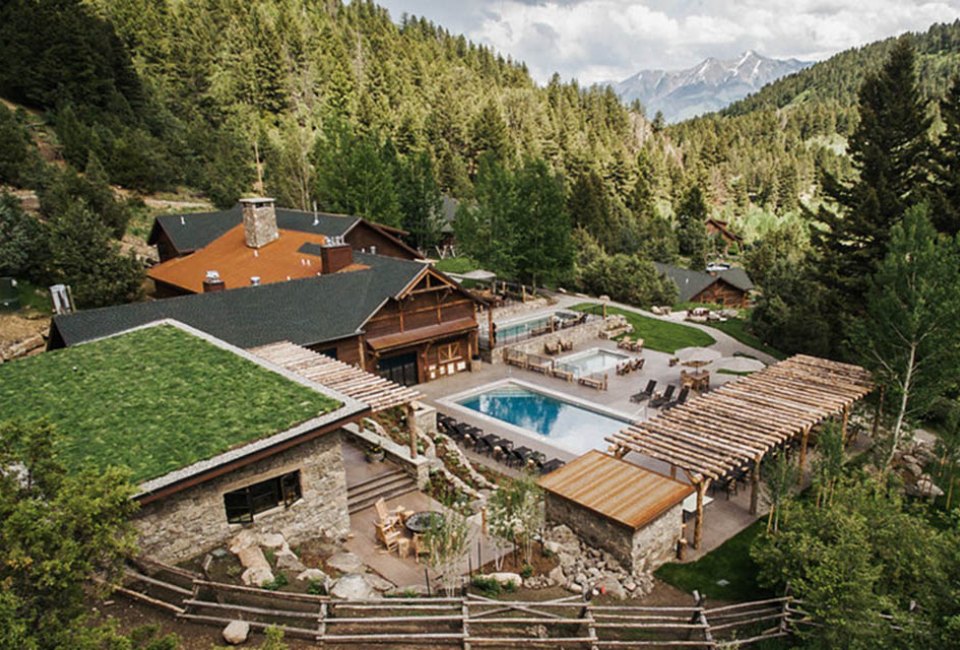 6/26/21
- By
Ally Noel
If you've always dreamed of roaming the open plains in a saddle, then it might be time to cultivate your family's inner cowboy on a fab dude ranch vacation. Spending your day trekking through the rugged landscape on horseback before indulging in a five-star meal under the stars is just the beginning when you book a dude ranch getaway. These resorts offer a wide range of low-key activities designed for families. From fly fishing to campfire sing-alongs, these dude ranch adventures will have your family moseying their way all around the country.
Find more family adventures in our National Parks Guide or Camping Travel Guide.

Ride, try archery, or just feed the animals at Texas' Wildcatter Ranch.
Located in the heart of Texas Hill Country, Wildcatter Ranch provides a mix of rugged Texas charm and luxurious amenities like a pool and plush accommodations. Guests can saddle up at Wildcatter Ranch and ride the 25 miles of horseback riding trails on site. If you are looking for a bit more action, try out clay shooting, tomahawk throwing, ranch roping, and archery. This Texas ranch offers 41 guest rooms that include upscale cabin suites to charming hotel rooms.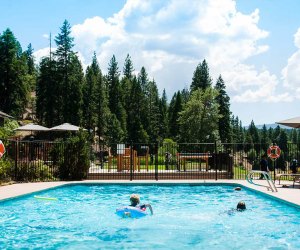 Northern California's pretty landscape surrounds the Greenhorn Ranch.
Nestled into Northern California's Lost Sierras, Greenhorn Ranch has been introducing families to Western hospitality since 1962. With horseback riding, golf, fly fishing, rodeo games, line dancing, and a steady stream of entertainment, it's easy to see why families love calling this place "home." Greenhorn Ranch also offers activities specifically for the young at heart. Kids can learn the art of leatherworking, gold panning, horse activities, and more. We suspect the kids will also dig the pool, playground, and firepit. When it's time to hit the hay, guests have their choice of 12 country casual lodge rooms, cozy creekside cabins, family-friendly pines cabins, or a unique Airstream.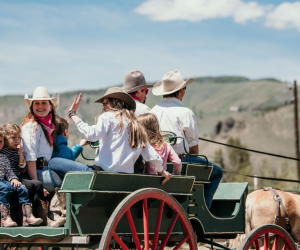 Younger kids can enjoy a wagon ride at this Colorado dude ranch.
C Lazy U Ranch hangs its hat on providing an unforgettable family vacation. A true four-season resort, C Lazy U packs the fun all year long. Kids and teens are kept busy from sunup to sundown in supervised programming with dedicated ranch counselors, while their adults can truly relax. The luxury resort has found the perfect balance of family time and adventure time. There are even opportunities for teens to spend the night camping under the stars or rafting down the whitewater rapids. C Lazy U offers 38 guest ranch accommodations ranging in size and decor style. Most feature stone fireplaces. All have been recently renovated in 2021.
RELATED: 25 Things to Do in Denver Other Than Hiking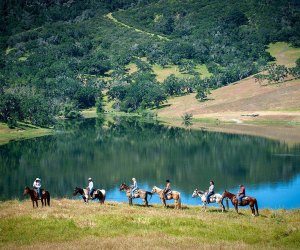 Alisal Guest Ranch Ranch & Resort
Kick up your boots in Alisal Guest Ranch and enjoy the picturesque landscape of California's Santa Ynez Valley. There are fifty miles of riding trails, two 18 hole golf courses, pools, a spa, and a spring-fed lake, all situated on the 10,000 acres of Alisal Guest Ranch. Kids will enjoy horseback riding, arts and crafts, meeting all the critters around the farmyard, and so much more. There is a daily schedule of activities that will keep the entire family busy from sunrise to sunset, including lessons for all levels of riders. A variety of Western-style accommodations are located close to the action, but you won't find a TV or phone in any of them. This encourages guests to unplug from the daily grind and tune into the timeless ambiance of the Old West.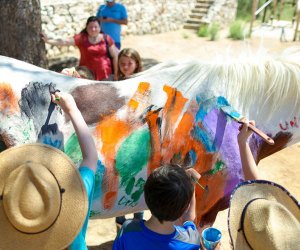 Tanque Verde Ranch
Carved into the Rincon Mountains of Arizona, Tanque Verde Ranch has been welcoming families to enjoy its 60,000 acres for over 150 years. Spend your days filled with Western adventure ranging from a wide variety of horseback instruction and experiences, mountain biking, kids day camp, hiking, crafts, swimming, to name a few. Don't miss the Cowboy Cookout on Wednesdays and Saturdays where guests are invited to taste down-home ranch cooking and authentic Western entertainment. While at the ranch, families can enjoy scenic desert mountain views from just about any room. The traditional Santa Fe style combines the spirit of the Old West with tons of modern conveniences like fireplaces, private patios, and tons of space to relax and recharge.
Mountain Sky Guest Ranch lives up to Montana's "big sky country" reputation with ease. A perfect mix of high rustic charm and modern-day elegance, want-to-be cowboys have been joining the Mountain Sky family since 1929. The resort sits on over 17,000 acres of rugged Montana wilderness in the heart of Yellowstone Country. The ranch offers a steady stream of kids' programming for children of all ages. Children under 6 won't feel like they are missing out while parents and older siblings are out on the trails. Choose from morning and afternoon sessions filled with theme days, lead-line horseback rides, pool games, and arts and crafts. Mountain Sky also provides a teen program with special dinners, talent shows, and an opportunity to participate in clay shooting.
RELATED: 25 Fun Things To Do in Jackson Hole with Kids

Spend a day on the river to give your 'tush a break from the saddle at Marble Mountain Ranch.
This hidden gem is located along the Salmon River in the Northern California town of Somes Bar. "Saddle and paddle" your way to Marble Mountain Ranch's signature dude ranch experience. Marble Mountain provides tons of thrill-seeking experiences by combining horseback trail riding with white water rafting, kayaking, or fly fishing. The ranch also offers shooting, wilderness pack trips, as well as tons of engaging kid-friendly dude ranch activities. This dude ranch's youth and buckaroo programs allow the youngest kids to participate in activities, regardless of age. All-inclusive packages are available that include lodging, meals, riding, rafting, fishing, and more.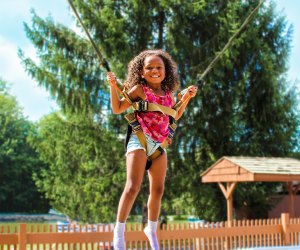 Rocking Horse Ranch
Located in the Hudson Valley, Rocking Horse Ranch has been entertaining generations of city slickers since 1958. This all-inclusive resort has everything any budding cowboy (or girl) needs. Horse Adventures, mountain tubing, rock climbing, indoor and outdoor pools, water slides, wildlife exhibits, mini-golf, and so much more. In addition to the daily activity schedule, Rocking Horse also provides nightly entertainment for the entire family.
The Mountain Top Inn is the only resort in Vermont that offers a full dude ranch equestrian program. Located on 700 picturesque acres, the inn treats visitors to the perfect setting for a "Horseback Riding Vacation." In addition to its horse program, Mountain Top guests can also enjoy an exclusive private beach, kayaking, fishing, disc golf, 40 miles of hiking trails, tennis, volleyball, and clay bird shooting. Guests have their choice of five accommodation styles: classic lodge rooms, luxury lodge rooms, and luxury suites, cabins, and guest houses. Mountain Top can easily accommodate anything from a family vacation to a family reunion with this many choices.
All photos courtesy the ranches
Click Here to Sign Up!
i