Best All-Inclusive Resorts with Incredible Kids Clubs (Plus More Resorts with Great Free Kids Clubs)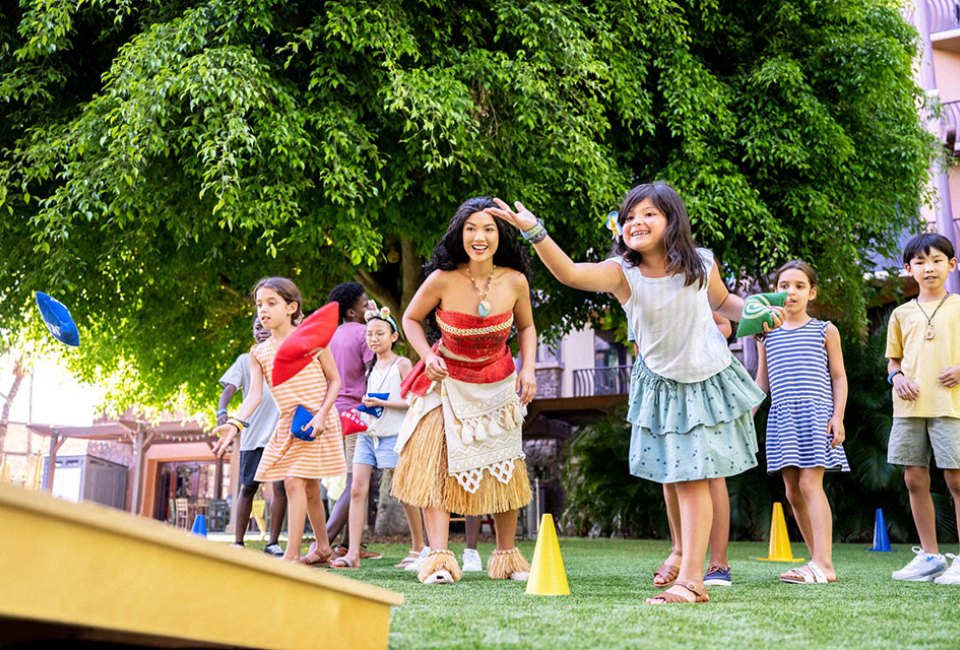 7/8/23
- By
Jennifer Marino Walters
The best all-inclusive resorts for families feature more than just great food, fun activities, and beautiful beaches. They also have amazing kids clubs, where parents can drop kids off for supervised fun while they relax by the pool or hit the spa.
But not all kids clubs are created equal. While some have basic toys and games, others offer a full program of arts and crafts, sports, themed parties, and more, as well as cool spaces with playgrounds, video game hubs, and even water parks.
Here are 12 resorts with incredible kids clubs in the US, Mexico, and the Caribbean. While most of them are all-inclusive resorts, we've also added a couple that are not all-inclusive but have spectacular free kids clubs. Check out our Guide to Family-Friendly Resorts and Hotels for even more great places to stay.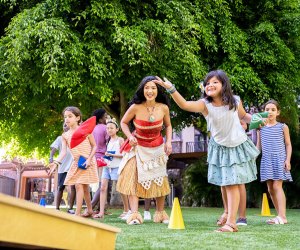 Moana and other Disney characters often visit the kids club at Aulani, a Disney Resort & Spa.
Resorts with Incredible Free Kids Clubs in the US (Including All-Inclusive Resorts)
Kids Club Ages: 4-12
Hours: 8am-2pm daily
Though this Disney resort is not all-inclusive, loads of amenities and activities are included in your stay. One of them is Aunty's Beach House, a 5,200-square-foot kids club with games, Hawaiian arts and crafts, a Disney movie room, an enclosed backyard with climbing structures, Disney character visits, magical portals depicting Hawaii scenes, enchanted fireplaces, and other exciting touches. It fills up quickly, so be sure to pre-register your child online up to 90 days prior to your arrival. Special daily programs also require pre-registration.
Kids Club Ages: 4-12
Hours: 9:30am-12:30pm, 2-3:30pm, and 7-8:30pm daily in the summer; weekends the rest of the year
This luxurious, all-inclusive Victorian castle in the Hudson Valley offers a fantastic kids club featuring playtime and nature exploration. Kids are divided into groups by age: Explorers (4-6) and Adventurers (7-12). Explorers enjoy salamander and scavenger hunts, arts and crafts, boat rides, tennis, parachute games, and hiking. Adventurers go rock scrambling and fossil hunting, participate in tennis clinics and sports tournaments, make kites and clay beads, and more. Parents can stay for the first 30 minutes of each morning and afternoon session.
RELATED: Must-Try Dude Ranch Vacations for Families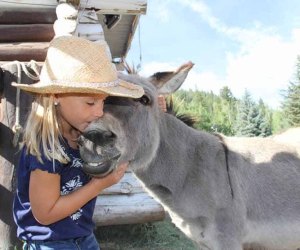 Donkey-cart rides are just one of the many activities available through C Lazy U Ranch's kids program.
Kids Club Ages: 3-17
Hours: 8:45am-12pm and 1:30-3:30pm (January - early June and late August - Thanksgiving weekend); 8:45am-4pm and 6-8pm (Memorial Day weekend and early June - Labor Day weekend)
This all-inclusive dude ranch provides seasonal kids and teens programs with experienced counselors. Kids are grouped by age: Cowpokes (3-5), Mustangs (6-11), Outlaws (11-12), and Teens (13-17). Summer activities include horseback riding, fishing, swimming, line dancing, a kids carnival, an overnight teen campout, and lots more. The spring and fall kids program offers supervised activities like archery, pony and donkey-cart rides, scavenger hunts, and roping. Winter activities include snow tubing, sledding, ice skating, arts and crafts, and more.
Kids Club Ages: 3-12
Hours: 9am-12pm, late June through early September
This luxury hotel (the only year-round one on Nantucket) is not all-inclusive, but offers some fantastic complimentary kids' activities. These include antique fire truck rides and a morning kids club featuring fun games and programming. Kids are divided into Starfish (ages 3-5) and Lobsters (ages 6-12), and each day has a different fun theme such as Make It Monday and Nature Exploration. Nut-free snacks like goldfish, pretzels, and graham crackers are provided.
RELATED: Best Outdoor Water Parks in the US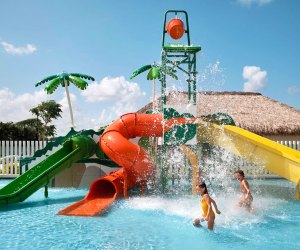 Kids can splash and slide at the mini water parks at Finest Punta Cana's Imagine Kids Club.
Best All-Inclusive Resorts with Incredible Kids Clubs in the Caribbean
Kids Club Ages: 0-11
Hours: 10am-10pm
During her March 2023 trip to Finest Punta Cana, our travel editor declared its Imagine Kids Club "the largest and most amazing kids club" she'd ever seen. And it truly is spectacular. Inside, there are plenty of magical spaces—a Fun Lab where kids can do experiments, a tiki hut with video-game nooks, a tree house-themed climbing structure, an art corner, and so much more. Outside, there's a splash pool for babies and toddlers, two small water parks for older kids, a theater, and even a mini buffet.
The Imagine Kids Club is divided into three areas with both indoor and outdoor spaces—Stay & Play for infants through age 2 (parents must stick around), the Mini Club for ages 3-6, and the Maxi Club for ages 7-11. Mini Club kids can enjoy a slew of supervised activities including crafts, costume parties, treasure hunts, beach games, and horseback riding. Maxi Club guests can participate in team sports, contests, pool games, and themed parties.
Kids Club Ages: 3 months to 12 years
Hours: 9am-5pm daily, plus some evenings
The CocoLand Kidz Klub at Coconut Bay Beach Resort is so cool, parents will wish they could stay, too. It features a water park, a pirate ship, a mini rock wall and zip line, and more. There's even an infant area with cribs and playpens.
After being grouped by age (3 and under, 4-7, and 8-12), kids participate in the CocoLand SCOUTS program, which stands for "Seeing, Crafting, Observing, Understanding, Tasting, St. Lucia." Activities include arts and crafts, games, nature walks, parties, cooking lessons, and more. Each SCOUT receives a scrapbook to fill with photos and memories of their adventures. Even cooler, parents are given free local cell phones so they can stay in touch with their little ones.
RELATED: Best Family-Friendly Hotels Where Kids Stay Free

The Kids Camp at Beaches Turks & Caicos is staffed by Certified Nannies.
Kids Club Ages: 3 months to 12 years
The Kids Camp at Beaches is divided into six programs: Infant (0-2), Toddler (3-4), Navigators (5-7), Adventurers (8-10), Tweens (11-14), and Teen (15-17). The camp is staffed by Certified Nannies who have met the minimum requirement of 2,000 hours of child care. It is also an Advanced Certified Autism Center, offering specialized services for children with autism.
Each age group at the Kids Camp participates in fun activities just for them. Toddlers splash in toddler pools, collect seashells, build sandcastles, watch puppet and magic shows, and more. Navigators and Adventurers enjoy things like scavenger and treasure hunts, beach Olympics, talent shows, arts and crafts, and water pong. Tweens enjoy karaoke, water sports, and games like beach volleyball and flag football. And teens participate in tennis clinics, dance parties, boat cruises, water sports, pool Olympics, and lots more.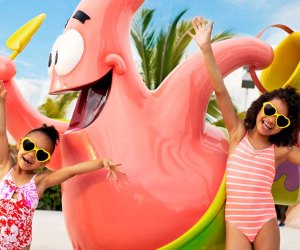 Frolic with favorite Nick characters at Nickelodeon Hotels & Resorts Punta Cana.
Kids Club Ages: 4-12
Hours: 9am-5pm and 7-9pm daily
This is one of those all-inclusive resorts that were just made for families. Its kids club, Club Nick, is just as cool as you'd expect. The bright orange-and-green space features a large twisty slide that deposits kids into a ball pit, arts and crafts, games, plenty of Nick-themed toys, and even surprise visits from favorite Nickelodeon characters like Dora the Explorer, SpongeBob and friends, and the Teenage Mutant Ninja Turtles. Your kids may never want to leave!
Kids Club Ages: 3-12
Kids can hang out with characters such as Iggy Iguana and Penelope Pelican at Sonesta Maho Beach Resort's 4,000-square-foot Beach House Kids Club, which is full of fun activities like arts and crafts, toys and games, and a twisty slide. The large outdoor area houses a fun playground. Teens ages 13 and up can hang out in the Teen Zone and enjoy video games, board games, foosball, billiards, and air hockey.
RELATED: Visiting Playa del Carmen and Riviera Maya in Mexico with Kids

Kids will need a rest after all of the excitement of Azul Beach Resort's kids club.
Best All-Inclusive Resorts with Incredible Kids Clubs in Mexico
Kids Club Ages: 4-12
Hours: 10am-2pm, and 3-7pm daily
Drop the kids off at the brightly colored Azulitos Playhouse for the morning or afternoon, where they'll enjoy toys, games, climbing and soft-play equipment, computer stations, and supervised activities such as herb planting, arts and crafts, and eco scavenger hunts. Teens ages 13-17 also have a place to hang out from 9am-11pm called Extreme Breeze Teens. It features ping-pong and pool tables, foosball, air hockey, and more, plus outdoor activities like archery and volleyball.
Kids Club Ages: 0-12
Hours: 10am-10:45pm daily
This gorgeous resort unveiled a revamped kids club in early 2023 called the WOW Kids Club—and boy, will it wow kids. The new club features over 3,200 square feet of indoor and outdoor space full of fun activities. Inside there's an illuminated dance floor, a karaoke station, individual cinema pods, a gaming station, and a crafts area. Outside, kids can enjoy giant Jenga, ping-pong, foosball, air hockey, a climbing wall, and more. A separate Teens Club for ages 13-16 offers gaming booths with large screens, karaoke, billiards, foosball, air hockey, and more.
Kids Club Ages: 4-12
Hours: 9am-11pm daily
Like its sister site in Riviera Nayarit, Grand Velas Los Cabos unveiled a refashioned kids club in early 2023 complete with an arts and crafts area, a cinema with tiered seating, a light-up dance floor, video games, a snack bar, and more. The tree house-themed club also offers a schedule of activities such as cupcake decorating, cooking classes, tie-dye, beach and foam parties, and more. Every day is different!
Photos courtesy of the resorts
Disclosure: We may earn a small commission if you click through our link and make a purchase. This revenue helps us maintain this site, so thank you for supporting us.
Click Here to Sign Up!
i