Don't Visit Disney's Aulani Resort in Hawaii without Reading This
12/16/17
- By
Anna Fader
Aulani Resort in Hawaii is a unique property in the Disney family, offering an absolutely luxurious resort vacation with enough family fun that parents can enjoy without feeling like they are vacationing in Romper Room. The property is designed with a big "H" and a small "d" to put the emphasis on being an authentically inspired Hawaiian experience with a touch of Disney magic. This balance is just another example of how well Disney knows how to please families.
Aulani is a wonderful resort by any standards. With upscale, but family friendly accommodations, a world-class spa, and plenty of activities, we spent an entire week there and never ran out of things to do. In fact, the resort has so much going on that it's worth doing some planning before you start packing in order to make sure you get the most out of your stay. We sussed out all the ins and outs of the resort to provide you with what you need to know to get the most out of your Disney Aulani vacation, reduce stress, and even save some money.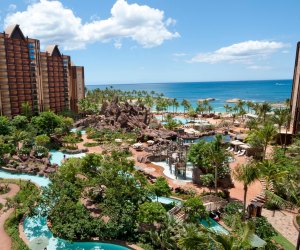 The enormous pool complex at Aulani is equally dreamy for kids and adults. Photo courtesy of Disney Aulani
What's included - While Aulani is not all inclusive, one of the things we noted, and were grateful for, was that we never felt nickled and dimed. From free wifi to so many other thoughtful amenities, Aulani offers a wealth of free activities including a huge pool and water play area, beach, kids club, and free daily programs.
The pool area has several different sections, separated by lush greenery and architectural elements to create different sections, so that those who want to stretch their toes looking over a gorgeous grotto infinity pool will be just as happy as parents of tots who can relax by the small splash pad or the huge Menehune Bridge water play structure. The two water slides are built into a giant artificial rock formation that creates an attractive centerpiece to the resort. Personally, I'd be happy just floating around the lazy river all day.
Add all of this to the lovely beach with free boogie boards and sand toys—and we haven't even gotten to Aunty's Beach House. Nobody does kids clubs like Disney, and the fact that this one is free is a huge bonus. There's also a daily schedule of free fitness, Disney family, and Hawaiian cultural activities to take advantage of.
The one thing you absolutely must do before you pack! - The kids club is an amazingly free amenity, but the activities book up every day. If you take just one tip from this article, it's to register your children for Aunty's Beach House in advance. To be clear, there's registering them for the club and there's registering them for special programs. You want to do both. This will allow you to book a few of the complimentary programs for each child during your stay. If, for some reason, you don't manage to pre-register for programs, all is not lost. Children are welcome to enjoy Aunty's any time it is not at capacity. There are crafts, games and other entertainment, but they won't be able to participate in the special programs. They do leave some spots for people who forget to pre-register, but these will be snatched up by parents who line up as early as 6:30am and are gone by 8am.

Hanging with Stitch at Aunty's Beach House, photo courtesy of Disney Aulani
BYO Food - While there are ample options for good food at different price points around the resort, when traveling with a family, having a kitchen is a huuuuge bonus. Standard rooms are equipped with a small fridge, a hot water kettle, and coffee maker. Suites have both kitchens and laundry machines (oh the things that make a mom's heart swell)! Some Aulani guests stop at big box stores on the way from the airport to stock up on snacks and food, but right across the street from the resort is the wonderful Island Country Markets, which sells not only a wide range of groceries, but excellent prepared foods, too. I couldn't get enough of the poké bowls; and if you have a cappuccino habit, you'll save at least a dollar a day just on that. The outdoor shopping center also has a nice selection of restaurants and shops to explore.
Aulani's best bargain - Pick up the insulated souvenir cup on your first day and use it for unlimited coffee and soft drinks for your entire stay. You can refill the cup at Ulu Cafe right by the pools, and there's a hidden refill spot outside the Lava Shack, too.
Musical pool chairs - If you've ever been to a beach resort you know the game of staking out your pool chairs. Aulani tries to make this a bit more fair by releasing chairs that haven't been used in over an hour. The staff will fold your towel, and if it is still untouched an hour later they will hold your belongings and release your chair. During our stay there were definitely times when it seemed like every pool chair was taken, but there were always lounge chairs and umbrellas on the beach at least. Read all Aulani pool policies.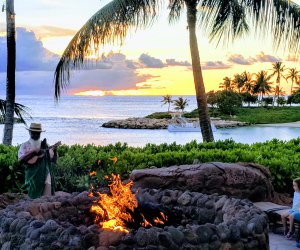 Uncle's fireside story time is just one of the ways to enjoy Hawaiian culture during your visit.
Absorb some Hawaiian culture - Aulani has gone to great lengths to infuse the hotel with authentic Hawaiian cultural influences. The hotel is filled with contemporary Hawaiian artworks, and the cultural tour is a surprisingly entertaining way to get a deeper understanding both of the hotel and the story of its design and creation. Cultural programs are offered in the Pau Hana Community Hall. If you have never been to a Lu'au, the Ka Wa'a Lu'au is a must-do. It's a great show, tons of terrific food, and a wonderful opportunity to learn more about Hawaiian culture.
Splurge on the spa - Aulani's Laniwai Spa is a world-class facility and should not be missed. Treat yourself to a treatment and you are welcome to enjoy the hydrotherapy garden and relaxation rooms for 45 minutes before and two hours after your treatment. Half a day at this amazing corner of the resort will take your vacation to another level.
Check the Daily 'Iwa - There's a lot more going on at Aulani than meets the eye. The Daily 'Iwa lets you know about fitness and family programs that you might not realize were even happening. You can grab it around the resort for that day or pick it up in the main lobby the evening before, starting at 7pm. Even better, the whole week is posted online.
Get a Lyft - While you are in Oahu you will likely want to explore the island at least a little bit, plus you need to travel to and from the airport. Renting a car is relatively inexpensive, but parking at the resort will likely double the cost. Lyfts, Ubers, and taxis are readily available on the island and can be used to take you to any destination you might want to visit. We took Lyfts to Pearl Harbor and the Aloha Swap Meet, and it was easy and affordable. There is also a rental car outlet at the resort if you want to rent a car for a day from there.
Be an explorer - In the spirit of the hidden Mickey, Aulani holds a lot of secrets. Whether it's the hundreds of Menehune sculptures tucked around the resort, animal shapes hidden in the water slide structure, or the Hawaiian culture inspired designs around the resort, keeping your eyes peeled is always rewarding. Tweens will also love the Menehune Adventure Trail, a high tech scavenger hunt that takes guests around the resort solving riddles and discovering secrets, available for free at the Pau Hana community center.
Get your dose of Disney - Part of the small "d" Disney atmosphere at Aulani means that the resort is not crawling with Disney characters. If you or your children have your heart set on a character photo opportunity, plan ahead. There are some free events that offer character photo ops; these can be found in the Daily 'Iwa, or ask at the front desk. To make sure you get that great pic you might want to reserve a character breakfast or dinner. The meal includes an unlimited buffet, a roaming character for table-side photos, as well as boisterous entertainment from Aunty at breakfast and slightly more subdued storytelling show from Uncle at the dinners. Show up early to take advantage of the character meet and greet and to get professional photos. The assistants are happy to snap a shot with your cell phone, too. Characters also drop in to Aunty's Beach House activities—another advantage of snagging those free activity spots.
Wring out every drop - If your flight leaves late, you can still enjoy the pools and beach after you check out. Aulani offers the Luana Lounge with restrooms, couches, and even showers and computers to allow you to clean up and relax before your flight. A really thoughtful amenity that just caps the spirit of your whole vacation at Aulani.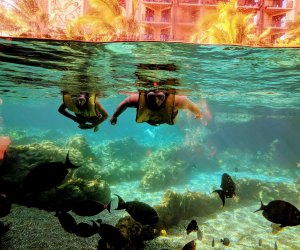 Snorkel with 1,300 tropical fish at Rainbow Reef.
There's more at Aulani than we could possibly cover here. You'll have to visit to explore the rest yourself. We had a wonderful stay at Aulani and would definitely recommend it for families looking for a luxury vacation that will have both kids and adults over the moon. Check the Aulani website for special packages.
The writer was hosted or received a media rate for the purpose of researching this property for review.