Finest Punta Cana: A Luxury All-Inclusive Resort for Families in the Dominican Republic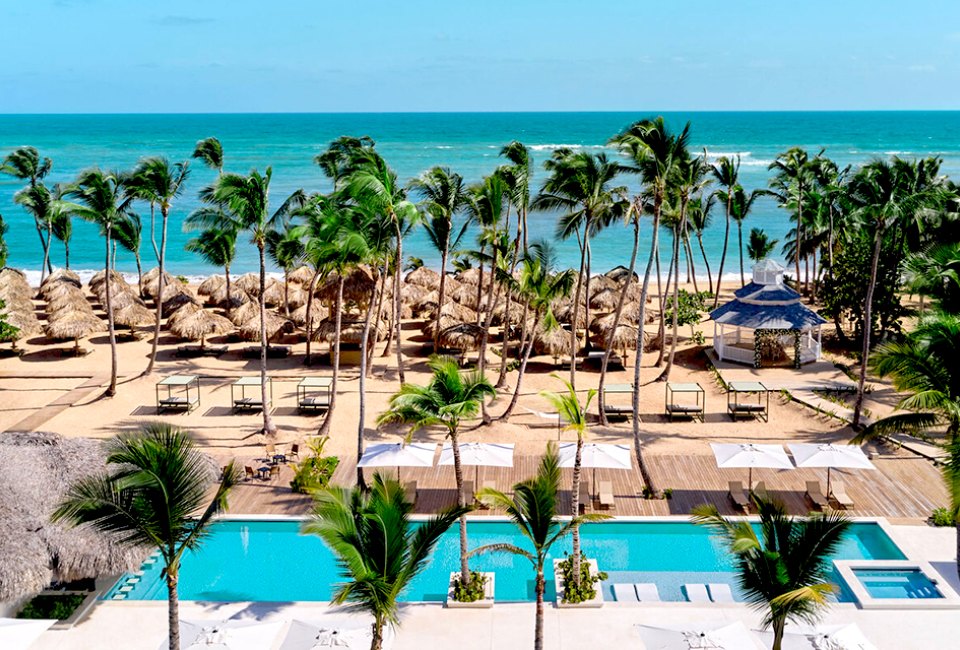 4/22/23
- By
Jennifer Marino Walters
My recent stay at Finest Punta Cana in the Dominican Republic—the newest resort from The Excellence Collection brand—changed every assumption I had about all-inclusive resorts. In my experience, staying at an all-inclusive has typically required some level of sacrifice. Family-friendly all-inclusive resorts often involve large crowds, loud restaurants, and unwanted splashes at the pool. Adults-only all-inclusives solve those problems, but you can't bring the kids. And the more affordable all-inclusive resorts often have lower-quality food, poorer service, and fewer amenities.
But Finest Punta Cana sacrifices nothing. Open since October 2021, this stunning and luxurious resort welcomes families, but also has an adults-only section. Every meal I ate was memorable and delicious. Every staff member was friendly and attentive. The kids' club was the biggest and best I've seen. At nearly 80% capacity, the resort still did not feel crowded. And the best part? Finest Punta Cana offers better prices than many luxury resorts, not to mention the fact that food, drinks, and most activities are included in the cost of your stay.
Read on for my full review of Finest Punta Cana, my new favorite resort. For even more family vacation ideas in the Caribbean, check out our Caribbean Family Travel Guide and our list of the best all-inclusive resorts for families.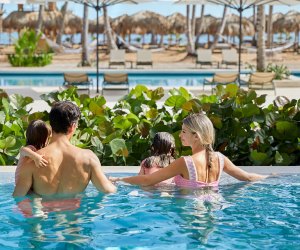 Families get their pick of several pools at Finest Punta Cana. Photo courtesy of the resort
As soon as our car pulled up to Finest Punta Cana, my husband and I were treated like royalty. We were greeted by smiling staff members who handed us hot towels and champagne, quickly gathered our luggage and checked us in, and escorted us to our room. We stayed in a Junior Swim-Up Suite in the Excellence Club, which is the portion of the resort that's only for adults. The Excellence Club includes extra perks like an exclusive check-in and check-out area, a private concierge and lounge, an upgraded mini bar and room service menu, and more.
When we entered the lobby, we were immediately struck by how sleek, modern, and luxurious the resort looked despite being family-friendly. In that sense, Finest Punta Cana seamlessly melds the best of both worlds—an upscale retreat that also offers plenty of fun and kid-friendly amenities.
The grounds of the resort are clean and gorgeous as well, with lush greenery and palm trees, beautiful flowers I'd never seen before, lakes, and even resident flamingoes. I was constantly in awe of how laid-back the vibe was and how uncrowded the resort seemed despite being at nearly 80% capacity. Finest Punta Cana is spread out in such a way that we never felt cramped. No rushing down to the pool at the crack of dawn to snag chairs. No fighting for a spot on the beach. No long waits for activities or restaurant tables. It was amazing.
We also appreciated how high-tech the rooms are at Finest Punta Cana. As someone who is notorious for forgetting to hang the "Do Not Disturb" sign on hotel doorknobs, I loved that staffers could see when we were in the room via a sensor outside our door. We could also turn on the "Do Not Disturb" sign simply by pushing a button. The room had high-tech lighting and air conditioning to keep us comfortable. And when we finished with our room service, all we had to do was place our dishes in a little cupboard at the front of the room and a staffer would come retrieve them.
Speaking of the staff members, they were all phenomenal. Everyone from the restaurant servers to the bartenders to the beach attendants went above and beyond to make our stay memorable. One beach attendant, Ramon, even set up a romantic spot for us complete with chilled champagne and a message he'd created out of colored sand.
RELATED: Playa Largo Resort & Spa: Family-Friendly Fun in Key Largo, Florida Keys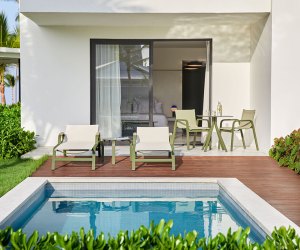 Some Family Suites come with their own private pool!
Finest Punta Cana Accommodations
I have three kids, and squeezing into a standard hotel room as a family of five is nearly impossible. But Finest Punta Cana is an all-suite resort, meaning families have plenty of space to spread out. My mouth dropped to the floor when I saw the gorgeous and modern Family Suite. At 950 square feet, it includes a king-size bed, a queen-size sofa bed, a separate bedroom with two twin beds, a large bathroom with a rain shower, a Jacuzzi, and a huge walk-in closet. Some Family Suites even have their own private pool!
Families can step up the luxury by booking a Finest Club Family Suite, which includes extra touches like Bvlgari toiletries and an upgraded minibar. It also gives families access to all of the Finest Club amenities, including private check-in and check-out, a lounge and restaurant just for Finest Club guests, and more.
RELATED: Warm and Sunny Family Vacation Spots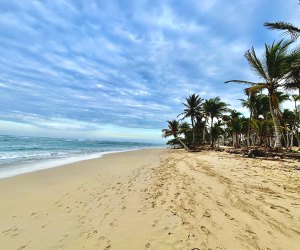 Bask in the tranquility and turquoise waters of Finest Punta Cana's beach.
Kid-Friendly Amenities at Finest Punta Cana
1. Pools and Beach
Finest Punta Cana has many pools. The massive main pool features a giant structure—picture an inflatable jumping pillow—that constantly sprays water. There's also a wading pool with a smaller spraying structure for younger kids, plus pools exclusively for Finest Club and Excellence Club guests. There were plenty of poolside activities like Bingo, plus poolside food and beverage service.
The resort's beach is gorgeous with clear turquoise waters, plenty of plush lounge chairs under thatched umbrellas, and friendly staff members eager to cater to your every need, from rolling towels into pillows to bringing you food and drinks. Several water sports such as kayaking and snorkeling are included in the cost of your stay.
RELATED: Best Family Resorts with Water Parks: All-Inclusive Family Resorts and More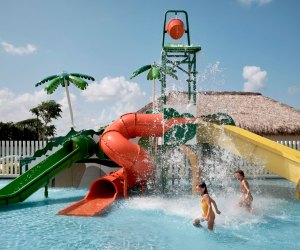 Imagine Kids Club has its very own mini water park. Photo courtesy of the resort
2. Imagine Kids Club
As I mentioned earlier, Finest Punta Cana's Imagine Kids Club is the largest and most amazing kids club I have ever seen. It has separate areas for babies and toddlers, children ages 3-6, and kids ages 7-11. Parents must stay with babies and toddlers, but older kids can be dropped off for a full day of supervised activities including arts and crafts, costume parties, treasure hunts, and team sports.
RELATED: Best Things To Do in Aruba with Kids

A climbing structure is one of many indoor activities at Imagine Kids Club.
There's a splash pool and a mini water park, a video game area, climbing structures, a Fun Lab where kids can do experiments, a mini buffet, and so much more. It almost makes me want to be a kid again so I can play there myself!
Finest Punta Cana also has three Imagine Lounges located near the restaurants. There, parents can drop off potty-trained kids ages 3 and up for supervised play while they enjoy a quiet meal.
3. ONE Spa
Finest Punta Cana's on-site spa, ONE Spa, is absolutely gorgeous and transports guests to a world of relaxation and serenity. My husband and I had a fantastic couple's massage that began with breathing exercises and ended with teatime on swaying beds. The massage itself was incredible. ONE Spa also offers many other treatments including hydrotherapy, facials, nail services, and more.
And you don't even have to drop your children off at Imagine Kids Club while you get pampered: ONE Spa offers a variety of treatments just for kids and families. There's an adorable beauty salon with pint-sized chairs and a family treatment room that fits up to four people. Kids can indulge in facials, massages, manicures and pedicures, hair styling, and more. There's even a small toy room for children to play in while they wait for their grown-up to finish their treatment.
RELATED: Visiting Playa del Carmen and Riviera Maya in Mexico with Kids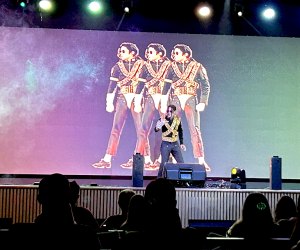 Enjoy live entertainment every evening, including a Michael Jackson show.
4. More Family Activities
Finest Punta Cana offers tons more activities for kids and families. I recommend downloading The Excellence Collection's app to help keep track of them. Throughout the day there are beachside painting and dance classes, workout classes both outdoors and in the large fitness center, archery, tennis clinics, beach games, crafts, and so much more. Every evening there is live, family-friendly entertainment. We saw a fantastic Michael Jackson and cirque-style circus show during our stay, as well as a Beatles tribute band, a light show, and a pirates party. It is seriously impossible to get bored at Finest Punta Cana.
5. Baby-Care Amenities
My least favorite part of traveling when my kids were babies was packing and lugging all of their gear around. If you travel to Finest Punta Cana with a baby, you won't have to do that. The resort has cribs, baby bathtubs, high chairs, baby monitors, bottle warmers and sterilizers, and even homemade purees available upon request.
RELATED: Hotel Xcaret Mexico: An All-Inclusive Adventure in Playa del Carmen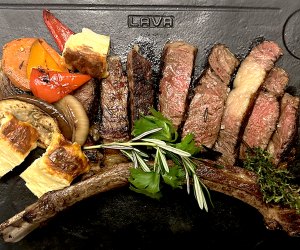 The Tomahawk steak at Dommo is to die for.
Dining at Finest Punta Cana
Finest Punta Cana has 10 fantastic restaurants plus a massive buffet, three food trucks, a beach snack grill, and three grab-and-go stations. Needless to say, you won't go hungry—and you won't have a bad meal. The Market Kitchen buffet features one of the largest spreads I have ever seen, as well as a station just for kids. My husband and I can't stop raving about our teppanyaki dinner at the adults-only Japanese restaurant Shoji, the mouthwatering Tomahawk steak we enjoyed at the adults-only Dommo (for Excellence Club guests), our fantastic breakfast at Gusto (for Finest Club guests), and our unforgettable salmon dinner at the adults-only French eatery Le Petit Plaisir. He also really enjoyed his Cuban sandwich from the La Cocinita Food Truck.
Other great restaurants at Finest Punta Cana that aren't just for grown-ups or Finest/Excellence Club guests include the Mexican restaurant Lizo, the Pan-Asian Melting Pot (where you can enjoy live cooking shows or eat at an interactive Yakiniku table), Brass Steakhouse, Duke's Lobster & Seafood, Insieme Trattoria for Italian food, and Las Dunas Beach House for a casual meal right on the sand. Most of the restaurants do not take reservations, but guests seemed to have no problem getting a table during our stay.
My husband and I also had a blast at Legends, a 50s-style, kid-friendly sports bar with casual bites and a pool table. We went for karaoke night and cheered on as both kids and grown-ups took their turn on the microphone.
RELATED: Secrets of Atlantis: 10 Tips for a Bahamas Family Vacation with Kids

Kids love the unique, tropical-themed playground at Finest Punta Cana.
Would I Recommend Finest Punta Cana for Families?
The answer is yes—1,000% yes. In fact, my husband and I are already planning a return trip to Finest Punta Cana with the kids in tow. We loved having the convenience of an all-inclusive (no need to carry around a a credit card) combined with the luxury of an upscale resort. Finest Punta Cana offers everything a family could want in a Caribbean vacation—a gorgeous beach, fun pools, a fantastic kids' club, a top-notch spa, delicious food and drinks, and plenty of kid-friendly activities and entertainment. It is the perfect mix of relaxation and fun, and will surely be a vacation your family will remember forever.
In fact, I would recommend any of the all-inclusive resorts from The Excellence Collection (we toured two others during our visit to Punta Cana). These include Finest Playa Mujeres for families; Excellence Playa Mujeres, Riviera Cancun, El Carmen, and Oyster Bay for adults; and Beloved Playa Mujeres for couples.
Unless noted, photos by the author