Visiting Playa del Carmen and Riviera Maya in Mexico with Kids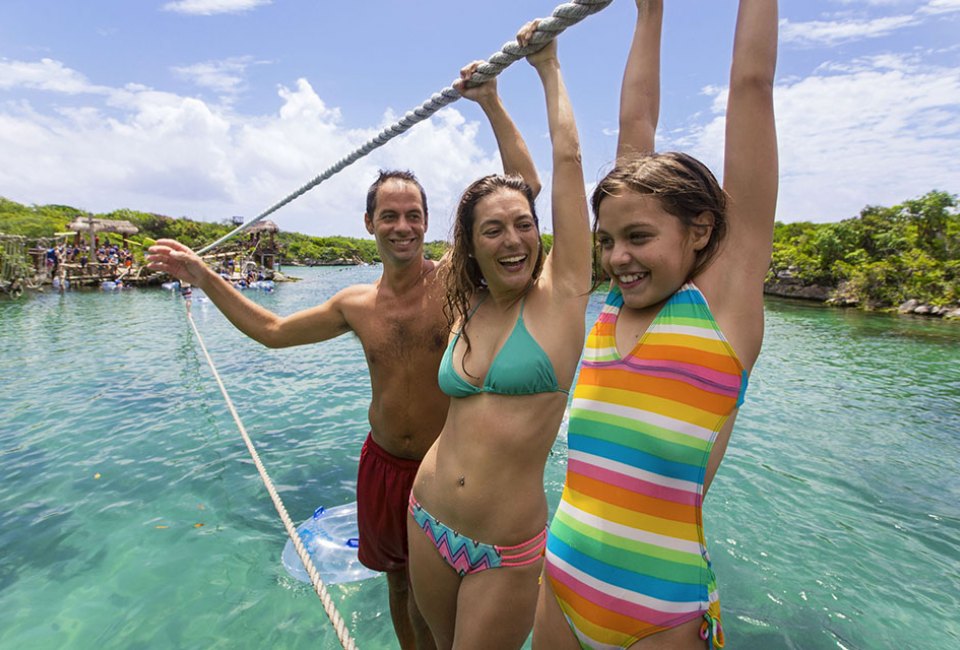 4/26/18
- By
Elaine Paoloni Quilici
Mexico's Caribbean coast is known for its first-class resorts, especially along the Riviera Maya, including towns such as Playa del Carmen and Tulum. So much so that sometimes the sparkling waters, stunning beaches, and swank surroundings of this northern Yucatan peninsula's all-inclusive deals make it hard to want to leave the lovely confines of your hotel.
But there's so much more to this gorgeous Mexican coastal region just south of Cancun than beachside getaways. To introduce the kids to a taste of authentic culture, including Mayan ruins, natural wonders, and unlimited adventure, you don't have to go far. Some excursions may take only an hour and others a whole day, but these 23 ideas are surely worthy of drawing the family out of the resort for even just a few hours.
Things To Do in Playa del Carmen with Kids
1. Avenida 5
Stroll along this signature strip to visit shops selling everything from T-shirts and key chains to silver jewelry and local pottery. There are plenty of cafe, restaurant, and bar options to refuel. Pick up some churros from a street vendor along the way, and enjoy the talents of local performers while you nosh on the sweet treats.
Start with a tour of the museum to explore the background of native Mexican artist Frida Kahlo. Then head to the restaurant (make a reservation) for a one-of-a-kind dining experience. Food gets a whimsical touch with gastro mapping, where videos project onto the table to create a memorable meal in the artistic style of Kahlo.
RELATED: Mexico's Velas Vallarta All-Inclusive Family Resort is Eco-Friendly Earth Check Certified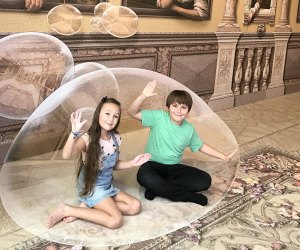 Become completely immersed in artwork at the 3D Museum of Wonders. Photo courtesy of the museum
The three-dimensional artwork that fills the walls of this fascinating museum is a one-of-a-kind experience. The optical illusions first capture your eye then draw you into the works in an interactive way. Jump into a bubble, ride an ocean wave, or sink your teeth into a cake—just don't forget your camera.
4. Parque Los Fundadores
If you're visiting the restaurants and shops along Avenida 5, take a break in this beachfront park located on the south side next to the Cozumel ferry pier. Kids can have fun climbing around the pirate ship-themed playground. You also might catch a show of traditional Mayan acrobats and dancers, people making sand sculptures, and vendors selling fresh fruit and other tasty snacks.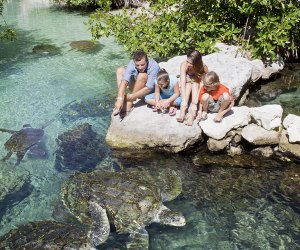 Xcaret has more than 50 attractions to please the whole family. Photo courtesy of Experiencias Xcaret Parque
This eco-archaeological park has something for everyone. It combines cultural and natural elements in more than 50 attractions spanning outdoor adventure, food, and entertainment. Kids ages 0-12 will enjoy Children's World, a section of Xcaret that includes water slides, hanging bridges, a parakeet habitat, cenotes, and a playground.
6. Xaman-Ha
If you're staying in the resort community of Playacar, take some time to visit the Mayan ruins and tropical birds of Xaman-Ha. The ruins are much smaller than other sites touted by tour companies, but these are free. An onsite aviary charges admission to observe the 30-plus species of birds that occupy it, including flamingos, parrots, and pelicans.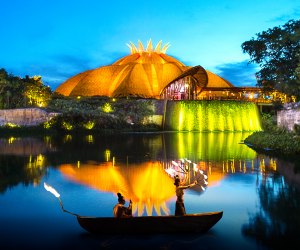 Cirque du Soleil puts on another amazing spectacle of a show with Joya. Photo courtesy Joya
Mexico's first resident Cirque du Soleil show follows the story of an alchemist and his granddaughter as they set out to uncover the secrets of life. The two hour spectacle held at the Cirque du Soleil Theater at Vidanta Riviera Maya includes a 75-minute show and one-hour dinner that entertains all five senses.
This relaxing green space in Playacar promotes sustainability through green design that incorporates responsible water use and solar power. It includes a café that serves food items freshly harvested from its own garden. Visitors can check out the community garden, bamboo dome, theater space, waterfalls, and winding manmade river for a peaceful timeout.
This neighborhood park on Calle 1 and Avenida 60 is off-the-beaten path but makes for a welcome diversion. Grab a bite to eat at the café while enjoying the greenery. Kids can get their energy out on a jungle gym, swings, rubber tire piles, and moving log balance beam, or take a break in artistically decorated boats and vehicles throughout. A variety of classes are also offered, such as music, yoga, and dance. Closed Mondays.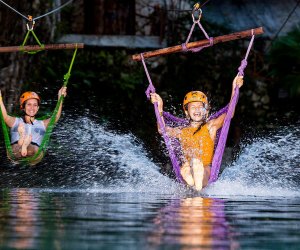 Get thrills of a lifetime at Xplor. Photo courtesy of Experiencias Xcaret Parque
If you're looking for outdoor adventure, Xplor has plenty. Speed down a two-mile zip-line, raft along two rivers, drive an amphibious vehicle through the jungle, take a spelunking hike, splash into a cenote in a hammock, or swim in a cave. Day and night sessions are available. Ages 5 and up.
Take a peek into the Mexican underworld and explore some impressive geological formations. This nature reserve includes an underground river of clear, fresh water dotted with stalactites and stalagmites that date back millions of years. Tours include a skilled guide, locker, wetsuit, life jacket, helmet with lamp, towel, and food. Ages 4 and up.
This nature area boasts a jungle-like environment with zip-lining, caves, and a cenote. You can explore the paths on foot, but an ATV lets you cover more ground and offers the thrill of zooming over a suspension bridge. Enjoy a traditional lunch and even partake in a Mayan ceremony led by a shaman. Ages 6 and up.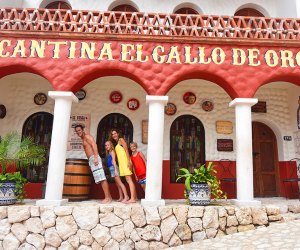 Your mind will be turned upside down at Xenses Park. Photo courtesy of Experiencias Xcaret Parque
Pit mind against body at this multisensory adventure. Attractions include two circuits with more than 50 fantastic scenarios that will have your mind spinning and senses kicking into action. Think mirrored labyrinths, kaleidoscopes, and optical illusions.
RELATED: Azul Beach Hotel, Cancun, Mexico: A Trip with the Kids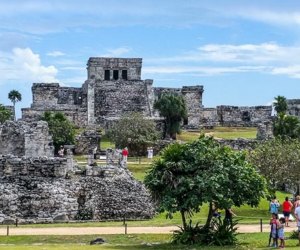 The history of the Mayan ruins of Tulum is one of magic, culture, and mystique. Photo courtesy of wikimedia commons
More Things To Do in Riviera Maya with Kids
14. Coba
Even if you don't want to climb the 138-foot Ixmoja pyramid, it's still cool to explore the ancient Mayan city of Coba. Rent a bike to traverse the area and spot tropical birds and spider monkeys that may pop out from the surrounding jungle. The ruins are not as excavated as some of the other popular ruin sites in the area, making them seem more untouched.
Walk around the 400-acre rainforest to see deer, spider monkeys, and lowland paca (a large rodent) roam freely. Or zip-line through the canopy for an aerial adventure. Then head underground to cool off. A complex of limestone sea caves dates back five million years, and a subterranean river offers top-notch snorkeling.
16. Tulum
The Mayan ruins here are impressive, towering over a picturesque sea cliff. Grab a map and imagine how an ancient civilization once lived amid the well-preserved stone structures. Take sun protection as it can get hot walking around.
RELATED: Caribbean Family Travel Guide: Resorts, Beaches, Reviews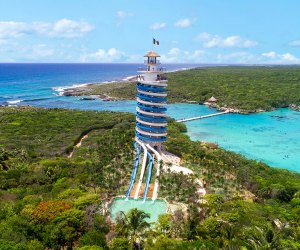 The water slide at Xel-Ha is not for the faint of heart! Photo courtesy of Experiencias Xcaret Parque
This natural, outdoor water park offers families plenty to do. Snorkel among fish and take a detour into the various sea caves. Bike along a jungle path. Set off on the lazy river where you can stop to jump from the Cliff of Courage, walk a slackline in the water, and zip-line into the lagoon. There's also a water slide that winds around a nearly 100-foot lighthouse. Children's World has activities geared toward little ones. Dolphin, stingray, and manatee experiences are also available at an additional cost. All-inclusive packages and locker rooms make the day easy.
18. Akumal
This is a popular spot for snorkeling, thanks to an offshore reef that protects the bay from big waves. And one of the greatest underwater sights here is the local population of green sea turtles. The beach and ocean are free to roam, but because the creatures are endangered, there are a number of restrictions and it may be easiest to visit with a tour group.
Primates and other animals that were once poorly treated are now happy to call this sanctuary their home. Spider monkeys, capuchin monkeys, and lemurs from Madagascar roam the lush, green landscape where visitors can interact with them. Other animals include snakes, deer, goats, and birds that have been rescued or donated. A well-trained staff is on hand to educate about the animals, nature, and Mayan culture.
Animal lovers will love this interactive zoo experience. The 60- to 75-minute tour brings visitors up close and personal with spider monkeys, rattlesnakes, millipedes, and more. You can touch, hold, and feed the animals—and even walk among crocodiles if you're brave enough. Kids 5 and under are free.
Visit this local ranch to take a leisure horseback ride through the Mayan jungle and a zapote orchard full of trees that help produce bubblegum. You'll learn all about the history of chewing gum and even get to sample some homemade gum. The guided tour also includes a visit to two cenotes, where you'll get to swim in one. No riding experience is necessary; a lesson is included in the two-hour package. Ages 6 and up.
RELATED: Velas Vallarta: An Eco-Friendly, All-Inclusive Option in Puerto Vallarta, Mexico
​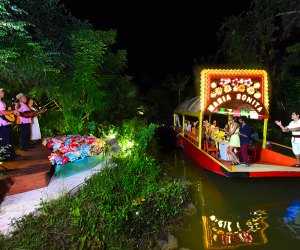 What could more fun at the end of a sun-filled day than a three-hour floating fiesta? Photo courtesy of Experiencias Xcaret Parque
22. Xoximilco — Puerto Morelos
Embark on a three-hour floating fiesta. Feast on local specialties while winding through canals on colorful trajineras, passing live mariachi and other traditional musicians along the way, and taking time to dance. While waiting to board, kids can play Mexican carnival games. Recommended for kids ages 5 and up; a children's menu is available. With water and jungle surroundings, don't forget the mosquito spray.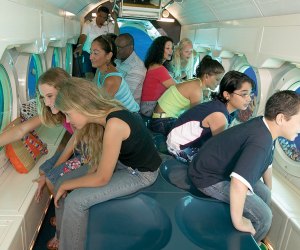 Get close-up views of many sea creatures on this aquatic expedition. Photo courtesy of the Atlantis Submarine Cozumel
Take a 45-minute ferry ride from the center of Playa del Carmen to board a real, live submarine on Cozumel. Large windows allow up-close views of the many sea creatures that call Chankanaab Reef their home. Other sites along the aquatic expedition include a dive wreck and the 1,800-foot drop of Cozumel Wall. Kids must be 36 inches tall.
Click Here to Sign Up!
i