Mexico's Velas Vallarta All-Inclusive Family Resort is Eco-Friendly Earth Check Certified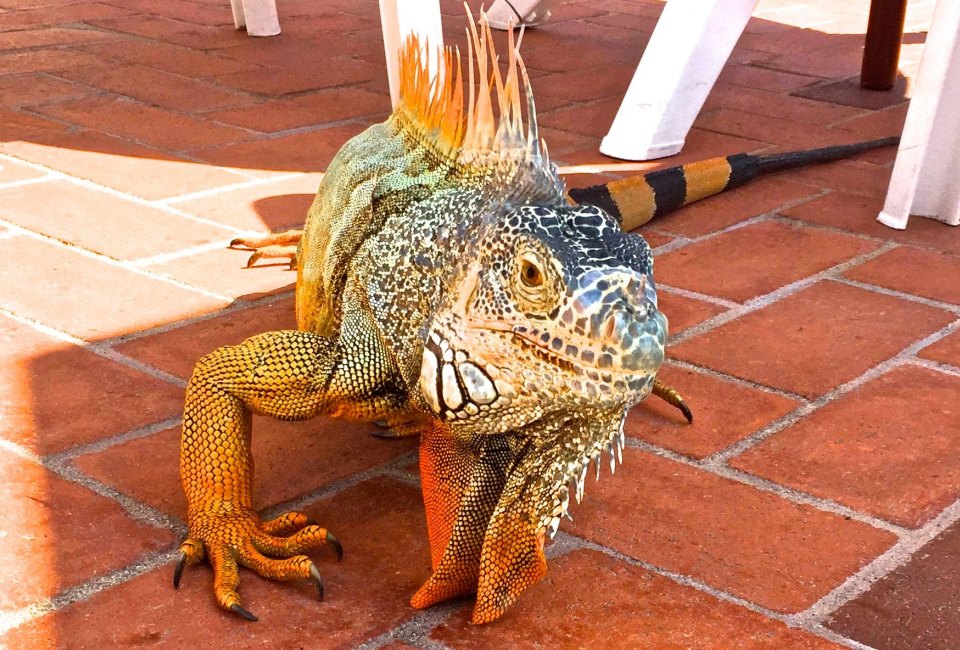 3/12/22
- By
Anna Fader
All-inclusive resorts are popular with family travelers because they make life so easy, but all those options can also take a big environmental toll. An all-inclusive resort may create tons of food waste on a daily basis, not to mention loads of electricity for air conditioning and water for washing pool and bath towels. Nobody wants to feel guilty while trying to enjoy a relaxing getaway, so a resort that meets the needs of families and the environment too seems like a real dream vacation.
Velas Vallarta, a family friendly all-inclusive resort with 10 acres of oceanfront in Puerto Vallarta, Mexico, has an impressive green initiative that goes beyond the typical superficial hat-tip to eco-friendliness. Their efforts have been recognized by EarthCheck, the world's leading organization in certifying sustainable tourism, with gold and silver status for the resort. Plus, the all-suite resort, with kitchens in every room and a free bottomless mini-bar, offers an affordably luxurious all-inclusive experience.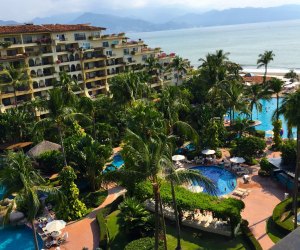 Velas Vallarta uses laundry waste water to keep its beautiful poolside gardens green.
Situated on the emerald waters of Banderas Bay, Velas Vallarta features everything you expect from a family resort. The center of the resort is a lushly planted garden with a koi river and three swimming pools, including a wading pool for tots and a swim-up bar, making it easy to spend a the whole day relaxing and swimming. Group activities are offered like water volleyball, ping pong, crafts or dancing. The beach is just steps away and a kids club is poolside as well, so little ones can be kept busy, but within sight.
RELATED: 25 Best Warm Winter Family Vacations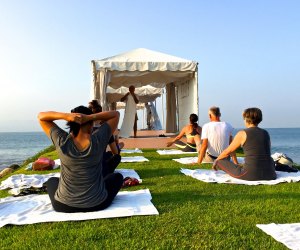 Morning yoga on this beach was a treat for me.
Nobody will go hungry at Velas Vallarta. There are two main restaurants on the premises, one beach- and pool-side. There is also a poolside snack and ice cream bar for between meal snacking. Waiters deliver snacks and drinks to you poolside, ensuring your total relaxation. Nightly theme dinners and local specialties are sure to please even foodies, and room service is available around the clock. And, with the all-inclusive meal plan, you never have to worry about the bill.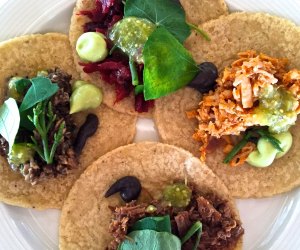 A step above typical all-inclusive fare, you'll eat well at Velas Vallarta.
What makes Velas Vallarta particularly great for families is the spacious all suite room configurations. Our three bedroom suite offered four queen bed plus two bathrooms, a full kitchen, dining area and a living room with two sleeping couches–perfect for a large family, with lots of privacy. Fridges are stocked with beverages and beers. A mini bar offers snack foods, microwavable popcorn and hot and cold cereals, all re-stocked daily. Room service is included in the all-inclusive plan, a rare treat, so breakfast in bed or a late snack can be had at the press of a button. Or enjoy your breakfast from your room's ocean view balcony.

The all suite resort offers accommodations with lots of room for families.
All that luxury sounds great, but all-inclusive resorts often leave me with a tinge of guilt knowing that my indulgence may be at the expense of the local environment. A typical all-inclusive resort can make twice as much food waste as one offering an la carte meal plan. What a joy to find out that Velas Vallarta composts all their organic food waste and uses it as fertilizer for the gardens. What can't be composted is given to local hog farmers, diverting several hundred pounds of food scraps from the landfill daily. In addition, solar panels heat the hot water for showers and laundry water is re-used to irrigate the landscaping. It's a pretty impressive program which has earned the resort a Green Globe certification since 2008.
RELATED: Best Things to Do in Puerto Vallarta with Kids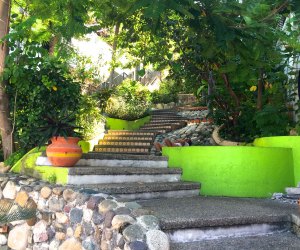 We sought out craft markets and quiet side strrets on our visit to Puerto Vallarta.
Velas Vallarta doesn't offer as many on-site activities as some larger resorts, but excursions can be booked through the resort. We took an inexpensive taxi ride into Puerto Vallarta, a lovely little city that is a lot less touristy and more laid back than Cancun. We found craft markets and quiet side streets with lots of local charm.
All-inclusive rates include suite accommodations, meals, premium branded beverages, 24-hour in-suite service, daytime and evening entertainment, fitness center, taxes, and gratuity. Spa services and materials for some activities are not included. Visit VelasVallarta.com for more information.
t Click Here to Sign Up!