Azul Beach Hotel Cancun, Mexico: Best Family Friendly All-inclusive Caribbean Resort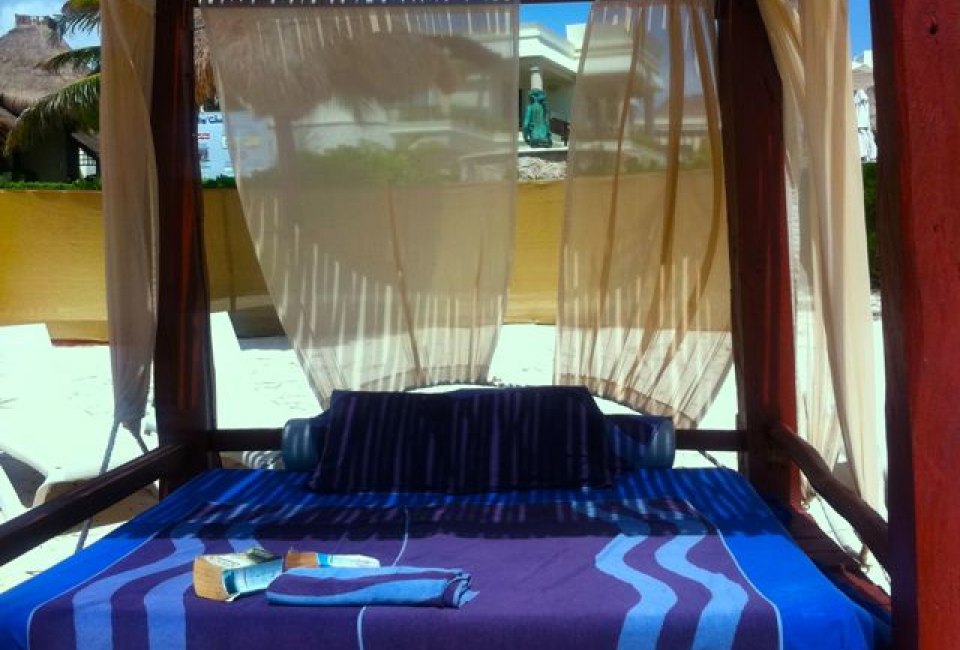 1/17/13
- By
Anna Fader
When you dream of a Caribbean vacation destination do you imagine a gorgeous white sand beach dotted with cabanas, white curtains blowing in the breeze, swim up beach bars and beautiful rooms with spa-like bathrooms? And then, do you wake up and remember you have kids now and your vacations are more Paradise Lost than perfection? Azul Beach Resort on Mexico's Mayan Riviera is a gorgeous destination that gives parents the beautiful, luxury vacation of their dreams with thoughtful amenities to help them enjoy it while traveling with young children.

I was recently invited to stay at the all-inclusive Azul Beach Hotel and was blown away by how seamlessly they have created a dream Caribbean vacation destination for grown ups that is equally attentive to their needs as parents from the moment you check in.


The magic at
Azul Beach Resort
starts before you even leave home. The family-friendly all-inclusive resort provides high chairs, booster seats, cribs, toys, baby monitors and even strollers. That means all you need to bring is the kids, your clothing and diapers, if you need them, letting you travel like human beings rather than pack mules. Also making travel easier, Azul Beach is only 20 minutes from Cancun airport, which is serviced with direct flights from many US airports, which means from NYC you can be on this beautiful Caribbean beach in under 5 hours, and even less from points south.
Attention to the needs of everyone in the family continues at check in where children can select from a menu of Fisher Price toys while adults get to choose their pillow firmness and aromatherapy scents for the room. Toys and other baby gear are delivered to your hotel room at no charge. Movies can also be delivered with popcorn and drinks. Mealtimes are made easier with highchairs and booster seats with attached toys to distract while parents eat.
Family-friendly suites can sleep three kids, four with a crib, a huge perk for larger families, and offer a private bedroom for the parents with sliding doors that can be opened during the day and closed at night. A recent $21 million renovation means all the rooms at Azul Beach Hotel are gorgeously designed. I particularly drooled over the large bathroom, but I loved that all the details made me feel like I was on my dream vacation, not crowded into an efficient family room. Swim-up family suites are available and let couples enjoy the water right off their private patio, even when the baby is napping. Or, imagine a little romantic midnight dip after the kids are asleep.
During the day families will enjoy the beach or any of four pools, including a children's pool that's only 1.8 ft deep. Inner tubes and rafts are provided as well as kayaks and a catamaran for use in the calm ocean waters. On-site travel agents can also provide information and arrange tours to make the most of the Mexican Riviera on your family vacation.
Or, maybe you want to drop by the
spa
for a treatment or get some grown-up alone time. The large, bright
Azulitos Playhouse
is a kid's dream, packed with Fisher Price toys, My Gym activities and computer stations, plus staff-led activities. Open from 9am to 9pm, minus mealtimes, kids 4-12 can be dropped off or younger children can play as long as a caregiver is present. Private babysitting can also be provided at $15 per hour for 2 children.
All of the
restaurants
at Azul Beach Resort were above average and present a gourmet experience whether you choose casual outdoor dining with ocean views or elegantly designed indoor dining rooms. Children's menus are available and breakfast is served with a huge buffet, making sure even picky eaters will be pleased. I particularly love that the snack bar serves fresh fruit, sandwiches, smoothies and baby food all day long since children's mealtimes can be unpredictable, especially when families are traveling internationally.
At night there is family-friendly entertainment from performances to games. All alcohol is included, so make sure to snag some grown-up time to drop in the dedicated tequila bar or the sangria bar. Alternatively, hang out at the outdoor Aquavox bar where everyone can relax together on family-sized swing beds and enjoy the ocean breezes, music and, sometimes, entertainment; another example of blending what's good for parents and kids into one elegant family-friendly vacation.
Ultimately, what I remember most from our Azul Beach vacation can be summed up in the phrase beach butler. The Azul Beach Resort provides beach butler service right to your canopied beach bed (Just mull that sentence over in your head for a while). Beyond the usual drinks, smoothies or snacks that you might happily expect, beach butlers can bring you a beach picnic basket, fish fry, candlelight dinner, sand toys, sun products and even reading material, all at no extra charge. The beach butler experience epitomizes the incredible luxury that awaits you at Azul Beach Resort, surely one of the best family vacation destinations.
Click Here to Sign Up!
i