Playa Largo Resort & Spa: Family-Friendly Fun in Key Largo, Florida Keys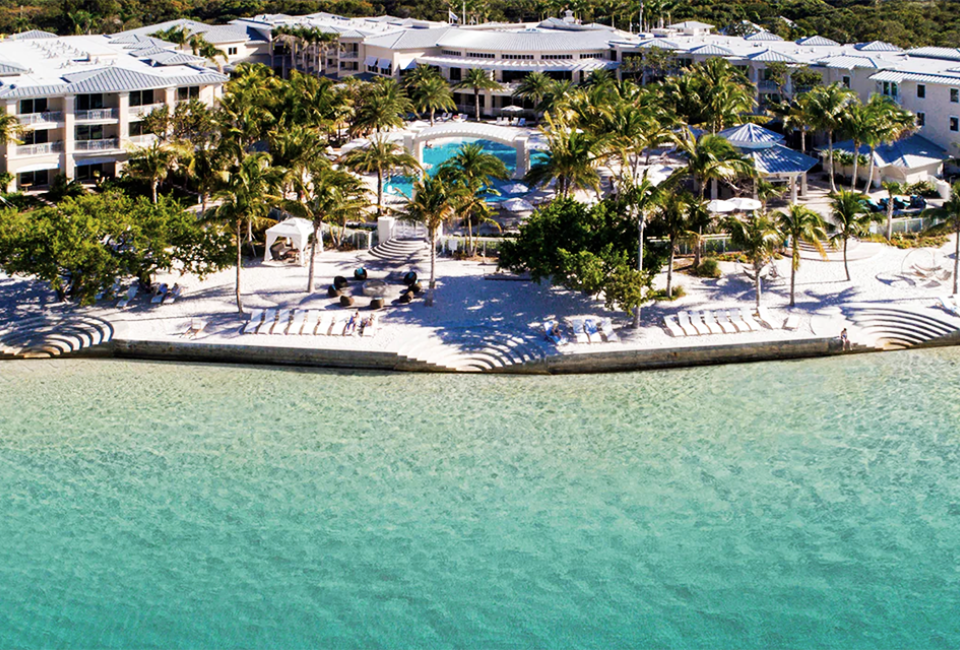 12/3/22
- By
James Smith
If you think about it, the Florida Keys are truly an ideal family vacation destination. Where else can the kids enjoy postcard sunsets, crystal seas, gentle breezes, and exciting water sports without having to leave the country? But until a recent hotel building boom, the Keys have largely been the playground of overstressed grown-ups soaking in the Margaritaville vibe. Mommy Poppins readers know that's changing. In 2021, we shared our favorite Florida Keys resorts and hotels for families. The latest addition to that list is Playa Largo Resort & Spa.
Playa Largo Resort & Spa is located in the south end of Key Largo, less than two hours from Miami. Part of Marriott's boutique Autograph Collection, the 178-room resort features a pool, water sports, on-site dining, and one of the few true beachfronts in the rocky Keys. Check out our review of Playa Largo, then visit our Florida Family Travel Guide for more fun in the Sunshine State.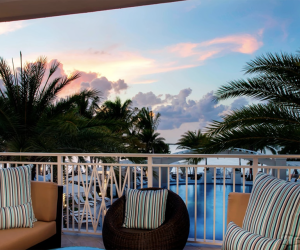 Relax on a terrace overlooking the pool and ocean.
We arrived at Playa Largo on a Wednesday, thus avoiding much of the traffic that builds through South Florida and the Keys as the weekend nears. We also got there about a week before Florida children returned to school, which made for some busy children's activities, crowds at the pool, and the occasional wait for a restaurant table. But that also created a swirl of enthusiasm around the 14-acre complex, where kids wore smiles as broad as the arch that spans the luxury pool. No need to heat a pool in the Keys, as you might imagine—the water temperature was an invigorating 90 degrees throughout our three-day stay.
Meteorologists say April is the driest month in Key Largo on average, with a mere four days of rain. September is the wettest, with about 16. Average high temperatures range from the mid 70s in January to 90 in July and August, meaning it's always beach weather in Key Largo. Traditionally, it's hottest and most humid in August, though our time there was marked by breezes and sunshine (in other words, unexpectedly ideal days in the tropics).
Lounging poolside in a cabana, we were, for the most part, shielded from Key Largo's August sun. A word of advice: Buy your sunscreen in bulk, whatever time of year you visit. Key Largo averages more than 250 days of pure sunshine each year, and even when it rains, it rarely lasts more than an hour.
Getting to Playa Largo Resort & Spa
Playa Largo's location in the Upper Keys makes for easy travel from Miami International Airport. The resort is 65 miles from Miami International Airport. Follow the signs to U.S. Route 1 south, known in the Keys as Overseas Highway. Note: Mile markers dot U.S. Route 1 and are popular reference points in the Keys. Playa Largo is located between mile markers 98 and 97 as you head south.
RELATED: 30 Things To Do in the Florida Keys with Kids (Besides Key West)

The zero-entry pool at Playa Largo is perfect for kids.
Visiting Playa Largo Resort & Spa with Kids
Playa Largo is an extremely kid-friendly resort. Guests are greeted in a cathedral-like, air-conditioned lobby with a complimentary cocktail, including nonalcoholic options for the kids. The lobby opens majestically to the pool area, which after several hours in the car brought smiles back to the faces of our preteen girls.
The zero-entry pool is not a water park. What it is, however, is one of the most swimmable pools I've ever dipped my toes in. Shallow at the zero end, of course, it gradually descends to five-plus feet in the center while staying shallow along the edges for those who want to soak, but not swim. The pool is landscaped with lovely tropical foliage and pavers that tend to heat up in the sun, making flip-flops a must. Living around the pool are the native iguanas, colorful reptiles that remain unobtrusive unless you make the mistake of feeding them fruit, as our animal-loving girls did. Frankly, I thought the iguanas were rather neighborly; my wife disagreed.
RELATED: 12 Best Florida Keys Resorts and Hotels for Families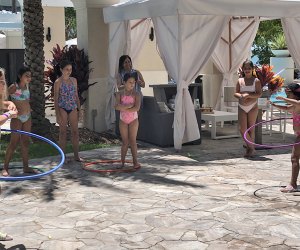 Families can enjoy lots of poolside activities, such as hula-hoop competitions. Photo by the author
A poolside hula-hoop competition and other activities kept the kids moving every day. But without a blaring DJ announcing the start of the contest—common in many Florida resorts—you wonder how word gets out. Playa Largo seems to prefer the quiet.
A few paces from the pool is a full-service bar called Sand Bar, where "island time" means no clocks or timepieces. Live entertainment begins in the late afternoon every day. And you can order plenty of kid-friendly favorites—pizza, chicken nuggets, mac and cheese, burgers—right at the bar.
Behind the bar is the hammock-strewn beach, perfect for a mid-day siesta. The white sand leads out to ultra-calm Florida Bay, whose only ripples come from passing parasailers. Little legs can also access the water via stairs. The ocean water is warm and shallow, and snorkeling is allowed. Expect to see a fair share of tropical fish, a ray or two, and maybe even a sea turtle.
We mentioned water sports, right? At the northern end of the resort is Caribbean Watersports, which offers kayaking, parasailing, scuba diving, and dolphin swims. Less ambitious kids can grab a water carpet and float the afternoon away. Take note, however: Caribbean Watersports activities are not included in Playa Largo's resort fee.
RELATED: Amelia Island with Kids: 25 Best Things To Do in Fernandina Beach and Amelia Island, Florida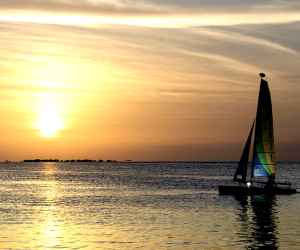 Key Largo is known for its stunning sunsets.
The dock extending into Florida Bay does more than welcome mariners. It reaches into water deep enough for diving, as my daughters and I discovered as soon as we arrived, and the soft sand at the bottom provides the perfect landing base. It's also a perfect place to watch those million-dollar Key Largo sunsets. In fact, the sunset is so much a part of Playa Largo culture, the community celebrates it nightly. Half an hour before sundown, volunteer bell-ringers usher in EvenTide, a mellow celebration that includes island drinks and lounge chairs for adults and rock painting, games, and more for kids. Guests are asked to write down their life's grievances so a staff member can kayak them out to the bay and burn them as the sun sets. Talk about melting away your stress.
RELATED: Jacksonville with Kids: 45 Best Things to Do in Jacksonville, Florida

Enjoy a seafood feast at La Marea, which also has a great kids' menu.
Next door to the dock is Sol By the Sea, one of Playa Largo's four on-site eateries and by far the one with the best views of the sunset. It can get busy, so make a reservation. The resort's remaining restaurants include La Marea, Spanish for "the tide," and Las Olas, a Peruvian-style ceviche bar. We started our day with the breakfast buffet at La Marea; it's worth it for convenience and expense.
If you can bear to leave the resort for a day or two, there are plenty of other fun things to do in Key Largo with kids. Try hiking and snorkeling at John Pennekamp Coral Reef State Park, interacting with the dolphins at Dolphins Plus Marine Mammal Responder, or cruising area waters in a tiki boat. It's all there within a few miles of Playa Largo, and you'll quickly see why Key Largo is among the most kid-friendly of all the Keys.
Unless noted, photos courtesy of the resort
Places featured in this article:
---
Playa Largo Resort and Spa