Best Things To Do in Aruba with Kids: The Beach and So Much More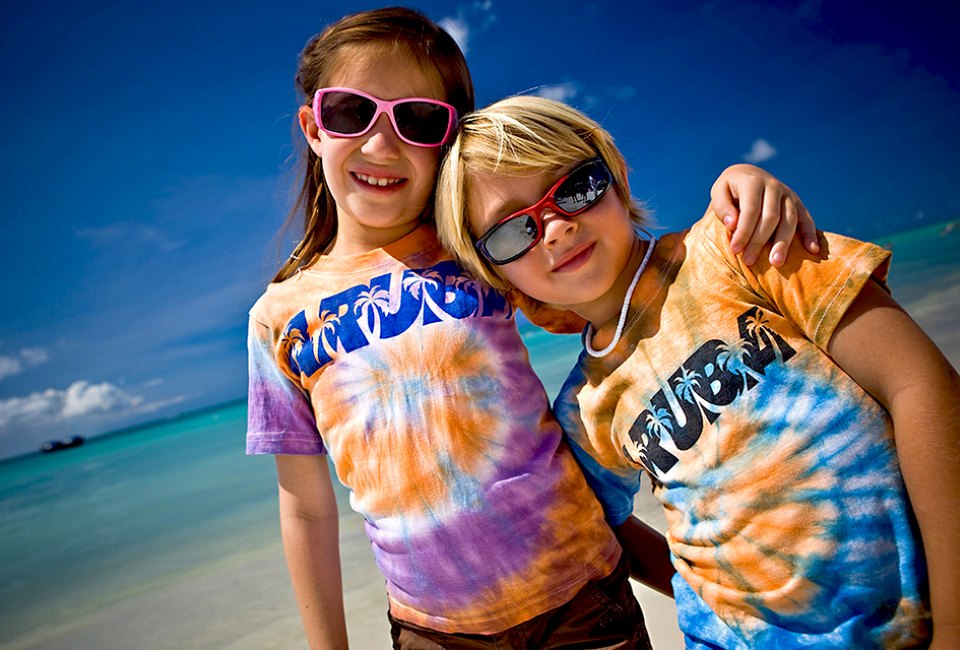 10/5/19
- By
Siobhan Adcock
At less than 70 square miles, Aruba might be a small island, but it packs in a lot of kid-friendly activities for a Caribbean family getaway. Snorkel or splash in the bright blue waters of the Caribbean Sea, explore breathtaking natural parklands, dig in to a wide variety of tasty restaurants and food options, support Aruba's wildlife sanctuaries, or just stake out a spot on the powdery sand beaches to watch the kids build sandcastles. With its mix of beach beauty and easy-access family attractions—and a relatively protected location south of the main Atlantic hurricane corridor—Aruba is a kid-pleasing choice for a sunny school-break vacation.
Perhaps best of all, Aruba has a well-deserved rep for being one of the friendliest places on Earth, even by popular vacation destination standards. As my awestruck 9-year-old daughter exclaimed, "Everybody is so generous!" (Well, she is from Brooklyn.)
Whether you've got an active crew in search of some new adventures, or you're just looking for a fabulous hotel pool to sink into for a few days, here are the best things to do in Aruba, as well as where to eat and what to see with kids.

Palm Beach is two miles of gorgeous, soft sand beach. Photo by Coco Williames
Best Beaches in Aruba and Water Activities
Hitting the beach isn't just "one of" the best things to do in Aruba—it's the main draw, of course.
1. Eagle Beach
The beach all the locals boast about, Eagle Beach is the longest beach on Aruba, dotted with resorts, rental operations, and restaurants, yet still expansive enough to feel uncluttered. The wide bay's remarkably calm waters are little-kid-friendly. If you book a snorkeling or sailing excursion it will most likely depart from here, and sea kayak and jet ski rentals are also easy to find, along with rental floaties and beach chairs.
2. Palm Beach
Just to the north of Eagle Beach is Palm Beach, two miles of soft sand, palm trees, and sparkling, calm, crystal blue sea. Many of the resorts on Aruba are located along Palm Beach, with the largest cluster of hotels and resorts centered on the south shore, and quiet stretches of sand under waving palm trees farther north. Easy parking, plenty of restaurants, and a laidback vibe make this a popular spot for seriously getting down to beach-ness. On a recent visit hosted by the Aruba Marriott, located on the quiet, calm northern tip of Palm Beach, we had ample space to stretch out and admire Aruba's breathtaking sunsets, with "swirls of cotton candy pink and blue," in my daughter's words.
3. California Lighthouse and Arashi Beach
At the island's northernmost tip, you'll find Aruba's California Lighthouse overlooking the beautiful white sands and gentle surf of Arashi Beach. Arashi Beach is a popular (if windy) spot among both visitors and locals, with ample parking, beach chairs and snorkel gear for rent, a beach bar for food and snacks, and most importantly, incredible sunsets. And if your family is up for the climb, the 117 steps to the top of the lighthouse will reward you with stellar views of the island and the sea.
RELATED: Best All-Inclusive Resorts in the US, Caribbean, and Mexico for Kids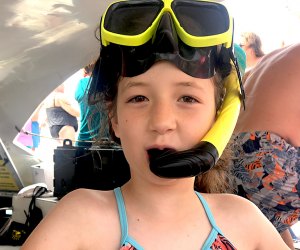 Book a snorkeling excursion so kids can explore the surrounding ocean.
4. Snorkeling
What's a trip to a Caribbean island without a peek at some tropical fish doing what they do best? My 9-year-old had never been snorkeling before, but on a snorkel sail off Aruba's coast (with lunch, drinks, snacks, and gear all included), she jumped right into the water and had the time of her life. "We went to a really cool shipwreck and there were fish right in my face! Plus, we saw a turtle!" There are a number of high-quality snorkel excursion operators in Aruba, most of which stop at the same round of offshore locations, and all of which are laser-focused on safety in the water. Our all-inclusive snorkel sail was organized by De Palm Tours, whose experienced, friendly staff and crew made it easy to jump right in with both flippered feet.
For snorkeling right from the beach, Baby Beach on the southern end of the island's western-facing shore offers famously calm waters—although the view of smokestacks rising nearby isn't the prettiest, and it's important to stay within the lagoon for safety. Toward the northernmost tip of Aruba, Boca Catalina is a beautiful, tranquil bay in the Malmok Beach area that's ideal for snorkeling, a favorite activity on Aruba. You'll find shady palapas, calm water, and lots of marine life to peep at.
De Palm Island, a tourist island a few minutes from Aruba's western shore, is another place for kids to try snorkeling—here, the gear, food, and drinks are all included, and kids can hop in and out of the water at their own pace, or try the water slides or zip line for even more thrills. If you go, make sure to avoid the days when cruise ship crowds swell the lines.

The beautiful and secluded Conchi Natural Pool is worth the rugged trip to get there. Photo by Bjorn Christian Torrissen
National Parks in Aruba, Hiking Trails, and Nature
The western shore of Aruba is all calm waters and lush, manicured beach resorts, but Aruba's eastern shore is its wild, rugged, desert opposite. Arikok National Park, which accounts for 20% of Aruba's land, is well worth seeing and exploring. Bring water, hats, sturdy shoes, and sunscreen for guided hikes past spiny-armed cactuses with vivid lizards darting everywhere, or join an ATV tour to see caves, ruins, and cliffs overlooking the deep blue sea.
Aruba's Natural Pool is an adventurous excursion with a gorgeous payoff for families with older kids (8 and up). Located within Arikok National Park on Aruba's windy northeastern shore, the small pool—really a sheltered cove encircled by volcanic rock—is only accessible via a rugged hike or a drive in a four-by-four. Park rangers offer guided two-hour hikes through the National Park's wild desert landscape, or you can hire a driver to join the (much louder) crowd of ATVs and Jeeps on a drive to the rocky grounds overlooking the pool. While you can technically get to the spot on your own if you have an SUV or four-wheel drive, you'll need authorization from your rental car company and nerves of steel for the rutted, winding road, so a driver is recommended. Whichever way you go, bring sunscreen, a hat, good water shoes, and plenty of water for your outdoor adventure.
7. Rock Formations
Aruba's Ayo and Casibari rock formations are located in the island's dry desert interior, and both offer a fun opportunity for kids to climb and explore. See historic petroglyphs made by Aruba's native Arawak people, giggle at the goats who make themselves at home among the rocks and cacti, and climb the stairs to the top for 360 views of the island.
RELATED: 25 Fun Things to Do in Miami with Kids

Dig into a fruit-laden Dutch Pancake at Linda's Dutch Pancakes.
Top Restaurants and Beach Shacks in Aruba
This sunny breakfast and lunch spot serves up perfect pannekoeken—thin, crepe-like pancakes the size of dinner plates—topped with a dizzying variety of tasty options (we liked the papaya, pineapple, and mango with powdered sugar). Smoothies, omelets, and sandwiches are on the menu as well. Sit on the airy, cool front porch or inside the main dining room, lined with shelves dotted with blue and white ceramic Dutch houses.

If you happen to be on Palm Beach, walk on over to Eduardo's Beach Shack for a healthy treat. Photo courtesy of Eduardo's Beach Shack
A justly-popular spot for a healthy grab-and-go breakfast or lunch on the beach, this friendly snack shack serves up smoothies, juices, fruit cups, poke bowls, noodles, and acai bowls topped sky-high with fresh ingredients. There are plenty of vegan and gluten-free options, and the location (right on the boardwalk at Palm Beach behind the Playa Linda Resort) can't be beat.
Fresh, delicious seafood in a pretty, open-air restaurant right on the beach make this spot a favorite. Kids can play in the sandy, shady garden adjoining the restaurant's main patio while you enjoy a (gigantic) island drink. Be sure to try some of the tasty local choices on the menu, like the Caribbean bread basket with Aruban pan bati, buttery johnny cakes, and potato bread, or the not-to-be-missed Aruban Creole dish keeshi yena, a savory-sweet chicken stew blanketed in melted Gouda cheese.
When you want a real "grown-up" meal but you know the kids aren't gonna go for sitting still at a white-tablecloth restaurant, splash out on a sunset dinner at this sophisticated spot right on the sands of Palm Beach at the Marriott. The kids can dash up and down the shoreline while you dig your toes in the sand and enjoy expertly-prepared seafood, steaks, and salads.

The Aruba Donkey Sanctuary works to shelter and rehabilitate Aruba's small population of donkeys.
Animal Sanctuaries in Aruba
Since 1997, this conservation facility has worked to shelter and rehabilitate Aruba's small population of donkeys, whose ancestors were originally brought to the island for agricultural work during the island's plantation past. My kiddo liked the cats and chickens who hang out at the low-key café just as much as the donkeys. Word to the wise from an experienced 9-year-old: "If you leave your bucket of donkey food by the side of the corral, you'll come back to find it's tipped over and empty."
See colorful tropical butterfly species and pretty gardens at Aruba's Butterfly Farm, located conveniently close to the main strip of hotels along Eagle Beach and Palm Beach on Aruba's western shore. Hundreds of butterflies and caterpillars are right at your fingertips, and a 15-minute guided tour is included with your ticket. Visit early in the day to see the butterflies at their most active. Your ticket also includes free returns for the length of your stay.
A quick but informative and action-packed stop en route to Arikok National Park, the Ostrich Farm offers a guided tour and the opportunity to feed ostriches. Besides the big birds, you'll see emus, peacocks, and some roosters and lizards too. Be aware that the ostriches are not remotely shy about approaching and gobbling food—so little ones might be a little spooked.
Culture and Shopping in Aruba with Kids
15. Oranjestad
Some of the best things to do in Aruba include an easy day of sightseeing. Spend an afternoon exploring Aruba's capital city. Visit a bustling open-air market to pick up souvenirs made by local artisans, stroll the many air-conditioned shops, ride the Caribbean's only electric-powered double-decker trolley, and walk the waterfront Linear Park Trail with ice cream cones while watching the boat traffic.
16. Bon Bini Festival
This weekly Tuesday night festival in the courtyard at the base of Fort Zoutman in Oranjestad is a street party, night market, and dance performance all in one. Colorful costumed dancers and musicians plus local crafts and food vendors make for a festive introduction to Aruba ("Bon Bini" means "Welcome" in Papiamento, one of Aruba's official languages).

Book a stay at the family-friendly Aruba Marriott Resort.
Top Resorts and Hotels in Aruba
This lovely modern resort has updated, spacious rooms with balconies overlooking flowering trees and the bright blue ocean. An expansive beach with plenty of shade, a huge pool with a waterfall and swim-up bar, and convenient watersports make it a good pick for families with kids. While the Marriott Aruba also happens to be home to the island's largest casino, it's so discreetly tucked into its own wing of the resort you almost wouldn't even know it was there, and the service and amenities are remarkably family-friendly—there's a play area for little ones near check-in, and a gelato shop near the main desk. My daughter and her friends loved watching the bright blue lizards dart among the lush landscaping, and the adults loved having a Starbucks right in the lobby. Located on Palm Beach well north of the crowded high-rise hotel area, the Aruba Marriott has a pleasantly "Goldilocks" vibe—not too big, not too small.
What to Know Before You Travel to Aruba
One Happy Island
Aruba takes its reputation as a friendly destination seriously, and is particularly welcoming of LGBTQ+ travelers and families of same-sex partnerships.
Languages
While Dutch and Papiamento are the official languages of Aruba, English and Spanish are widely spoken. You won't have any trouble communicating—and you'll easily pick up a few of the more popular Papiamento expressions, such as "bon bini," meaning "welcome" and "Aruba ta dushi," meaning "lovely Aruba."
Location
Along with the neighboring islands of Bonaire and Curacao, Aruba is part of the island chain known as the "ABCs," in the part of the Caribbean Sea closest to South America (from some of the island's highest points, you can see the coast of Venezuela). Aruba is a protected part of the Netherlands but has its own independent local government.
Currency
Aruba is expensive, like most Caribbean islands, but prices are surprisingly on par with expensive American cities like New York or San Francisco. The official currency is the Aruba Florin, but the dollar is widely accepted.
Photos by the author except where noted. This trip was hosted by Aruba Marriott Resort and all opinions expressed here belong to the writer.