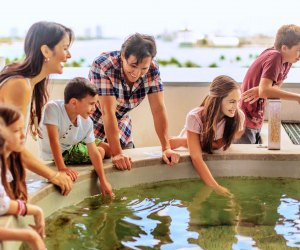 25 Fun Things To Do in Miami with Kids (Beyond the Beach)
When you travel with kids, it's hard to think about vacationing in Florida beyond the mega theme parks in Orlando. Yet, the Sunshine State delivers numerous family-friendly destinations, from Tallahassee to the Keys, as well as one of our favorite cities: Miami.
Miami offers beach-ready weather for most of the year and moderate temps for the rest of it, so it welcomes visitors fleeing northern climes year-round. But there's more than the beach to entertain kids in this South Florida hot spot. You'll find outdoor activities galore, from boating and pools to fun splash pads and parks for strolling. Top-notch museums, animal encounters, and even top sports teams offer families endless options, and don't forget about Miami's proximity to the Everglades.
Read on for our favorite things to do with kids in and around Miami, Florida.
Start your Miami adventure by booking a kid-friendly hotel. Fontainebleau Miami Beach has been a family favorite for years, featuring eight pools, many of them shallow for little ones. Loews Miami Beach and the Ritz-Carlton South Beach also offer family amenities such as kids clubs, toy libraries, and suites for larger families. Hotel Victor in South Beach is another option recommended by a Florida native, as well as Casa Victoria Orchid.
If you're headed to Miami for a cruise, you might choose to arrive a day early to avoid any travel delays that could make you miss your boat. Pick a couple of suggestions from our list to entertain the kids as you wait to depart.
1. Zoo Miami—South Miami Heights
You may have been to the zoo at home a million times with the kids, but Zoo Miami is the only subtropical zoo in the continental United States and therefore offers a variety of species often not seen in other American zoos. It occupies nearly 750 acres and is home to more than 3,000 animals. You'll see elephants, rhinos and hippos, gorillas, vipers, crocs, and so much more. Ride the monorail to exhibits, hit the splash pad on hot days, or take a twirl on the carousel to round out your day.
2. Phillip and Patricia Frost Museum of Science—Downtown
This 250,000-square-foot museum is composed of four buildings. In the North and West wings, kids can check out exhibitions such as Da Vinci—Inventions, which presents life-sized machines imagined by Leonardo da Vinci, and then they can do some designing of their own in an engineering lab. The STEM-campus also includes a planetarium and aquarium.
3. Seaquarium—Virginia Key
Aquatic animal lovers will appreciate swimming with seals and dolphins, interacting with penguins, and investigating touch pools at the Miami Seaquarium. There are also flamingos, sea turtles, sea lions, manatees—even a killer whale. The Sea Trek Reef Encounter lets visitors walk along a 300,000-gallon tropical reef in a special underwater helmet. Out of water, there's a pirate playground for kids to explore.
RELATED: 9 Best Florida Beach Vacations for Families

Explore the beachside city by boat with Thriller Miami Speedboat Adventures.
4. Thriller Miami Speedboat Adventures—Downtown
Zip through the waters off Miami on a 55-foot catamaran, reaching speeds of up to 50 miles per hour. Depending on your tour, you'll pass sights such as South Beach, Fisher Island, Cape Florida Lighthouse, and Stiltsville—a group of wooden houses built on stilts in the middle of Biscayne Bay. Public tours are 45-75 minutes long and permit children ages 3 and up onboard.
5. Flamingo Park—Miami Beach
There's plenty to keep the family active at this more than 30-acre park. The kids' splash area is a big draw, with a zero-entry pool, water mushroom, and aquatic play structure with tire swing, slides, and lots of fountains. Landlubbers can check out a separate dry playground and climbing wall.
6. South Pointe Park—South Pointe
Head south of South Beach to check out this park's shaded playground and splash pad. Kids might also enjoy watching the big cruise ships pass by as they leave port.
7. Lincoln Road Mall—Miami Beach
Stroll down this popular pedestrian street and pop into shops, including Havaianas for a new pair of flip flops and Books & Books to pick up some reading material or activity books for your return flight. Stop by on a Sunday to find fresh fruit and other treats at the farmers market.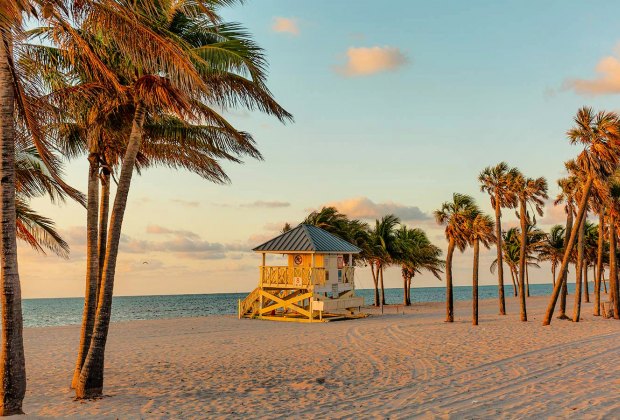 The beach at Crandon Park offers calm water, a beach playground, and more family-friendly perks.
8. Key Biscayne
Crandon Park is a scenic 2-mile beach featuring calm water for kids, cabana rentals, a beach playground, a family amusement center with a carousel and roller rink, and a nature center. Head farther south to Bill Baggs Cape Florida State Park for more beach time, hiking, bike rentals, and a lighthouse tour. Kids 42 inches and up can climb the 112 steps to the top of the historic Cape Florida Lighthouse for panoramic views.
9. Ocean Drive—South Beach
Walk along this famed Art Deco strip of hotels and eateries to soak up Miami culture. Kids will enjoy the colorful buildings and neon signs on one side and Lummus Park on the other. The park has a playground and a muscle beach to fascinate. Just beyond the park, the ocean beckons.
10. Miami Children's Museum—Watson Island
The Miami Children's Museum has all the exciting elements of a typical kids museum but with fun local touches, including a cruise ship exhibit, marine tanks demonstrating South Florida wildlife, and plenty of outdoor options. Walk through an interactive piggy bank to learn about money, apply the elements of art in a maker space, put your body to the test with virtual sports in the health and wellness center, and more.

Meet tropical animals at Jungle Island.
11. Jungle Island—Watson Island
Enjoy tropical surroundings while getting up close with animals such as sloths, parrots, lemurs, kangaroos, and orangutans. There is a petting zoo, playground, and live shows for the whole family. Additional attractions include a 600-foot zip line, a SuperFlight experience that lets you hover in midair outdoors via a wind tunnel, and a jungle cabin escape room.
12. Airboat in Everglades
Take advantage of Miami's proximity to the Everglades National Park with a semi-private or private airboat ride through the preserve's sawgrass mangroves. The airboat skims over just six inches of water, propelled by an airplane engine. Spend at least an hour touring the wetlands while spotting alligators, birds, and turtles along the way. Hotel transfers are available.
13. Miccosukee Indian Village—Everglades
Just west of the city, this Native American village is fun for all ages. Take a guided tour, watch demonstrations, and peruse exhibits that teach about the tribe's history and culture. But the real draw is the alligator show, where a tribesman fearlessly wrestles a 7- to 9-foot alligator. Airboat rides are also offered.
14. Spun Candy—Midtown
Treat your sweet tooth to a trip to this divine shop. In addition to sampling handmade fudge and lollipops, get hands-on cooking experience in a kid or family workshop to learn the science and art behind candy-making.
15. Little Havana
Immerse the family in Cuban culture with a stroll down Calle Ocho (8th Street) between 17th and 12th avenues. Stop for lunch at Versailles, then head to Azucar Ice Cream Company for an unusual-flavored scoop or two, such as sweet plantain or coconut flan.
RELATED: Panama City Beach with Kids: Fun Things to Do in this Gulf Coast Town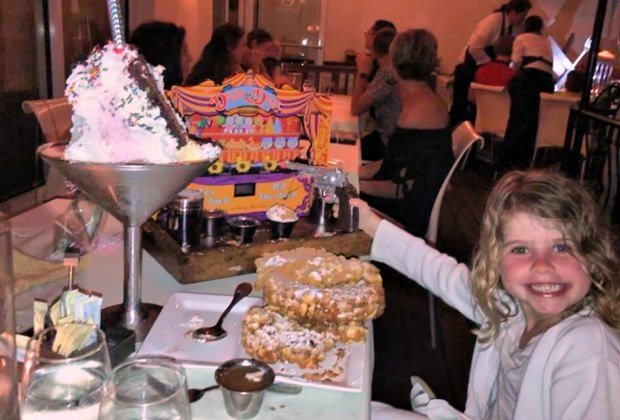 Over-the-top desserts at Barton G will make kids swoon. Photo by Mommy Poppins
16. Barton G.—Miami Beach
Though the food may be a bit exotic and pricey for dinner with kids, don't miss the over-the-top desserts offered at Barton G. Try Marie Antoinette's Head, featuring a cotton candy pompadour, and Carnival Fun Cakes—funnel cakes paired with a mini shooting gallery on the plate.
17. Lee and Tina Hills PlayGround at Bayfront Park—Downtown
This downtown ocean-themed playground features a boat play structure, bouncers, slides, and more. The cornerstone, however, is a wave wall with large, embedded sea creature figures. There's also a flying trapeze school nearby for ages 6 and up.
18. Wynwood Arts District
Visit Wynwood Walls, an outdoor art gallery featuring large, often-colorful murals. Then head to nearby Morelia Gourmet Paletas for a handcrafted Mexican ice pop.
19. FunDimension—Wynwood
Spend that rainy or too hot day at the 15,000-square-foot family entertainment center, FunDimension, which touts a three-story indoor playground, 7D theater, bungee jumping, laser tag, and illuminated spinning bumper cars. Kids might also enjoy the fact that the video for Imagine Dragons' "Zero" was shot here.
20. Coconut Grove
Visit the Spanish-style outdoor shopping center CocoWalk to grab a bite to eat or a movie and ice cream. Afterward, head to Peacock Park where kids can tackle two play structures and enjoy waterfront views peppered with plenty of boats. They might also like to hop aboard the trolley that runs through the neighborhood.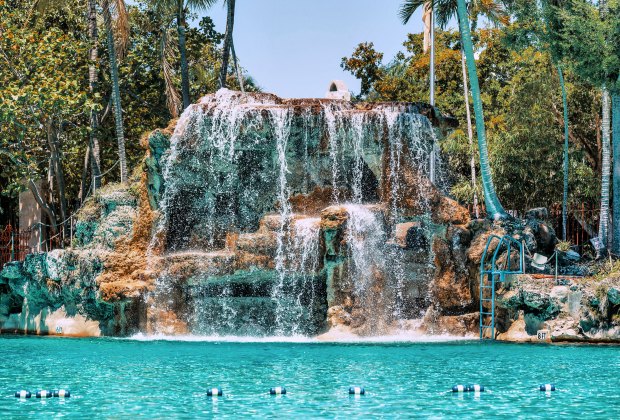 The Venetian Pool and its waterfall are open to the public.
21. Venetian Pool—Coral Gables
This isn't your average public pool; it's the only swimming pool included in the National Register of Historic Places. It also gets drained and refreshed daily from artesian wells. Families with kids ages 3 and up can relax amid the beauty of the Mediterranean architecture. (Kids under 3 are not allowed.) Swim under a bridge, sidle up to a waterfall, and explore a water cave.
22. Matheson Hammock Park—Coral Gables
This toddler-friendly beach just south of downtown has no waves. It's actually a man-made atoll pool, so kids can splash and wade in the water to their heart's content on this circular sandy beach! There are nature trails to explore and a snack bar and restaurant housed in a building made of coral.
23. Safari Edventure—Princeton
This small animal sanctuary and educational facility cares for at least 100 different species and lets you get hands-on with more than a dozen animals. Kids can hold a gator, snuggle a sloth, pet a kangaroo, and more. Most animals were rescued or rehabilitated, or born to parents who were.
24. Sporting events
Depending on the season, sports fans can buy tickets to watch a number of professional teams play, including the Miami Dolphins (football), Miami Heat (basketball), Miami Marlins (baseball), and Florida Panthers (hockey). The University of Miami also has many exciting teams to watch.
25. Santa's Enchanted Forest—Tropical Park
If you're headed to Miami for the holidays, don't miss this seasonal theme park that features more than 100 rides, shows, attractions, Santa visits, and holiday lights.
Photos courtesy of the Greater Miami Convention & Visitors Bureau (www.gmcvb.com) except where noted