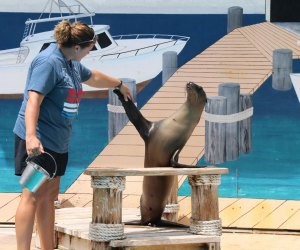 Panama City Beach with Kids: 27 Things To Do On Florida's Gulf Coast
You may have spent a spring break (or two) in Panama Beach City, Florida, or lived vicariously through the revelry broadcast on MTV Spring Break, which drew thousands of college kids to this beach town for a decade. But now that you've traded shot glasses for strollers, this classic spring break locale has luckily grown up right with you.
Today, families with young children flock to its sandy shore, and with an international airport just 20 minutes away, it's easy to get to. We visited this 27-mile stretch of beach along the Gulf of Mexico this summer with a toddler in tow and were impressed with the entertainment options. Read on for 25 things to do with kids in this Florida haven, including where to eat and play on your family's next vacation.
Panama City Beach's location along the gulf gives it almost a Caribbean feel, minus the passport. Yet, it's filled with plenty of American-style family fun, including a science museum, water park, splash pads, and great eats.
Where to Play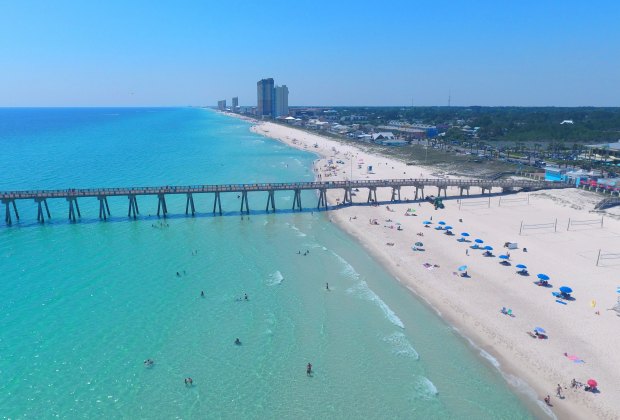 The beaches will remind some of the Caribbean with clear blue water and white sand. Photo courtesy of Visit Panama City Beach
1. The beach, of course! Clear water and white sand make this Florida beach a treat for those East Coasters used to rougher shores and more gravely shorelines. Choose from myriad access points.
2. Meet sea lions, get your hands wet in the touch tank, swim with dolphins at Gulf World Marine Park, or marvel at the rest of marine life from penguins to sea turtles and sharks. Walk through the lush tropical gardens to get up-close with colorful cockatoos and macaws.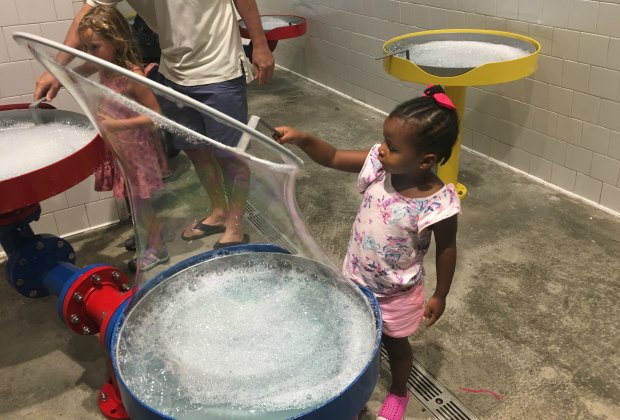 Giant bubbles and more playful science fun are on tap at WonderWorks. Photo by author
3. Rainy day? No worries. WonderWorks, a three-floor interactive kids' science museum, has a virtual roller coaster, laser tag, Xtreme 360 Bikes, ropes course, and hurricane simulator. Little ones will be fascinated by the Bubble Lab, with giant-sized wands to makes bubbles big enough to fit a person.
4. Directly across the street from WonderWorks is Ripley's Believe It or Not! Housed in a building shaped like a partially-sunken cruise ship liner, it also features a 7D moving theater and mirror maze challenge. The "odditorium" is free for kids under 5.
5. Shop until you drop at Pier Park, a 900,000 square-foot shopping center in the epicenter of Panama City Beach. Aside from the big-box retail chains, the entertainment hub is designed almost like a boardwalk, with restaurants, sweet shops and souvenir stops lining the way. Kids will love to ride aboard the little red train, or explore the small amusement park with about a dozen family-friendly rides including a carousel.
RELATED: 25 Things to Do with Kids in Palm Beach, Florida with Kids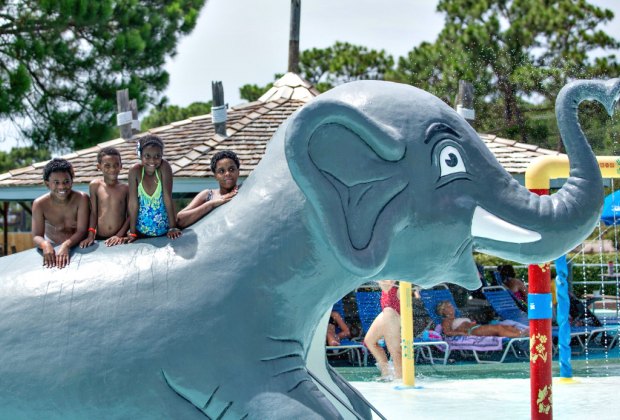 Skip the beach one morning in favor of the water park fun at Shipwreck. Photo courtesy of Shipwreck Island Waterpark
6. When your kids tire of the beach and hotel pool (hey, it happens!), keep your cool with a trip to Shipwreck Island Waterpark. Hit the lazy river, plunging water slides, or wave pool. Little guppies can splash around in the Tadpole Hole, while big kids dare to try the Zip From the Ship swing before leaping into the water.
7. Located right in the middle of Pier Park is the gamers paradise, Dave & Buster's. This place is huge and has something for everyone, from classic skee ball and Pac-Man to the latest and greatest games like Fruit Ninja and Mario Kart Grand Prix.
8. Head over to Coconut Creek for an apres-swim adventure. This sprawling family-friendly park features two 18-hole mini-golf courses and a football-field-sized maze. Golfing at night is worth it to putt around a course illuminated with Christmas tree light wrapped palm trees. Kids 6 and under play for free.
9. Explore one of the state parks like St. Andrews for nature trails and wildlife sightings, maybe even an alligator, or bike through the wetlands of Panama City Beach Conservation Park, which offers paths and boardwalks.
RELATED: Legoland Opens a New Beach Resort in Florida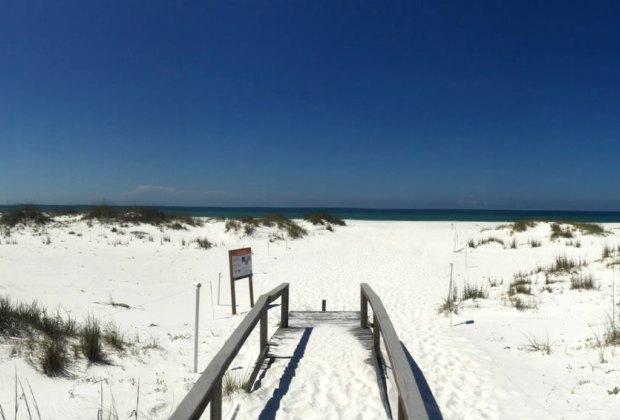 Hitch a boat ride to Shell Island for pristine white beaches. Photo by Stan Taylor/CC BY 2.0
10. No trip to Panama City Beach is complete until you've taken a day trip to Shell Island via boat. Hit this seven-mile peninsula, which lies between the Gulf of Mexico and St. Andrews Bay, for the pristine white sand beach, snorkeling, nature walks, dolphin sightings, and shell collecting.
11. If your trip to Florida's Emerald Coast lasts longer than a few days, consider a day trip drive to Destin. Just an hour away, the sugary sand beach and turquoise waters often draw comparisons to the best of the Caribbean islands.
12. Little ones can hit the Adventure Zone splash pad at the Edgewater Beach & Golf Resort with sprinklers and dumping buckets. Hotel guests access it for FREE, while guest can purchase a pass for $10.
Family-Friendly Eats and Restaurants
13. Order the fish tacos at Ocean's Bar & Grill at the Edgewater Resort and you won't be disappointed. Kids meals, from burgers to chicken fingers, are served on a plastic Frisbee and come with a light-up straw cup, both of which kids can take home. Wash it down with a tropical drink concoction served in a hand-carved coconut cup that's yours to keep.
14. Fuel up for a day on the beach at Andy's Flour Power with Belgian waffles, French toast, and rolled omelets filled with spinach, tomato and feta. Try the homemade biscuits (because vacation!).
15. Treat your Luke Bryan-loving tween to a meal at Spinnaker Beach Club, which has hosted several of the country crooner's concerts over the years. Literally steps from the beach, kids can frolic in the sand while waiting for their food to arrive. The Southern hummus appetizer here is made with black eyes peas and peanut butter—sounds strange, but with one bite, you'll be sold.
16. Dining out is surprisingly inexpensive given that Panama City Beach is a popular resort destination. Make your dollars stretch even further at Jack Bishops Family Buffet where the all-you-can eat seafood, steak, salad, and dessert bar is the perfect way to feed a hungry crowd.
17. Tourists and locals alike flock to Pompano Joe's Seafood House at Pier Park for the festive atmosphere and even more amazing Caribbean-inspired menu. Start with the spicy Reggae Rolls appetizer, and try the fresh local grouper served up blackened, fried, or garlic crusted and topped with lobster.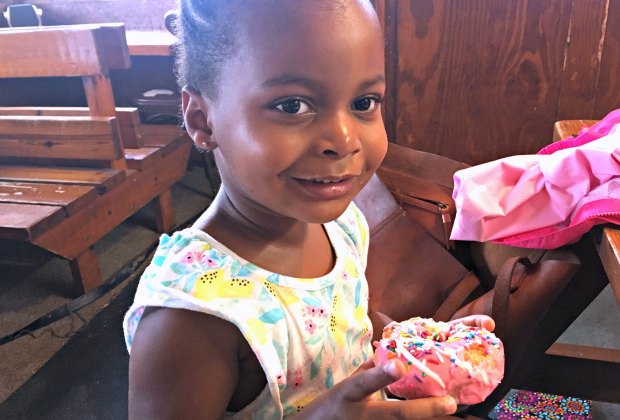 The treats at Thomas Donut & Snack Shop are not to be missed. Photo by author
18. You can't leave Panama City Beach without a visit to Thomas Donut & Snack Shop. Line up (usually on a very long line) to choose from a dizzying selection of freshly-made donuts including powdered sugar, chocolate glazed, blueberry, and fan favorite red velvet.
19. Enjoy a sit-down meal at The Grand Marlin Restaurant & Oyster Bar, located at the Lighthouse Marina on Grand Lagoon. Soak in the sights of the fishing boats coming in with their catch of the day while dining upstairs on the open-air deck. The menu here changes daily, so you know that you're eating the freshest of the fresh.
20. You may never eat Chipotle again after a visit to Diego's Burrito Factory where the motto is "Let Us Roll You a Fat One." The burritos are bursting with fillings and flavors. There are tacos and quesadillas, too.
21. Enjoy brunch on the beach at Schooners. If you've never had shrimp and grits, this is the place to cross it off your bucket list. Kids meals here come with a hush puppy and Rice Krispies treat.
22. Any trip south of the Mason Dixon requires a visit to a Waffle House. Panama City Beach is home to several locations of the breakfast-all-day chain, aka kid heaven.
23. You won't be able to resist the sweet smells wafting out the doors of Kilwin's Chocolate & Ice Cream at Pier Park. Watch them make fresh fudge while you wait on line for a scoop of one of their 32 flavors of ice cream. Be sure to pick up some saltwater taffy to take home.
24. You'll find vendors selling shaved ice up and down the beach but David's Sno-Balls takes this cool treat to a whole new level. The New Orleans-style sweet shop's Stuffed Sno-Balls come with soft-serve ice cream in the middle. Try the root beer flavor.
25. Known for its motorcycle seat bar, the classic car and custom bike theme at The Wicked Wheel gives your kids plenty to explore while you dine. The fried chicken and burgers draw a crowd, as well as the '27 Ford T-Bucket hanging on the wall, vintage license plates on display, and a hostess station made from a tool box.
Where to Stay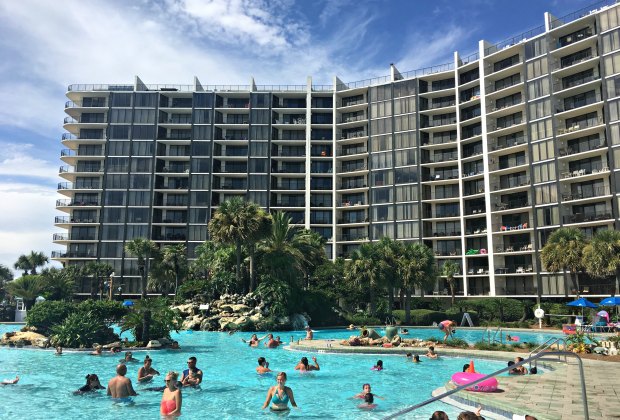 A stay at the Edgewater Beach & Golf Resort comes wilth multiple pools, private beach, and family-friendly suites. Photo by author
We were invited to stay at the Edgewater Beach & Golf Resort by Resort Collection, which works well for a variety sizes of families, because of the room options and amenities. Every room here is a suite, perfect for families on vacation. Choose from one, two, and three bedrooms, each complete with a living area, full kitchen, washer and dryer, and private balcony offering views of the Gulf of Mexico.
The 110-acre property also boasts 11 swimming pools, four hot tubs, and a half-mile of private beach for hotel guests. Beyond the pools and beach, there's plenty more for kids to do, including a 21-foot Sky Trail obstacle course, movies on the pool deck, and Kids Night Out activities so parents can enjoy a vacation date night. On-site restaurants seal it. Feeling sporty? Check out the tennis courts and 9-hole golf course.
There are plenty more options, though, including hotels, private beach houses, condos, and even some beachside camping options.
Top photo courtesy of Gulf World Marine Park