St. Thomas with Kids: 25 Best Things To Do in St. Thomas, Virgin Islands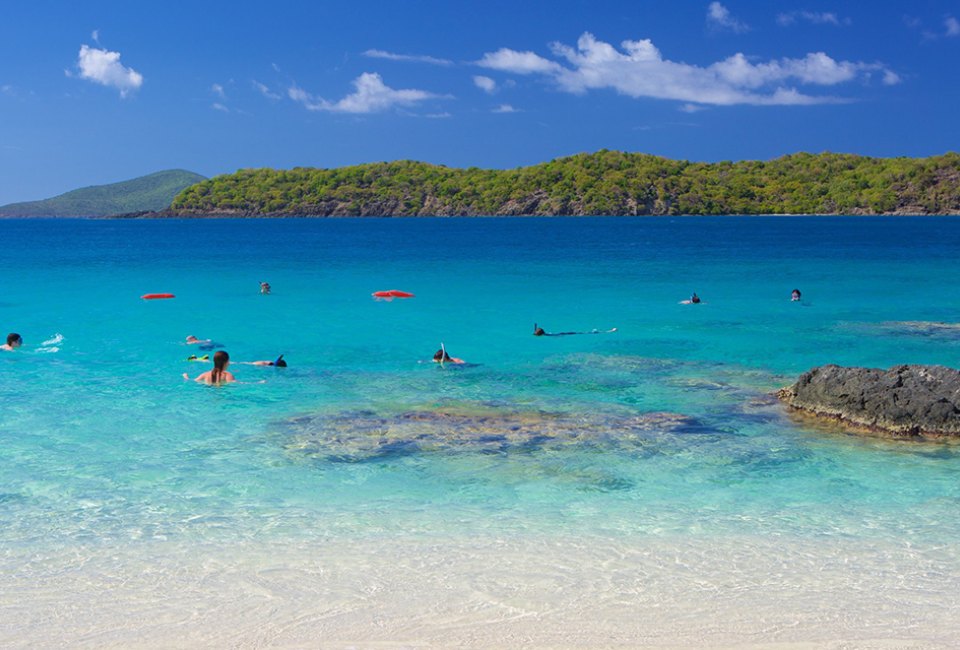 7/15/23
- By
Lauren Saunders
If you want the exotic feel of a foreign country without leaving the US, consider visiting St. Thomas, Virgin Islands for your next warm and sunny family vacation. Many visit St. Thomas as a cruise-stop destination, but there's so much more to explore beyond the ports. The US territory has its own unique charm with breathtaking beaches, crystal-blue water, friendly locals, and gorgeous red roofs climbing the hills outside its capital city, Charlotte Amalie. And the best part? No passports are needed to enter!
Here are 25 of the best things to do in St. Thomas, Virgin Islands with kids, including some great St. Thomas resorts, hotels, and restaurants. You'll see why St. Thomas, Virgin Islands is one of the best places to visit in the Caribbean, which you can read more about it in our Caribbean Family Travel Guide.

Calm, clear waters and gorgeous views draw many families to Magens Bay Beach.
Best St. Thomas, Virgin Islands Beaches for Families
The large, flat Magens Bay Beach is perhaps the most popular family beach in St. Thomas, Virgin Islands. The waves are usually small due to the surrounding peninsulas, and gorgeous hills lining the sides of the beach make for beautiful views. While there is a small entry fee, parking is very close and convenient, making Magens Bay Beach an easy place for families to visit.
One of the prettiest beaches in St. Thomas, Lindquist Beach is a little quieter and more off the beaten path than Magens Bay Beach. It also has a bit more shade, which is helpful in the tropical sun. Convenient bathrooms are available for families, and there is a small admission fee—but it's well worth it.
Head to Coki Point Beach for some of the best snorkeling and swimming on the island. Adults and kids ages 10 and up can even try scuba diving through the Coki Dive Center. While there can be less shade than at other beaches, the tranquil water, white sand, and plethora of marine life will not disappoint.
RELATED: 21 Best All-Inclusive Resorts in the US, Caribbean, and Mexico for Kids

The quiet, rocky beach at Mandahl Bay is perfect for fishing. Photo by Gruepig, CC BY-SA 4.0
If crowds are not your thing, you'll love the quiet, rocky beach at Mandahl Bay. It's a great place to go fishing while you watch pelicans dive for their lunch. Kids will love exploring the tide pools full of crabs and small fish.
5. Secret Harbour
Well-known for wildlife, Secret Harbour offers fantastic swimming and snorkeling. It's a haven for tropical species of fish and turtles, so keep your eyes open for nature's surprises. But Secret Harbour is also the perfect place for some R and R—how does a hammock on a tropical beach sound?

You never know what you'll spot from the Underwater Observatory at Coral World Ocean Park. Photo by the author
More Fun Things to Do in St. Thomas, Virgin Islands with Kids
This award-winning marine park allows visitors to get up-close and personal with Caribbean sea life. My son especially loved the touch pool and the Underwater Observatory, but families can also explore the Dolphin Sea Sanctuary, the Caribbean Reef Encounter, shark shallows, a stingray lagoon, turtle pools, and critter corners, all included in the price of a General Admission ticket. Coral World also offers a variety of other activities for an additional fee, such as sea lion and shark encounters, swimming or kayaking with dolphins, and more underwater adventures.
7. Open-Air Safari Bus Tour
The safari bus is an extremely popular way to travel in the US Virgin Islands, and it's sometimes one of the only options for getting to out-of-the-way locations. Catering to tourists, the bus is fun and entertaining. Enjoy great views while learning facts about the island. Keep in mind that there may not be seat belts—kids usually sit in the middle with adults on the outside.
The 99 Steps is one of the prettiest staircases you'll ever climb. Photo by ShareAlike 4.0 International (CC BY-SA 4.0)
8. Charlotte Amalie
Charlotte Amalie, the capital city of the US Virgin Islands, is known for its historic Danish-named streets, beautiful water views, and abundant shopping. You'll find an impressive number of jewelry shops, as St. Thomas is known as the best place in the Caribbean for jewelry shopping.
The 99 Steps is a fun and famous spot in the middle of Charlotte Amalie, surrounded by many other lovely historic landmarks. Catch the views out to the harbor as you hike the steps surrounded by tropical foliage.
For a small fee, visit the recently renovated Fort Christian, a National Historic Landmark. Built in 1671, it is now painted bright red and complete with cannons.
Stop by the Emancipation Garden, which celebrates the end of slavery in the US Virgin Islands. It commemorates the 1848 emancipation of slaves. (Notably, this was well before the end of slavery in the US.)
9. Carnival
Carnival, typically held in April, is one of the most exciting events of the year in St. Thomas, Virgin Islands. Dance with traditional moko jumbie (masked performers on stilts), enjoy great live great music, visit street vendors, and watch the Children's Parade. It is truly an unforgettable experience.
RELATED: Best Things To Do in Aruba with Kids

Enjoy unforgettable views from Drake's Seat. Photo by Karl Callwood via Unsplash
Drake's Seat is a free spot worth visiting for some of the best views in St. Thomas, Virgin Islands. An official overlook, it is above Magens Bay, you can see ocean and hills everywhere you look. The entire Magens Bay area is well known for wildlife, so keep your eyes open for iguanas, hummingbirds, pelicans, and more.
You do not need a boat to visit this bustling, tourist-friendly marina near downtown Charlotte Amalie. Do some fun shopping, then pull up a chair in one of the waterside restaurants and dine while watching tropical fish swim by.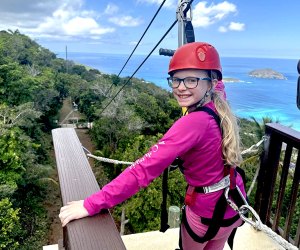 Soar high above the rainforest of St. Peter Mountain on a zip line. Photo courtesy of Tree Limin' Extreme
12. Zip Lining
Take the kids zip lining in a tropical forest overlooking Magens Bay with Tree Limin' Extreme. You'll enjoy views going all the way out to the British Virgin Islands from lush St. Peter Mountain. The tour takes about three hours, and children can ride tandem with adults.
Wind through rainforest-like paths at this beautiful botanical garden to see orchids, palms, and other tropical plants and flowers. Children under 5 get in free.
14. Eco-Tour
With an abundance of natural beauty and tropical wildlife, the sky is the limit on eco-tours in St. Thomas, Virgin Islands. Try a guided tour or rent a kayak. Mangrove Lagoon Marine Reserve is the most popular place for eco-tours.

The Skyride to Paradise Point. is a fun way to see St. Thomas from up in the sky. Photo courtesy of the company
If your family is not quite up for zip lining but still wants a tropical adventure, ride the skyride up to Paradise Point, 700 feet above St. Thomas Harbor. After an entertaining ride to the top, enjoy gorgeous views from the Skywalk, grab a bite at one of the restaurants, and browse charming souvenir shops before riding back down.
Hop off the bus at this fun and educational museum focused on sensory play. Whether it's exploring an exhibit on indigenous Taíno culture of the Virgin Islands, doing crafts on Toddler Tuesday, or playing games during Teen Time, kids of all ages will find something to love here.
After checking out the Children's Museum, head over to nearby Havensight Mall, an outdoor mall by the water. On most days of the week, you'll be able to watch city-sized cruise ships pull right into the deep-water harbor next to the mall while doing your shopping.

Little mateys will love the Pirates Treasure Museum.
Kids under 6 get in free to this fun museum near Havensight Mall, where families can enjoy a guided tour full of hands-on activities to learn about the history of pirates in the Caribbean Sea. Aargh!
19. Day Trip to St. John
Spend the day visiting the nearby island of St. John. The easiest way to get there is to take a 20-minute ferry ride from Red Hook to Trunk Bay on St. John. Trunk Bay, part of the Virgin Islands National Park, is one of the most famous beaches in the Virgin Islands. It's surrounded by abundant wildlife and features white-sugar sand and calm waves. Head to Cruz Bay on your way back to St. Thomas for some shopping—be sure to check out the Turquoise Turtle gift shop.

Relax on the private beach at Marriott Frenchman's Cove.
Great St. Thomas Resorts for Families
Conveniently located near the airport and Havensight Mall, this colorful resort offers two- and three-bedroom villas with stunning views of the Caribbean Sea. Marriott Frenchman's Cove boasts a private beach on Pacquereau Bay, an infinity pool with a water slide, a restaurant, and plenty of activities including kayaking, sailing, and snorkeling.
This family-owned resort is one of the smallest St. Thomas all-inclusive resorts, meaning guests enjoy a relaxed, friendly vibe. Located on a beautiful beach, Bolongo Bay offers loads of water sports like kayaking, windsurfing, snorkeling, and paddleboarding. There's also a great pool, family activities like poolside Bingo, and an outdoor restaurant with delicious food, nightly live entertainment, and open-air views.
While Point Pleasant Resort is one of the more affordable St. Thomas hotels, it doesn't skimp on amenities. Located near Coki Beach, Coral World, and Lindquist Beach, the resort features three pools, two restaurants, a private beach, nature trails through lush greenery, and water activities such as paddleboard lessons and guided kayak tours. Condos and villas in a variety of sizes allow families to have a comfortable stay.
RELATED: Finest Punta Cana: A Luxury All-Inclusive Resort for Families in the Dominican Republic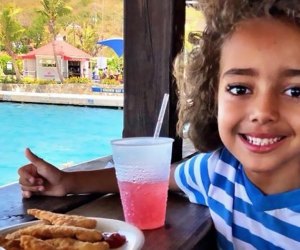 Tickles Dockside Pub brings new meaning to the term "waterfront dining".
Best Restaurants for Kids in St. Thomas, Virgin Islands
Enjoy a delicious lunch of burgers, salads, and more just feet from the ocean, with convenient parking. It's close to the airport, but with open-air seating you'll feel the fresh tropical breeze and know you've hit island time right away. Visit the nearby ice cream shop for a cold treat and to look for local artisan crafts and souvenirs. Stop at the Little Free Library around the corner so the kids can read while they enjoy their ice cream.
This restaurant overlooking Charlotte Amalie is one of the most famous places to dine on the island. Go for dinner (with or without the kids) and aim for a 6pm arrival to catch the gorgeous sunset with spectacular outdoor seating. I recommend the lobster dinner, but there are plenty of other great seafood and meat options as well.
Soak up the island vibe at this colorful and lively waterfront restaurant in Charlotte Amalie. Enjoy steaks, seafood, burgers, salads, and more, accompanied by a tropical-themed alcoholic beverage (for the grown-ups) or smoothie (for the kids).
All photos courtesy of the locations unless otherwise noted
Disclosure: We may earn a small commission if you click through our link and make a purchase. This revenue helps us maintain this site, so thank you for supporting us.
Click Here to Sign Up!
i