Hotel Xcaret Mexico: An All-Inclusive Adventure in Playa del Carmen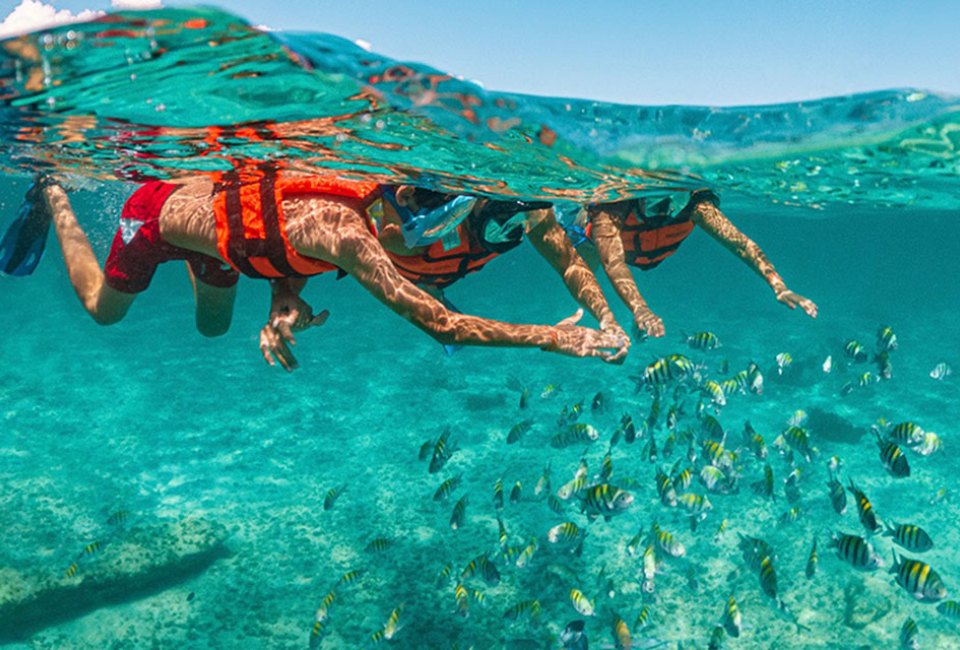 3/25/23
- By
Jaime Sumersille
While my family has stayed at many great all-inclusive resorts, we were particularly impressed by our recent trip to Hotel Xcaret Mexico in Playa del Carmen, Riviera Maya. Set between the Mayan rain forest and the Caribbean Sea, the five-diamond Hotel Xcaret (ISH-kah-rhett) offers stunning views and plenty of family fun. But what really sets it apart is its unique All Fun Inclusive concept, which gives guests access to all seven Grupo Xcaret parks.
The Grupo Xcaret parks offer all sorts of natural and cultural experiences such as zip lining, water adventures like snorkeling and whitewater rafting, cave tours, live entertainment, monster truck rides, a wacky town full of optical illusions, and so much more.
The thrill factor of my family's adventurous trip to Xcaret was off the charts, and I highly recommend Hotel Xcaret Mexico for your next warm and sunny family vacation. Read on to learn all about it, and check out our Mexican Family Travel Guide for more cool vacation spots in Mexico.

The hammock on our suite's patio was the perfect place for some R&R.
Hotel Xcaret Mexico Accommodations
Hotel Xcaret Mexico offers a variety of suite options to meet any family's needs. The 900 suites—some of which connect—are distributed throughout five buildings. My family had a Garden View Swim Up Suite in the Tierra building, which featured two queen beds, a pull-out couch, a mini fridge, a snack area, a desk, a 52-inch TV, USB outlets, and a patio with a bench, hammock, and two lounge chairs in the pool. While spacious, the room had an almost completely open floor plan—the bathroom sink, vanity, and jacuzzi tub were in plain sight of the beds and the rest of the room, so there was no room for modesty. A sliding mirrored door gave way to a dressing area, a closet, a bathroom, and a stand-up rain shower.
We did like all of the extra amenities in our suite. All toiletries were included, from shampoos, body washes, and soaps to lotions, toothbrushes, and mouthwash. There were even sewing and shoe-shine kits. The minibar had waters, sodas, juice boxes, and—for the grown-ups—Mexican cervezas. The snacks were limited to chips and local Mexican sweets. Everything was replenished within moments of request.
RELATED: Visiting Playa del Carmen and Riviera Maya in Mexico with Kids

Take your pick of several pools, a river, or the beach at Hotel Xcaret Mexico.
Kid-Friendly Amenities at Hotel Xcaret Mexico
Hotel Xcaret Mexico is a pretty expansive resort with plenty of things to do. There are several pools, including one large infinity pool overlooking the ocean. Most larger pools have swim-up bars, and the kids indulged in their fair share of virgin daiquiris and Shirley Temples. The kiddie pool features a large, colorful octopus spray park with slides and calf-deep water. While I thought our kid crew (ages 10-14) wouldn't spend a second here, that's where they were drawn to again and again, creating aquatic man-hunt games and making fast friends from all over the globe.
For even more water fun, there's a large river that meanders around the property where you can swim, kayak, or paddleboard (note: everyone must use a life vest). You'll encounter clear waters, tunnels, caves, small reefs, and fish. When swimming along the river, climb stairs to explore some cove areas or rest in a hammock. While we did discover the various hidden "Easter egg" slides around the resort, they were not operational during our visit.
Hotel Xcaret Mexico has a beach, but the swim area is small due to the massive reefs. There's an interesting circuit of floating bridges to access the beach area. It was mostly closed due to rough surf while we visited, but the pools and river provided more than enough aquatic fun. Lifeguards were uber vigilant on foot, in the water, and via kayak.
The hotel also offers several other fun activities, including tennis and paddle courts, gyms, shops, breathtaking rainforest trails, a world-class spa, a kids' club, and a family club with pool and air hockey tables and other fun stuff.
RELATED: Mexico's Velas Vallarta All-Inclusive Family Resort is Eco-Friendly Earth Check Certified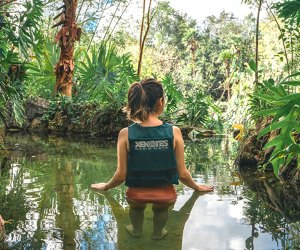 Put on those water shoes and take a jungle tour through the water! Photo courtesy of Xcaret Park
Grupo Xcaret Parks
Hotel Xcaret Mexico offers the most unique perk we've ever encountered—transportation and admission to seven adventure parks, all within about 45 minutes of the hotel. Food and drinks are even included at most of the parks! This blew our minds. We snorkeled and tubed down mangroves in rivers at Xel-Há. We visited zoos, swam in natural pools, saw live shows, and ascended 260 feet in the air for sweeping views of the coastline at Xcaret. We flew through caverns Superman-style, rode water slides, bathed in a mud river, and meandered around a wonky optical-illusion town at Xenses. And at Xplor Fuego, we zip lined through seven circuits—some reaching north of 250 feet in the air—then rode in amphibious vehicles through several miles of bumpy, muddy, cavernous terrain.
Some of the unique experiences we indulged in required an additional fee. We zip-biked along a track through mangroves and caves at Xel-Ha. We also held, pet, and swam with nurse sharks at Xcaret in a small-group setting (and we all emerged with 10 fingers and toes).
RELATED: Best All-Inclusive Resorts in the US, Caribbean, and Mexico for Kids

Two of Hotel Xcaret Mexico's restaurants are located inside caves!
Dining at Hotel Xcaret Mexico with Kids
With so much activity at Hotel Xcaret Mexico and the surrounding parks, our family work up quite an appetite. With a whopping 11 restaurants on site, that wasn't a problem. Only one of the restaurants—the AAA, 5-Diamond, contemporary Mexican eatery HA'—requires additional payment. The rest are included in your stay and offer a variety of delicious cuisines to satisfy any craving.
As avid travelers to all-inclusive resorts, our entire group was blown away by the quality of the restaurants. Servers inquired about potential allergies at every single one. There were plenty of vegetarian, vegan, gluten-free, nut-fee and dairy-free options at each. Adult beverage choices were everywhere and included high-end, name brands.
Chibali, located adjacent to the kiddie pool, offers pizzas, pastas, sandwiches, and more, as well as shakes and a self-serve candy bar. Asian fusion spot Xin-Gao serves up sushi, hibachi, and other Asian delights (reservations are encouraged). Cantina Los Faroles offers traditional Mexican fare with a funky vibe and decor. La Trajinera boasts fresh seafood and meat dishes as well as vegan and kid-friendly options, and overlooks the largest infinity pool and the ocean.
At Las Playas, guests dine right on the sand. Pizzas, salads, burgers, and seafood are ample here. There's also an outdoor theater show and dinner that requires a reservation, but we did not indulge in that. I later regretted that, because the various musicians, singers, and dancers who performed impromptu poolside and in public areas were such a treat.
While normally turned off by buffets, Mercado de la Merced exceeded all of our expectations.With coffee and smoothie bars, patio BBQ pits, corn tortillas with hand-pulled cheese made right in front of you, and so much more, this place is a culinary journey. The omelet and crepe stations were also a fave with our brood.
On our last night, we dined IN A CAVE at Las Cuevas, and it was fantastic. Similar to a Portuguese steakhouse, skewers of meats continue to arrive until you turn your table's individual marker to its red side— as in, "stop the meats!" Needless to say, some folks in our party suffered serious meat sweats that evening. There was also a full buffet of pastas, salads, cheeses, veggies and more.
Bio, the solely vegan spot, is also located in a cave. Freshly prepared hummus and pea purée made great dips. Plant-based meatballs and veggie-broth pasta dishes were quite tasty.
In addition to the restaurants, there are pork-taco, Nutella-taquito, and ice cream stations planted all around the resort. So basically, guests can eat on their way to eating! There's also a room-service menu with basic offerings, and everything was hot and delish upon arrival to our room.
Also of note: Xcaret owns its own water-purifying company, so it's completely safe to drink its glass-bottled water and from the refillable water stations at the parks.
RELATED: Best Warm and Sunny Family Vacation Spots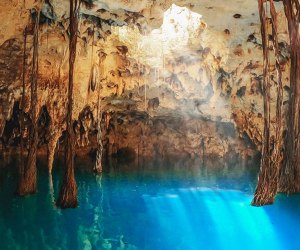 Caves are among the many cool places to explore on an Xcaret vacation. Photo courtesy of Xcaret Park
More Tips on Visiting Hotel Xcaret Mexico with Kids
1. Dine Early
The early bird gets the worm at Hotel Xcaret. Be prepared to wait for a table at several restaurants after 7pm, or after 8:30am for breakfast. Not all restaurants serves all three meals, so ask for the chart at check in. There's also a helpful app you should download for reference.

Nighttime zip lining at Xplor Fuego was a highlight of our trip.
2. Consider Purchasing a Photo Package
When you check into Hotel Xcaret Mexico, everyone receives a waterproof silicone bracelet that provides access to the room and parks, and also allows you to easily charge items to your room. But what's even better is that the bracelet is tied to the various selfie stations sprinkled throughout the hotel and the parks. Just scan the bracelet at each spot and snap away. Then you can purchase a photo package to save all of your amazing vacation memories.
For reference, we received 445 high-quality, fun photos for $250, and it was totally worth it. Gorgeous vistas abound at the resort, and we got the most majestic sunset photos. Plus, we got so many great action shots during our adventures at the parks.
3. Pack—and Dress—Smart for the Parks
Wear good-quality water shoes for your adventures in the Grupo Xcaret parks (if your feet become irritated, add thin socks underneath). Bring a reusable aluminum water bottle with a tote strap to utilize the parks' refillable water stations. Bring a change of clothes and store them in the provided lockers, as well as a waterproof phone pouch and a wet bag. Don't forget bucket hats, sunblock, and sunglasses to protect everyone's skin from the strong sun!
4. Bask in the Safety and Hospitality
We felt totally safe at this resort and at all of the parks. Every single staff member made us feel like a guest in their "home." They went above and beyond to accommodate requests, address concerns, and mitigate issues. We'd absolutely return to this beautiful refuge in Mexico, as there was so much to explore and not enough time!
Unless noted, photos by the author