Everything to Know About Beaches Turks and Caicos All-Inclusive Caribbean Resort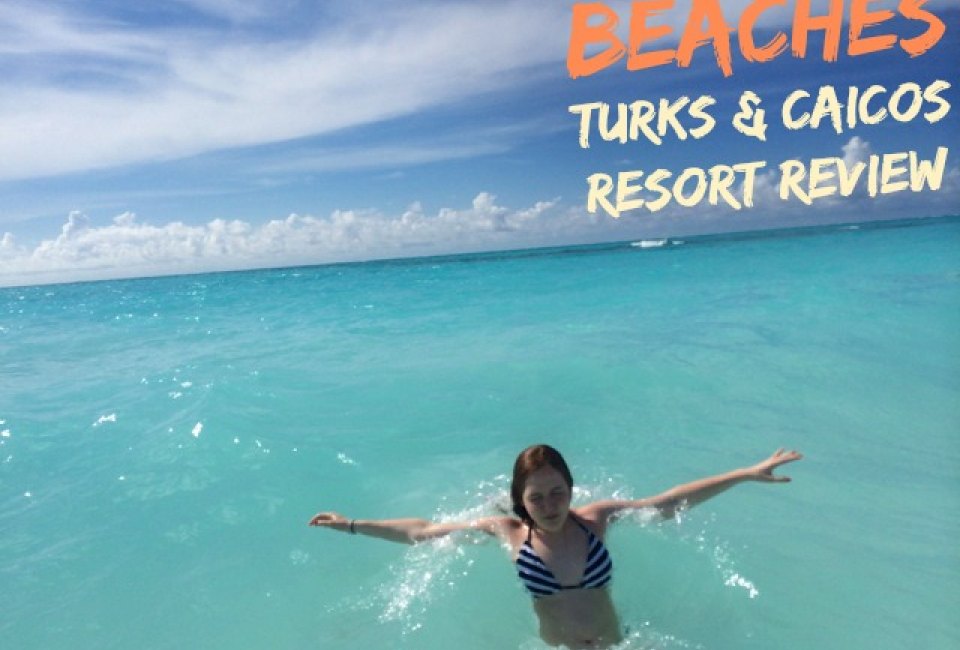 6/2/14
- By
Anna Fader
Beaches invited me to the grand opening of the new Key West Village at their family-friendly all-inclusive resort in Turks and Caicos. We have reviewed the Beaches resort in Negril, Jamaica in the past. The Beaches resort in Turks and Caicos offers the same amenities as the Jamaica resorts, but it is a much larger resort with 19 restaurants, 5 main pools, and 12 miles of the most amazing pristine beach, spread out among 4 villages, including the newly opened Key West Village.
Here's a breakdown of what you are going to love about a Beaches Turks and Caicos Caribbean vacation with your family, what you need to know if you want to go with little kids or teenagers, and and a few things that might bother you.
Getting There
Beaches Turks and Caicos is slightly easier to get to than their Jamaican resorts with just a 20 minute free shuttle from the airport, as opposed to over an hour at their other locations, making getting to the resort as fast and stress-free as possible.
The Beach
The main thing that makes Beaches Turks and Caicos stand out over other resort locations is the beach. The water is a stunning aquamarine color and the sand is as soft as fleece. It's really without comparison. If you like a gentle surf, or have very small children, the Beach at Turks and Caicos is perfect, as a barrier reef keeps the water very calm.
Amenities and Activities
Beaches Resorts are family-centric resorts. A lot of thought has gone into created a destination that will appeal specifically to families. There are endless amenities, starting with the Sesame Street-themed kids camps for kids ages 0-4, as well as separate camps for older kids, tweens and teens. A water park with slides, a lazy river, a surfing simulator, a splash deck for little ones and a pool with a kid-friendly swim up bar. This kids zone also has an xBox lounge, a 50s style restaurant with self-serve soft serve, table games like pool and table tennis and DJ Scratch academy. It's basically kid-paradise.
The Aqua Center on the Beach offers equipment for tons of water sports including snorkeling, windsurfing, hobie catamaran sailing, kayaking, paddleboarding and scuba diving. Free lessons for beginners are offered at certain times of day or else you can just use the equipment. For snorkeling, there are expeditions that you can sign up for a day in advance or you can take a ten minute walk down the beach to a coral reef right on the beach and snorkel there.
If you have never scuba dived before this is a great place to learn. You need to take the introductory course which is currently $90 per person and takes about three hours to become resort certified. Once you are certified, or if you are already certified, you can sign up for dive expeditions. Beaches prides itself on being the only resort that can certify an 8 year old and includes scuba diving in their all inclusive package.
"I don't usually think of a resort vacation as adventurous, but at Beaches I felt like both my kids tried new things and learned new skills. That was probably the most rewarding part of the vacation for me and what would make it worth it to return."
Food
The core of all-inclusive is the all-you-can-eat dining experience. At Beaches the food is plentiful with 19 restaurants in a variety of cuisines and either buffet style or a la carte. While none of our meals were extraordinary, there was always something everyone in the family was happy with and we managed to eat too much at just about every meal.
Service
One thing you will definitely notice at Beaches is that the staff is incredibly well-trained. Each person we interacted with was friendly, enthusiastic and went out of their way to help us with anything we needed to a degree slightly above what you find at most resorts.
Rooms
For me the most stressful part of a Beaches vacation might be figuring out which room to book. Rooms come in seemingly endless iterations from one room to four bedroom suites. Add to that, three levels of service (luxury, concierge and butler), in four different villages, and the combinations are mind-numbing. Rates are based on the size of your room, the view, and the level of service. If you are looking to save money, choose the smallest room your group will be comfortable in since even a luxury level room gets you access to the same all-inclusive amenities of the resort.
Upgrade to concierge level and your room will be stocked with an open bar and beverages, refreshed daily. Butler service level takes luxury to the hilt. At this level you are assigned a butler who will work to grant any requests you have from the moment they check you in in your room rather than in the hotel lobby to helping you pack before you leave.
The new Key West Village is very cute and more modern with a light and airy style, as opposed to the more traditional style in the older parts of the resort. I liked that the Key West Village felt like a little neighborhood and our suite felt almost like a little beach house, rather than a hotel room.
Overview
Beaches calls themselves a six star resort because they feel the level of amenities puts them in a class of their own. I definitely agree that Beaches Turks and Caicos offers more activities included than any other resort I've been to. The wide range of activities and amenities makes it particularly good for large families and groups who may have diverging interests.
Traveling with Babies and Little Kids
Most resorts offer baby-sitting and kids camps, but there is definitely a lot more for small children here. Beaches will be a big hit with little ones who will love the the Sesame Street characters who roam the property to say hi, give out hugs and take photos with the young and old alike. There's also a special Sesame Street stage show and a weekly parade that is a don't miss. The water park has a water playground especially for little tikes and the beach, with its gentle surf and soft sand, is perfect for small children.
Traveling with Tweens and Teens
Teens are notorious for being bored and disengaged during family vacations, but Beaches has worked hard to make sure there's something for every kid, no matter what their preferences. Older kids will really be able to take advantage and enjoy all the activities and amenities offered. Your child should not only be entertained for your whole vacation, but hopefully discover some new things they love.
For Parents
Of course, all the activities and amenities make your life as a parent easier, but, ideally, a family vacation has some space for parents to enjoy some time as a couple as well. Beaches helps by offering kids camps that stay open late enough for parents to have a dinner alone, babysitting even later (for additional charge), adult-only restaurants, bars, and the Red Lane spa. The large family suites give parents a little more privacy with separate bedrooms.
Value
Beaches is an all inclusive resort which means all the food, drinks and activities are included with the cost of your room, even scuba diving, sailing and snorkeling, which are often additional at other resorts. You get the most for your money the more you take advantage of these amenities.
Meanwhile, even though the resort is all inclusive, there are many things that do come at an additional price, including special character interactions, expeditions, and on-site activities like the craft shed and hair braiding. There's so much included you certainly won't feel deprived if you skip all those extras, but parents may feel compelled to say yes to their children if they see the ads for these things and want in.
Bonus: Doing Good
The Sandals Foundation, founded by the parent company of Beaches Resorts, is a charity that tries to do good in the region. While we were on our trip we were able to participate in some of this activity. We planted mangroves on Iguana Island to help stem erosion of the beach and we brought books to donate to a local school. Guests of any Beaches or Sandals hotel can bring donations that will be distributed locally. Find out more at Pack for a Purpose.
See more family friendly resort reviews at travel.mommypoppins.com

Accommodations were provided free or at media rate for the purposes of creating this review. Just like all our editorial, the opinions are 100% those of the author and are not for sale.
Click Here to Sign Up!
i