Best Outdoor Water Parks in the US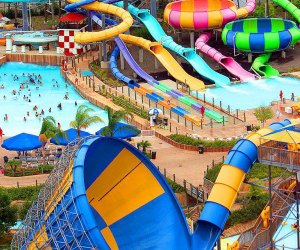 5/6/23
- By
Elaine Paoloni Quilici
If your kids love the adventure of amusement parks but are looking for a way to cool off this summer, outdoor water parks are the way to go! There are so many family-friendly outdoor water parks in the US with relaxing pools and lazy rivers to please the grown-ups, splash pads and climbing structures to delight kids, and thrilling water slides and rides to give teens an adrenaline rush. In other words, the whole family will be happy, have fun, and stay cool.
Here are our favorite outdoor water parks in the US, from Orlando to New England and all the way to California. And if you have your heart set on a water-park vacation but don't want to risk the weather, check out our list of the best indoor water parks for kids in the US.
Be sure to check the opening status of these outdoor water parks before heading over, as weather can force a water park to delay opening or close temporarily. Most parks in northern climates are going to be open roughly from Memorial Day through Labor Day, whereas southern parks might remain open nearly year-round.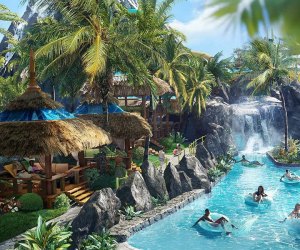 Chill in the shade at a cabana or float down the lazy river at Universal's Volcano Bay.
Best Outdoor Water Parks in the South
Beyond the iconic towering volcano that houses Krakatau Aqua Coaster, big kids can enjoy thrills on rides such as drop slides, tube slides, mat racers, and a wave pool. There's also a winding river to float down on a tube and a more active whitewater river that is navigable in just a life vest. Play areas for little kids include Runamukka Reef, which has scaled-down slides, spray fountains, and a mini volcano.
What's extra cool: There's no need to sweat it out in lines at Volcano Bay. Just check in to popular rides with the waterproof, electronic TapuTapu wristband you receive upon entry and you'll have reserved a spot in line while you explore the rest of the park. When it's time to hop on, the wristband vibrates to alert you.
RELATED: The Top Water Parks in Orlando for Kids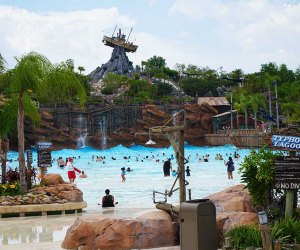 The mega wave pool at Disney's Typhoon Lagoon is a hit with older kids.
This tropical-themed water park will satisfy the whole family. The Ketchakiddee Creek water playground features water cannons, waterfalls, and mini slides that are better for little kids. Zoom down the Crush 'n' Gusher, a 400-foot-long water coaster, as a family. The real thrill-seekers can take the Humunga Kowabunga, an in-the-dark body slide with a five-story drop. There are several more raft and inner-tube rides at this Disney water park as well, including a few without height restrictions.
What's extra cool: Typhoon Lagoon's wave pool is touted as North America's largest wave pool, where you can even body surf (yes, there are waves that big). Relax on its sandy shores and pretend you're at the beach!
RELATED: Best Outdoor Water Parks Near DC for Family Fun

Try the slides at Water Country USA during a Virginia family getaway.
This massive water park offers more than 40 rides and attractions. Little ones can enjoy plenty of themed, shallow-water playgrounds and activity pools. Older kids can body-float with a life vest down the fast-moving Hubba Hubba Highway or catch a wave in the large wave pool. There are also over a dozen tube and body slides, from low-thrill slides to bigger ones for thrill-seekers. These include the brand-new Riptide Race—open in summer 2023—on which people race in pairs on double tubes down 520 feet of twisting and turning slide.
What's extra cool: Water Country USA is located just three miles from Busch Gardensin Williamsburg, Virginia. Busch Gardens is one of our favorite amusement parks in the US.
RELATED: Houston Water Parks and Theme Parks Guide

River water fuels the activity pools and slides for all ages at Schlitterbahn Water Park.
Though Schlitterbahn has a second location in Galveston, Texas, the New Braunfels one takes the cake. Located on the banks of the Comal River, Schlitterbahn New Braunfels Waterpark uses 72-degree river water for its tube chutes, tube slides, and pools. Beyond the winding waterways, check out the park's water coaster, surfing rides, wave rivers, and activity pools. The youngest visitors can enjoy nine kids' areas featuring playgrounds, sprinklers, a zero-entry beach, and shallow pool areas with mini slides.
What's extra cool: In all, there are about 45 attractions between Schlitterbahn East and Schlitterbahn West; hop on a tram to shuttle back and forth.
RELATED: Top Water Parks in New Jersey

Race your family down the slides at Six Flags Hurricane Harbor New Jersey.
Best Outdoor Water Parks in the Northeast
Splash on the shores of the Blue Lagoon wave pool or go all in up to six feet deep at New Jersey's top water park, which seems to just keep on expanding. Six Flags Hurricane Harbor also offers Discovery Bay, a scaled-down wave pool and slides, and a water-play area with climbing ropes, blasters, and a tipping water bucket. After drifting down the lazy river, visitors can soak in Calypso Springs, a 100,000-gallon activity pool featuring fountains and geysers. Daredevils flock to rides such as Jurahnimo Falls, which has a steep 76-foot drop, and Tornado, which shoots riders into an oversized funnel and then spits them out.
What's extra cool: New for summer 2023 is Splash Island, featuring a massive tree house structure with over 50 water-play features as well as seven new water slides for younger riders.
RELATED: Great Water Parks for Kids Near NYC

Long Island's Splish Splash hits all the right marks with families.
This Long Island gem has 96 acres of adventure. Splish Splash is home to 20 water slides, rides, and attractions, including two wave pools, a large kiddie area, and a lazy river. Group raft rides include the winding Mammoth River and the in-the-dark Hollywood Stunt Rider. Dr. Von Dark's Tunnel of Terror is also pitch black and includes 360-degree spins and a 40-foot drop. Little kids will enjoy swinging from the tentacles of a silly octopus, exploring an interactive mini pirate ship, and sliding down a yellow submarine.
What's extra cool: Splish Splash's newest water slide, Hyperlight, incorporates vivid light and sound as riders plummet through a twisting tube slide.
RELATED: Best Outdoor Water Parks in New England

Hurricane Harbor at Six Flags New England keeps everyone entertained with thrilling water rides.
Best Outdoor Water Parks in New England
This water park is full of fun play structures for kids, including Hook's Lagoon, a wooden tree house with plenty of sprayers, water cannons, and a huge tipping bucket for a full body soaking. Families can also enjoy the 500,000-gallon Commotion Ocean wave pool and the Adventure River lazy river, or seek out the gentler wave pool and lazy river inside Splash Island. There are also several large water slides for thrill-seekers.
What's extra cool: Typhoon, a unique hybrid roller coaster and water slide attraction, takes riders on an up-and-down adventure aided by water jets and conveyor belts.
RELATED: Top Hotels with Outdoor Water Parks for Families with Kids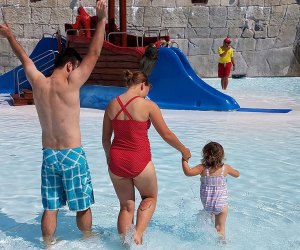 Water Country's zero-entry pool is perfect for little ones.
Kids will fall for the Tahiti Tree House with tipping bucket and Pirate's Pool & Lagoon featuring cannons, slides, and volcanoes at Water Country in Portsmouth, New Hampshire. The littlest ones will go gaga splashing around Bubble Bay's geysers and climbing Ollie Octopus in a shallow, zero-entry pool. Water Country's 26 acres also include bigger thrills for older kids such as a whirlpool, an activity pool, and a 700,000-gallon wave pool. The lazy river boasts caves, waterfalls, and fountains. A whitewater-rafting group tube slide; a two-lane, head-first racing slide; and an extreme 58-foot body slide are also favorites.
What's extra cool: Summer 2023 brings Hyperlight, a dual-action slide experience, to Water Country. On one side, riders loop round and round with vibrant colors and sound. On the other side, they cruise through a multicolor star field.
RELATED: Best Outdoor Water Parks Near Chicago

Noah's Ark sits on 70 acres of water-park fun. Photo courtesy of Wisconsin Dells Visitor & Convention Bureau, Inc.​
Best Outdoor Water Parks in the Midwest
Located on 70 acres in the "water park capital of the world," Noah's Ark is one of the country's largest water parks. From five kiddie areas with mini slides, water cannons, and water geysers to a wave pool, a lazy river, and a surfing attraction, there's something for everyone at Noah's Ark. There are also many body, tube, drop, and racing slides. Raja is a six-story, side-by-side slide in the shape of a king cobra that ends with a 37-foot drop into the snake's mouth. Attractions range from single riders to groups, making this water park a great family destination.
What's extra cool: New for summer 2023 is Chameleon, Wisconsin Dells' first water slide featuring lights and sounds. Up to four people can ride together on this 520-foot-long slide.
With miles of water slides, a lazy river, and multiple spray and-splash pads, the Aussie-themed Raging Waves—Illinois' largest water park—is more like a theme park that happens to have water. Attractions for thrill-seekers include tube slides like the Boomerang, which drops up to four riders at a time into a twisting funnel, and body slides like PJ's Plummet, on which riders fall 72 feet at speeds of up to 43 miles per hour. There's also a mega-waterfall park called Kangaroo Falls and a giant sandbox that's great for little kids.
What's extra cool: Raging Waves' 25,000-square-foot Great Barrier Reef has seven different water patterns to play in, from the wave pool to the shallow beach water.
RELATED: SoCal Theme and Water Parks Guide

Interactive play features at Six Flags Hurricane Harbor Los Angeles offer all-ages fun.
Best Outdoor Water Parks in the West
This California water park has something for everyone. Its shallow water playground, Castaway Cove, will keep little ones busy, while waterfalls, a tipping bucket, and mini slides make Splash Island another family favorite. The 480,000-gallon wave pool, 1,300-foot scenic lazy river, and six-lane racer slide are a bit more thrilling for families with older kids. Thrill-seekers won't want to miss Bonzai Pipelines, a six-story free-fall drop slide, and Black Snake Summit, a group of four super-fast enclosed water slides.
What's extra cool: Six Flags Hurricane Harbor Los Angeles hosts dive-in movie nights throughout the summer, when families can relax on tubes in the wave pool while enjoying a movie under the stars.
Among the attractions at this 15-acre fan-favorite water park are a 750,000-gallon wave pool with four-foot waves, a 1,780-foot lazy river, and several body, tube, and mat slides. There is a three-story interactive play structure featuring sprayers, water guns, faucets, and a 500-gallon dumping bucket. Gremmie Lagoon is a water-play area for the littlest ones where kids can splash and slide around a one-foot water pool and explore a mini submarine.
What's extra cool: Knott's Soak City is located right next door to Knott's Berry Farm Theme Park, so you can stay and have a whole weekend of fun!
All photos courtesy of the water parks unless otherwise noted
t Click Here to Sign Up!