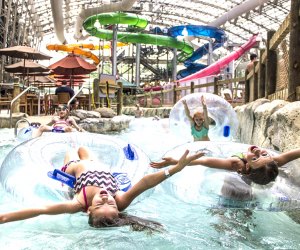 10 Best Indoor Water Parks for Kids in the US
Whether it's the middle of winter and you need a family getaway or you have a special occasion to celebrate but don't want to risk your party being washed out by rain, it's nice to have indoor water options. And we're not talking the dip pool at the downtown Best Western. We're thinking mega water slides, relaxing lazy rivers, toddler-friendly water play, and thrilling wave pools that only a water park can offer.
Those living in the North and Midwest no longer have to seek sunny locales to beat the winter blues. And residents of the South and West now have ways to beat the heat when even water won't cool you off from a blazing sun. The year-round fun of an indoor water park is a bonus for everyone!
Here are our picks for the best indoor water parks for kids around the country. For more ideas, check out our local coverage of indoor water parks near New York, New Jersey, Boston, and Philadelphia.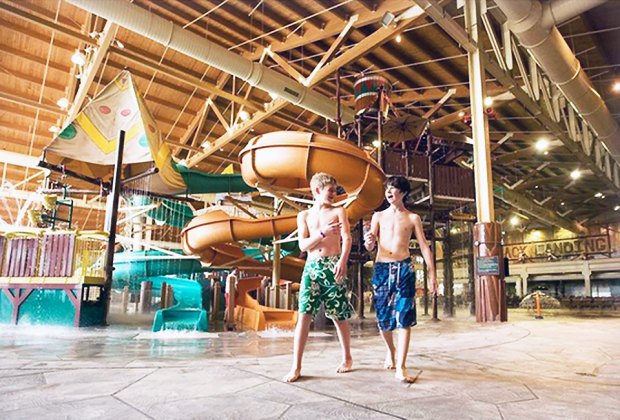 Great Wolf is a favorite in several states.
Great Wolf Lodge — multiple locations
Great Wolf Lodge seems to be the most franchised indoor water park: There are nearly 15 locations in the United States and Canada, including Garden Grove, California; Fitchburg, Massachusetts; Scotrun, Pennsylvania; and Grapevine, Texas. You'll find multilevel water forts to explore, tipping buckets to stand under, and plenty of pools to splash and play in. There are also vortex slides, plenty of tube slides, slideboarding, and even a splashy roller coaster. With all that activity, it's nice to know you can rent a cabana to have a place to relax in between rides.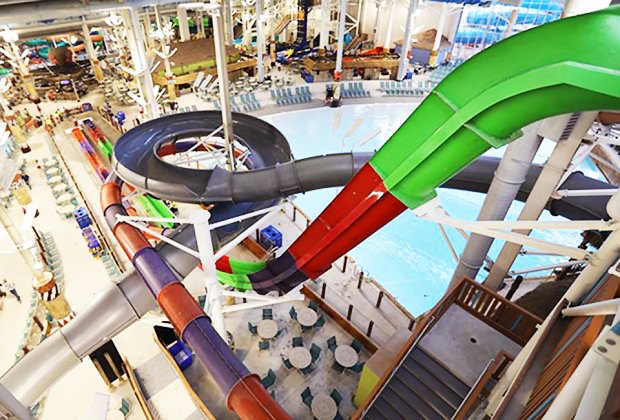 Kalahari has earned the title of the largest indoor water park in the US with its Poconos location.
Kalahari — multiple locations
Take the family on an African adventure at one of these popular water parks. There are currently locations in Pocono Manor, Pennsylvania, which lays claim to being the largest in the United States; Wisconsin Dells, Wisconsin; and Sandusky, Ohio; and one coming to Round Rock, Texas, in 2020. All outposts have a lazy river, tube slides, hot tubs, a 5-foot wave simulator, and a wave pool. The Tanzanian Twister funnel flume will flush you around an oversized bowl and finish with a free-fall drop into the pool below. You can also don a fin and learn how to swim like a mermaid or shark.
RELATED: Best Family Hotels & Resorts: Parent Reviews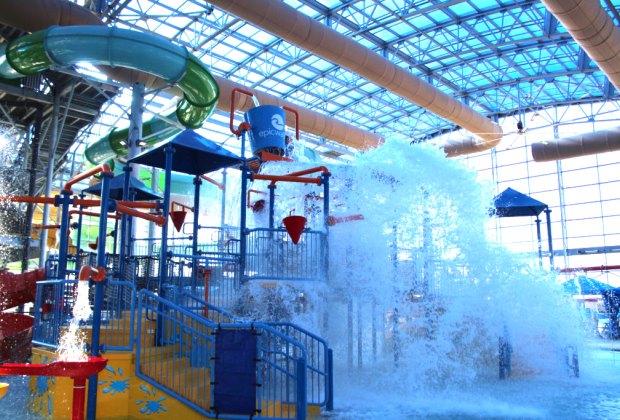 Watch out for the 300-gallon tipping bucket in Texas.
Epic Waters — Grand Prairie, Texas
This brand-new 80,000-square-foot facility just opened last month so everything is new. The Lasso Loop speeds body sliders around a gravity-defying loop. The Yellow Jacket Drop is an enclosed slide that sends riders sailing up and down a ramp on their inner tubes for a thrilling finale. There's also mat racing, a 50-foot plunge slide, a Flowrider, the longest lazy river in Texas, and a water fort complete with geysers, slides, sprinklers, and a 300-gallon tipping bucket.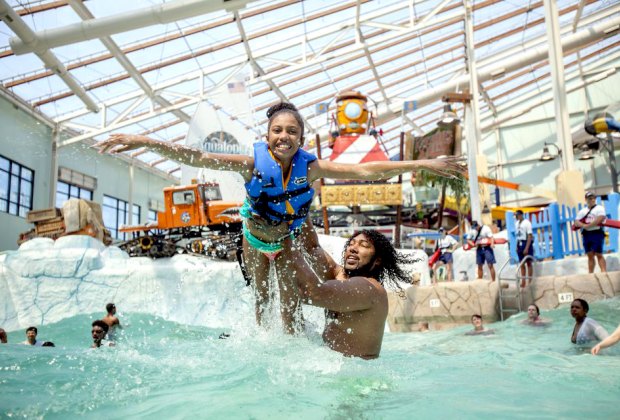 From pools to its 13 slides, Aquatopia is always a crowd-pleaser.
Aquatopia Indoor Waterpark at Cambelback Resort — Tannersville, Pennsylvania
It's safe to say you'll be able to find a water slide you like at Aquatopia in the Pocono Mountains. The park has 13 of them in various forms, including tube slides, mat slides, body slides, and bowl slides. The Venus Slydetrap is a 608-foot combo slide that spits you into what looks like the mouth of a Venus Flytrap. Other draws include Storm Chaser, a 756-foot-long uphill water coaster, and The Himalayan, the only head-first indoor mat slide in the region.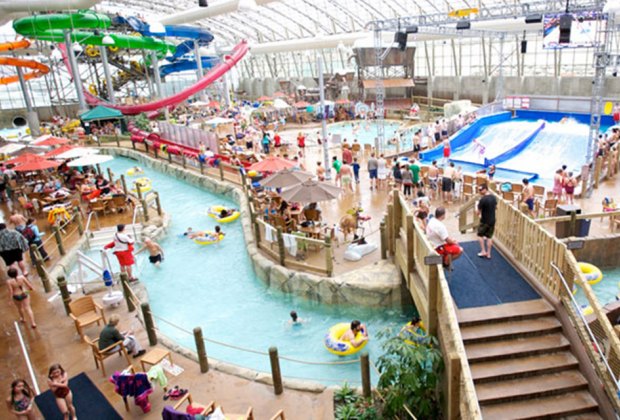 Tucked into a Vermont resort, this spacious water park offers something for all ages.
Pump House Indoor Waterpark — Jay, Vermont
Perhaps best known as a ski resort, Jay Peak also boasts an impressive indoor water park. On La Chute, guests stand with crossed arms and legs, waiting to be dropped down a 65-foot tube as they travel at 45 miles per hour. A flowrider offers alternate thrill-riding, while the less adventurous can chill in the lazy river or kids' play area. There are also indoor and outdoor hot tubs.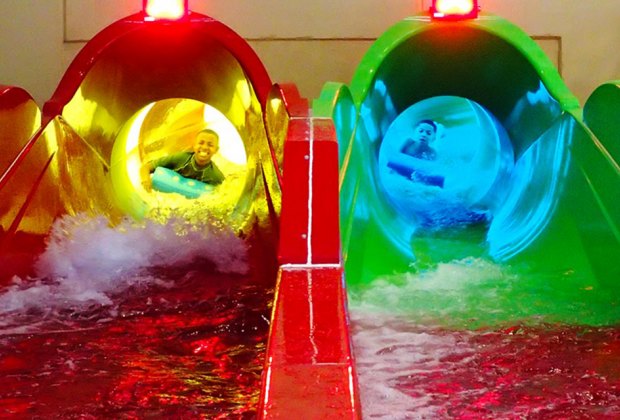 Hit the slides at New Jersey's Sahara Sam's!
Sahara Sam's — West Berlin, New Jersey
Play beneath the palms at this desert-themed water park. Float down the Congo Bongo, make your way through the challenging cargo obstacle course, and fly down the 350-foot Nile Mile body slide. And when the weather doesn't allow you to hit the Jersey Shore, head to Sahara Sam's to check out New Jersey's only indoor surfing simulator.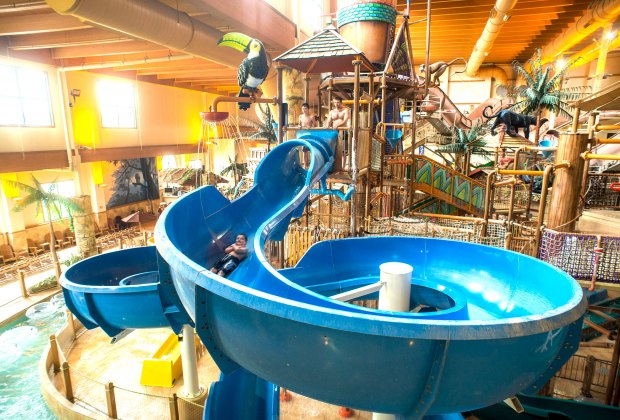 This mega Wisconsin water park offers a water roller coaster and more.
Lost Rios Indoor Waterpark — Wisconsin Dells, Wisconsin
The 80,000-foot Lost Rios Indoor Waterpark at Chula Vista Resort offers a Mayan theme. Take a spin on the Flyin' Mayan—a super-fast uphill water roller coaster. Race each other on Matador Mat Racers. There's also a kiddie play area, lazy river, and 500-gallon tipping bucket to enjoy.
RELATED: Best Family Travel Destinations of the Last Year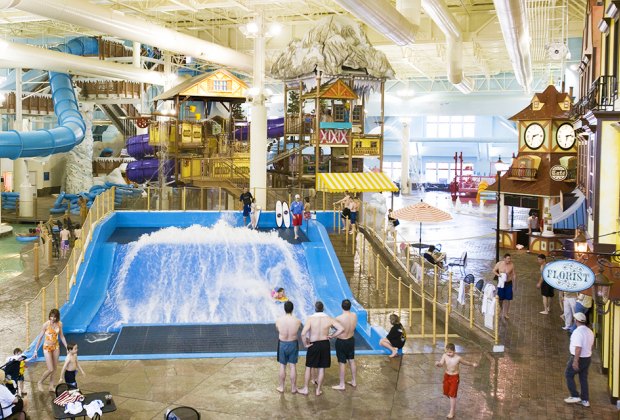 Try the surf simulator at Avalanche Bay.
Avalanche Bay Indoor Waterpark — Boyne Falls, Michigan
Located at Boyne Mountain Resort, Avalanche Bay is Michigan's largest indoor water park. Daredevils should check out the Big Couloir, where riders are dropped practically straight down through a trap door. G-forces allow them to make a 360-degree loop without leaving the slide. There's also a lazy river, surf simulator, mat racer, and rope-and-island water crossings. The 800-gallon water avalanche helps the park live up to its name.

Sail down the lazy river at the Splash Lagoon in Erie.
Splash Lagoon — Erie, Pennsylvania
This tiki-themed park is action-packed. Slide down the pitch-black Black Hole, take a splashy spin in the Aqua Tumbler, or jet down a slide that whirls you around a huge bowl then funnels you out. Kids can dump water on their siblings from the five-story Tiki Tree House or jump waves in the 200,000-gallon wave pool. Landlubbers can enjoy a treetop ropes course that overlooks the water park below.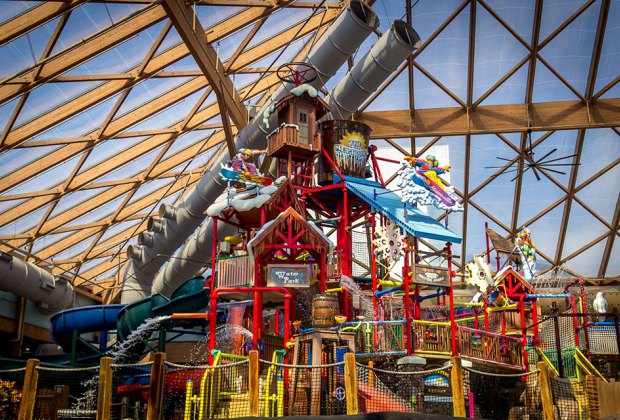 Tired of the slopes? Warm up in the Massanutten WaterPark in Virginia.
Massanutten WaterPark — McGaheysville, Virginia
There's lots to keep you entertained at this Mid-Atlantic water mecca: hot tubs, a lazy river, pools, body slides, tube slides, and more. The centerpiece, Massanutten Meltdown, offers water cannons, waterfalls, and a tipping bucket. The 12-inch-deep Frog Pond is great for little ones to splash around or even ride a slide or swing. FlowRider will help bodyboarders and surfers hone their skills.
All photos courtesy of the resorts