Great Wolf Lodge SoCal: the Indoor Water Park Hotel in Orange County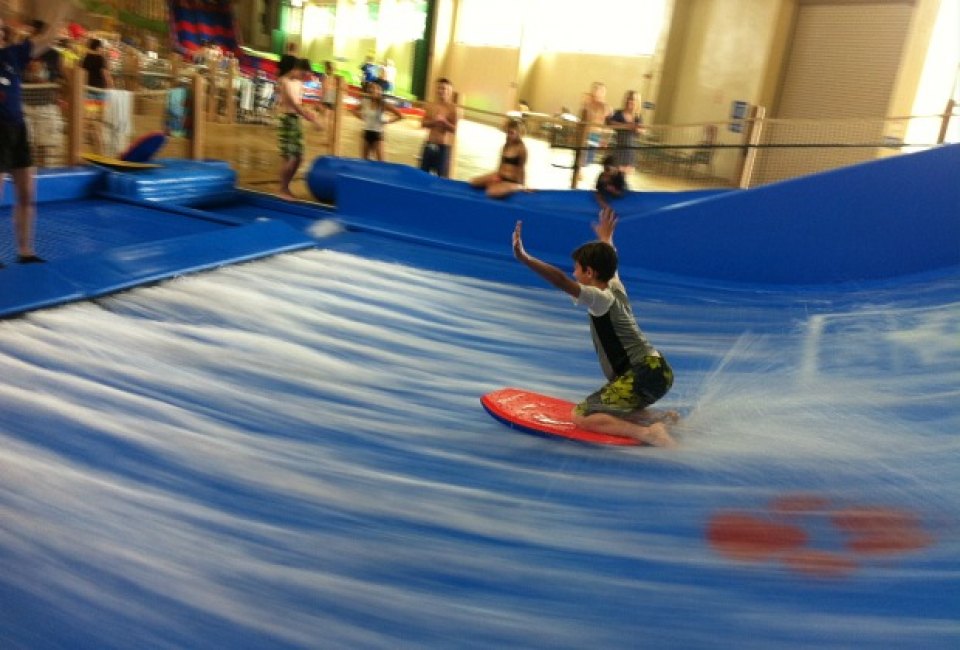 3/9/16
- By
Roberta B
If you've never been to a place where dinner attire is a mixture of pajamas, swim suits, and furry wolf ears, then it sounds like you've never been to a Great Wolf Lodge. Until this past weekend, I was one of those uninitiated, having only heard second hand of the popular indoor water park hotels. But this past weekend, Great Wolf opened its newest location here in Southern California, and I was invited (along with oodles of other press with progeny) to attend the opening and take the plunge. (Yes, that was a pun, and there may be more.)
As it happens, the grand opening weekend of GWL SoCal coincided with the series finale of Downton Abbey. These two unrelated facts kept knocking into each other in my head all weekend, and here's why: the Great Wolf approach to parenting and family life is the perfect opposite to the Downton version; Downton parents focus on their children for an hour after tea time (though, as the Dowager says, it is an hour every day). Great Wolf Lodge, by contrast, offers a vacation universe in which families spend every hour together, with or without tea. If your family's version of vacationing involves Mom and Dad sipping drinks in a jacuzzi while the kiddos are led on adventures by perky staff, then there are other resorts in the Southland that cater to your needs. What Great Wolf aims for is togetherness. At check in, each family member is handed a pair of fuzzy wolf ears; and it really is delightful how many parents and grandparents walk the property day and night sporting those ears, as they accompany their little ones from one treat to the next. (To say nothing of how ridiculously adorable the nightly storytimes are, with packs of little wolves in PJs sitting criss-cross-apple-sauce in the lobby.)
RELATED: Family Getaway to OC's Hyatt Huntington Beach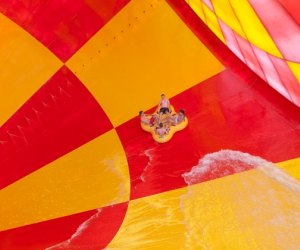 Great Wolf's signature Howlin' Tornado ride
The focal point of any Great Wolf Lodge (and the thing that has had my Pennsylvanian niece telling me about this place for years) is the year-round, indoor water park. Everyone has unlimited access to the many water slides, the wave pool, the sports pool, the obstacle course pool, the surfing pool, and the spray structure pool from 9am-9pm each day—including before and after checking in or out. The resort mantra is, "One night of stay, two days of play." And there are enough water attractions to keep a family busy for at least two days. There are slides of varying speeds and centrifugal force that put the whole family in one raft; there are racing slides for individuals; there is a crazy vertical slide where the floor drops out and the rider is propelled like Augustus Gloop shooting through the chocolate pipe (can you tell I didn't try that one?); and there is a boogie-boarding slide on which riders can surf against the current for as long as they can ride the wave.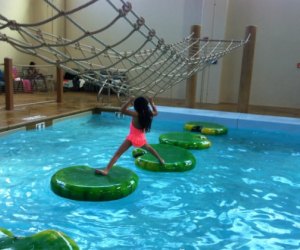 Getting some excersize on the obstacle course
Like at any theme park, there are lines to contend with, and on a busy weekend the popular rides can require as much as an hour's wait (which gets chilly, dripping wet). The good news is that you can always go have lunch, or play in the arcade, or go bowling, or get a pedicure when the lines get tedious. Coming back later is no hardship.
I do feel compelled to make one confession: I had assumed that, heading to a water-themed resort for the weekend, I had a hot tub in my future. I brought a friend for my son to ride the slides with, so that I could be excused from facing my vertigo; and with super vigilant life guards standing at every edge of every pool, I figured I was OK to look for a soaking spot with a view. What I didn't realize was that, while the environment is as secure as one could ask, it does not promote separate adult and child experiences. There are lounge chairs, of course, but in a noisy indoor water park they quickly become less inviting than just braving the slides with the kids. So I channeled my inner child and embraced the splash-and-scream-together philosophy. To be fair, parents younger than I am clearly embraced it from the get-go.
RELATED: Southern California Water Parks and Water Slides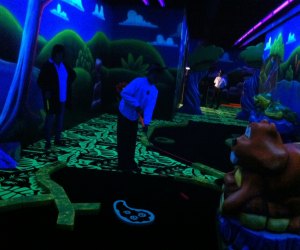 Howl at the Moon Mini Golf
There are several other attractions in the hotel; my own favorite was the glow-in-the-dark Howl at the Moon Mini Golf. The kids loved the Howly Wood XD Theater that involved virtually hurtling through space shooting at monsters (go figure). There is also an arcade open 24 hours and a faux spa where little girls are crowned with tiaras and can get a (fairly pricey and very pink) mani/pedi.
The most unusual dry land entertainment, though, comes in the form of electronic scavenger hunt games. Magic Quest is the Lodge's proprietary interactive game and is played with special wands that connect with game stations throughout the hotel. The game offers three different adventures, each purchased separately and programmed into customizable wands that kids take home and reuse on future visits (wands run about $20, though the array of wand bling on offer can push the price higher). Each game requires from four to eight hours to complete, and kids can fill their down time collecting points, even just walking down a corridor. The game particularly targets older kids, who hop on and off the elevators in search of things that light up and make farting noises right up until 11pm (when the game turns off for the night, to give everyone a rest). A family with two or more older kids may want to team them up on one wand, or get them two different games, since lining up behind each other to listen to the exact same messages gets old fast. My son took a little time to warm to Magic Quest, but once he got the hang of it (with help from costumed guides strolling around to answer game questions) he was hooked.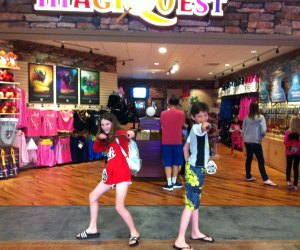 Magic Quests wands are loaded and ready to go.
Younger kids may prefer a shorter, cuddlier version of the scavenger hunt: a build-a-bear type activity called Clubhouse Crew. Kids get to choose a character animal that they stuff and dress (and these are big, soft, adorable bears, raccoons, squirrels, and wolves), and a device is placed inside the pet that allows it to interact with scavenger hunt stations. The Clubhouse Crew stations are fewer and bigger than the Magic Quest, and visiting them all can be done in less than an hour; the idea seems to be that a family with an older kid playing Magic Quest can sign a littler kid up for Clubhouse Crew, which is bound to make a happier camper since it involves stuffing a bear.
All of this said, I confess I am curious to see whether or not SoCal embraces the Great Wolf Lodge experience. The waterpark hotel chain got its start in the Wisconsin Dells and has become a popular destination attraction in places like the Poconos, the Great Lakes, and the Berkshires, where its distinct mid-west flavor makes it a big success. This time the resort has set up in the backyard of Disneyland, Knott's Berry Farm, and Soak City. Shuttles to Disneyland are offered, but this would be an expensive add-on to a Disney vacation. (Rooms at Great Wolf start at $400 for a Saturday night stay, and that's before spending on any of the extra entertainment.) For the price, Great Wolf needs to earn a reputation as a destination in its own right among the Southern California families who live within driving distance.
Which brings us to the big question: Is it worth it? For a small family, Great Wolf Lodge is a pricey expedition, and Mom and/or Dad had better love water slides. On the other hand, this could be a great option for a large family gathering, as all guest rooms can accommodate up to six people (with a fold-out sofa). The $400 price tag on the room is therefore good for six two-day tickets to the water park. Family living nearby can visit hotel guests on a day pass, up to as many as are staying in the room. If you exert discipline and resist the pricey add-on entertainment, this can actually be quite a good deal. And rooms have fridges and microwaves, so meals don't all need to be eaten out.
RELATED: Great Wolf Lodge Money (and Sanity) Saving Tips
Speaking of food, we all know to expect to pay more for food at a theme park, but the food at Great Wolf Lodge's restaurants is, frankly, excellent. I was not expecting the wonderful variety of flavors, the organic ingredients, and the healthy options that we encountered. Chefs are able to accommodate all food allergies, too. It would be a shame to stay here without trying at least one of the on-site restaurants, but it is possible to balance that with breakfasts in the room and/or a spin by fast food in the adjacent strip malls. In and out privileges on the parking lot are included.
So, with planning and care, a water-loving pack of wolves could have a grand time at this lodge. A few things to remember to bring from home can help keep down the price on incidentals: you will want water shoes for the kids, as there are all sorts of ways to stub toes and scrape feet (as we discovered). Extra bathing suits make life much pleasanter; goggles are worth having along, and some kind of wrap or cover makes for fewer runs back to the room between dowsings. All of these items, of course, are also for sale in the gift shop.
If you do decide to take the plunge, let us know what you think; we're all ears.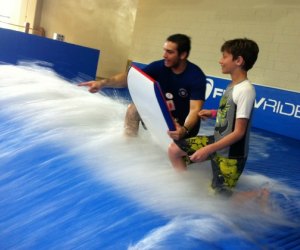 Places featured in this article: