Huntington Beach Weekend Getaway: So Far and Yet So Close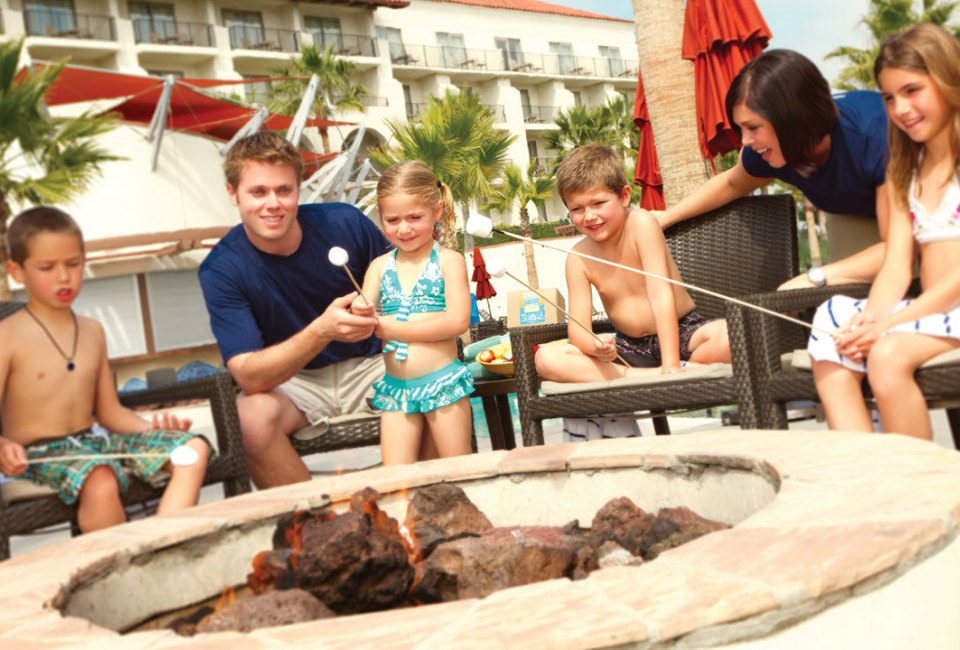 9/16/11
- By
Roberta B
The Los Angeles Grail, the Great Quest of the Southland, may well be the search for the ultimate family weekend getaway. The vacation that gives the most pleasure for the least effort. The highest decadence to travel time ratio. And I am here to share the news that Nirvana is only an hour away down an Orange County stretch of the 405 to Huntington Beach.
We packed two adults and two children into the car on Saturday morning with a minimum of effort and an easy early departure. We put the kids in their swim suits before leaving, since our plan included arriving well before check-in time at the Hyatt Huntington Beach. By 11am we had arrived at our weekend getaway, with, honestly, only time for a single round of "Are we there yet?" - which we were able to answer with, "Yes, that's the hotel right there!"
Although we had planned to stow our bags with the Concierge until check-in time, we were pleasantly surprised to discover that our (ultra-spacious, beautiful, well-equipped) room was ready, so we moved in and headed down to the pool. Or, should I say, one of the pools. We walked past the quiet adult pools, and the appealing but they'll-have-to-wait-for-another-year secluded hot tubs; we were headed for the Hyatt's fabulous family pool and slide area. There, grabbing hold of a leg to smear sunscreen on before it slipped through our fingers, we settled into some lounge chairs and watched our kids alternate between two formidable water slides (plus one "baby" slide as our six- and seven-year-olds dubbed it). There were periodic pounces into the Kid Jacuzzi to warm up from the chilly 80 degree salt water pools (do west coast kids even know what cold is??) and rounds of playing with the inflatables in the bigger pool, but truly, most kids there were happy to slide and slide and slide some more. A few grown-ups even found they had to try it - not that we're naming names...
Lunch by the pool is just what one would want it to be - hot dogs, grilled cheese, burgers, and salads all for about the price of lunch at Norm's, but carried to a lounge chair by the jacuzzi. Cocktail hour runs all day (we're on vacation, right?), and the bartender happily makes all sorts of fun and healthy smoothies for kids to sip in the hot tub. During summer months, there are even activities by the pool - crafts, hair-braiding, tattoos - and supervised kid excursions down to the beach for kite flying and sand castle building. Any of these could give a vacationing parent a chance to slip away to the spa for a massage or a sauna.
A late afternoon trip back to the room offered a chance to enjoy the view of the beach from our balcony, grab a snack from the Regency Club (which we found to be such a worthwhile bit of added luxury), and then go for a walk to enjoy the fountains and assess our dinner options. We also picked up a s'mores kit from the Surf City Grocers, planning ahead for an evening by one of the resort's several fire pits, and checked out our options for a bike ride or paddle board excursion the next day with Toes on the Nose.
The Regency Club turned out to have a wonderful cocktails and appetizers hour before dinner; our kids got a charge out of dressing up for Shirley Temples, while we got a charge out of showering and changing our clothes to enjoy food and drinks prepared by someone else. Dinner at Pete's Sunset Grille was perfect for young kids, at prices more comparable to Cheesecake Factory than the luxurious resort we were in fact enjoying, and toasting marshmallows by the pool afterward was an idyllic end to the day. The six-year-old in our party leaned back, watching the twinkling lights of a distant plane passing overhead, and said, "They should have come here; it's way better."
Waking up from a night on an unbelievably comfortable bed is definitely the way to start a good Sunday. We enjoyed breakfast in the Regency Club, just a few steps from our room, and another day by the pool. We could have walked across to the beach, where we knew the hotel's beach concierge would take excellent care of us, but truth be told a covered cabana by the slide pools was all we wanted. Friendly lifeguards oversaw our kids' glee; friendly cabana staff brought us cold water and towels, and friendly bar staff brought us food and libation. Why would anyone ever leave?
Of course, in the end we did have to leave because Monday loomed. So as 5pm approached, we packed up our sunscreen, wrapped our kids in towels, and drove the hour home to be back in time for dinner and an early bedtime. Vacation Quest achieved.
Hyatt Regency Huntington Beach rooms: $200 and up
Family Pool Day Use (for non-guests, when available) $25 per person
Places featured in this article:
---
Hyatt Regency Huntington Beach Resort and Spa
Sign up for the Mommy Poppins Newsletter today!