Weekend Getaway: Make a Splash at Great Wolf Lodge, Poconos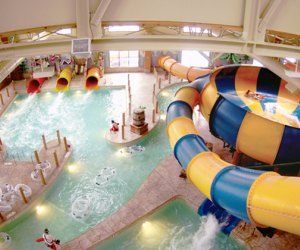 6/22/19
- By
Michelle Vames
At Great Wolf Lodge in the Poconos, families can enjoy an indoor water park that is a balmy 84 degrees every day, even in the middle of winter. The resort appeals to families with toddlers to teens for a quick weekend getaway or school vacation trip. Who needs to splurge on a flight to the Caribbean, eh?
The Poconos family resort's location just completed its first phase of a $15 million renovation that included updating its rooms and adding in new kid-friendly programming. We returned for a visit to get the scoop on all the new attractions, including a Summer Camp-In event offered through Labor Day. Great Wolf Lodge didn't forget about mom and dad when adding new upgrades. The Pennsylvania hotel and resort now offers a "Wine Down" service for parents after a long day at the indoor water park.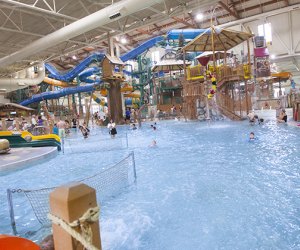 There's plenty of room for little kids to splash around in the Cub Paw Pool.
Great Wolf's Indoor Water Park
The huge—and simply fantastic—indoor water park caters to all ages. We visited it three times during our short stay. There are water slides that range from 1-foot-long slides for toddlers to the Double-Barrel Drop for those 48 inches and taller. You can ride down the lazy river on an inner tube or sit in the hot tub (there is a family-friendly one and an adult-only one). And there's an activity pool with floating islands that you can play on or even hop across from one side of the pool to the other (with the help of a rope system).
My 5-year-old stuck to the four slides in the Whooping Hollow area, which is geared toward the "under 52 inches" set, and he had a blast (I did, too). The kiddie area has knee-deep water and a huge tree house play-structure with spouting water, dumping buckets, and basketball nets. My son loved riding the gentle waves in the wave pool and splashing in the shallow water on the pool's edge. We did not hit the big slides during this trip, but I think we'll be ready to give them a try next time. Even so, there was more than enough to keep us happily entertained.
Top Activities at Great Wolf Lodge
There is a lot to do at Great Wolf Lodge besides the water park. As part of the special Summer Camp-In programming, parents can reminisce about their childhood summer camp experiences with activities like pool parties and s'mores by the fire pit. There are old school games, from bingo to hula-hooping, as well as face-painting and arts and crafts. The Summer Camp-In activities are included with summer bookings through Labor Day. Off-season activities include nightly storytimes, dance parties, and plenty of indoor activities.
Other indoor attractions include an arcade with games including skee-ball and air hockey, as well as small rides for tots. There's a kid-friendly bowling alley with half-length lanes and five-pound balls ($6 per 10 frame), and a nine-hole, glow-in-the-dark miniature golf course featuring black light–illuminated nature scenes and forest creatures ($7 per person, per game). I worried that my 2-year-old might find it frightening, but both he and his big brother were enchanted. Kids can also sift through a sluice rock bag at Oliver's Mining Co. to uncover gemstones and minerals ($12.99 per bag). This comes with a card to identify the types of treasure found. For $10.99 more, children can try to conquer the Moonstone Mine, a maze of mirrors.
RELATED: Best Indoor Water Parks Across the Country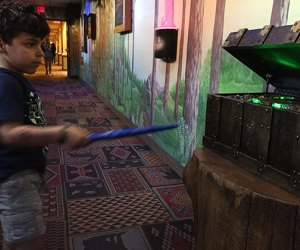 Use your magic wand to unlock clues in MagiQuest. Photo by the author.
Aside from the water park, my 5-year-old's favorite part of our Great Wolf stay was MagiQuest, which is a virtual adventure game that involves using a magic wand to unlock various clues around the resort. All through the halls, kids dashed around, waving their wands at treasure boxes, glowing crystals, talking pictures, and screens featuring fairies, bears, and dragons. Like the arcade, bowling, and mini-golf, MagiQuest has an additional fee—it's $15.99–$23.99 for a wand (more if you want to buy a special topper), and it's $14.99 to play.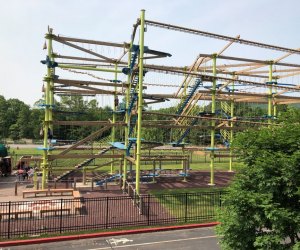 Be sure to bring closed toe and heel shoes so kids can climb at Howlers Peak Ropes Course. Photo by Kristen Sullivan
Adventurous kids who want a non-pool thrill can suit up for the aerial adventure known as Howlers Peak Ropes Course. Children must be 48 inches or taller to participate or with a parent or guardian. Be sure to pack sneakers because flip flops are a no-no! This attraction costs $24.99 for unlimited climbing throughout your stay. Also, as part of the massive renovation, Great Wolf Lodge will be converting its previous Creation Station into a Build-A-Bear Workshop and its former kids' spa into a Birthday Party Room.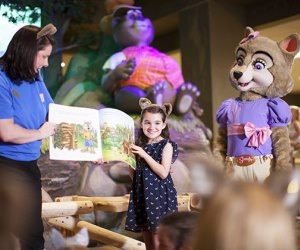 Put on your jammies and head down to the lobby for a nightly storytime with Wiley Wolf and friends.
Some of the activities have an extra fee, but Great Wolf Lodge bundles its most popular attractions by offering special passes to save families money. These are known as Pup Pass, Paw Pass, and Wolf Pass. Each one provides children with a variety of favorite activities such as a serving of candy at the Great Wolf Candy Company, a game card for the Northern Lights Arcade, and a game of MagicQuest. Pup Passes are for younger guests while Paw Passes are for kids 6 and up.
If all of this nonstop fun sounds tiring, it is—for kids and adults. Moms and dads who find themselves wanting a kid-free break are out of luck for now; but Great Wolf Poconos management told us it plans to offer babysitting in the future. For now, the resort offers a unique Wine Down service. Parents create their own pairing of wine and sweet or savory selections and then choose a delivery time for the wine and snacks to be brought to the suite. Options include "Rekindle the Bonfire," "It's Been a Fun-Filled Day, Time for a Cabernet", and "Kids Snoring, More Pinot Noir-ing" and are $45 a bottle.
RELATED: Best Resorts in the Poconos for Families
Great Wolf Lodge Suites and Rooms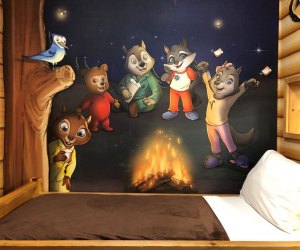 Great Wolf includes standard and themed suites, like the Wolf Den and KidCabin. Photo by Kristen Sullivan
We stayed in a standard family suite, which has two queen beds and a semi-private living area with a pull-out sofa. It's the most basic room offering, but it was spacious and clean, and charmingly decorated. It even has a little balcony. The bathroom is small, but who really wants to take a long bath after a day at the water park? (My kid, it turns out.) Other options include themed suites like the Wolf Den, which has an enclosed kids' sleeping area with bunk beds and a TV; and the apartment-like premium suites, with features like a breakfast bar and a separate master bedroom. With the recent renovations, guests can still expect woodsy decor with an updated feel. The lobby is getting a makeover, too.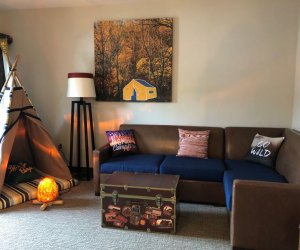 Premium suites can accommodate eight people and feature camping accents this summer. Photo by Kristen Sullivan
Restaurants and Drinks at Great Wolf
The food at Great Wolf Lodge was fantastic. The Loose Moose Family Kitchen offers both breakfast and dinner buffets and is reasonably priced for the variety. The buffet includes waffles, fruit, breakfast pizza, bacon, sausage, pancakes, juices, and coffee. For a quicker breakfast, families can grab coffee and a donut at the on-site Dunkin' Donuts which has replaced Starbucks. The dinner selection at The Loose Moose Family Kitchen included a salad bar, pasta station, and lots of veggies (which the kids passed up in favor of plain spaghetti, naturally), along with fish and a variety of meats. There was plenty of kid-friendly fare like chicken nuggets and pizza, too.
Cheaper eats include a pizza place appropriately named Hungry As a Wolf, and a fast food stand called Buckets Incredible Craveables in the water park. Both have options in the $4–$10 per item range. To satisfy your sweet tooth, there is the Great Wolf Candy Company shop, Dippin' Dots stands, and Ben & Jerry's. Families can also bring their own food and drinks, as the hotel rooms have a small fridge and microwave. A bonus is that alcoholic drinks are sold on the premises (there's even a bar in the water park). Grizzly Jack's Bar and Grill can be found at the outdoor pool and serves tacos, burgers, crab cakes, and cocktails. Who could ask for more?
Cleanliness & Safety
I was highly impressed by the safety at Great Wolf Lodge. There are life vests available in every imaginable size, and nearly every young child was wearing one. Each water area had at least two lifeguards who were really on their toes, watching everyone in the water. The water slides also were well supervised. As for cleanliness, considering that this is a water park, it was pretty good. The bathrooms in the water park were not perfect, but every time we went in there was someone cleaning. Despite the fact that food is allowed in the water park, the floors and water seemed pretty clean (and of course well chlorinated).
Getting There & Cost
There are many locations of the resort across the country. This Great Wolf Lodge is located in Pocono Mountains, Pennsylvania, about an hour and 15 minutes from Manhattan. The hotel and water park are fairly pricey, in the area of $500 a night during the weekend for a family of four during peak season, with cheaper deals during the week or off-season like summer and early fall. You cannot use the water park unless you are an overnight guest, so no day passes here. It may seem like a lot of money for one night, but you do get two days at the water park. You can arrive as early as 1pm the day you check in and stay in the water park until it closes at 8pm on the day you check out. Two days of fantastic water fun and perfect weather for the cost of one night's stay makes it all worthwhile!
Photos courtesy of the resort except where noted.
Kristen Sullivan contributed additional reporting.