The Very Hungry Caterpillar Show
DR2 Theatre

NYC Easter Brunch Cruise 2023
Event Cruises NYC

Easter Fun Cruise with Egg Hunt 2023
Event Cruises NYC
Sign up for our free newsletters.
Largest Indoor Water Park in the US Opens at Kalahari Poconos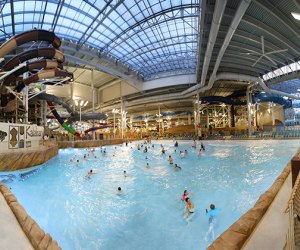 3/23/17
- By
Rose Gordon Sala
It's official. Kalahari Resorts and Conventions in the Pocono Mountains is now home to the country's largest indoor water park.
In early March the African-themed resort completed a more-than-100,000-square-foot addition to its existing indoor water park, bringing the total to 220,000 square feet, more than double its largest competitor in the Poconos vacation region, and besting the record-holder, its own Kalahari resort in Sandusky, Ohio.
The news arrives just before school kids head off for spring break, making it likely welcome news for families looking for a quick water-themed getaway, or even a day trip as Kalahari allows day-pass entry to its water park.
A large part of the expansion included construction of a more than 11,000-square-foot wave pool; there were only activity pools and an outdoor pool prior. No doubt the wave pool will become the new family favorite hangout for those with kids of multiple age groups and abilities.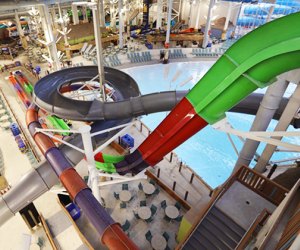 Zig-zag your way to the bottom via the Kenya Korkscrew water slide.
Eight(!) new slides were added, including several thrill rides such as the Screaming Hyena, which boasts a "near-vertical plunge at up to 25 mph," a Cheetah Race Mat Slide to race your friends, the Sahara Sidewinder, a 250-foot "looping" water slide, the zig-zagging Kenya's Korkscrew, and more.
RELATED: 23 Best All-Inclusive Family Resorts in US and Caribbean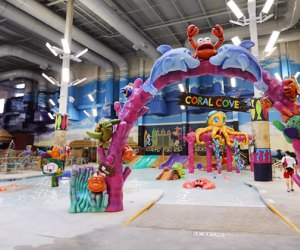 The Coral Cove play area is designed with the youngest guests in mind.
Little ones were not forgotten either. Coral Cove, a brightly hued sea animal play area was designed for the youngest guests and nonswimmers, even infants. It has several very short slides, manipulatives, fountains, barely ankle-deep water, and more fun to get them used to water parks. Coral Cove joins the tot hot spot of Tiko's Watering Hole, which features the best of the park in miniature (shorter slides, shorter basketball hoops, smaller inner tubes).
The lazy river also got an expansion, letting you coast almost twice as long through the park, and there are new cabanas and even an additional swim-up bar for grown-ups.
These additions add to existing favorites such as the Splashdown Safari, Wild Wildebeest raft ride, Flow Rider, and many more attractions. The park boasts a retractable roof for use in warmer months, but is otherwise kept at a balmy temp for year-round fun.
RELATED: Amazing March Deals on Family Travel: Water Parks, Caribbean, Spring Skiing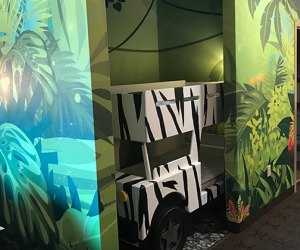 Kalahari also has expanded the number of its rooms, including new bunk bed options. Photo by Rose Gordon Sala.
The resort also expanded its "dry attractions," doubling the number of guest rooms to almost 1,000, including larger luxury rooms with three-bedroom family suites and Big Five Suites that offer five bedrooms, large balconies, fireplaces, and more. It also added new restaurants and expanded the kids' gaming area with another 10,000 square feet and a virtual reality room.
Look out for more expansion in the coming season, including snow tubing and an on-trend salt cave at the spa.
Kalahari Resorts is located at 250 Kalahari Boulevard, Pocono Manor, Pennsylvania. It's just over an hour from New York City, and about a two-hour drive from Philadelphia. Reservations are recommended for day passes as they can sell out by the time you arrive.
Top photo: Kalahari's expansion included construction of its wave pool, sure to be popular. Unless noted, photos courtesy of Kalahari.