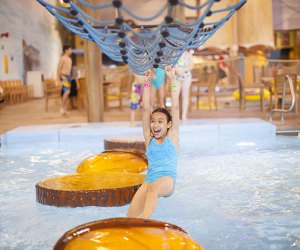 Indoor Water Parks and Pools for Philly Area Families
Winter certainly has its charms: sledding, building snowmen, ice skating, and hot cocoa are wonderful, but with a month or more of winter under your belt, you and your family might be looking to warm up in a more tropical environment. While it might be nice to board a plane to a sunny tropical island it's not always possible or cost-effective. Luckily, you can enjoy some summertime fun even in the coldest months at a multitude of indoor water parks and pools not too far from Philly. Go dig out your bathing suit from behind your coats and mittens, and get ready to take the plunge at one of these exciting parks!
If you're looking for cold weather fun, check out our Winter Activities Guide or start planning some faraway quality time with our Family Travel Guide.
Indoor Water Parks for Families in New Jersey
Sahara Sam's Oasis Indoor & Outdoor Water Park — West Berlin
Clocking in at more than 58,000 square feet, Sahara Sam's holds the title of largest indoor water park in all of New Jersey. While the typical attractions are here, such as a lazy river and a family raft ride, there also are unique offerings such as The Flow Rider, an indoor surfing simulator, and new attractions such as Tut's Twister and Cleopatra's Cove. Kids of all ages will love racing on the body slides, mastering the challenging obstacle courses of Crocodile Flats, and even slam-dunking basketballs in the pool. There are lots of options just for little ones, too, including the Lizard Lagoon, which is perfect for toddlers.

Hit the Biosphere Pool Complex at Crystal Springs for a taste of the tropics.
Biosphere Pool Complex at Crystal Springs Resort – Hamburg
This is no ordinary hotel pool. Billed as the resort's "architectural and amenity focal point," the Biosphere pool complex is a 10,000-square-foot tropical indoor pool complex. The Biosphere has a 140-foot water slide, grotto-like Jacuzzis, and even an underground aquarium. Waterfalls and lush foliage transport families to a true tropical state of mind. If you're missing the sun, this is the place for you: the Biosphere's special roof allows nearly 100% light transmission, so be sure to pack your sunscreen! As if all of that weren't enough, kids can also test their skills on a life-size chess board. Note that the Biosphere pool complex is open only to guests of the hotel.
CoCo Key Water Resort – Mount Laurel
While this water park is located inside a hotel, you don't need to be a guest to purchase day passes. However, we highly recommend buying day passes in advance to ensure admission. CoCo Key boasts a dizzying array of slides, and there is something for every child, from the littlest ones dipping into the baby pools to bigger kids daring to balance on Lilly Pad Adventure. There's also an aquatic jungle gym for kids of all ages, with slides and dumping buckets. And the whole family will love drifting on lazy river. The resort also hosts events such as movie nights.
Indoor Water Parks for Families in Pennsylvania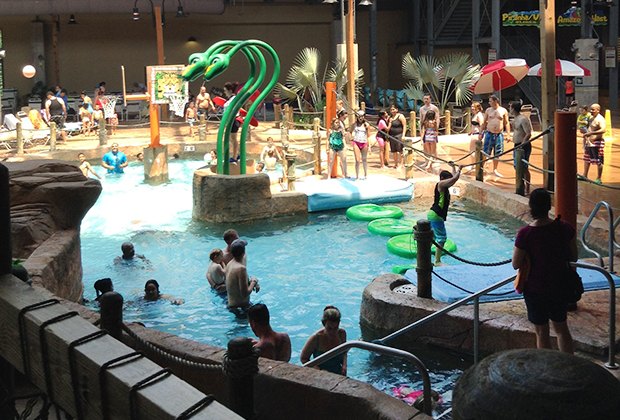 H2ooohh!, known for its high-thrills attractions, also offers some gentler fun.
H20ooohh! Indoor Family Water Park – Lake Harmony
This family water park is particularly great for adventure seekers. Popular attractions include Pennsylvania's first indoor flowrider as well as three four-story slides! Families looking to take it easy also can enjoy the wave pool and younger children can splash and explore in activity pool and lilly pad play areas. The water park is adjacent to Split Rock Resort but day passes are available.
Kalahari Resorts – Pocono Manor
Known as America's largest water park, Kalahari Resorts has 220,000 square feet of fun. It features a sweeping park full of slides, tubing adventures, and even its own indoor surfing and body boarding experience. While thrill seekers can test their bravery on the Anaconda water roller coaster, younger guests have plenty of fantastic options for water play in the Splashdown Safari, complete with zero-depth entry pools, net crawls, and interactive water fun. While Kalahari is a wonderful option for the coldest days, it's also great during the summer months, when guests can take full advantage of Kalahari's retractable roof to bask in the sunshine! Note: Purchasing day passes online is the only way to guarantee admission.
Woodloch Resort – Hawley
Woodloch's Splash Zone is one of the smaller indoor water parks on our list. Open only to those who stay at the all-inclusive resort, the Splash Zone is perfect for families with younger children and is a great complement to the many outdoor winter activities Woodloch offers. It houses a double-corkscrew slide, a water tower that douses revelers with 300 gallons of water every few minutes, and a splash area featuring fountains and sprayers. There's also a kiddie splash pool for the littles to enjoy. It is important to note that children who go on the slide must be able to swim without a floatation device.
Aquatopia at Camelback Resort — Tannersville
Aquatopia is one of the largest we've encountered at more than 125,000 square feet! Daring older kids (and parents) can test their mettle on the aptly named Skydive Plummet, which is one of more than a dozen kinds of slides you can find at the park; others include mat slides, bowl slides, body slides, and even aqua launch capsule slides. For the little ones there are kiddie slides and a zero-depth entry pool at the Penguin Play Bay. Families can also delight in the gigantic wave pool that's so real, you'll feel like you're at the beach. Open only to hotel guests. Camelback, which we've visited several times, offers year-round fun, including skiing and tubing, and an outdoor water park for the summer.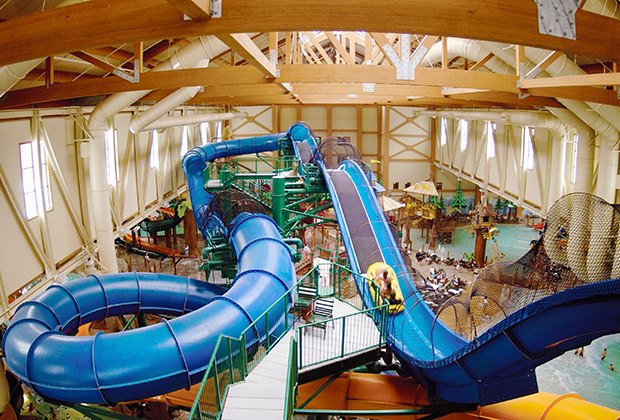 Hydro Plunge at Great Wolf Lodge.
Great Wolf Lodge – Scotron
This family-friendly water park is a favorite among the well-known indoor water parks, and it's not hard to see why. Kids of all ages have seemingly unlimited options, from slide boarding and tube slides to aquatic roller coasters with a 40-foot drop. Families looking to relax can also float along the lazy river or have pint-sized fun on the mini slides and geysers at the Cub Paw Pool. There are also lots of options for kids after they dry off, including story time, puppet shows, character appearances throughout the park, a scaled-down bowling alley, and an arcade. While a stay at the hotel is required for use of this water park, parents will get a lot of bang for their buck here with so much fun to be had from wake-up to bedtime.
Indoor Water Parks for Families in New York
Six Flags Great Escape Lodge – Queensbury
White Water Bay is the indoor water park housed at this mountain lodge. Access is included with a stay at the hotel, but day passes can also be purchased. While families can float leisurely along the lazy river, those looking for a faster pace will take pleasure in the whitewater rafting experience or hang ten while trying their hand at surfing. An aquatic treehouse is a real treat for kids of all sizes, and there are plenty of slides and pools for water play of all kinds. At Tip-A-Kanu Beach, tots can swing in baby swings and wade in shallow pools complete with wildlife-themed fountains.
Cascades at Greek Peak Mountain Resort – Cortland
The first indoor water park in the Finger Lakes Region, Cascades is attached to Hope Lake Lodge, a luxurious "green" hotel with panoramic views of the area. Priding itself on a spacious wave pool and three-story tube slide, Cascades also features Big and Little Bear Falls, where kids of all ages will love splashing and exploring, and the Cove, a 22,000-gallon, 1,000-square-foot area designed for shooting hoops. Meanwhile, parents can enjoy Hot Springs, indoor/outdoor hot tubs fitted with hydrotherapy jets that are perfect for unwinding after a day of fun.
Rocking Horse Ranch – Highland
This humongous indoor water park is part of an all-inclusive Hudson Valley resort that also features a true ranch, complete with horseback riding year-round. Big kids find thrills and chills on Gold Rush, a 250-foot-long Golden Flume Water Slide as well as Dynamite Alley Water Walk Challenge. Preschoolers aren't left out either, with smaller slides, fountains, and aqua stations aplenty. Kids can also enjoy fun beyond the water park with bounce houses, entertainment characters, and an arcade.
Top photo: Big Foot Pass at Great Wolf Lodge. Photos courtesy of the resorts.
This post was originally published in 2017.