The New Great Wolf Lodge Maryland: An In-Depth Review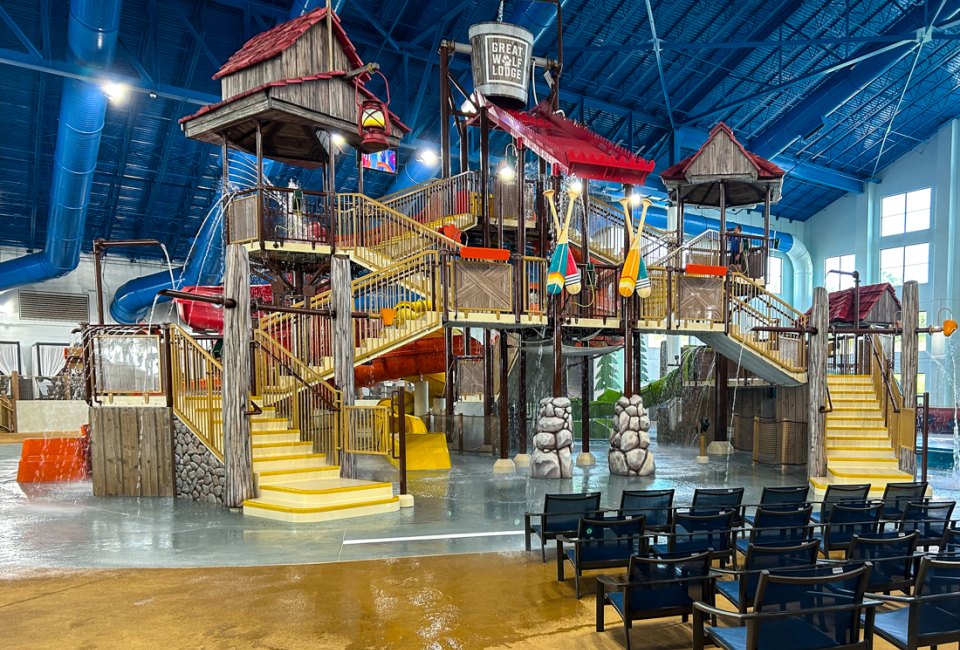 9/1/23
- By
Jennifer Marino Walters
Great Wolf Lodge Maryland, North America's 20th Great Wolf Lodge resort, opened its doors in late June 2023 in Perryville, MD (under an hour's drive from Baltimore). With 700 family-friendly suites, a 126,000-square-foot water park with 22 water slides, and loads of indoor attractions (plus an outdoor pool), the resort is the largest Great Wolf Lodge location to date.
Great Wolf Lodge Maryland hosted my family for a weekend in late August, and we partook in almost all of the resort's activities. My 12-year-old twin boys and 8-year-old daughter all had a fantastic time.
Read on for my honest review of Great Wolf Lodge Maryland, including tips and tricks on making the most of your family's stay. Then check out Mommy Poppins' reviews of Great Wolf Lodge Poconos and SoCal. You'll find even more great places to stay on your next family vacation in our Family-Friendly Resorts & Hotels Guide.

Many special events take place in the gorgeous lobby.
While Great Wolf Lodge Maryland is the largest Great Wolf Lodge location, the attractions and eateries are all on the main level, meaning it can feel extremely crowded during busy times. (Hello, sensory overload.) Still, the resort makes clever use of space to fit everything in. The ropes course, for example, is suspended above the mini golf course. And the fact that everything is so close together means less walking and less-cranky children.
My biggest advice, as with any vacation, is to visit Great Wolf Lodge Maryland during the week if you can. On the August weekend we were there, the lodge was at full capacity. With 700 suites worth of families (plus those who may have purchased day passes), you could imagine how crowded it felt. If you go on a weekend, expect long lines and long waits for food.
Standard suite rates start at around $200 per night, but keep an eye on the deals page, as Great Wolf Lodge often has special promotions. The suite rate includes unlimited use of the indoor water park and outdoor pool for everyone in your room, plus fun daily events like arts and crafts, yoga, character appearances, storytimes, and a really cool immersive nighttime lobby show that's unique to this location.
All of the other indoor attractions cost extra, but you can save money by purchasing a Wolf Pass, a Paw Pass, or a Pup Pass ahead of time. Each of these passes comes with various activities already included, and it ends up being a lot cheaper than paying for the attractions a la carte. You can also pre-purchase dining credits at a discount. And if you join the free Voyagers Club, you'll get bonus deals, points, and members-only experiences.
Great Wolf Lodge Maryland Suites
While Great Wolf Lodge Maryland lists all of its rooms as suites, note that the standard Family Suite (which we stayed in) is more like a large guestroom. It was pretty tight for our family of five, with two queen beds and a full-size pull-out sofa bed. Another thing we didn't love (nor did several other guests I spoke with) was that the sink is outside the bathroom. That means every time one of us got up to use the restroom in the middle of the night, we all woke up to the sound of that person washing their hands.
RELATED: Guide to Visiting Great Wolf Lodge in the Poconos with Kids: Indoor Water Park and More Fun

The Wolf Den Suite includes a comfy, cave-like sleeping nook with bunk beds for kids.
Still, the room was clean and had everything we needed for our two-night stay. The themed suites cost more money, but they definitely make for a more comfortable stay and are more fun for kids. I got to tour a Wolf Den Suite, which sleeps five and has an adorable cave-like space with twin bunk beds. There are also Kid Cabin Suites that sleep seven for larger families, as well as several other themed options.
Great Wolf Lodge Maryland Dining
Great Wolf Lodge Maryland offers a variety of on-site dining options. A public relations representative told me they'd gotten a lot of feedback from families that wanted a sit-down restaurant option, so they delivered one in the casual American eatery Barnwood, which takes reservations and serves breakfast, lunch, and dinner. We enjoyed our steak and seafood dinner there.
There are also two quick-service restaurants—Hungry As A Wolf (pizza, pasta, and salads) and Timbers (burgers and sandwiches)—plus the grab-and go Freshwoods Market for snacks, sandwiches, and other quick bites.
Campfire Kitchen serves up a breakfast buffet that's convenient, but—in my and my husband's opinion—overpriced for what you get. In the evening it becomes the quick-service Cantina, which serves Mexican favorites like burritos and tacos.

Stop in for a cold treat at Wood's End Creamery.
There's also Dunkin'—by far the most popular eatery on site—and Wood's End Creamery, which serves delicious ice cream.
While you're not going to get gourmet meals at Great Wolf Lodge, my family appreciated having so many kid-friendly choices. There are also plenty of family-friendly restaurants nearby if we had chosen to leave the resort, but note that outside food or drinks are not allowed in the water park.
Great Wolf Lodge Maryland Attractions
My kids were each given a Wolf Pass, which granted them a wand and a MagiQuest game, a game of bowling, a $5 arcade game card, a climb on the ropes course, a round of mini golf, an admission to the mirror maze, a scoop of ice cream from Woods End Creamery, and a candy cup from the Great Wolf Lodge Candy Shop. At around $85, that makes the Wolf Pass a great deal for guests interested in trying all of these activities. Here is our experience with these and other attractions:
RELATED: Best Family Resorts with Water Parks: All-Inclusive Family Resorts and More

The indoor water park boasts 22 water slides with various thrill levels.
​1. Water Park
The indoor water park is the main attraction that draws families to Great Wolf Lodge, and this one did not disappoint. It's kept at a comfortable 84 degrees so no one gets cold, and my kids were thrilled to dive right in without having to slather on sunscreen.
Highlights of the water park for my daughter were crossing floating lily pads while holding onto a cargo net and playing in the four-story water tree house with various slides, splashers, and a huge dumping bucket. My boys enjoyed playing water basketball in Chinook Cove. And we all loved the wave pool, the lazy river, and the various body and tube slides.
Speaking of slides, there were body and tube slides for every age and thrill level, from tiny toddler hills to the longest twister slide in Maryland. Our favorites were the Rapid Racer tube slides, where we could race each other in pairs, and the River Canyon Run, where all five of us could sit in one tube and slide down together.
RELATED: 10 Best Indoor Water Parks for Kids in the US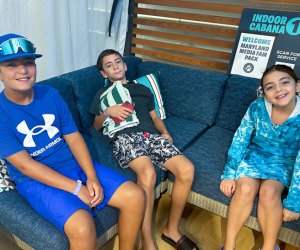 Reserve a private cabana at the water park for a comfy place to rest between splashes.
My family was provided an indoor cabana, which came with chairs and a sofa, a mini fridge with four bottles of water, a TV with cable, a ceiling fan, and food and drink service. This made the stay so much less stressful, as we noticed that most water park chairs were already taken only an hour after the park opened. Call 888-983-9653 to ask about pricing. If you don't get a to a cabana, I recommend getting to the water park as soon as it opens (usually 9am) to scope out a good spot.
As far as safety goes, I felt the water park was very safe. There were plenty of lifeguards in every area, and Coast Guard-approved life jackets are available on a first-come, first-served basis. You can also bring a life jacket from home. Towels are provided.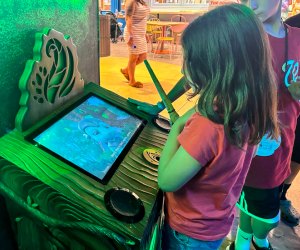 MagiQuest takes players on a fantastical scavenger hunt throughout Great Wolf Lodge Maryland's main level.
2. MagiQuest
This is the other big attraction that Great Wolf Lodge is known for. It's a live-action game that's sort of like a magical scavenger hunt. Purchase a magic wand at the wand shop, then visit various stations throughout the resort to learn which items you'll need to find before you can move to the next station. When you find the items, you can use your wand to make magical things happen, like opening treasure chests, making crystals glow, etc. Your goal is to complete four different quests, which involves things like using your wand to defeat a digital dragon.
My daughter enjoyed MagiQuest much more than my boys did, simply because she had more patience. With the resort at full capacity, the lines were super long at some of the stations. We waited about 40 minutes at one! In the end, we only completed two of the four quests. What's great, though, is that we can bring our wands back on our next visit and pick up the game right where we left off.
The thing I appreciate most about MagiQuest is that you don't have to play it all at once. Also, unlike at other Great Wolf Lodge locations, the MagiQuest stations and items at Great Wolf Lodge Maryland are all on the main floor of the resort. The PR rep said this is based on guest feedback that they didn't enjoy having to travel to different floors to search for items and stations.
3. Bowling
The resort's small bowling alley, Ten Paw Alley, features shorter lanes and smaller balls than a typical bowling alley. That—plus bumpers that easily go up and down—makes it easier for little ones to get in on the fun. My kids enjoyed their game of bowling, but were sad that it was only five frames, so it went really quickly.
RELATED: Amazing Indoor Water Parks Near DC for Families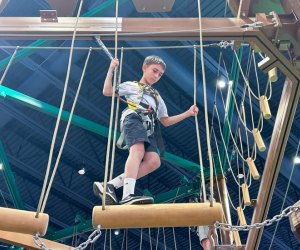 The aerial ropes course includes a variety of obstacles to tackle.
4. Howlers Peak Ropes Course
My boys agreed that the ropes course was their favorite activity outside the water park. It offers plenty of challenges such as rope bridges, wooden balance beams, floating tiles, and more. There's a lower course and an upper one—one of my boys did both—and guests can go at their own pace without feeling rushed. I appreciated that staff members help guests down who don't want to complete the course, as they did for my daughter.
5. Howl in One Mini Golf
Our family enjoyed playing putt-putt on this nine-hole mini golf course with plenty of fun challenges. We weren't given scorecards, which kept things lighthearted rather than competitive. It was also fun to look up and wave to the guests on the ropes course.

Play games to rack up prize tickets at the Northern Lights Arcade.
6. Northern Lights Arcade
This is a small-ish arcade that, like any arcade, is a fast money suck that kids love. There's the usual assortment of games that dispense tickets to turn in for prizes. One thing my kids noted was that there were lots of prizes available for smaller ticket amounts and for very large ticket amounts, but not much for in-between amounts. My kids each had about 1,000 tickets and had trouble finding prizes they wanted.
7. Moonstone Mine Mirror Maze
My kids liked this maze more than I thought they would! They made it out in about 5-10 minutes and immediately asked to go through it again, but at over $10 for a single admission I said no.
8. Oliver's Mining Co. Gemstone Mining
We didn't do this activity as it wasn't included in the Wolf Pass, and I feel its pretty expensive—over $12 for a three-pound single bag and around $35 for a 10-pound family bag. However, I did see a lot of younger kids doing it and enjoying it, so if you have a little gem lover, it may be worth it for you. You'll also get a gemstone identification card and personalized labels.

Create a special new friend that's unique to Great Wolf Lodge at the on-site Build-A-Bear Workshop.
9. Build-A-Bear Workshop
If you're familiar with Build-A-Bear, then you'll know what to expect here. What makes this Build-A-Bear a bit different is that the characters and clothing are unique to Great Wolf Lodge. Plus, you'll get a free pair of wolf ears for your new friend!
Tips for Visiting Great Wolf Lodge Maryland
Download the App
The Great Wolf Lodge Maryland app allows you to easily see operating hours for the attractions as well as special event and character appearance times. But the best part of the app is that you can pre-order food from all of the quick-service restaurants (including Dunkin') Which brings me to my next tip...
Pre-Order Your Food
We learned right away to pre-order food way before we wanted to eat it—our Dunkin' order took 40 minutes on a Saturday morning! So get those orders in at least 20 to 30 minutes in advance to avoid hangry children (and parents).
Prepare for an Elevator Free-For-All
The elevator bay is huge, and the doors open and close so quickly, an elevator may be gone before you even notice its arrival. Plus, with so many people vying for elevator space, it's nearly impossible to have any form of elevator etiquette (meaning first-come isn't always first-served). So unless your family is ready to play the elevator Hunger Games, I'd recommend taking the stairs if you can.
RELATED: Great Wolf Lodge Poconos Gets Major Upgrades

The Legend of Luna evening lobby show is magical—and free during your stay.
Avoid Day Passes
Great Wolf Lodge Maryland offers full-day and half-day (4pm-close) passes that provide access to the water park and the free daily events, with rates fluctuating based on date and demand. But here's the thing—if you're a family of four or more, it's nearly always cheaper to book a one-night stay, even if it's just for a private place to shower and rest.
I looked up a random October Wednesday and found that day passes cost $200 for a family of four ($50 each), while a Junior Suite cost $199.99. That means you'd get a suite for just the additional cost of the resort fee ($39.99 at the time of publication) and tax. On a September Saturday, day passes cost a whopping $680 for a family of four ($170 each) while a Family Suite cost $269.99 plus the resort fee and taxes. You do the math!
Arrive Early on the Day of Check-In... and Stick Around After Check-Out
While room check-in isn't until 4pm, guests have access to the water park as soon as it opens (usually 9am) on the day of check-in and until closing time on the day of check-out. So, a one-night stay can get you two full days of water-park fun. Bring a smaller bag with a change of clothes and use the lockers, showers, and changing rooms in the water park if you go this route.
Two Nights Are Ideal
The public relations reps said two nights is the most common length of stay, and I think that's the perfect amount of time if you want to fit in all of the activities and still have time to rest. Any longer than that and you'll likely run out of steam.
My Overall Thoughts on Great Wolf Lodge Maryland
Overall, my family had a fun and memorable weekend at Great Wolf Lodge Maryland. If we were to return, though, we'd definitely go during the week when it's less crowded.
While there are activities and attractions for everyone from toddlers to teens (and their grown-ups), I'd say the sweet spot is ages 5-10. That's when kids can really soak up the magic of it all and enjoy the widest range of activities and attractions.
If you're ready to take your own wolf pack to Great Wolf Lodge Maryland, be sure to bring a whole lot of energy and patience. Then grab your free pair of wolf ears on arrival and dive feet first into the fun.
All photos by author Jennifer Marino Walters
Places featured in this article:
---
Great Wolf Lodge Baltimore/Perryville
Sign up for the Mommy Poppins Newsletter today!
i