DreamWorks Water Park: Make Waves Year-Round at American Dream Mall
4/14/22
- By
Gina Massaro
Water lovers of all ages can tackle waves, water slides, surfing, and so much more at North America's largest indoor water park, DreamWorks Water Park. The themed water park, with well-known characters from animated favorites like Shrek, Madagascar, Kung Fu Panda, and How to Train Your Dragon, is but one of the cool attractions in the action-packed American Dream Mall in East Rutherford, New Jersey. This is one record-breaking water park you won't want to miss.
Read on for details on our fun visit to DreamWorks Water Park, and find more wet-and-wild fun in our Guide to Theme Parks and Water Parks. We've got more day trip inspiration in our Guide to Family Day Trips and Weekend Getaways.
Subscribe to our newsletters to get stories like this delivered directly to your inbox.
Right as you are about to descend the winding ramp to the entrance of the water park, larger-than-life figures from your favorite DreamWorks properties dangle above your head. This definitely helps set the tone for your adventure. A day at this water park feels like an escape in more ways than one. The warm air and water, coupled with the animated movie theme makes it feel as though this water park belongs at one of the big theme parks in Florida.
To start your day, you'll wait in line to check in and receive your bracelet. Getting to the actual water park can be a bit confusing from here. Walk through the double doors of the lobby and ticketing center to the changing rooms. Then, you must traverse through the bathrooms and locker rooms to get to the actual water park. Opt to rent a locker to store your belongings if needed.
RELATED: Splash and Slide at Indoor Water Parks Near New Jersey for Families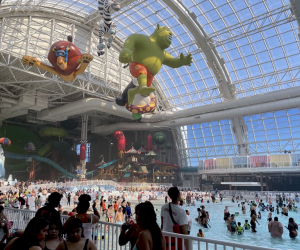 DreamWorks Water Park at American Dream Mall is a larger-than-life oasis of wet-and-wild fun.
Record-Breaking Fun at DreamWorks Water Park
Once you get to the water park, the excitement begins. Your littlest swimmers have great options here that can easily keep them busy for the day. The world's largest indoor wave pool, situated in the middle of the atrium, is perfection. The water is warm, and the ground is pleasantly smooth, meaning no scraped knees or feet. The waves break in multiple spots, so babies and toddlers can safely tackle waves geared toward their height, while older kids can swim out further and get in on some real action. These waves won't disappoint. There is even an option to book a private surfing lesson in the pool with Skudin Surf, but lessons are only offered at certain times, cost extra, and must be booked in advance.
RELATED: Kartrite Resort & Indoor Waterpark: Next-Level Family Fun in New York's Catskills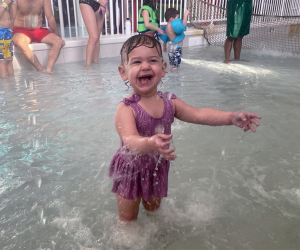 Toddlers have a blast exploring the Kungfu Panda Temple of Awesomeness.
Top DreamWorks Water Park Attractions for Little Kids
The Penguins Frozen Fun Zone has six different water slides geared toward kids who are 36- to 48-inches in height. There are multiple closed tube slides, including a twisting one, as well as open slides. The Kungfu Panda Temple of Awesomeness is a multi-level play structure with dump buckets, geysers, sprayers, and slides. More timid toddlers and preschoolers can explore the wading area and still have plenty of fun, but beware of the giant dumping bucket in the middle. Those who don't mind getting soaked can run and climb the structure to play with its interactive features and slip down one of its many slides.
For another thrill, catch King Julien's Pineapple Jam Dance Party. The audio plays throughout the park, but to get a good view of King Julien, you'll want to be near the pineapple DJ booth, which is right next to the wave pool. Showtimes vary throughout the day.
Big Kid Attractions at American Dream's Indoor Water Park
The Forbidden Waters is a hot tub with cascading waterfalls, nestled into Madagascar and overlooking the lazy river. There is no minimum height to enter with an adult, but you must be 42-inches to enter alone.
There are a whopping 15 water slides. Some of the rides will feel familiar. Mad Flush is the quintessential "toilet bowl" ride. Shrek's Sinkhole Slammer is a multi-person funnel ride. Must-see rides include the Carnivortex, a body slide in which you enter a capsule with a trap door that releases and plummets you below. Thrillagascar is the world's tallest body slide and includes a thrilling 50-foot drop. Toothless' Trickling Torpedo is the world's longest hydromagnetic rocket coaster. Keep your eyes peeled, and you may see some familiar dragons along the way.
RELATED: Legoland New York Brings Mega Theme Park Fun to the Hudson Valley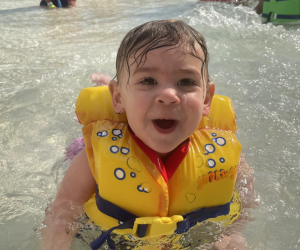 Even toddlers find DreamWorks Water Park a thrilling destination.
Where to Eat at DreamWorks Water Park
There are two options for food at DreamWorks Water Park. One is to eat inside the water park, and the other is to exit the park to eat at one of the restaurants in the American Dream Mall. There is a quick-service counter inside the park with typical theme-park fare, like pizza, salads, wraps, pretzels, and other snacks. But, beware: On peak days, the line can last well over an hour. Outside food is prohibited, though guests may bring one non-glass bottle of water per guest. If you wish to eat in the American Dream Mall, you can re-enter the park after your meal.
Know Before You Go to DreamWorks Water Park
Bring your own towels. If you forget, you'll have to purchase some from the retail store.
Life vests are available to borrow for FREE, but supplies can run low on certain sizes during peak times.
Arrive early if you want to snag a lounge chair or table; if you want your own space to relax, look into renting a private cabana or skybox suite, especially on a peak day.
If possible, avoid going during peak times such as school breaks and holidays. When the park is at full capacity, you'll get less bang for your buck and waste a lot of time in lines, including for food.
Non-peak admission is $69 for guests ages 10 and older, $64 for kids 3-9. Peak admission ranges from $74-$99. Kids under 3 enter for FREE. Twilight admission varies between $52 and $75 and gets you into the park for the last 3 operating hours.
Currently, it's best to pre-purchase your tickets as they often sell out online. Tickets are date specific.
For an added fee, purchase a Turbo Pass, which allows you to skip the line at most attractions.
American Dream Mall is located at 1 American Dream Way. When you reach the parking garage, park in lot B or C for the easiest access to DreamWorks Water Park, located on level 1. Parking costs $4 for the day.
Photos by the author
Places featured in this article:
Click Here to Sign Up!