40 Things to Do with Kids in Portsmouth, NH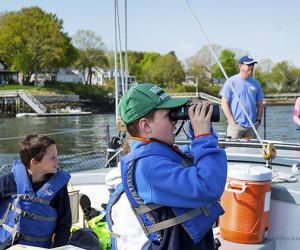 7/31/17
- By
Tara D
Portsmouth, New Hampshire is one of our favorite destinations for a short New England getaway: Each time we visit, we discover something new. During our most recent Portsmouth mini-vacation, we found foodie delights, explored the many wonders of Prescott Park, and had a blast at Water Country.
As a seacoast city just over an hour's drive from Boston, Portsmouth is a hotspot in the summertime, and with good reason: The Prescott Park Arts Festival brings world-class live entertainment to New England at affordable prices all season long. The lush gardens in Prescott Park and across the street at the Strawbery Banke Museum are gorgeous oases in the summer months. Water fun abounds, whether at a water park, on one of Portsmouth's islands, or aboard a river cruise. However, the town shines in the colder months too, especially during the holidays. The annual Vintage Christmas celebration is on our must-do list. Whenever you decide to go, there is an abundance of fun for families. These are our top picks for exploring Portsmouth with kids:

Strawberry Banke Museum. Photo courtesy of the museum
1. Be immersed in four centuries of American history at Strawbery Banke Museum, an outdoor living history museum that's actually a whole neighborhood.
2. Experience the magic of miniature at the (ironically, the world's largest) Portsmouth Fairy House Tour in September.
3. Stroll the waterfront at Prescott Park.
4. Play at South Playground and Leary Field, where Portsmouth celebrates the 4th of July.
5. Watch a movie under the stars, see music greats perform, or enjoy live theater during the Prescott Park Arts Festival, all summer long.
6. Stop in to Lexie's Joint for a specialty burger and fries that are better dressed than a fashion icon.
7. Burn off some of those juicy burger calories with candlepin bowling at Bowl-O-Rama (you might even be able to snag a free game coupon while you're at Lexie's Joint).
8. Find a New Hampshire-made toy at the family-run G. Willikers Toy Shop on Market Street.
9. See some of the biggest names in music or catch a flick in The Music Hall's gorgeous Historic Theater.
10. Get a bite to eat and settle in for an evening of intimate entertainment at the Music Hall Loft.
11. Rediscover the joys of simpler times during Strawbery Banke's annual Candlelight Stroll.
12. Pretend to be the guest of one of Portsmouth's most influential 18th century families as you tour the Warner House.
13. Channel Elvis through The Friendly Toast's ridiculously good "King Cakes" (can also be made gluten free) while you admire the kitschy-chic decor. And when you get back to Boston, reminisce about your trip at the Friendly Toast's Cambridge or Boston locations.
14. Experience the thrill of Water Country's water slides.
15. Lunch at Cafe Espresso, where the service is friendly and the gluten-free options are bountiful (and delicious).
16. Explore salt marshes, tidal pools, rocky cliffs, and meadows or go for a swim in the outdoor pool on Pierce Island (accessible by car and boat).
17. Walk across the pedestrian causeway from Pierce Island to Four Tree Island for picnicking and stellar views of the Portsmouth harbor.
18. Taste some wicked good chowda during the annual Chowder Festival.
19. Browse works by New England's finest artist at the New Hampshire Art Association's Sheafe Warehouse Gallery in Prescott Park (summer months). You might even catch an artist at work on Saturday afternoons.
20. Explore Albacore Park, home to the USS Albacore, a submarine prototype with the motto, "Forerunner of the Future".
21. Go snowshoeing or leaf-peeping and learn tree identification on the grounds of the Urban Forestry Center.
22. Drop in to the Portsmouth Public Library for a children's program or just to relax with a good book.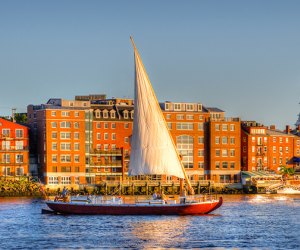 Take a sunset cruise on a gundalow. Photo by David J. Murray, ClearEye Photo
23. Sail the Piscataqua River aboard a traditional gundalow (launches from Prescott Park).
24. Discover a good story in the RiverRun Bookstore.
25. Perambulate along Little Harbor Loop Trail, the 1.5 mile waterside path that connects the Wentworth-Coolidge Mansion Historic Site, Creek Farm and Portsmouth Conservation Land.
26. Cap off a perfect day in town with a scoop of fresh, creamy, award-winning Annabelle's Ice Cream.
27. Ask for a seat on the patio and take in the view while you enjoy your dinner at the River House Restaurant.
28. Have yourself a vintage little Christmas.
29. Visit the Portsmouth outpost of the Flatbread Company for handcrafted pizzas that the whole family will love.
30. Sometimes little legs need a break from walking, so hop on the Portsmouth Trolley to see the sights without getting too worn out.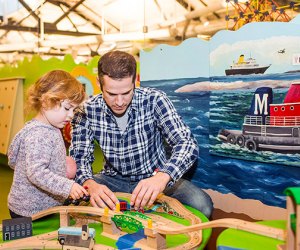 There's lots of hands-on fun at the Children's Museum of New Hampshire. Photo courtesy of the museum
31. Only 12 miles from Portsmouth you'll find The Children's Museum of New Hampshire. The short drive is well worth it!
32. Check out the Seacoast Science Center in Rye, only a 10-minute drive from Portsmouth, to explore Touch Tanks and wildlife from the Gulf of Maine.
33. While you're at the Seacoast Science Center, visit Odiorne Point State Park to hike the trails and catch beautiful views of the rocky shore.
34. Go back in time at the American Independence Museum in nearby Exeter, where children can try on Colonial clothing, play Colonial-era games, and explore how children lived in our country's earliest days.
35. Stop into Popovers on the Square for a delicious breakfast or lunch that will please any palate. There's an extensive kids' menu as well as many options that adults will love.
36. Hop aboard the Isles of Shoals Steamboat Company for a trip out to Star Island, a Portsmouth Harbor Tour, or a Tour of the Isles of Shoals.
37. Take a guided or D.I.Y. tour of the Portsmouth Black Heritage Trail to explore an often overlooked aspect of the region's history.
38. Visit the Portsmouth Harbor Lighthouse in New Castle to climb the 44 stairs and seven ladder rungs to the top for stunning views.
39. If you find yourself in Portsmouth in the winter, don't miss a twirl around the Puddle Duck Pond outdoor ice rink.
40. You won't hear any complaints when you take the family to eat at Mr. Mac's Macaroni and Cheese. It's a true crowd-pleaser.
Top: Gundalow adventure photo is by Michael Sterling.
---