Where to Take Kids for Breakfast in Cambridge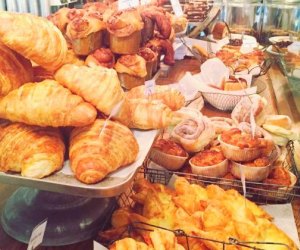 Dining out in the evening with kids is not always relaxing or fun, especially with picky eaters and early bedtimes to consider. But breakfast is a whole other ball game. Everyone's rested and ready for the day, making it the perfect time to get out of the house for a classic, casual meal. Here are our picks for best kid-friendly breakfast spots in Cambridge.
Bagelsaurus
Boston isn't exactly known for having amazing bagels, but that changed when Bagelsaurus entered the scene a few years ago. This Porter Square bagel shop does a bustling business and its casual vibe makes it great for kids. Try one of the sandwiches or mix and match your bagel, cream cheese and toppings to for a custom creation. Get there early to beat the lines.
Flour Bakery
Head to the Central Square location of Flour Bakery for a decadently delicious breakfast. The Sticky Sticky Buns are legendary in Boston and are sure to make any day feel a little extra special. Parents will love Flour's breakfast sandwich, while kids can chow down on the PB&J at this casual, cozy breakfast spot.
The Friendly Toast
The Friendly Toast might be one of the most fun places in all of Boston to have breakfast, making it the perfect place to take kids. The Kendall Square restaurant is a feast for the eyes—it's decked out top to bottom with funky finds like vintage ads and toys. The Friendly Toast is a feast for your belly as well, with hearty breakfast plates of pancakes and scrambles served all day. Get there early to beat the crowd. Bonus: If you find yourself across the river, The Friendly Toast recently opened another Boston location in the Back Bay.
Mass Ave Diner
Located between Central and Harvard Squares, the Mass Ave Diner is a can't-miss Cambridge breakfast spot. On the menu, you'll find all the breakfast classics, from hearty omelets to pancakes and French toast. Mass Ave Diner opens at 6:30am every day, so it's ready to serve you breakfast no matter how early you're up.
S&S Restaurant and Deli
At nearly 100 years old, the S&S Restaurant and Deli has a great track record of serving delicious breakfasts in Inman Square. There aren't many classic delis left, but S&S has kept the tradition going, serving blintzes, potato pancakes and matzo ball soup alongside French toast, omelets and pancakes. The best part? Breakfast is served all day long.
Tatte Bakery and Cafe
With three locations in Cambridge, you'll find Tatte Bakery and Cafe is never far away. That's a good thing because these bright, airy restaurants serve pastries that rival the best ones in Europe. Pair your sweet treat with one of the egg dishes or house made muesli for a delicious, casual meal that'll make you feel miles away from Boston. Many locations have outdoor seating, which is perfect for warm-weather dining.
Veggie Galaxy
Veggie Galaxy is the place to go in Cambridge for a classic diner breakfast if anyone in your family has dietary restrictions. The Central Square restaurant goes out of its way to accommodate vegan, vegetarian and gluten-free diners, but it also has all the traditional breakfasts you crave. Don't miss Veggie Galaxy's towering cakes, which make a great take-home dessert.
Zoe's
Take a trip back in time at this quintessential 1950s diner, which can be found just outside of Harvard Square on Mass Ave. Zoe's serves all the classic breakfast dishes you love alongside Greek-inspired meals and old-school offerings like blintzes. Kids will love playing retro tunes on the jukebox while you wait for your meal.
---
Top image of the pastry case at Tatte Bakery and Cafe.