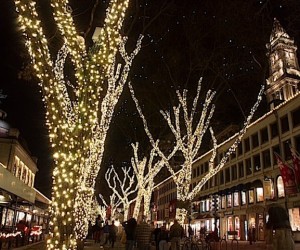 12 Things to Do Christmas Day in Boston with Kids
You may find yourself looking for something to do with the family on Christmas Day. Really, who can sit around the house with an energetic kid — or a whole pack of kinder kin — all day? Most places in and around Boston are closed, but we've come up with a few things you can do with kids on December 25, whether you want to be warm and cozy indoors or get outdoors for some fresh air. Read on for a dozen multigenerational family fun ideas.
Editor's note: We are in the process of updating these events for 2018. Check back soon for new dates!
1. Build something bricktacular: LEGOLAND Discovery Center Boston is open for business – Lord Business, that is. Celebrate the season with LEGO Holiday Bricktacular festivities.
2. Go for a hike: Take your little ones to The Cove or on another favorite wintertime walk for a Christmas afternoon of nature and adventure. FREE
3. Volunteer with Little Brothers Friends of the Elderly: Bring companionship, nutritious meals and flowers to elders throughout Boston as a Holiday Celebrations Volunteer. Sign up in advance. FREE
4. Imagine the kids all tuckered out: One of the things we love about Boston Besties Winner, Imagine: A Center for Community & the Arts, is that the Kids' Playspace is open 365 days a year.
5. Celebrate Hanukkah: Crafts, treats, and a live DJ spinning tunes are all part of the Great Chanukah Gelt Drop and Menorah Lighting in Brookline starting at 3:30pm. FREE
6. See the lights and sights: When the sun goes down, go for a stroll or a drive to see holiday lights in Somerville, Attleboro, the South Shore, or on the Greenway. FREE
7. Enjoy a free show: Featuring music performed by the Boston Pops, Blink! is a light and sound extravaganza that makes Faneuil Hall a magical place during the holidays. FREE
8. See a movie: Most theaters are open Christmas Day. Moana is a good bet for most ages, and there's the new Star Wars story, Rogue One, for the older crew.
9. Watch the airplanes: We know from the experience of flying on Christmas Day that 1) the airlines don't close for the holiday and 2) we'd rather be at home, watching the airplanes take off from the North Shore. FREE
10. Play in the park. Go for a stroll in the Public Garden, stopping to say "Merry Christmas" to Mrs. Mallard and her ducklings. Then head over to Boston Common to greet the frogs inside Tadpole Playground while the kids get their sillies out on the play structure. Larz Anderson Park is awesome for kids in winter, too. FREE
11. Sing your heart out: Sing-a-long Sound of Music begins with a live show in which the host leads the audience through a vocal warm-up, fancy dress competition, and awarding of prizes. Then everyone sits back to enjoy the original 1965 film.
12. Give the stove a holiday: Tired of cooking? We hear you. Many restaurants are open, like our Boston Besties Winner Not Your Average Joe's.
---
Photo: Blink! at Faneuil Hall Marketplace
Post originally published December 2012; updated December 2013, 2014, 2015, 2016