20 Things to Do Christmas Day in Boston with Kids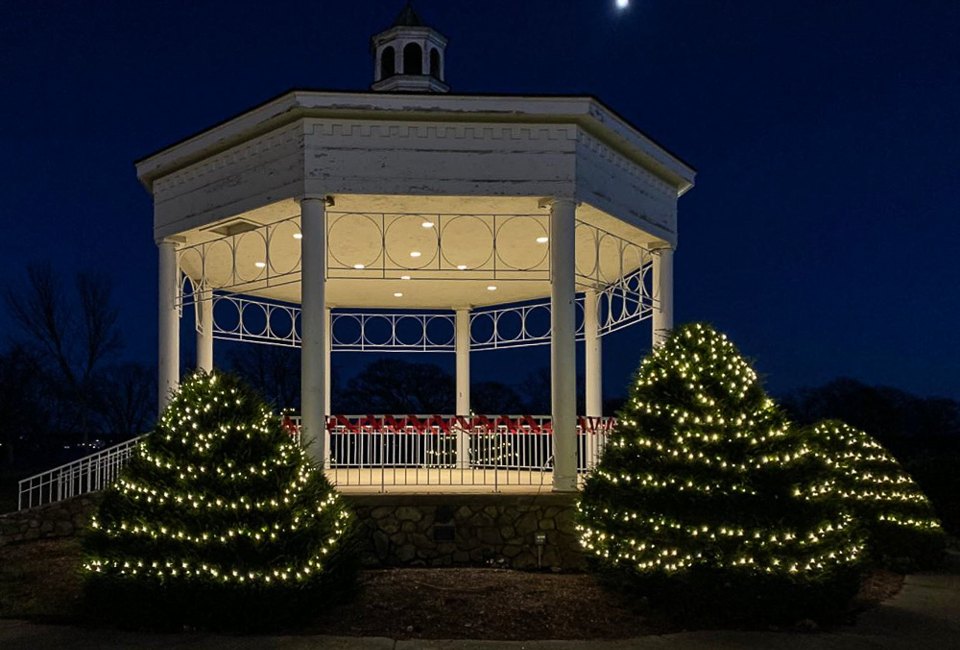 12/19/21
- By
Tara D
Most places are closed on Christmas, but we've come up with things to do with kids and found out what's open on Christmas Eve and Christmas Day in Boston. These ideas can add some multigenerational family fun to Christmas, whether you want to be warm and cozy indoors or get outdoors for some fresh air. Finding things to do when the world has slowed down can be a really special activity, whether your staying home with immediate family, or gathering with siblings, cousins, grandparents, and other loved ones.
For more ideas, explore our Holiday Fun Guide.
Things To Do with Kids on Christmas in Boston
1. Go snow tubing
You will have to cross state lines on Christmas Day, but you'll get bigger hills, like Loon Mountain, New Hampshire, for Snow Tubing.
2. Go for a hike
Take your little ones to The Cove or on another favorite wintertime walk for a Christmas afternoon of nature and adventure. FREE

Old and young learn from and share with each other during the holidays and all year long. Photo courtesy of Little Brothers Friends of the Elderly, Boston
3. Volunteer with Little Brothers Friends of the Elderly
Bring companionship, nutritious meals, and flowers to elders throughout Boston as a Holiday Celebrations Volunteer. Sign up in advance. FREE

Mass Audubon maintains trails, forests, and natural wonders across Massachusetts. Photo courtesy of Massaudubon.org
4. Explore Mass Audubon
Whether you're interested in coastal views, serene walks through the woods, or a hilltop vista, Massachusetts boasts a statewide network of natural wonders to explore. Discover one in your area.
5. Walk the Freedom Trail
Explore the city's rich history by checking out 15 Coolest Spots for Kids on the Freedrom Trail. Though indoor spaces and attractions are closed December 25, you can go to outdoor spaces like Boston Common, the Old North Church, and the Paul Revere statue. Bundle up, grab a thermos of hot chocolate, and enjoy a day filled with adventure. FREE
6. See the lights and sights
When the sun goes down, take a drive to see holiday lights in Somerville, Attleboro, and all over Greater Boston. FREE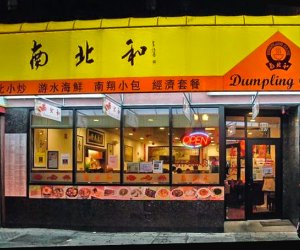 Christmas Day is a great time to explore Boston's bustling Chinatown. Photo courtesy of Yelp
7. Explore Chinatown
Step through the elaborately decorated gate into a neighborhood brimming with beautiful architecture and enticing markets. Learn a new phrase, catch sight of dancing dragons, and indulge your taste buds in the variety of restaurants, ranging from Beijing-styled snacks, to dishes inspired by Thai, Malaysian, and Indian cuisine.
8. Go see a movie
Most theaters are open Christmas Day. Sing 2 opens December 22!
9. Watch airplanes
We know from the experience of flying on Christmas Day that 1., the airlines don't close for the holiday and 2., we'd rather be at home watching the airplanes take off from the North Shore. FREE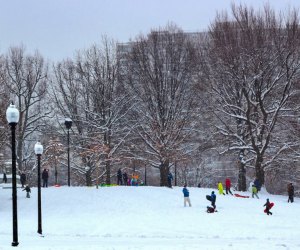 Boston Common is a great place to frolic. Photo courtesy of the Friends of the Public Garden
10. Play in the park.
Go for a stroll in the Public Garden, stopping to say "Merry Christmas" to Mrs. Mallard and her ducklings. Then head over to Boston Common to greet the frogs inside Tadpole Playground while the kids get their sillies out on the play structure. Larz Anderson Park is awesome for kids in winter, too. FREE
11. Make it a family game day
Maximize the opportunity for free time together by choosing from some of the Best Board Games for All Ages. Grab the snacks and unleash the giggles. The best part? Changing out of pajamas is optional! FREE

Order a whole branzino with buttered leeks or other restaurant fare on Christmas. Photo courtesy of Saltbox Kitchen
12. Give the stove a holiday
Tired of cooking? We hear you. Many Boston restaurants open on Christmas are offering dine-in or take-out.

Journey through an enchanted forest on a 2.5 mile tour of lights. Photo courtesy of Bright Nights at Forest Park, Facebook
13. Visit Bright Nights at Forest Park
Unleash your holiday spirit at one of the Northeast's premier experiences named "One of the Top Ten Holiday Happenings in America" at the city of Springfield's treasured Bright Nights tradition celebrating its 26th season.
14. Enjoy the Gift of Lights
New Hampshire Motor Speedway is trading in the checkered flags for 3.5 million twinkly LED lights for the 11th annual Gift of Lights. You will cruise through 2.5-mile of lights at this drive-thru experience, including the Tunnel of Lights.
15. Venture to Cape Ann
More than 50 locations take part in Winter Lights on Cape Ann. Pack up the car and family and go follow the clusters of twinkling lights and festive displays.
16. Play Christmas games
If you're tired of Clue and Trivial Pursuit, check out 20 Fun Christmas Games for the Whole Family and start a new tradition. FREE
17. Head to the Seaport
Head to Snowport and try your hand at curling, dine in an igloo, and search for Betty the Yeti.

Explore Boston Harbor on Christmas. Photo by Massachusetts Bay Lines
18. Take a beach stroll
Summer excitement is replaced by winter tranquility, but you can still pick 1 of 7 Hidden Gem Beaches for Families Near Boston and enjoy the salty air and quiet on Christmas. Pack an extra blanket to go with the beach chair and don't forget the beach toys for making sand or snow castles.
19. Get crafty
Enjoy a family day off by completing one of 100 Awesome Art Projects for Creative At-Home Fun. Hint: if you complete number 18 in the morning, you can paint seashells in the afternoon.
20. Get your city selfie game on
Consider it a gift from the city, but Boston parking meters are free on holidays. So drive around the city, find beautiful spots, and take photos to your heart's content.
Post originally published December 2012; updated December 2013, 2014, 2015, 2016, 2021