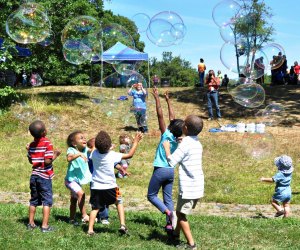 Summer Bucket List: 30 Things to Do with Boston Kids Before School Begins
There are certain must-do activities for Boston families during these magically long days and warm summer nights. Somehow it all seems to come to a halt once Labor Day arrives and school starts: Bedtimes are once again enforced, the swimsuits are packed away in the closet, and every day is scheduled down to the minute.
It's time to seize these summer days before they start slipping away! From trips to the farm to pick fresh fruit to water fun at beaches, pools, and spraygrounds, here are 25 Boston summertime experiences to have with your kids before it turns colder, because that's where it ends. (Are you hearing "Summer Nights" from Grease? You're welcome.)

1. Celebrate summer sun and fun at a community festival.
2. Head over to the Seaport to play and swing at the Lawn on D.
3. Spend the day boating on the Charles River or exploring the river banks.
4. Take a break from the city and visit a farm for some fun and ice cream.


Spectacle Island is a perfect place to try out a new kite. Photo by Tom Kates/courtesy of Boston Harbor Island Alliance

5. Swim, fly a kite, take a hike, or hunt for treasure on Spectacle Island.
6. Watch a free movie under the stars.
7. Take a hike on a gorgeous trail not far from the city.
8. Stroll the Greenway to see public art, cool off in a fountain and take a lobster for a spin on the Greenway Carousel.
9. Pack lunch and spend a leisurely day swimming and beaching at one of our freshwater gems, like Walden Pond, Houghton Pond, Morses Pond, or Crystal Lake.
10. Catch a ball game. You can try to score some deals at Fenway, or watch Red Sox players-in-the-making at a Paw Sox game.
11. Search for crabs and sea stars at one of these great beaches with tide pools.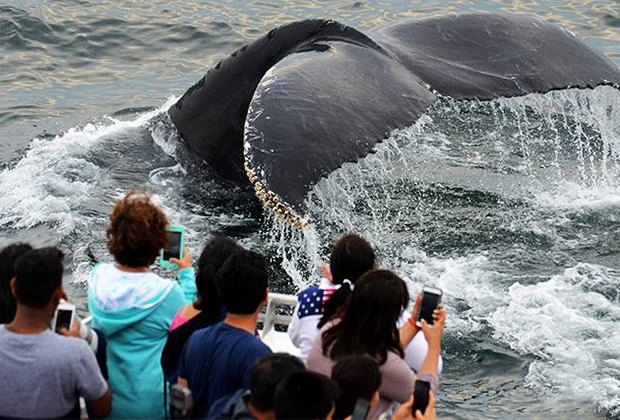 There are big-time summer memories to be made on the water. Photo courtesy of Boston Harbor Cruises

12. Have a whale of a time on a whale watch cruise.
13. Grab a beer at one of Boston's family-friendly beer gardens.
14. Find a new spot for ice cream. Have you tried fluff cones or Japanese-style soft serve, yet?
15. Take a day trip to a cool town you've never seen before, like Springfield, Portsmouth, or Providence.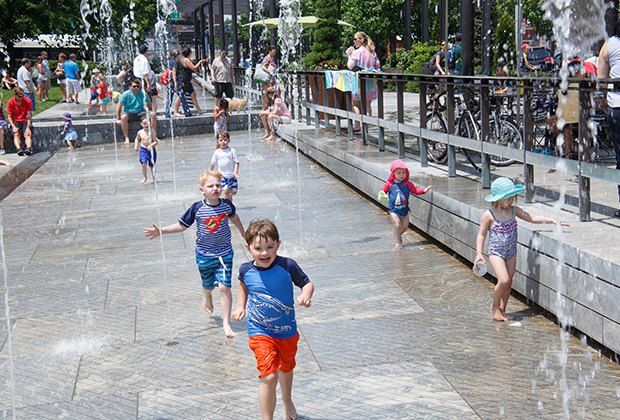 The North End fountains are perfect for little ones. Photo courtesy of The Greenway

16. Cool off at a spray park or fountain, be sure to check out these brand new spraygrounds too!
17. Visit and interact with some cute creatures at one of our region's great zoos or animal farms.
18. Pick blueberries and make a delicious blueberry buckle for your next BBQ.
19. Don't forget other succulent summer produce, yours for the picking at local farms.
20. Dine out (outside, that is).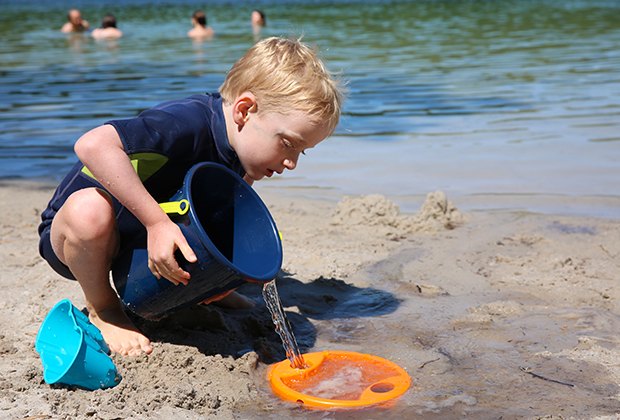 August has some spectacular beach days. Photo by Shira Kronzon
21. Savor a couple of last beach days, at either an area favorite or a hidden gem. If you're heading to the North Shore, dine on the region's most delectable fried seafood after.
22. Go camping at a family-friendly playground with fun extras for kids.
23. Play outdoor water games in your backyard or at the park.
24. See a movie at a drive-in theater.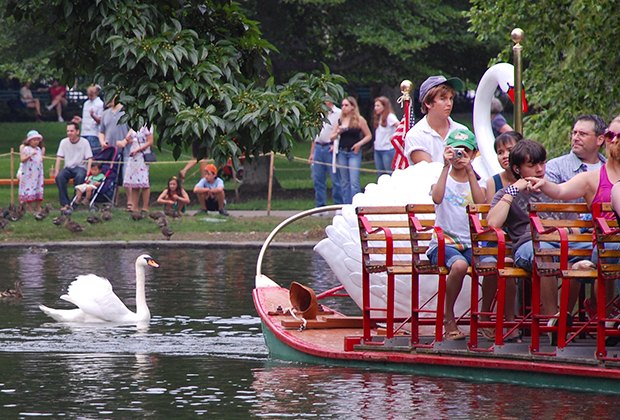 The Swan Boats are little-kid-friendly watercrafts. Photo by Julie/CC BY-ND 2.0

25. Ride a Swan Boat in the Public Garden...or if you have a need for speed, book a trip on Codzilla.
26. Challenge the family to a game of putt-putt at one of these fun miniature golf courses.
27. Visit one of Boston's many museums...free of charge!
28. Try a kid-friendly touristy activity you'd never do during the busy school year, like toss tea overboard or climb Bunker Hill.
29. Splurge on a day pass to one of these very special outdoor pools in the area.
30. Spend a day or overnight at an amusement park, like Canobie Lake, Story Land, or Santa's Village...you might have just as much fun as the kids.
---
Originally published August 2014; updated July 2015 and July 2017