7 Hidden Gem Beaches for Families near Boston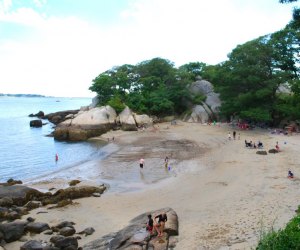 With the Cape, North Shore, and South Shore a drive away, a day trip to a great Boston-area beach is a snap. The only drawback to the most popular beaches is, of course, crowds—which can make parking, swimming, and watching little kids somewhat stressful. If a quieter space to stretch out on the sand is what you're after—and many families are—check out these less-crowded beaches, which can all be reached in about an hour or less from the city.
For more warm-weather fun, check out our full Summer Guide and keep tabs on our events calendar—we're adding activities daily!
45 minutes from Boston
What this crescent-shaped spot lacks in size it makes up for in beauty, with rocky bluffs on either side and lovely views. Its hemmed-in shape helps parents keep track of little ones, and there's a lifeguard, too. A paved path even allows for stroller access. Half Moon Beach is open to non-residents, but Gloucester periodically closes certain beach parking lots to non-residents when capacity is reached or volume is expected to exceed capacity. Check the City of Gloucester Facebook page to see parking regulations for the dates you plan to visit.
40 minutes from Boston
For North Shore ease with minimal fuss and crowds, simple Dane Street Beach is the ticket. There's free parking right at the beach, a new playground, bathrooms, and the shops and restaurants of downtown Beverly are within easy walking distance. Bring beach toys and money for fudge at Winfrey's.
20 minutes from Boston
Near Revere but smaller and less crowded, Yirrell offers a simple, no-frills day at the beach for families. The beach is spacious and rarely crowded, the water is shallow and usually warm, and the planes flying to and from Logan overhead add to the excitement for kids. There are no amenities at this beach (part of why it's less busy than others), so be sure to pack a cooler with lunch and snacks. There is parking off of Shirley Street.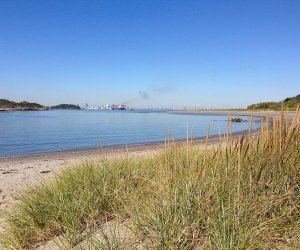 Lovells is a boat ride and world away. Photo courtesy of Boston Harbor Islands
1 hour from Boston
This 62-acre island is less touristy than Spectacle and Georges but has arguably the best sandy beach and swimming of all the Harbor Islands. Kids can tour the historic gun batteries and bunkers of Fort Standish, make sandcastles and swim on the island's sandy side, and hike the coastline on the rocky one. Catch the ferry from Long Wharf in Boston ($20 for adults, $13 for kids over 3).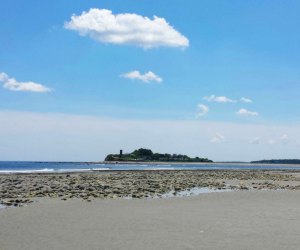 Hit Humarock at low tide for tide pool exploring. Photo courtesy of Ali Crehan/cc 2.0
50 minutes from Boston
Nestled between ocean and river, this lifeguarded and relatively quiet and spacious stretch of South Shore sand is a premier spot for beachcombing and sandcastle building. If you're lucky, you may even catch a glimpse of seals and their pups, which come ashore during the summer. There's a small restaurant and gift shop there, too. Note: It's technically in Scituate but accessible only by Ferry Street in Marshfield.
1 hour, 10 minutes from Boston
Six miles east of New Bedford, Mattapoisett is closer to Boston and less crowded than a lot of other pretty beach towns in the area. Goodspeed Island is one of the quietest beaches here since visitors need to park and walk a bit out to the sandy spit stretching out from the mainland. The reward: great views and lots of room to settle in for the day.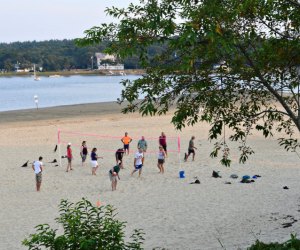 Shell Point has calm waters and lots of space to play. Photo courtesy of the Buzzards Bay Coalition
1 hour, 10 minutes from Boston
Families don't need to drive deep into the Cape to find Shell Point, a quiet and prettier alternative to the nearby town beach in quaint Onset Village. Look for hermit crabs and rent kayaks on a calm day, then stop by Nana's to fill a beach bucket with candy before heading home.