Whale Watching Cruises from the Boston Area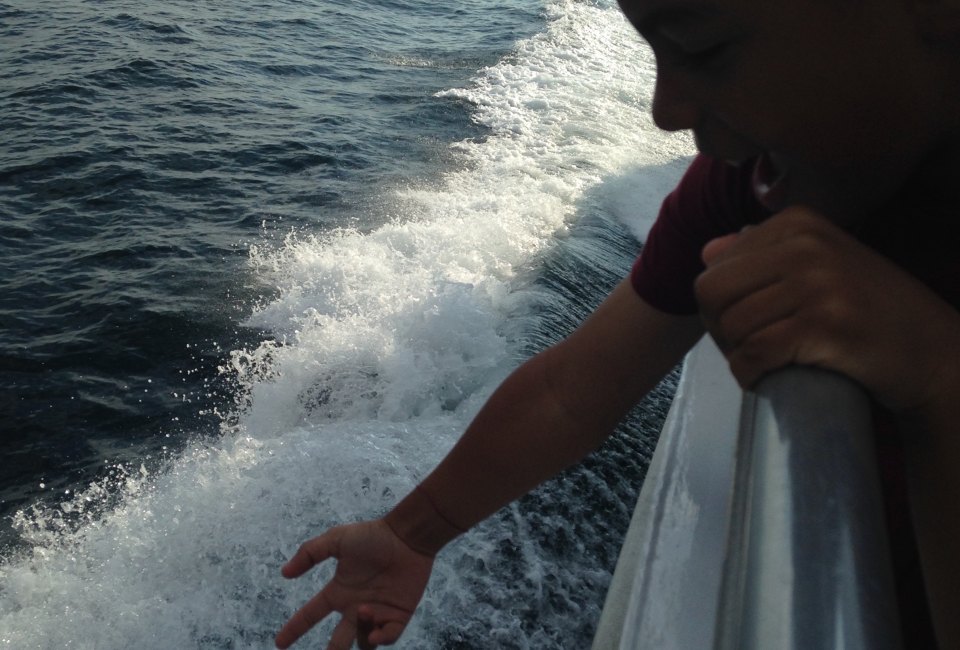 3/4/22
- By
Tara D
Massachusetts is considered one of the best locations in the world to see whales, which makes us feel pretty darn lucky. With Stellwagen Bank Marine Sanctuary (whale central in the warmer months) practically in our backyard, we Bostonians have our pick of whale watch cruises. You can take a New England Aquarium Whale Watch right from Long Wharf and be back in time for dinner in Faneuil Hall, or pick from the many cruises heading out from the North Shore and South Shore. Whichever whale watch you choose, it's sure to be an extraordinary excursion.
If you want to catch a whale watch cruise from the city, the New England Aquarium Whale Watch on Boston Harbor Cruises is the one. Get the scoop on what to expect and helpful tips when going on a whale watch from Boston with kids.
FROM THE SOUTH SHORE
Plymouth Whale Watching
Mayflower II State Pier, 77 Water St., Plymouth, MA | 508-747-3434
Pilgrim Belle cruises runs whale watching trips from Plymouth (and Provincetown). A marine biologist is onboard to lead the search for whales and help educate passengers along the way. Like most whale watching vessels, the 100' boat has open decks and a climate-controlled cabin with restrooms and snacks available for purchase. Free parking is a nice perk.
FROM THE NORTH SHORE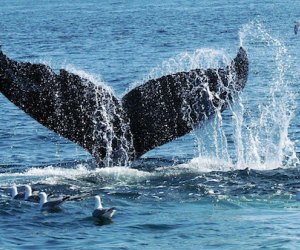 Photo taken on a Capt. Bill & Sons Whale Watch (Photo courtesy of Capt. Bill & Sons)
Capt. Bill & Sons Whale Watch
24 Harbor Loop, Gloucester, MA 01930 | 978-283-6995 | info@captbillandsons.com
Capt. Bill & Sons Whale Watch is family owned and has been offering whale watch excursions for more than 50 years. The sails are three to four hours and go from Gloucester to Stellwagen Bank or Jeffreys Ledge, with a naturalist onboard and educational resources provided by researchers from The Whale Center of New England. On land, be sure to check out the free whale exhibit currently operated by Blue Ocean Society, where you can get up close and personal to an actual humpback whale skeleton.
Cape Ann Whale Watch
415 Main St., Gloucester, MA | 800-877-5110
Cape Ann Whale Watch's boat, "The Hurricane II," boasts 115 feet of length with over 400 ft of whale watching room from the railings of the upper and lower observation decks. There is a heated, furnished indoor cabin with a full service galley serving hot meals, snacks and cold beverages (and a fully stocked bar for the adults). On the ride to and from the location of the whales, on-board educators provide hands-on learning tools for kids and adults to learn more about the whales and conservation. Teaching tools include a cool 3D model of Stellwagen Bank, whale baleen and teeth, and recordings of whale songs. Cape Ann Whale Watch also offers a private whale watch for up to six people.
7 Seas Whale Watch
63 Rogers Street (Next to the Gloucester House Restaurant), Gloucester, MA 01930 | 978-283-1776
7 Seas Whale Watch out of Gloucester has a new boat that's designed for 300 passengers, but carries a maximum of 149 each trip. That means a lot more elbow room when you're riding to and from seeing the whales and when you're trying to get a good view of them. A partnership between Ocean Alliance and the 7 Seas Whale Watch gives passengers the opportunity to learn onboard about the whales. The boat also boasts a top level sun deck with panoramic views and a full galley stocked with sandwiches, snacks, drinks and a full bar. You may want to stop in the Gloucester House Restaurant next door for a bite to eat after your excursion.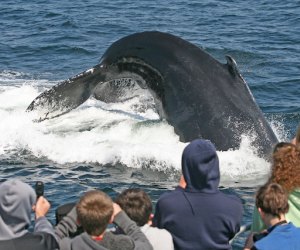 On a 7 Seas Whale Watch (Photo courtesy of 7 Seas)
Newburyport Whale Watch
54 Merrimac Street, Newburyport, MA 01950 | 978-499-0832 | info@newburyportwhalewatch.com
Newburyport Whale Watch's vessel, "Captains Lady III," departs from downtown Newburyport and travels out the Merrimack River into the Gulf of Maine, to Jeffreys Ledge or Stellwagen Bank National Marine Sanctuary. Passengers may see Humpback, Finback, and Minke Whales and other marine life during the 4 to 4.5 hour trip. Newburyport Whale Watch also offers six-hour birding trips in partnership with Mass Audubon.
Tips for taking a whale watch cruise:
1. Be prepared for seasickness, just in case. Eat protein throughout the day before your cruise, stay away from high fat/greasy foods, and bring snacks with you. If you think motion sickness could be an issue, you may want to get pressure point bands before you go. While you're on the boat, stay outside, at the back of the boat.
2. Read up on whale knowledge before you go. It's exciting to be able to identify the whales when you see them!
3. Wear rubber-soled shoes, bring a jacket or sweatshirt (seriously, even if it's 90+ degrees out, like on the day we went) and tie long hair back (unless you relish the idea of combing out tangles). And, trust me on this one: Don't wear a skirt. It gets windy out there.
4. Bring a really good camera – but don't stay behind it the whole time. Some of the most memorable moments for me were when I couldn't use my camera and I focused on seeing the whales rather than on getting a great shot.